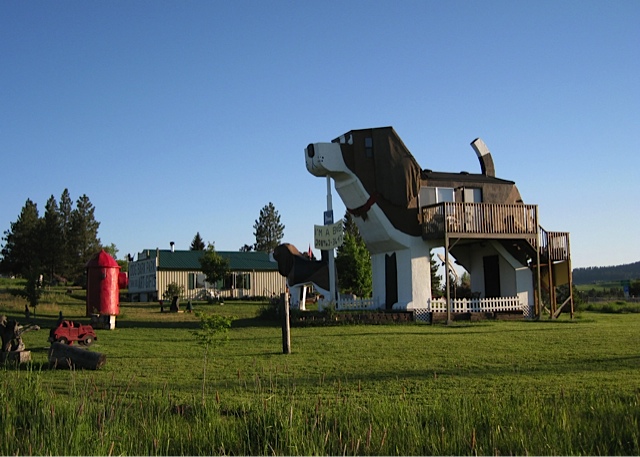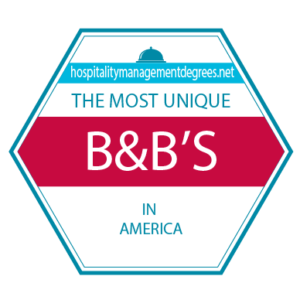 Enjoying a memorable getaway is one of life's greatest pleasures. More than half of Americans' travels are undertaken purely for recreation and relaxation. For the most intimate and personal travel experience, a bed and breakfast is the way stay. And for the most memorable travel experience, you'll want to stay in a bed and breakfast that's truly one-of-a-kind. Have you ever stayed the night in a room inside a giant wooden beagle? How about a luxury suite in a cave? You'll never forget the time you stayed in a haunted lighthouse or an underwater bed and breakfast. Read on to find the most offbeat and unique bed and breakfast your state has to offer. Fair warning- you may find it difficult to go back to the predictable comforts of a chain hotel once you've gone off the beaten track and stayed in one of these weird, wonderful and truly unique bed and breakfasts.
Our Unique Bed and Breakfast in
Alabama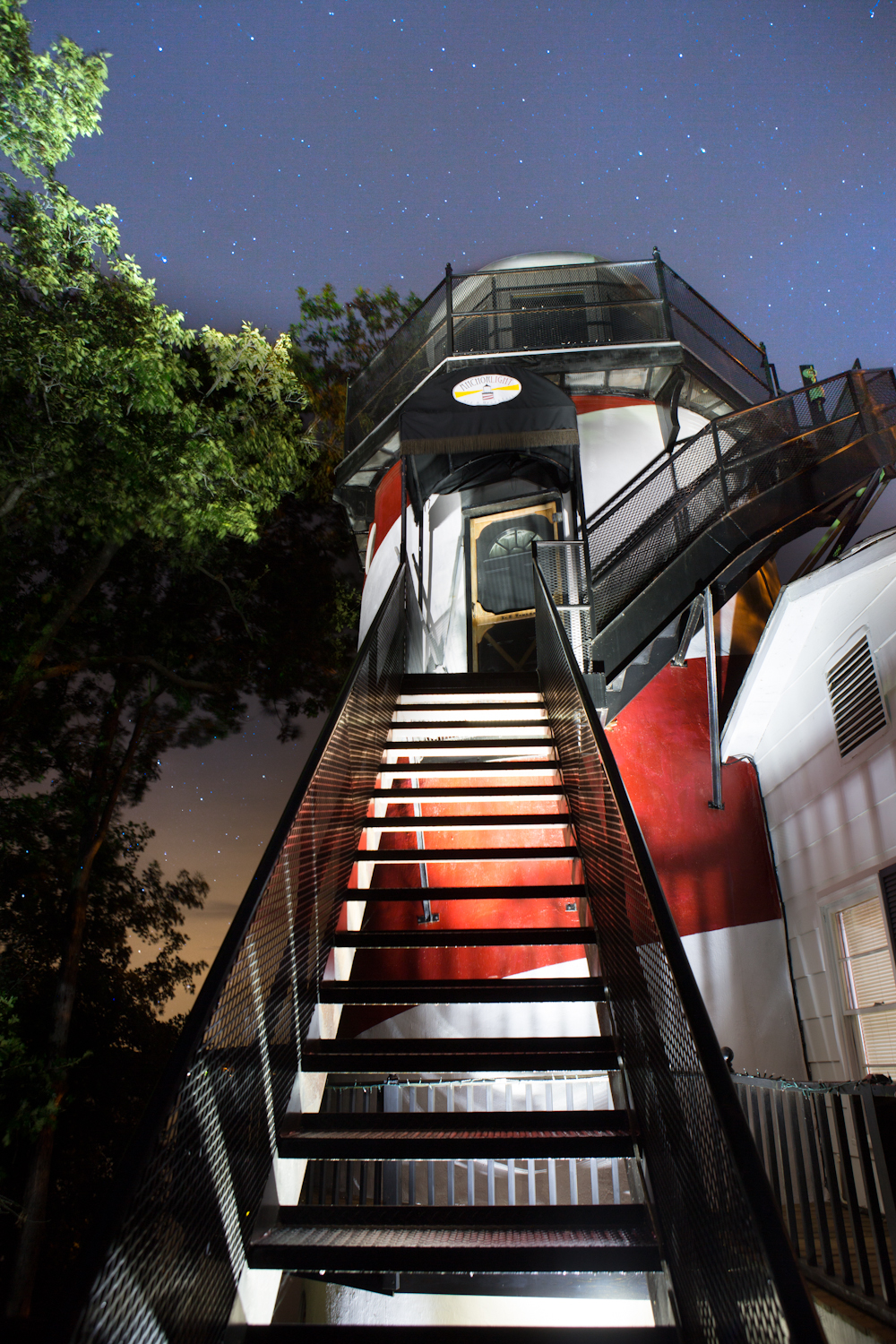 Is playing lighthouse keeper on your bucket list? The AnchorLight Bed and Breakfast on Alabama's Smith Lake would make a great romantic getaway or family retreat. The lighthouse towers 53 feet tall, and was built specifically as a lodging by the owner, Captain John, a former merchant marine and tugboat captain. There are three rooms available, with seafaring names like The Barn'acle room and The Lamproom. Guests who stay in this unique bed and breakfast will get a kick out of the nautical dŽcor, which includes a ship's masthead, steering wheel and lanterns. A screened porch, "The Wharf", has rocking chairs and a porch swing where you can relax and take in the uninterrupted view of the lake. You're free to use the provided inflatable kayak to explore the lake and even paddle around a small nearby island.
Our Unique Bed and Breakfast in
Alaska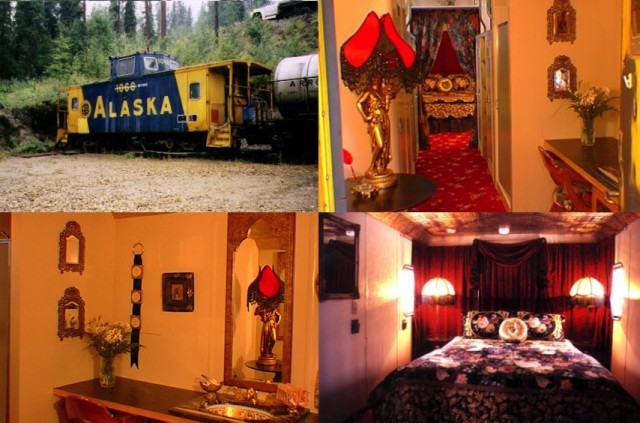 For every little boy (or girl!) who's harbored an obsession with trains, this offbeat bed and breakfast in Alaska is not to be missed. The Aurora Express Bed and Breakfast is housed inside a real train, nestled on sixteen and one half acres of spruce forest overlooking the Tanana River and Alaskan Mountain. Each train car has been stripped and refurbished, and features a theme to highlight the history of Alaska. Choices include Bordello, Gold Mine, Immaculate Conception and others, each with whimsical and over-the-top dŽcor. Enjoy your breakfast in the dining car and take in its arched, ten-foot-tall ceilings and seriously majestic mural of a bald eagle soaring through the northern lights.
Our Unique Bed and Breakfast in
Arizona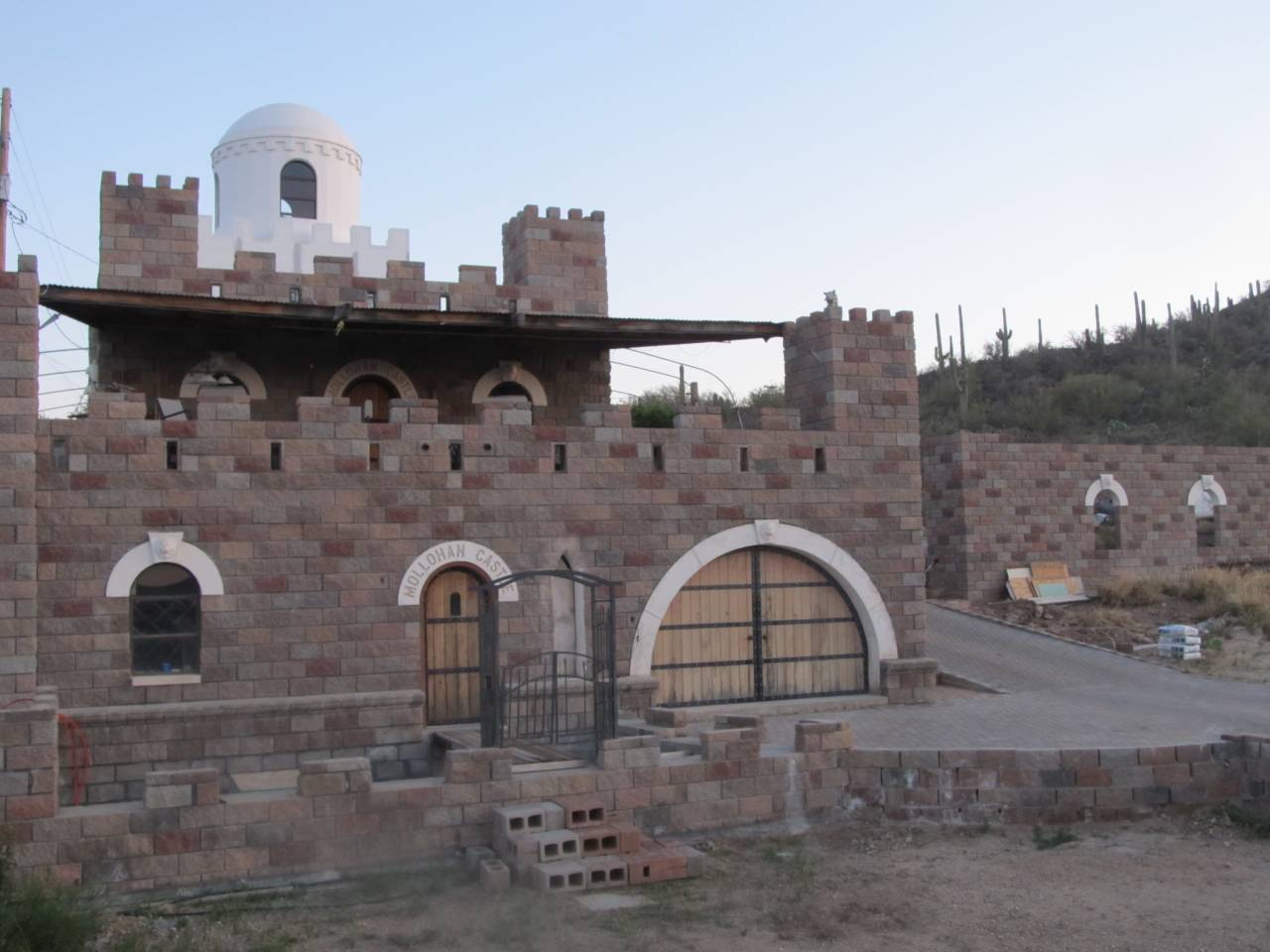 We're not sure if the self-proclaimed "World Famous Mollohan Castle" is actually world-famous, but it probably should be. This zany and utterly unique bed and breakfast in Arizona's Sonoran Desert is shaped like a castle, and boasts four stories of wacky medieval rooms. There's a dungeon (complete with plastic skeleton), moat, and drawbridge. In the mood for modern entertainment? Guests who stay in this unique bed and breakfast can make use of the outdoor pool table or flat screen TV. There's nothing funny about the views from the topmost tower- the sunset views of the Tuscon Mountains from the topmost tower are nothing short of spectacular.
Our Unique Bed and Breakfast in
Arkansas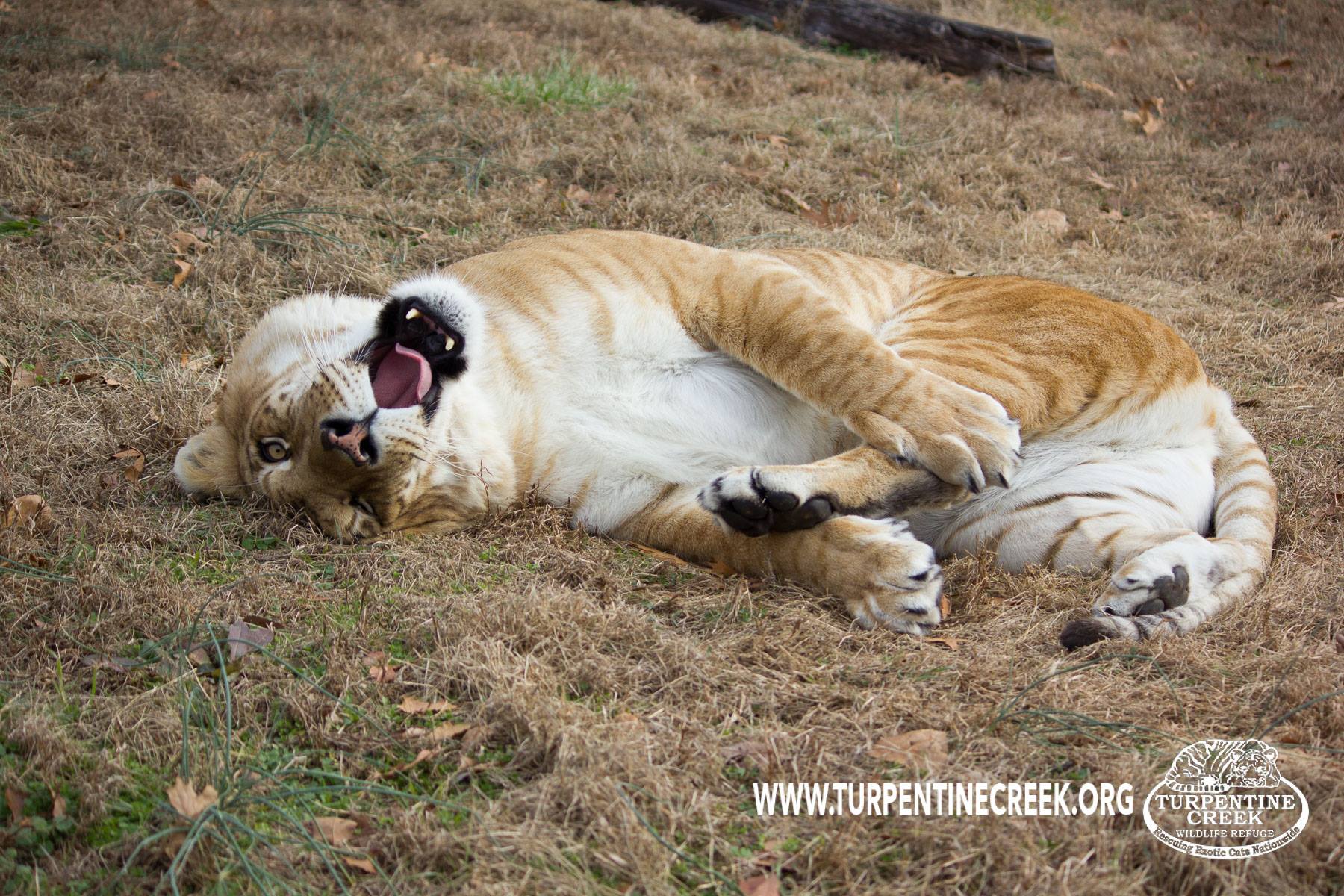 Traditionally, a bed and breakfast is a private house which the owners have opened to paid guests, sharing their home and hospitality. As a guest at Turpentine Creek Wildlife Refuge, you'll be sharing the abode of dozens of tigers, leopards, cougars and other rescued big cats who live on the premises. Each animal has an enclosure that meets the highest standards of humane care, and you'll be free to visit, observe their daily care routines or take a guided tour. This unique bed and breakfast has two "Safari Suites," a camping area and even a treehouse rental. If you love the outdoors as much as you love animals, there is abundant hiking nearby, as well as some spectacular nearby caves and caverns to visit. If a treehouse, live tigers and spelunking don't make for a memorable trip, we don't know what would.
Our Unique Bed and Breakfast in
California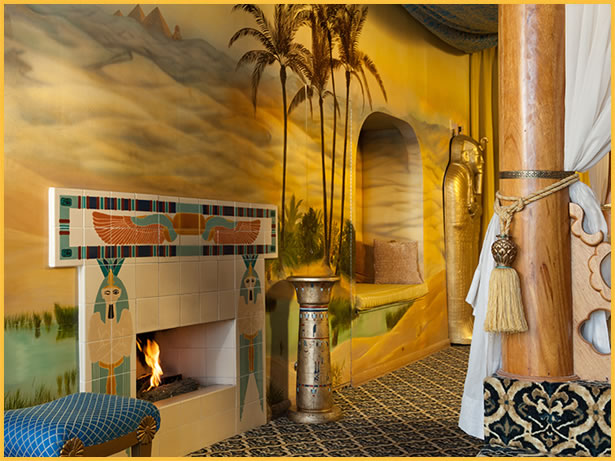 Oftentimes, the most unique bed and breakfasts tend towards the tacky. While we appreciate the merits of kitsch, there's something special about the oddball elegance of the Victorian Mansion at Los Alamos. California is known for both wealth and eccentric visionaries, and it's no surprise that this state is home to a unique bed and breakfast in an historic Victorian mansion that specializes in "luxury theme suites." You can stay in an Egyptian room, complete with sarcophagus and papyrus carvings, or a pirate room with treasure chest and cannons. There's even a Gypsy suite with an actual caravan. Each room features themed murals, sunken tubs, grottoes, fireplaces, and in-room massage services. Want something more? You can add on chilled champagne, a cheese plate, or even a trail of rose petals leading to the bedroom. For the quirky and romantic, it's hard to imagine a better getaway than this unique bed and breakfast.
Our Unique Bed and Breakfast in
Colorado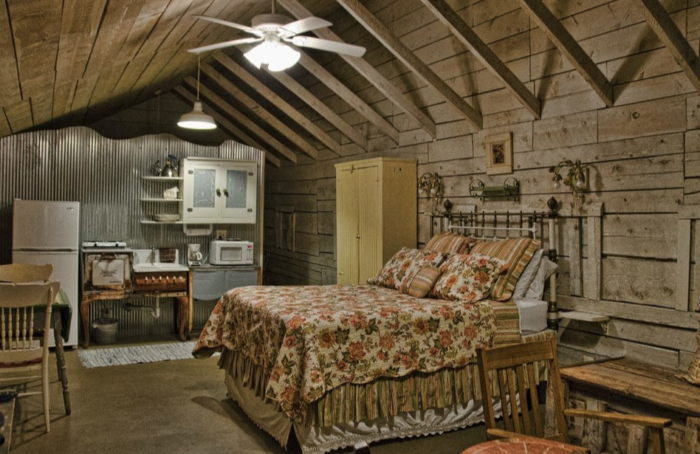 Tucked away in a quiet valley is Four Mile Ranch, a homestead that seems to have survived unchanged since the 1800's, and is in the National Registry of Historic Places. There's a old-fashioned and truly unique bed and breakfast in the ranch, where guests can stay in either of two log cabins, a suite in the barn or a bedroom in the main house. There's a creek on the grounds and beautiful wooded areas for strolling. If you're visiting in the colder months, there's excellent skiing nearby at Sunlight Mountain Ski Resort.
Our Unique Bed and Breakfast in
Connecticut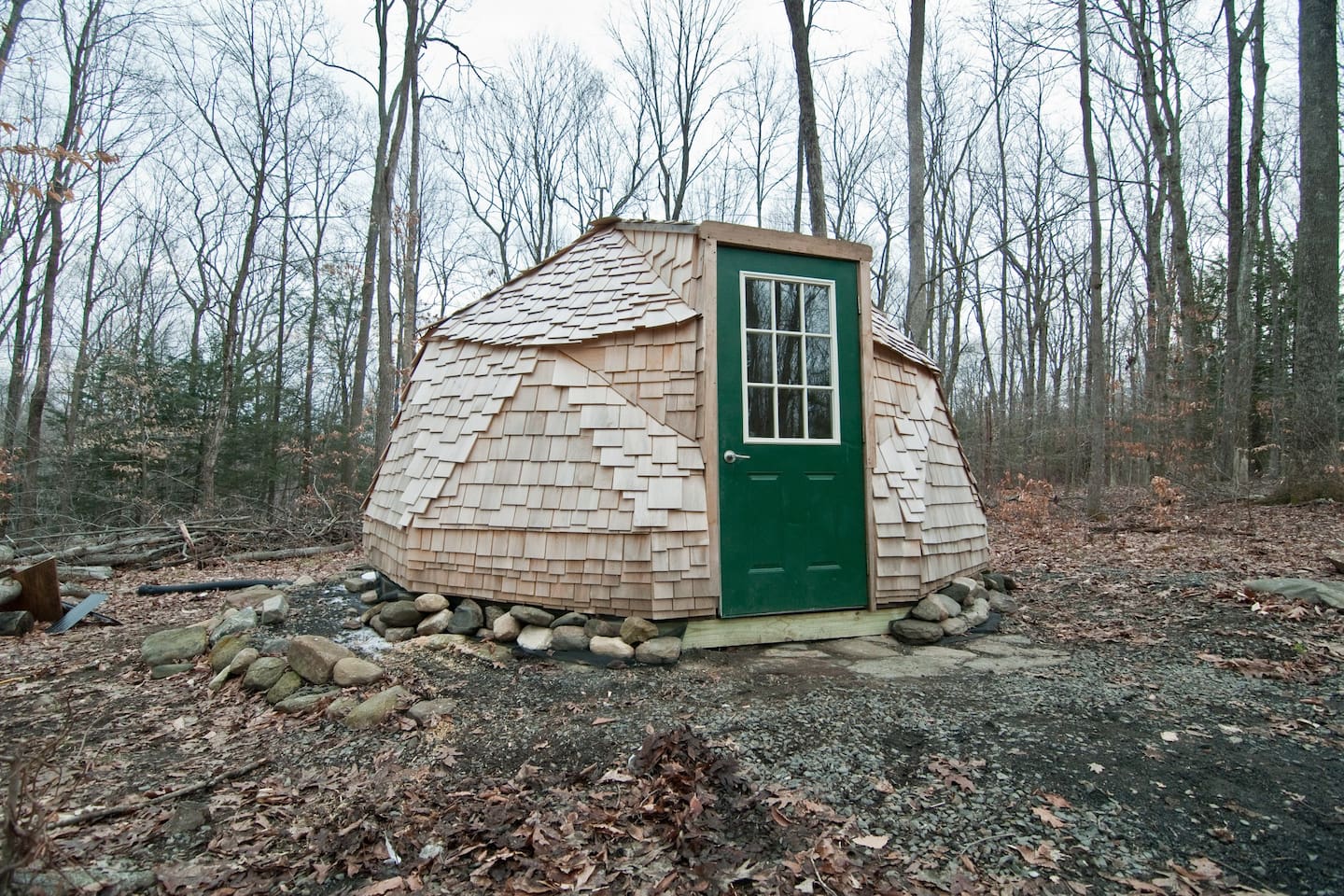 If the thought of a Geodesic Dome calls to mind a futuristic city, you'll be surprised by the humble coziness of this little structure nestled in the Connecticut woods. The owners constructed it from pine harvested on the property, and it's located about 100 feet from the main house. There are beautiful furnishings, including a four-post bed, but guests will need to use the bathroom in the main house. Breakfast includes fresh, organic produce, and guests of this unique bed and breakfast can tour the owners' organic farm during their stay. At a rate of just $18 per night, guests can afford to settle in and unplug for long while.
Our Unique Bed and Breakfast in
Delaware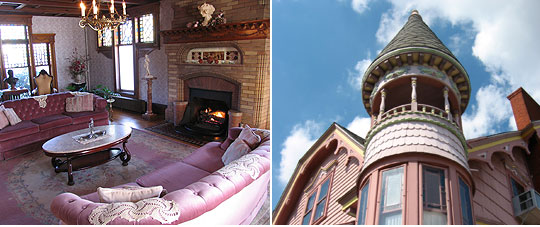 For every little girl (or boy!) who's imagined living in the turret of a bright pink castle, The Towers is a dream come true. The building was built in 1783 in the Victorian "Painted Lady" style, and today is a unique bed and breakfast with elegant rooms in period style. Guests can choose from the "Bird's Nest Suite" and "Rapunzel Suite," among other fanciful titles, and each with its own special antique amenities, such as a fireplace, grand piano, claw footed bathtub or stained glass windows. There are beaches nearby at Cape Henlopen State Park and world-class bird watching at Bombay Hook, the largest National Wildlife Refuge on the East Coast.
Our Unique Bed and Breakfast in
Florida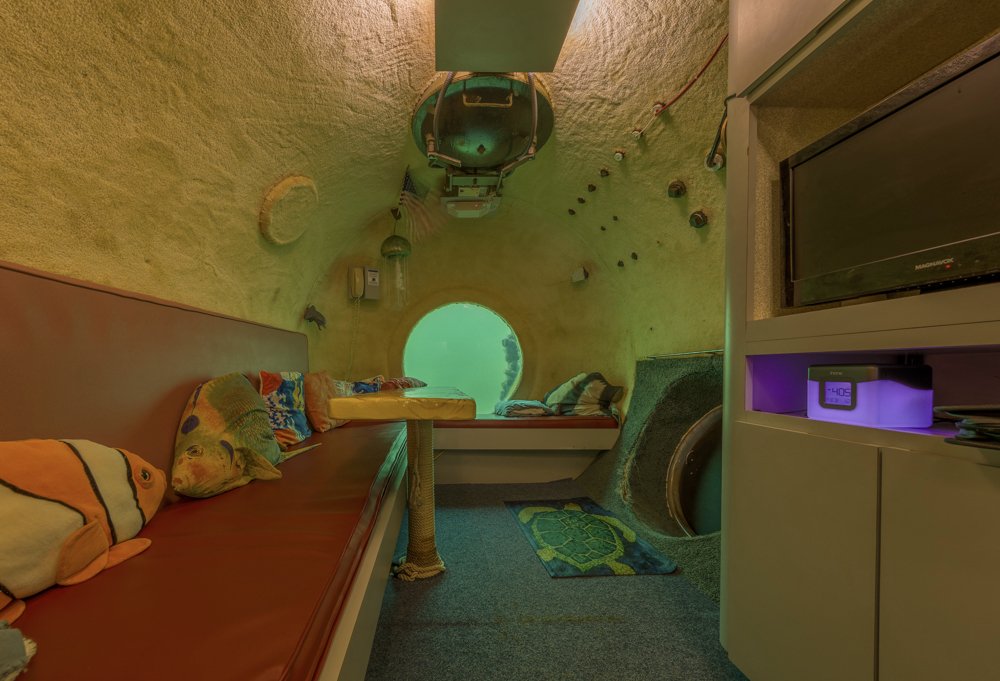 The United States is home to a multitude of quirky, offbeat and unique bed and breakfasts. But there's only one place in the nation you can rent a room underwater: Jules' Undersea Lodge. This one-of-a-kind bed and breakfast in Florida is sunk 30 feet underwater in Emerald Lagoon. Guests will have to be scuba certified on order to stay, since they will be swimming down to the entrance (a certification program is offered on site). The lodge was once a marine research center, and rooms are snug, but guests will enjoy the unique porthole windows, through which fish can be seen. In addition to a continental breakfast, a stay includes a pizza dinner, delivered via scuba diver. An underwater sleepover pizza party? That's a once-in-a-lifetime experience.
Our Unique Bed and Breakfast in
Georgia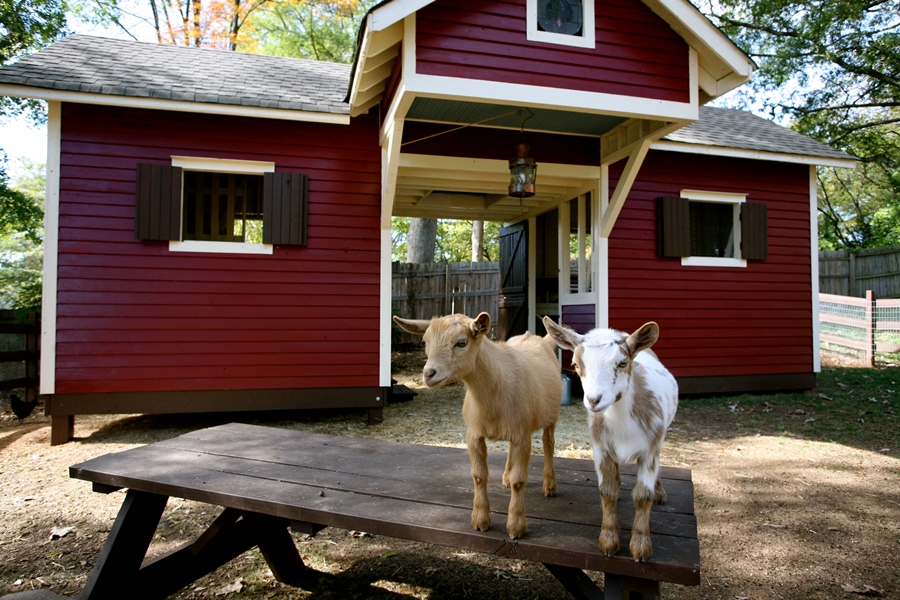 "Southern charm" hardly begins to describe the appeal of this quaint, hospitable and wonderfully unique bed and breakfast. The main inn was built in 1900 as a Queen Anne Victorian to accommodate the family's 13 children. The grounds have a miniature barnyard, koi pond, gardens and miniature barnyard with pygmy goats, turkeys, ducks and chickens. Sunny, elegant rooms can be rented in the main house, carriage house and a nearby cottage. Breakfast includes eggs from the resident hens, and sweet tea is provided throughout the day. Though the atmosphere is that of a small farmhouse, this unique bed and breakfast is actually located in downtown Atlanta, within walking distance of Grant Park, the Battle of Atlanta Cyclorama and the Atlanta Zoo.
Our Unique Bed and Breakfast in
Hawaii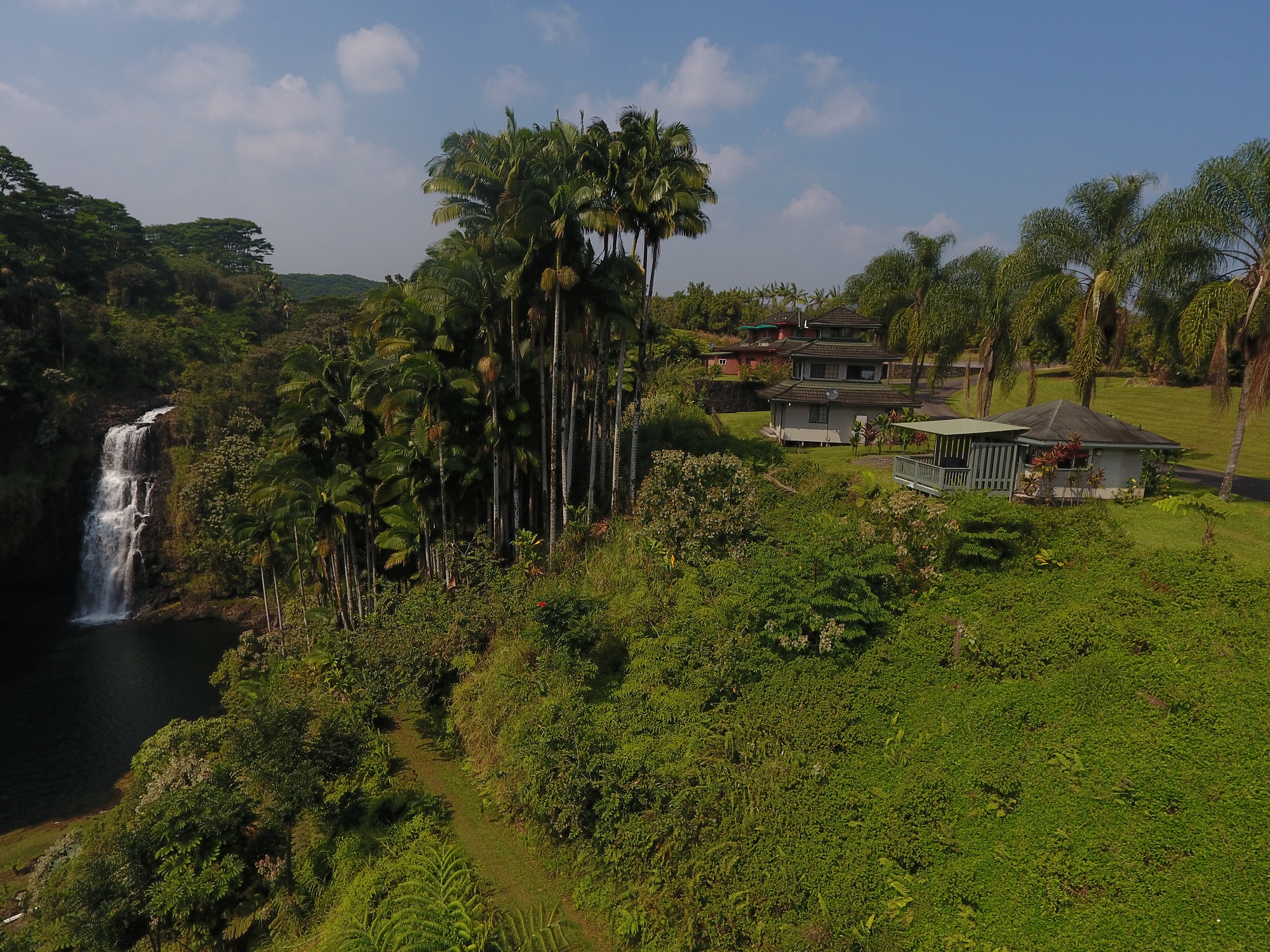 There's no shortage of natural beauty in Hawaii, even when it comes to spectacular waterfalls like the 120-foot lava rock waterfall at the Inn at Kulaniapia Falls. What makes this bed and breakfast in Hawaii so unique is the opportunity to experience this natural beauty up close and personal, by repelling down the side of the falls with the inn's "adventure team." Adventurous guests will enjoy a safe, exhilarating and very wet descent down the face of the cliff to the pristine river pool below. The inn itself overlooks the falls, and occupies 22 lush acres of natural vegetation. The building and interiors feature Asian-inspired style and lots of bamboo. The included breakfast is locally sourced, including the coffee. Few places on the island aim to combine tranquility with exhilaration, making Kulaniapia our choice for most unique bed and breakfast in Hawaii.
Our Unique Bed and Breakfast in
Idaho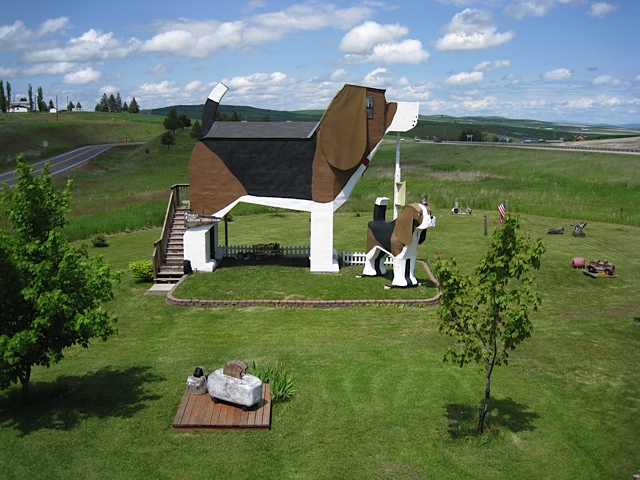 The Dog Bark Park Inn is a delightfully wacky way to spend the night "in the doghouse," while enjoying amenities far beyond what you'd expect in a novelty bed and breakfast. The dog-shaped structure was build 20 years ago by a chainsaw-carving artist couple, in what they describe as a "noble and absurd" undertaking. The single, two-story room in this utterly unique bed and breakfast can sleep four and has games, wifi, and a minibar stocked with free gourmet snacks. The included breakfast features the owners' signature homemade granola and fresh, local foods. Carvings of every imaginable dog breed, made by the owners, are available for purchase, and, yes, well-behaved dogs are welcome.
Our Unique Bed and Breakfast in
Illinois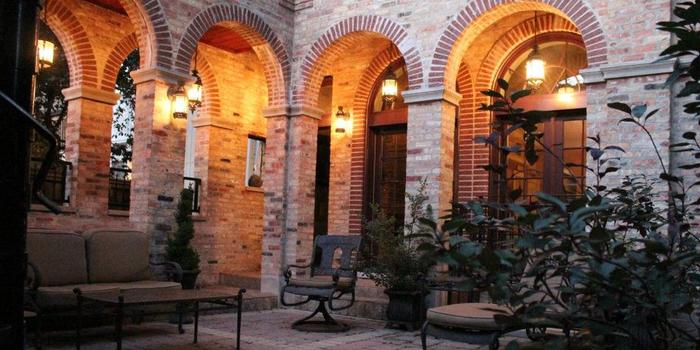 Steps away from the Main Strip of Lincoln Park in Chicago is a serene and palatial Italian villa dating back to 1887. Guests of the Villa D' Citta Bed and Breakfast in Illinois are surrounded by old-world luxury; there's a rooftop Jacuzzi and sun deck, private grotto, on-site theater and even a full gourmet kitchen, where you can pop in to snag a muffin or whip up a panini at any hour of the day. The rooms are lavish and the included breakfast is decadent- and can even be served to you in bed as an extra service, along with mimosas. A bed and breakfast with breakfast in bed- plus champagne? That's unique.
Our Unique Bed and Breakfast in
Indiana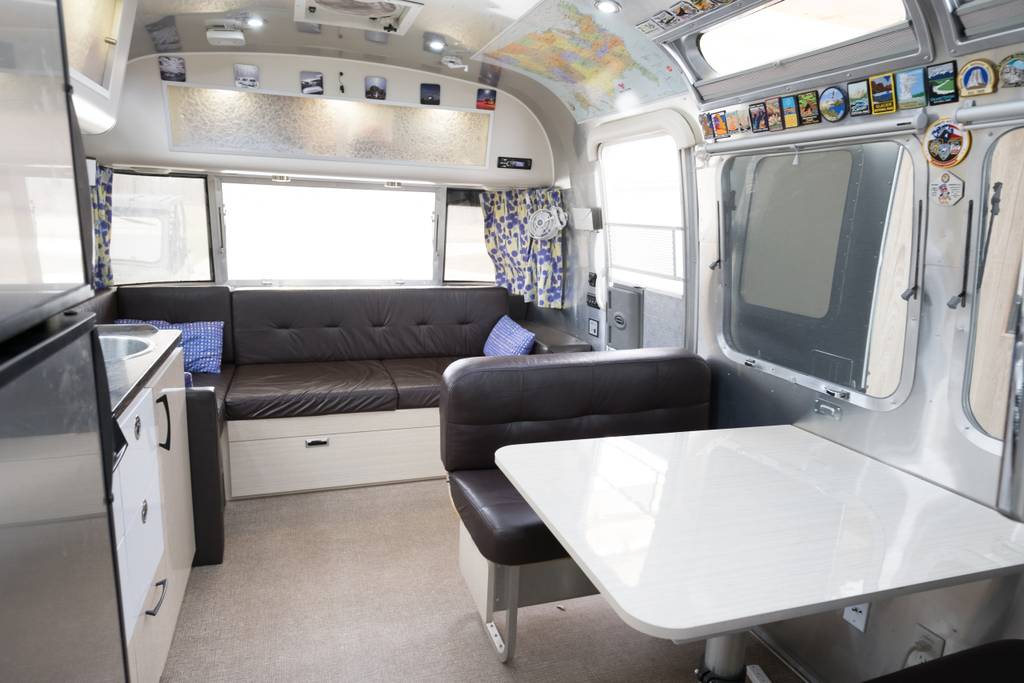 At one time, it would have seemed unimaginable to describe a travel trailer as "exquisite." But there's been a true travel trailer renaissance, with aficionados pouring loving care and obsessive work into the restoration of vintage Airstreams and Shastas, and companies releasing updated classic models. This unique bed and breakfast on Air Bnb is listed as an "Exquisite, Custom 2014 Airstream," and we're inclined to agree with that assessment. The outside has the classic Airstream curves and pristine silver surface. Inside, the space is gleaming silver and white, with leather and stainless steel following the same graceful curves. The trailer is parked on a 20-acre private lot, and guests have access to the hosts' enormous, 1,200 square foot deck. Here, you can hike the wooded trails and enjoy the scenic quite, or drive just 30 minutes to downtown Indianapolis or the famous Indianapolis Motor Speedway.
Our Unique Bed and Breakfast in
Iowa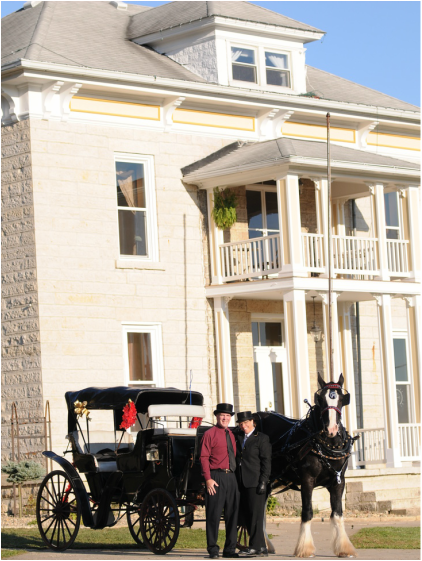 Spend a night in the slammer at this historic jailhouse in Iowa. The limestone building was constructed in 1870 as the Clayton county Jail, and is now a unique bed and breakfast on three scenic acres overlooking a river valley town in Iowa. Guests can stay in any of three charming suites, which have tasteful antique furnishings and freestanding, two-person bathtubs. Try hiking, biking and canoeing along the Turkey River, then unwind with a craft beer at the end of the day in the superbly remodeled cell block, now a bar on the first floor.
Our Unique Bed and Breakfast in
Kansas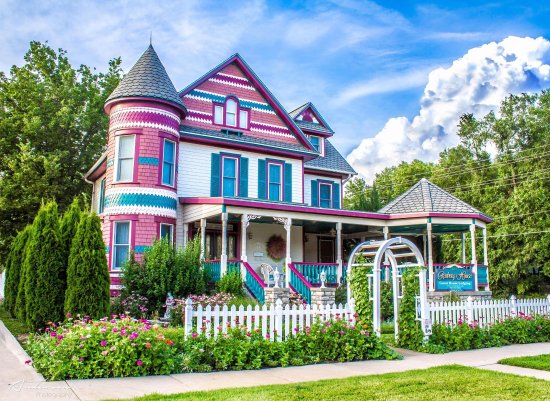 There's a lot to love about this unique bed and breakfast in Kansas, in the town of Lindsborg, right in the heart of Little Sweden. From the candy-colored and gingerbread-detailed exterior to the sumptuous and authentically fussy parlor furnishings, this bed and breakfast is thoroughly and faithfully Victorian. Guests will still have the comforts of modern amenities, however- there are flat screen TVs, cable, wifi, whirlpool tubs and a swimming pool. Outside, there are lush and manicured gardens and a backyard gazebo. Stroll through the tiny town of Lindsborg to explore some seriously Swedish and truly traditional restaurants, craft shops and festivals. With its storybook charm, the Rosenborg House is our choice for a quaint and picturesque weekend in Kansas.
Our Unique Bed and Breakfast in
Kentucky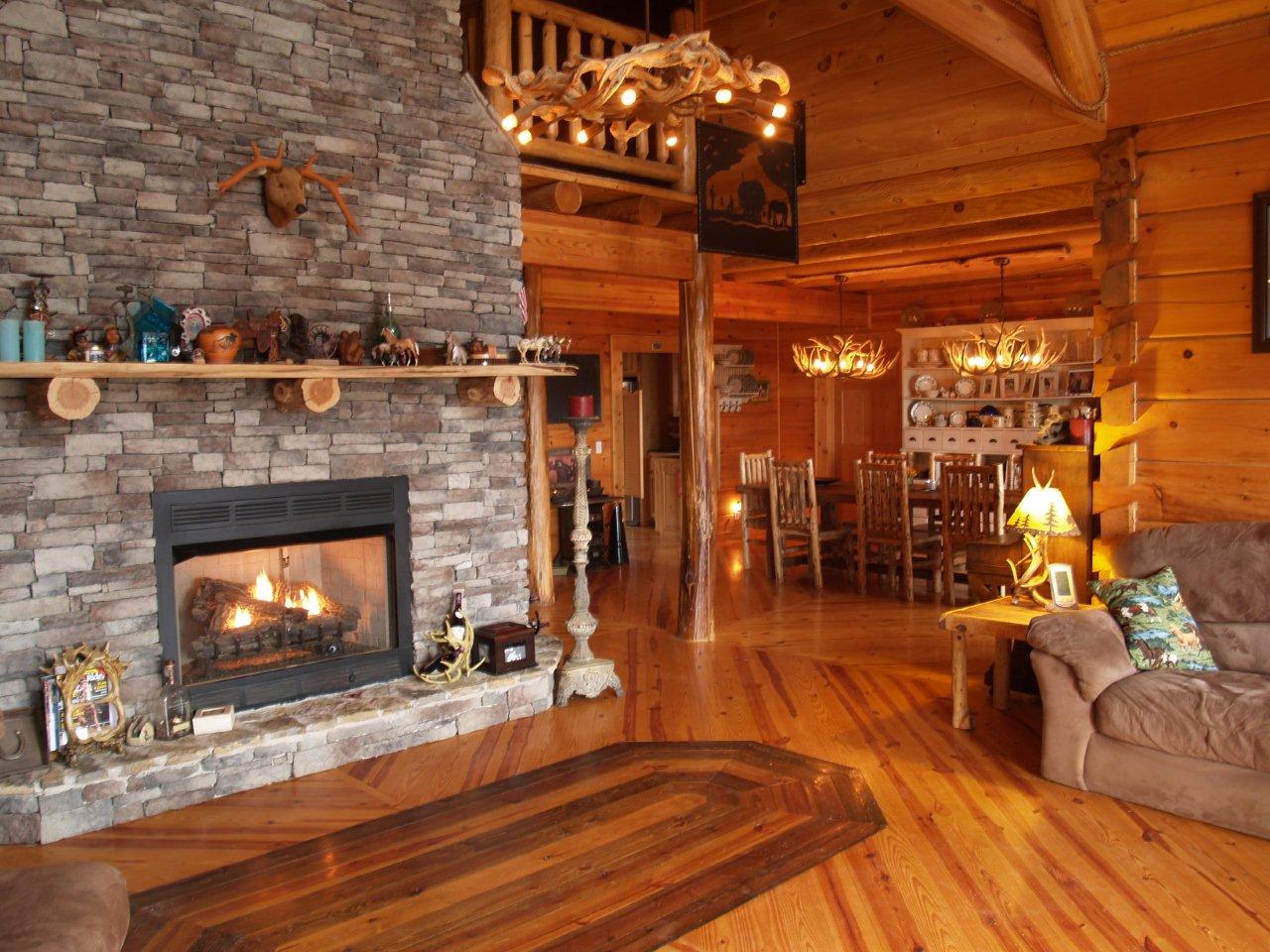 Tucked into the wooded hills of Cumberland County in Kentucky, you'll find a hidden gem: The Hidden Cave Ranch Bed and Breakfast. The rooms are log-and-beam construction, with king size cedar log beds and furnished with Dutch and American antiques. Guests who stay at this unique bed and breakfast can request an in-room bourbon tasting as an extra service, or cook outdoors over an open fire. There's a dining room serving fresh, local and organic fare. As the name implies, there's a cave hidden away on the estate, one of the largest in Kentucky. Beside a stream and small waterfall, guests can explore the entrance or book a 1.5 hour guided tour inside. Still up for excitement? The bed and breakfast is also a working horse ranch, where the owners raise American Bashkir Curly Horses, a breed known for their friendly temperament. You can book a riding lesson or a scenic trail ride. If you're booking this memorable and utterly unique bed and breakfast, you won't want to miss another superlative experience close by: the world's largest system of underground caves at Mammoth Cave National Park.
Our Unique Bed and Breakfast in
Louisiana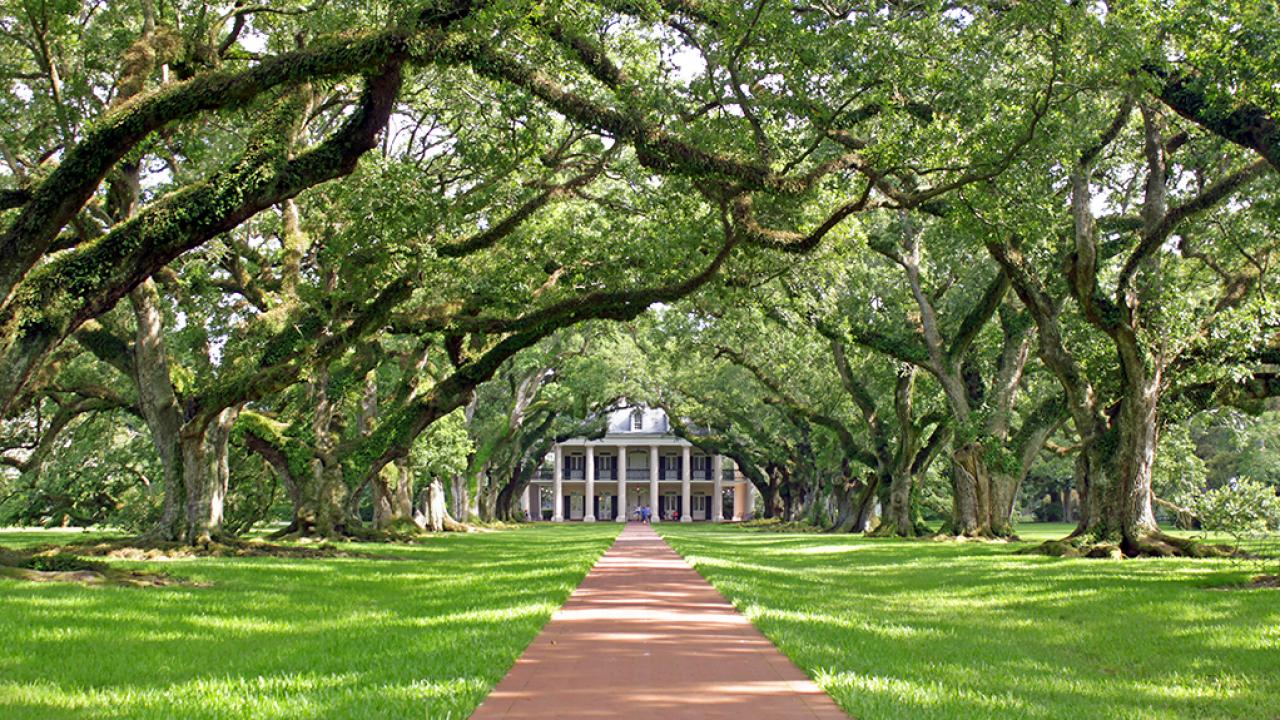 You can't throw a beignet in Louisiana without hitting a haunted mansion, bar or bed and breakfast. But how about spending the night in a haunted historic antebellum plantation? Oak Alley Plantation in Vacherie, Louisiana is both a historical home, a unique bed and breakfast, and one of the most haunted sites in perhaps the most haunted state in America. Guests and staff report seeing ghosts in the windows, hearing ghostly hoofbeats along the walkway lined with ancient live oaks leading to the main house, and even seeing objects flung across the room by unseen hands. An episode of the SyFy show, Ghost Hunters, was filmed here, as were scenes from the movie Interview with a Vampire. Guests can stay in spacious and family-friendly cottages on the grounds equipped with cable TV, game boards, tempurpedic mattresses and kitchenettes. During the day, visitors can soak up the beauty and horror of the plantation's history by touring the "Big House," slave quarters, Civil War tent, sugar cane plantation, blacksmith shop and family graveyard. There's a restaurant on site serving traditional creole fare.
Our Unique Bed and Breakfast in
Maine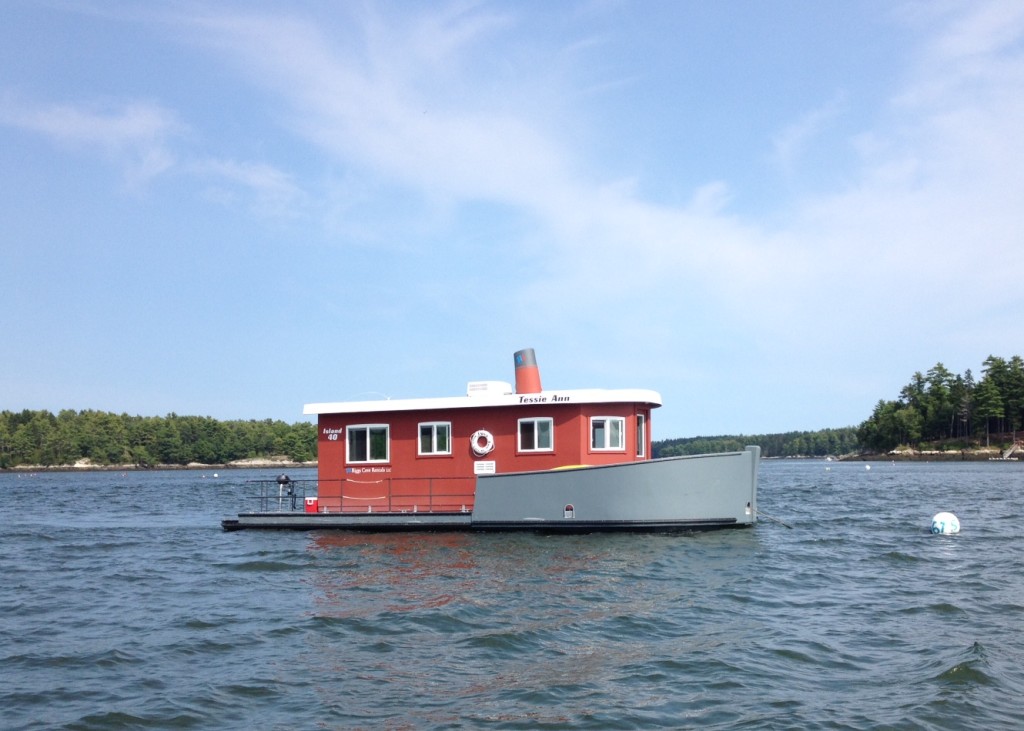 Let the waves rock you to sleep at night aboard your own floating bed and breakfast in Maine. Just 45 minutes from the hubbub of Portland, you can have an exceptionally unique bed and breakfast experience by lodging in a stationary houseboat in Riggs Cove, off Georgetown Island. You'll have your own dinghy to get to and from the marina, where you can wine, dine and enjoy live music at the Osprey Restaurant. Can't stand to come ashore? You can cook in the boat's kitchenette or grill on the deck. Your unique maritime bed and breakfast also comes with its own kayaks, rowboat and even a sailboat for exploring the Sheepscot River and nearby coves.
Our Unique Bed and Breakfast in
Maryland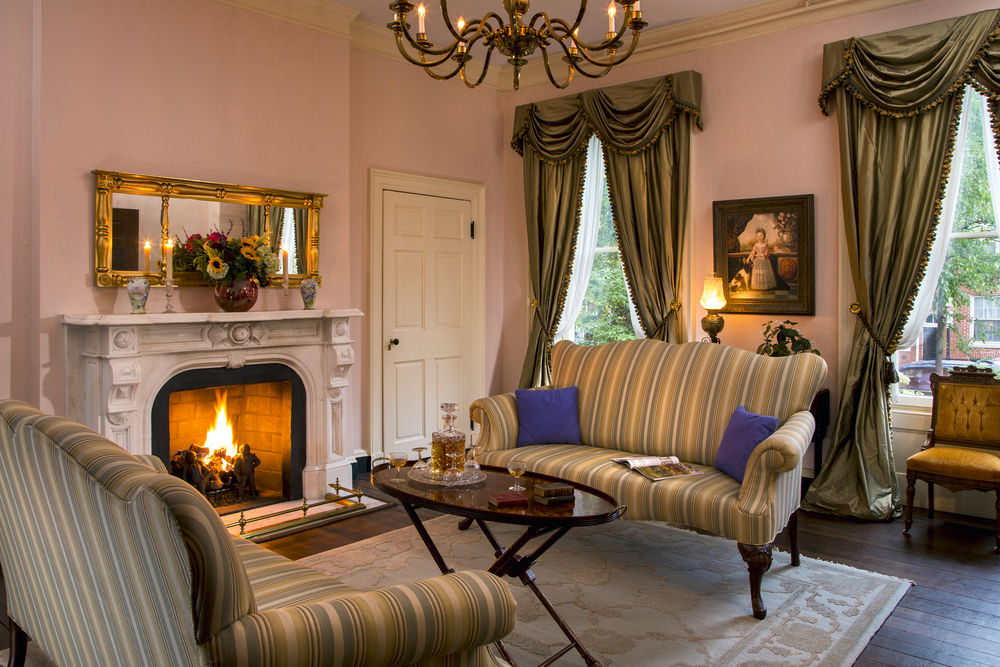 This unique bed and breakfast in Maryland once lodged the first President of the United States of America and his Frist Lady, and you'll find that the passage of time has changed it very little. This downtown mansion was built by a Baltimore brick baron in 1798, and features elegant 18th-century style and gracious hospitality. Guests at this unique bed and breakfast get more than a morning meal; afternoon tea, brandy and snacks are furnished as well. The estate has beautiful gardens, a comfortable library and parlor filled with antiques. You'll feel like you're in another century, but a short walk will get you to the the National Aquarium or an Orioles game.
Our Unique Bed and Breakfast in
Massachusetts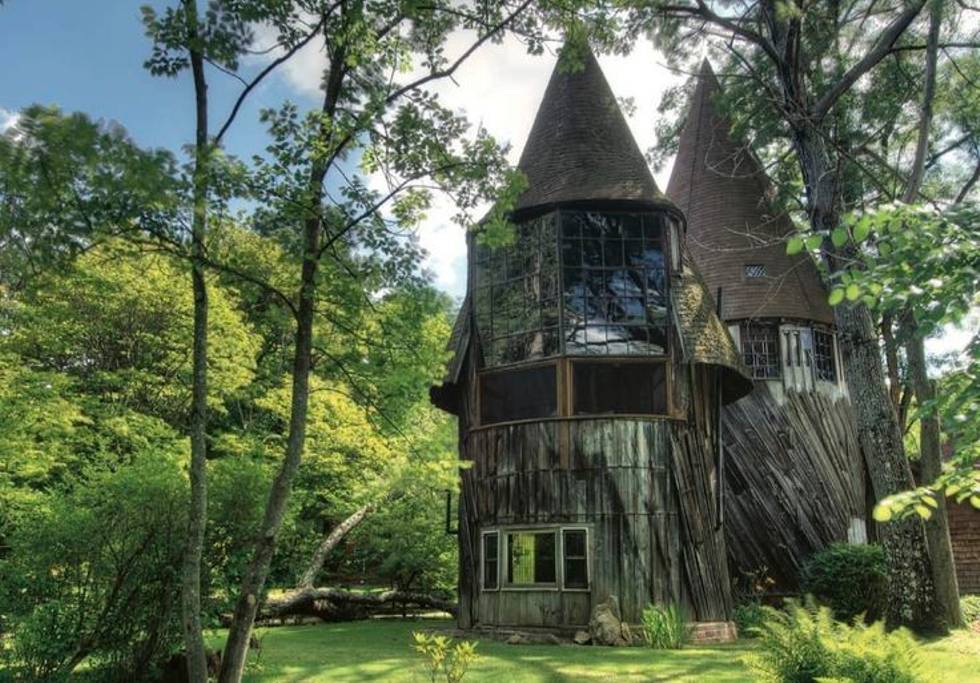 It's hard to picture a more magical setting than this whimsical and unique bed and breakfast in Massachusetts- part silo, part cottage, part studio and part fairytale tower. The small building was once the summer studio of 1910s' sculptor, Henry Hudson Kitson. It's now furnished with a kitchenette and canopied queen bed to accommodate up to two adults for a storybook romantic weekend. The bed and breakfast is part of the Santarella Estate, and guests can explore the four-acre property's gardens, pebble paths, babbling brooks, stone bridges, a lily pond, outdoor fireplace, and woods. The quiet, rural are is not far from world-class hiking on the Appalachian Trail and Tyringham Cobble.
Our Unique Bed and Breakfast in
Michigan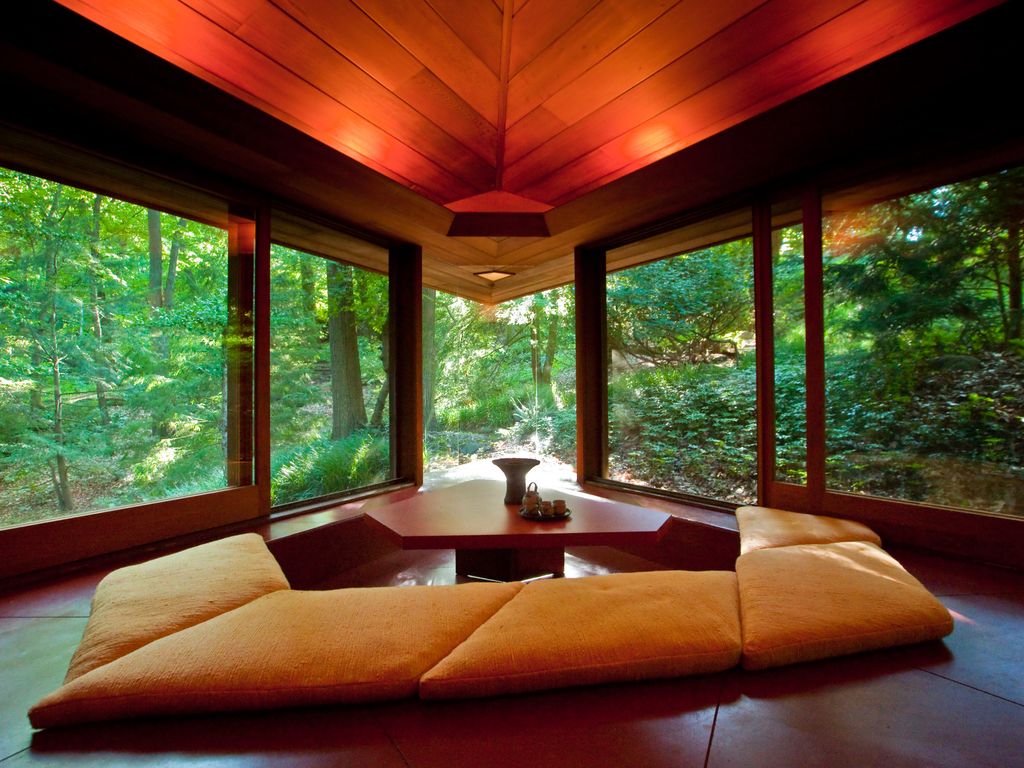 You don't need to be an architecture buff to appreciate the allure of unique bed and breakfast in Michigan. The space is at once retro, futuristic and utterly timeless, thanks to its magnificent design and superb craftsmanship. The building was commissioned from Frank Lloyd Wright by Bill and Mary Palmer in 1950, and is one of Wright's last residential masterpieces. Brick and cypress were used in the construction, which gives the interior a warm and earthy reddish color. While the home, from frame to furniture, is composed of straight lines, there's not a single right angle to be found in the house, giving the whole an origami-like effect. An outlying tea house and nestled wooded setting complete the picture. Up to six can stay in this architectural jewel, enjoying amenities like organic toiletries, fresh produce and high thread count sheets as bed and breakfast guests, along with a tour of the home's unique features.
Our Unique Bed and Breakfast in
Minnesota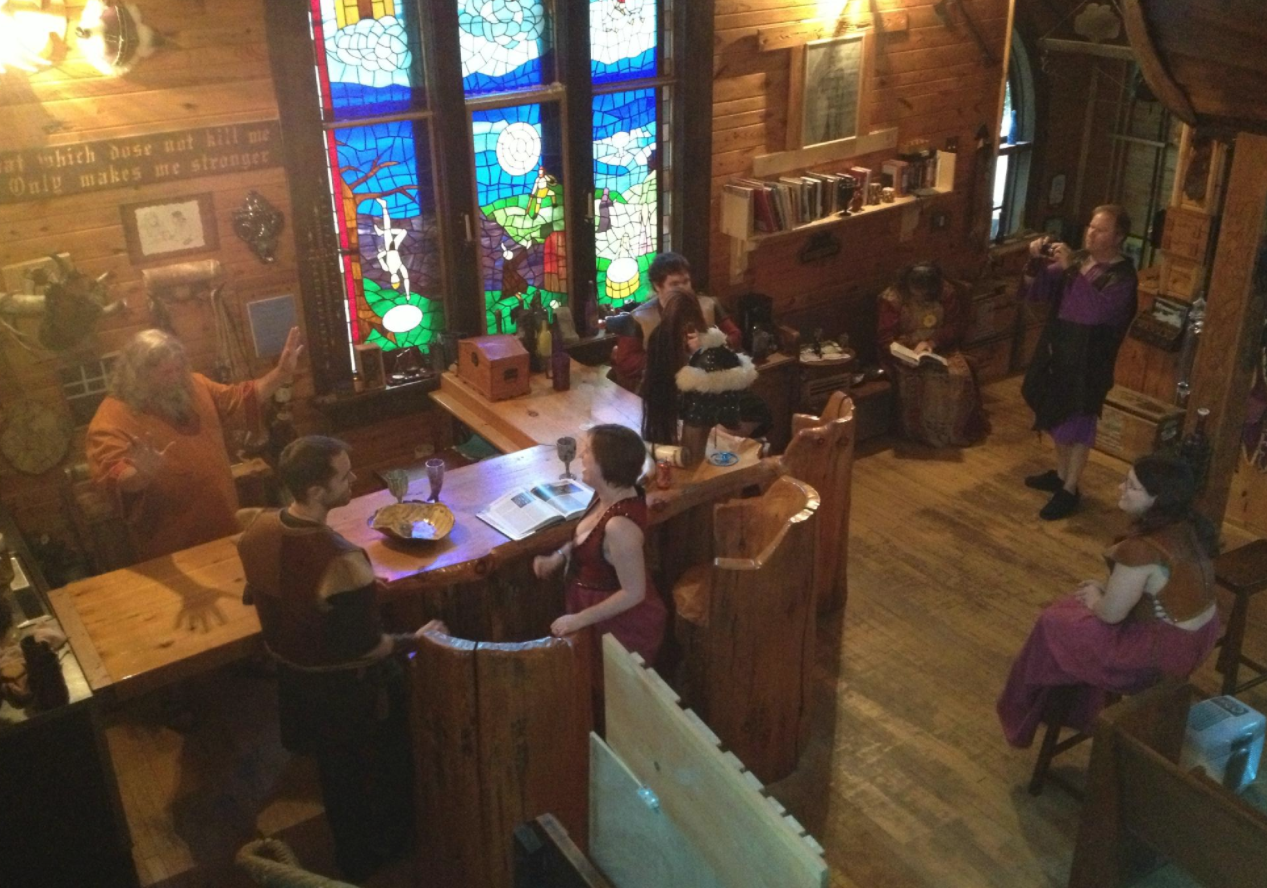 A weekend in a special and unique bed and breakfast can feel like a little slice of heaven. But a weekend at this bed and breakfast in Minnesota is more like a slice of Valhalla. The Nordic Inn Medieval Bed & Brew in Crosby is a Viking-themed pub, dinner theater, mead-horn shop and bed and breakfast all rolled into one. The whole zany affair is housed in a 1909 former Methodist church built by mining magnate George Crosby, and from the outside looks every bit like a peaceful chapel. Step through the doors, however, and you'll enter halls of timber, stone hearths, pelts, helmets and shields. Leave your inhibitions at home, because you'll also be handed Viking costumes and invited to bring 12 or more of your friends to a Viking mystery dinner or banquet. Choose any of five theme rooms, with names like "Odin's Loft" and "Freya's Boudoir." One even has a bed shaped like a Viking ship. Breakfast is a hearty feast served in the banquet hall, and the dinner portion of the evening entertainment is a five-course affair, complete with torches and prop weapons, followed by drinks at the inn's pub. For a wacky game trip or unique bachelor party, it's hard to imagine a better location. Bring a sense of fun and adventure, because this outrageous and unique bed and breakfast is an experience you're not likely to forget.
Our Unique Bed and Breakfast in
Mississippi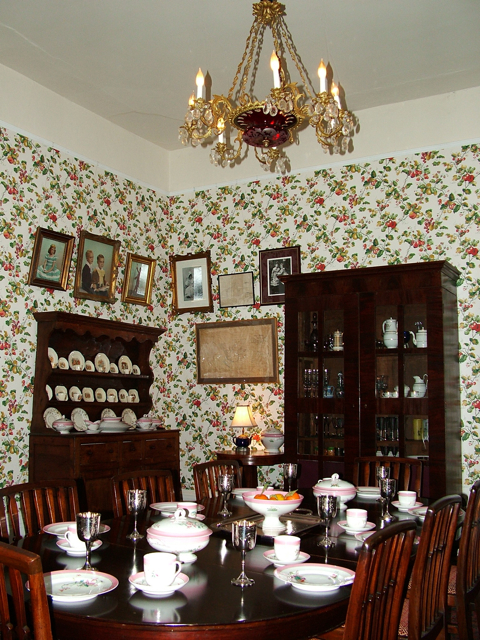 We're willing to bet that you'll never pass your weekend in a more refined setting than the Stone House Musical Bed and Breakfast in Natchez, Mississippi. The building was constructed in the style of a Greek temple back in the mid-1800s, and has been operated as a bed and breakfast by the Stone family for 140 years. Show-stopping, museum-quality antiques occupy every room, and even the textiles and flatware are period-accurate. The owner is a dealer in rare maps and lithographs, as the walls throughout the bed and breakfast will attest. The Antebellum Billiard Hall is especially memorable: the center of the room is occupied by a handsome antique billiard table, and a stuffed bobcat graces the fireplace nearby. Stay two or more nights and you'll be treated to a private piano concerto by the owner, a concert pianist, over complimentary wine in the Antebellum Music Room. This unique bed and breakfast has also has won the Historic Natchez Foundation's 2003 Restoration Award and was ranked in the nation's top 25 bed and breakfasts by TripAdvisor in 2012 & 2013.
Our Unique Bed and Breakfast in
Missouri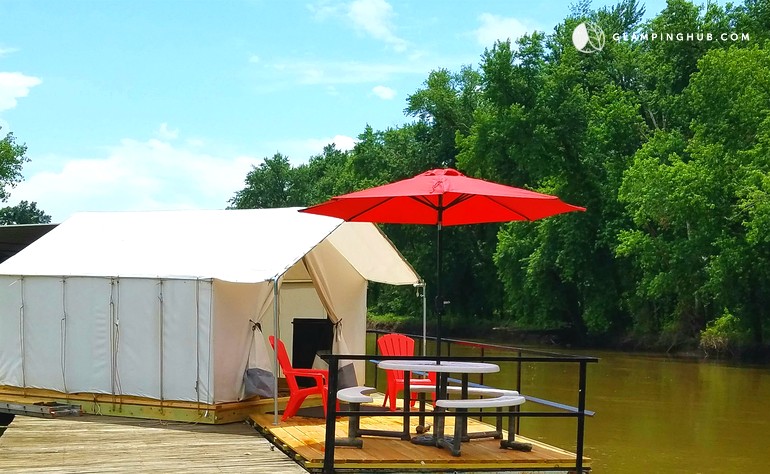 A safari tent would make for a unique weekend getaway. A safari tent floating on the river? That's really unforgettable. This utterly unique bed and breakfast has two tents situated at the end of a large deck on a private pond, right off the Mississippi River. You'll love the clean and crisp red and white dŽcor and appreciate the spacious modern clubhouse, where you'll be heading for bathrooms and an outdoor shower. Bed and breakfast guests can canoe on the water, swim on the beach, grill on the deck or start a fire in the fire pit. When you've had enough of the outdoors, head 30 minutes into downtown St Louis for shopping, dining and entertainment.
Our Unique Bed and Breakfast in
Montana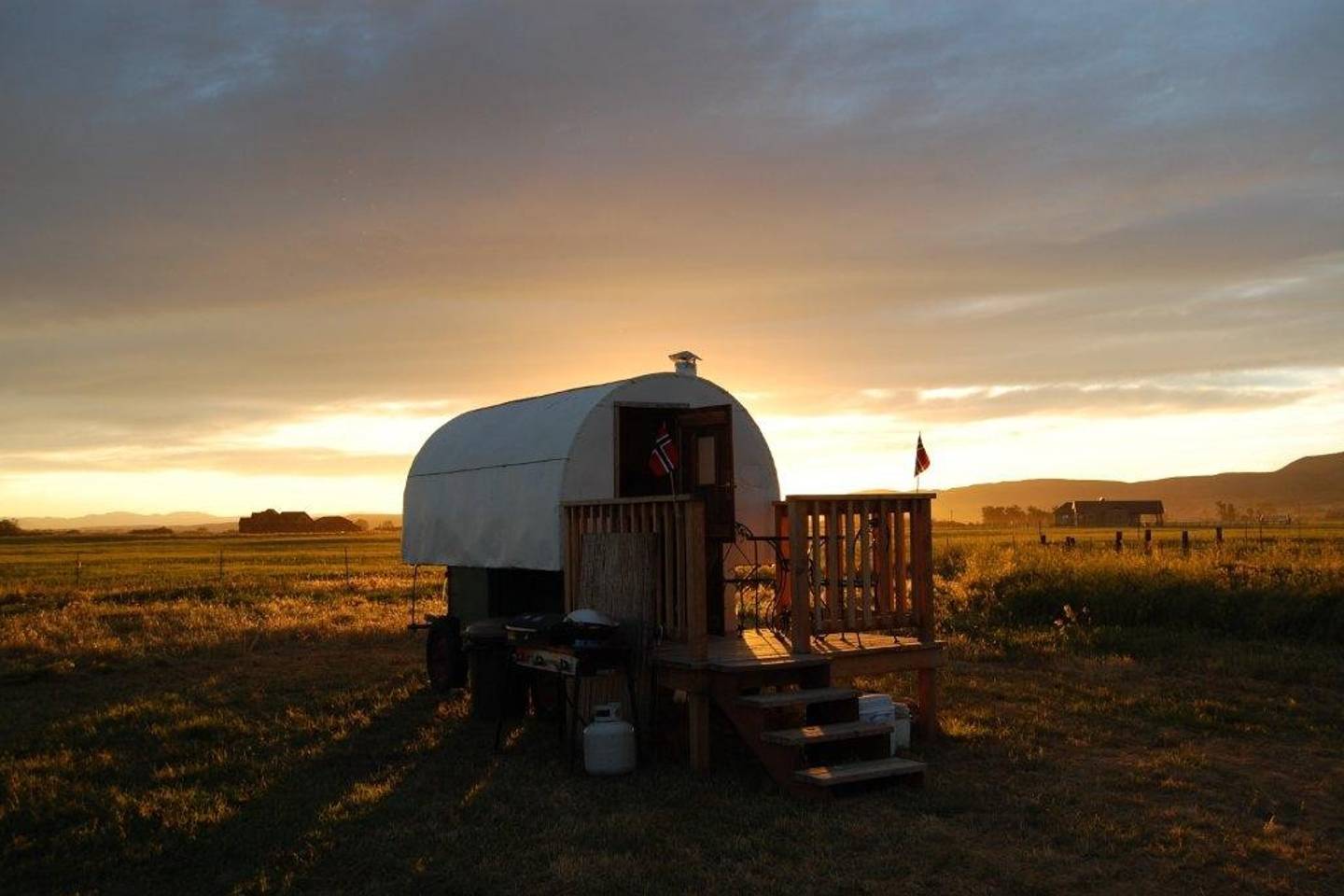 Montana is the Big Sky State, known for starry skies, majestic mountains, forests and National Parks. Natives and tourists alike love the outdoors in Montana, and you won't have to look far to find a unique glamping destination, whether you're interested in a treehouse rental or luxury tents with an on-site day spa. But you're not likely to find a more unique bed and breakfast in Montana than this antique sheepherder's covered wagon farm stay in Belgrade. Here, you can spend the day on a working sheep farm with chickens, pigs, goats, turkeys, honey bees, beef cows, a llama, a miniature mule and, of course, plenty of sheep. The cozy wagon has an old-fashioned bed with handmade quilt inside, a fire pit and modern grill outside. After your campfire, you'll fall asleep to the sounds of coyotes and owls, and awake to a breakfast of fresh-from-the-farm eggs. In addition to a offering a truly unique back-to-nature experience, the location of this bed and breakfast makes it a convenient stopover between two top national parks: Yellowstone and Glacier.
Our Unique Bed and Breakfast in
Nebraska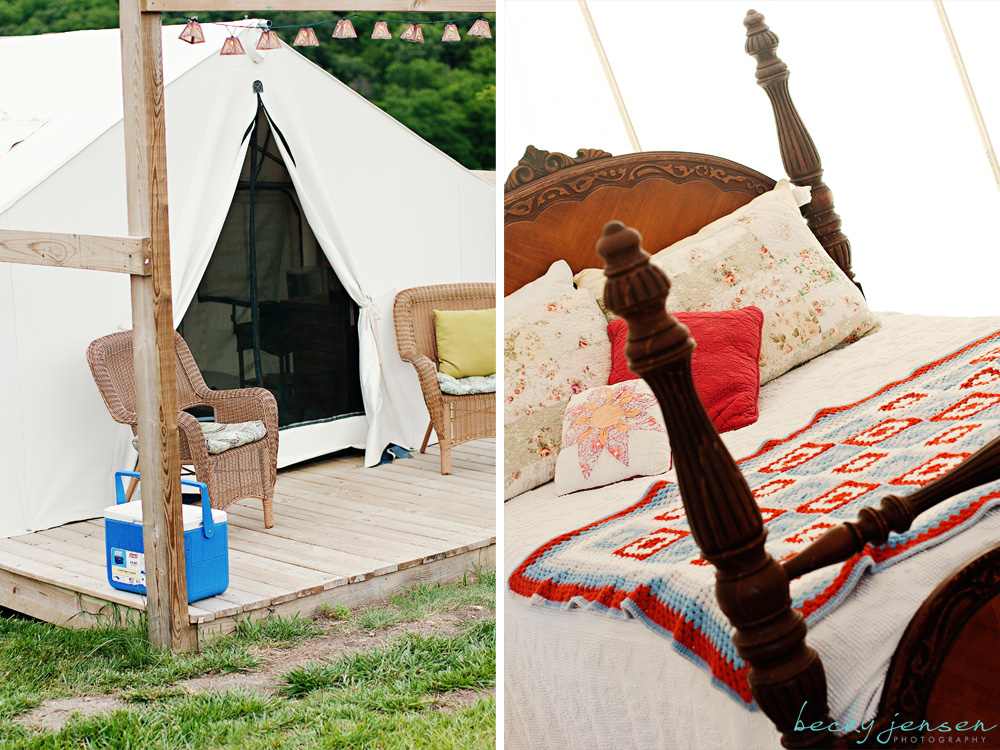 Spend the day touring a working vineyard and winery, sampling different vintages in the tasting room, enjoy a cheese plate and catch some live music in the courtyard at Slattery Vintage Estates in Nebraska. Don't bother calling an Uber when you're ready to call it quits- you can spend the night on the grounds in the estate's unique outdoor bed and breakfast. Slattery bills itself as the "original glamping destination in the Midwest." Each elevated tent is furnished with antiques in prairie-elegant fashion, and has a small porch strung with lights, for a charming effect in the evening. It's hard to picture a better destination for couples, and the company website's many photos of proposals made on the grounds attest to the romantic vibe. Each tent in the bed and breakfast has its own fire pit, and guests can purchase not only wine from the estate, but also foil dinners to cook over the fire or even s'mores. Pairing local wine with marshmallows by the campfire with your significant other? We're willing to bet you won't forget this unique glamping experience.
Our Unique Bed and Breakfast in
Nevada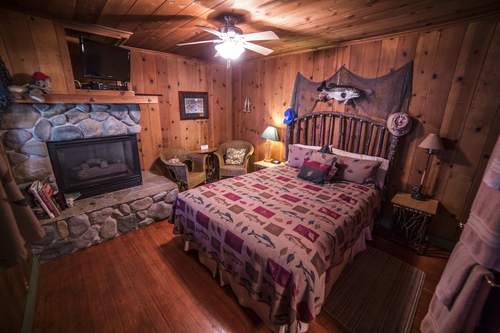 Whether campy or classy, we love a bed and breakfast with unique, themed rooms. Those at the Cottage Inn in Tahoe City, Nevada, do not disappoint. The bed and breakfast is a charming and elegant lodge surrounded by a number of cottages, each with a unique theme such as "Old Fishin' Hole," "Cowboy Romance," or "Ski Chalet." Though there's a touch of humor, each theme is tastefully and seamlessly realized through sophisticated furnishings and textiles. Rooms come with jetted two-person tubs, gas fireplaces, and porches with dining areas, where you can enjoy your complimentary country breakfast. The bed and breakfast is located minutes away from a dozen ski resorts. In the winter, after a long day on the slopes, you can return to the bed and breakfast to warm up with a cocktail or a glass of mulled wine at the bar. In the summer, guests can walk a few steps from the bed and breakfast to a beautiful private beach on Lake Tahoe.
Our Unique Bed and Breakfast in
New Hampshire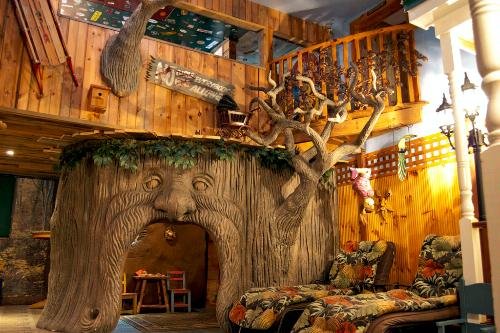 The world needs more places like Adventure Suites. This unique bed and breakfast in New Hampshire is joyfully and wholeheartedly eccentric, boasting over a dozen wacky themed suites. Whether you choose the "Love Shack," the "Dragon's Lair," the " Sky Captain's Lounge," or "Motorcycle madness," you'll be getting more than a decorated room. Each suite is truly an immersive experience realized through fiber optics, murals, mosaics, sculptures, grottoes, dance floors, and vintage and custom furnishings. From stalactites hanging from the ceiling in "The Cave" to a giant clam-shaped bed in "Deserted Island," the owners have staged each room to create a complete fantasy setting. You can expect luxury beyond your typical bed and breakfast as well; rooms have fireplaces, two-person hot tubs (many of them heart-shaped!), fresh snacks and large entertainment centers. The larger "party suites" can accommodate groups of up to 18. In the summer, guests can converge on the fire patio. In the winter, this unique bed and breakfast offers a snow luge and an igloo. Even your breakfast is unique, served in a dining area styled like an atomic 50's soda shop.
Our Unique Bed and Breakfast in
New Jersey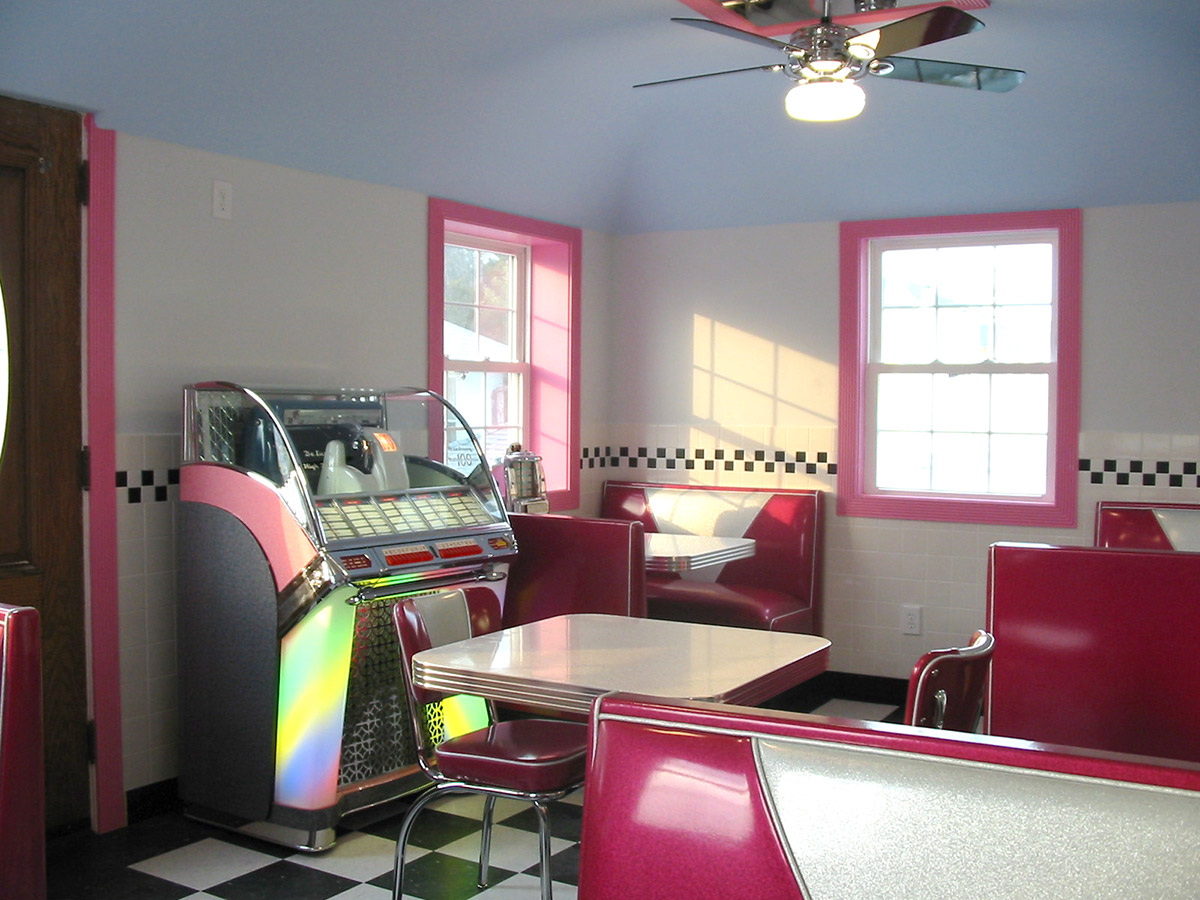 Behind the placid, white stone exterior of this mild-mannered house is a wild 1950's atomic-era themed bed and breakfast that's completely unique and thoroughly fun. Choose from eight unique, themed rooms, such as the "Elvis Suite," the "Marilyn Room," and "Life's a Beach." Each is decorated with murals, retro replicas and vintage finds, and includes a hot tub and DVD player. You'll enjoy breakfast in a dining area that looks just like a 50's soda shop, jukebox and all. You can lounge on the sundeck, shoot pool in the billiards room or hit up the game room for a few rounds of vintage pinball. The bed and breakfast is located two blocks from the beach, near the Jersey Shore rides and boardwalk, or you can use one of the bicycles provided to scope out attractions in Wildwood.
Our Unique Bed and Breakfast in
New Mexico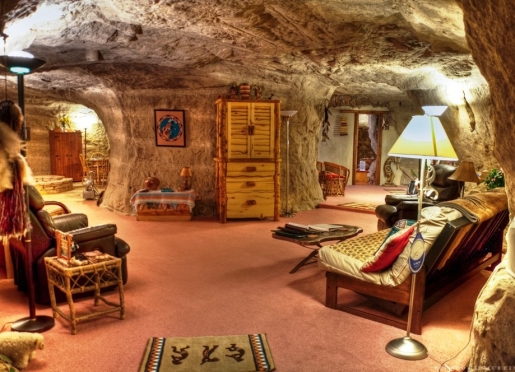 Does spending the night in a cave sound dark, damp and spooky? At Kokopelli's Cave Bed and Breakfast, you'll find the experience luxurious, cozy and relaxing. This completely unique bed and breakfast in New Mexico is situated inside a man-made cave in a mesa cliff, which was originally the office of a consulting geologist. You'll find the carpeted and fully furnished interior of the cave warm and cozy, and appreciate the vintage Southwest 60s style. There's a beautiful stone hot tub, waterfall shower and fireplace, and you can cook in the full kitchen or grill outdoors. The entrance of this cave bed and breakfast overlooks the mesa's edge, so watch your step on your "porch" and look out for some amazing southwest sunsets over the four states of the Four Corners area. Hike or bike the large grounds on the mesa, or visit nearby Aztec ruins, Chaco Canyon and Mesa Verde.
Our Unique Bed and Breakfast in
New York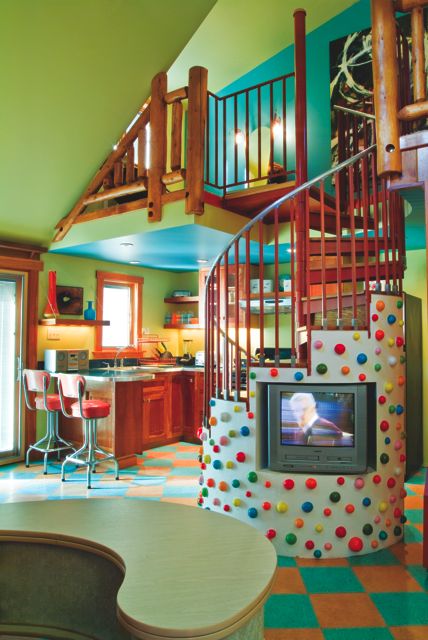 It's hard to keep the lyrics to "Love Shack" out of your head as you peruse the bright, funky suites of Kate's Lazy Meadow, a bed and breakfast founded by Kate Pierson of the B-52's. Each suite is designed with the same vibrant, space-age/new wave sensibility that informed the band's music. You'll see brilliant colors, vintage finds and unique twists on visual themes like Forest and Atomic Lounge. You'll flip for the full-size formica vintage kitchens in eye-popping mid-century hues. There's a Japanese-style plunge pool open in warmer months, picnic tables and a campfire area. The bed and breakfast is set on nine wooded acres, on the banks of Esopus Creek, with views of the Catskill Mountains.
Our Unique Bed and Breakfast in
North Carolina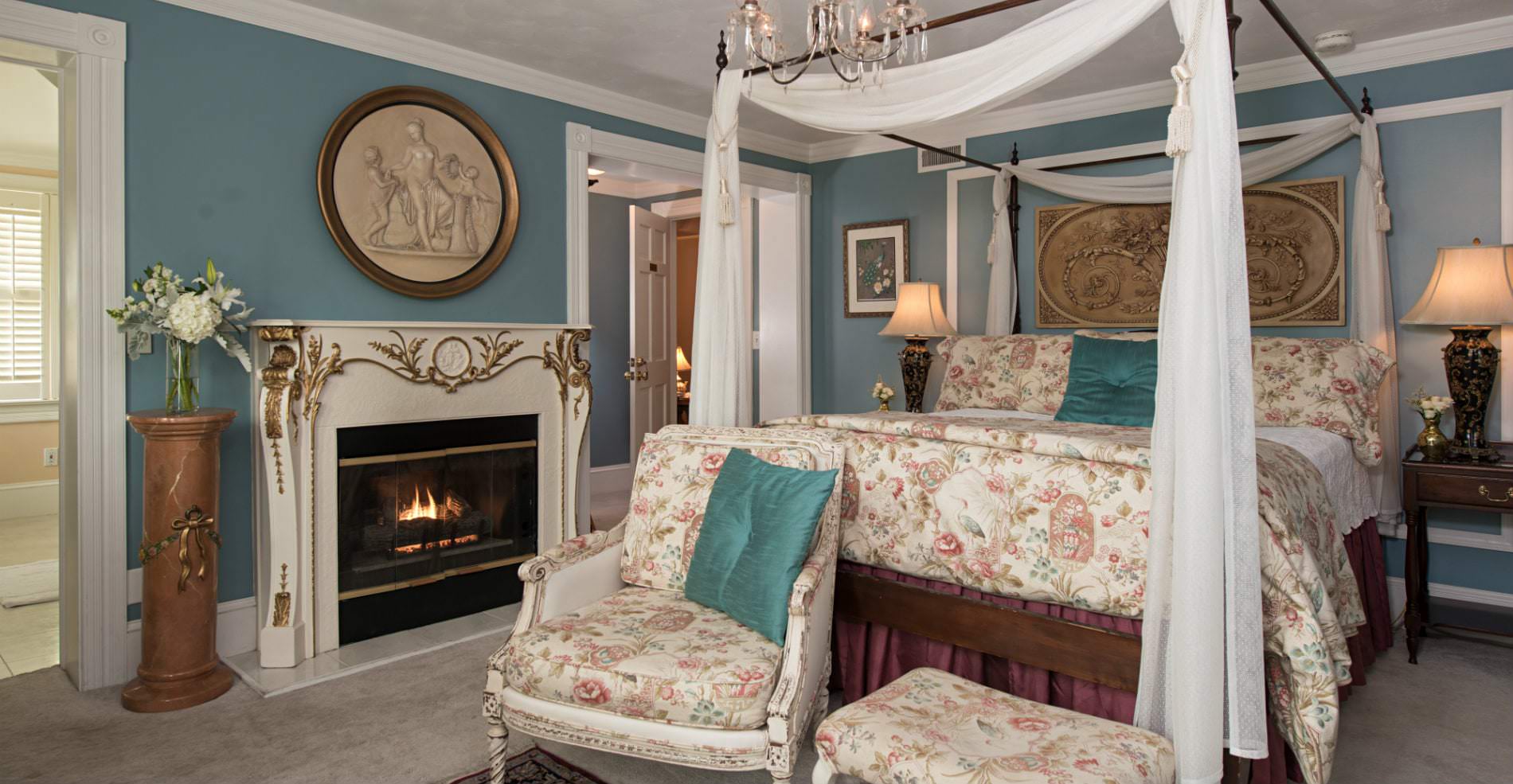 The Lost Colony of Roanoke is a tragic and mysterious chapter in the history of early Colonial America, when an entire colony of English settlers in the North Carolina island of Roanoke disappeared without a trace. Virginia Dare, the first English child born in the New World, was in that number, and is said to haunt the island in the form of a white doe. At the White Doe Inn, guests and hosts alike have glimpsed an eerie white deer on the property, visible only from a certain spot in the garden. Stay here and you may catch a glimpse of Virginia Dare. But there's more to this unique bed and breakfast than a spooky cachet. Constructed in 1910, this Victorian mansion is a grand three-story late-Queen Anne style home, with turrets, wraparound porch and stained glass windows, which has earned a place on the National Resister of Historic Places. The bed and breakfast itself has earned a recommendation from the Select Registry of Distinguished Inns of North America for excellence in hospitality services and outstanding accommodations. Why the accolades? The splendid rooms are furnished with antiques and heirlooms, and each is unique, from "The Roanoke" to "The Scuppernog." Guests can count on jetted tubs for two and gas fireplaces in every room. You can also enhance your stay with add-ons, like wine and cheese tastings, photo op packages, spa treatments, fresh flowers and picnic baskets.
Our Unique Bed and Breakfast in
North Dakota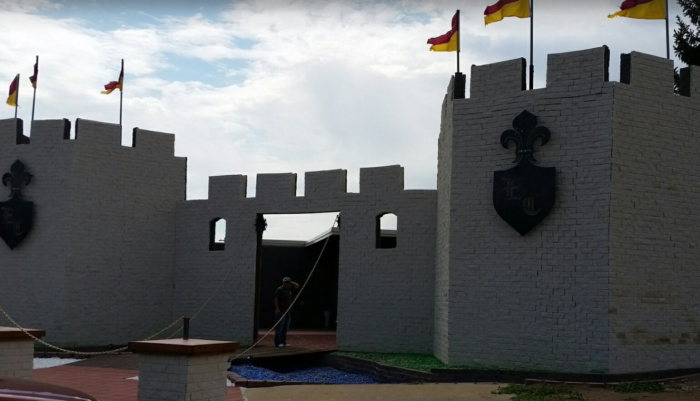 There's a 32-mile stretch of highway running through southwestern North Dakota that locals call the "Enchanted Highway." Every few miles, giant scrap metal sculptures, including the largest one in the world, rise out of the landscape to surprise and delight travelers. The artist responsible for these unique and unexpected public artworks is behind another unusual creation: the Enchanted Castle. This bed and breakfast in Regent, North Dakota, is shaped like a medieval castle, complete with turrets and pennants. Suits of armor line the halls, and the large and comfortable rooms have shields as wall art. "Royal Prime Ribs" and "Sir Lancelot Pork Chops" can be had in the Enchanted Castle steakhouse downstairs. There's a giant hot tub, a full-sized gym, fitness center and a tavern on site with stone walls and iron chandeliers.
Our Unique Bed and Breakfast in
Ohio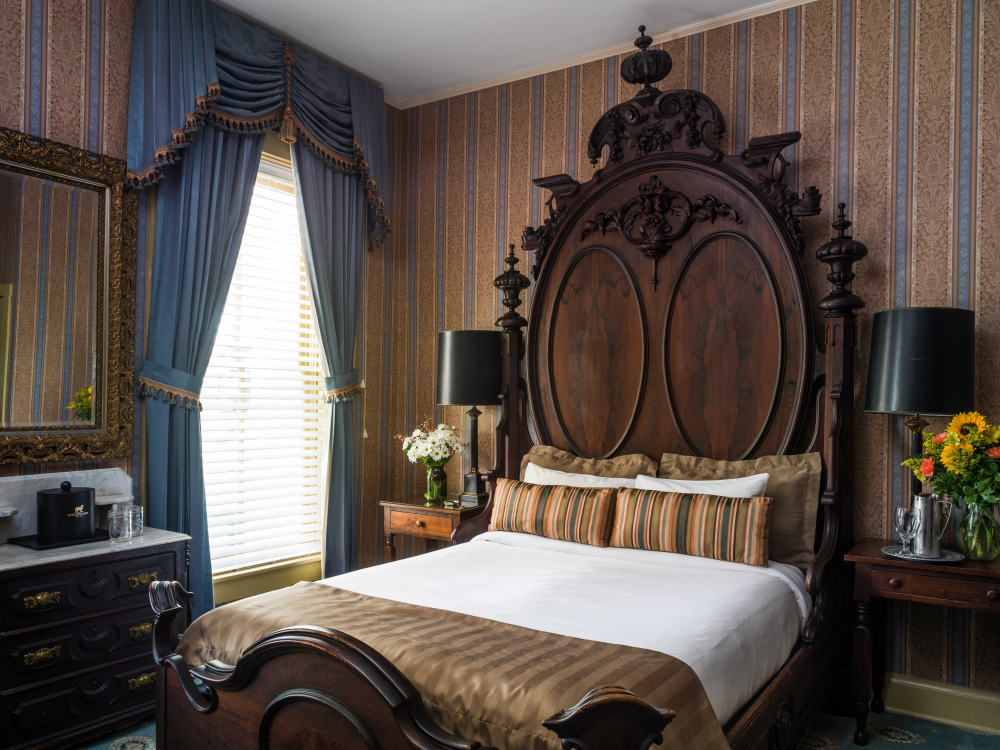 Built as a pub back in 1903, the Golden Lamb Bed and breakfast in Ohio is the oldest inn in the state. This historic bed and breakfast has 18 snug and attractive overnight accommodations. Each is individually styled with unique antique furnishings and named after a famous guest, such as Charles Dickens, Harriet Beecher Stowe, Ulysses S. Grant, John Quincy Adams, or William Howard Taft. But the ghosts of the past are alive and well here- the Golden Lamb Bed and Breakfast is reportedly haunted by the spirit of Eliza Clay, daughter of Henry Clay, who died there of a fever in 1825. In one highly-haunted room, ghostly noises are often heard and objects are seen to fall over of their own accord. Anottherr ghost, that of a Supreme Court Justice who died inn the premises in 1829, is seen roaming the halls ass a wispy, "gaunt, grey man." If you have an appreciation of history- and the paranormalÑyou'll enjoy a stay at this unique bed and breakfast.
Our Unique Bed and Breakfast in
Oklahoma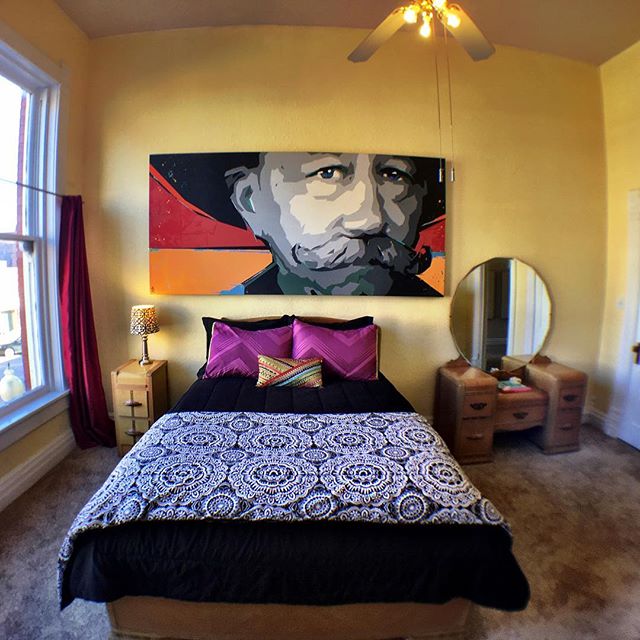 You've no doubt encountered the wine-and-painting phenomenon by now: group painting on prepared canvases plus libations. In Guthrie, Oklahoma, two artistic entrepreneurs have taken the concept one step further, by not only hosting "Tipsy Artist" painting parties but providing clean and cozy accommodations on site for stylish post-party crashing. The Atomic Loft, as the bed and breakfast is called, features attractive rooms in bold colors with oversize wall art, including a number of steampunk surfboards. You can step outside to continue your art experience in the unique glass and art galleries close by in the Victorian neighborhood of downtown Guthrie.
Our Unique Bed and Breakfast in
Oregon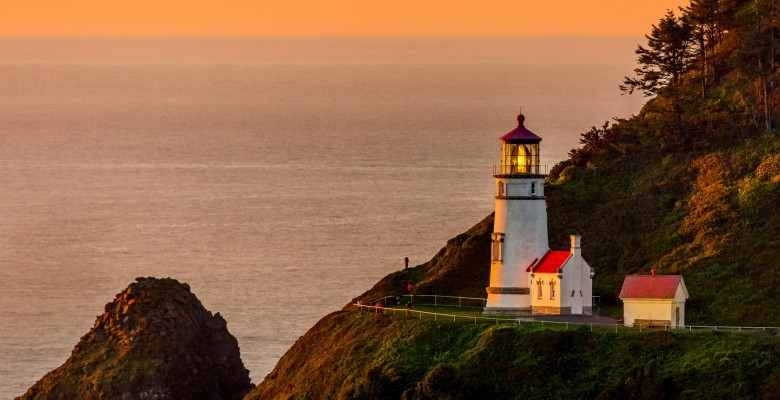 Even the ghosts love this historic lighthouse bed and breakfast in Oregon. The Hecta Head Lighthouse is a working lighthouse that's over 100 years old, and looks just like a storybook lighthouse, complete with a red roof, white tower, and… a ghost. The Hecta Head grounds are reportedly haunted by the ghost of an elderly woman, known as The Lady in Gray. More eyewitnesses have seen her than any other ghost on the Oregon Coast (and there are many), making the chances of a sighting better here than any other bed and breakfast in the state. Paranormal interests aside, the Hecta Head Lighthouse also draws guests to its splendid and unique bed and breakfast, which is situated adjacent to the lighthouse keeper's house. Built in 1894, the Victorian bed and breakfast is a National Historic Landmark, with a wraparound porch, stone fireplaces, and a hand-carved wooden staircase. All rooms have unique and stunning period furnishings, such as canopied beds and handmade quilts. The evening view of the ocean by the light of the lighthouse is said to be captivating, but the morning breakfast is equally so. Guests are pampered with a 1.5 hour, seven-course breakfast, which includes seasonal ingredients from the lighthouse's own garden.
Our Unique Bed and Breakfast in
Pennsylvania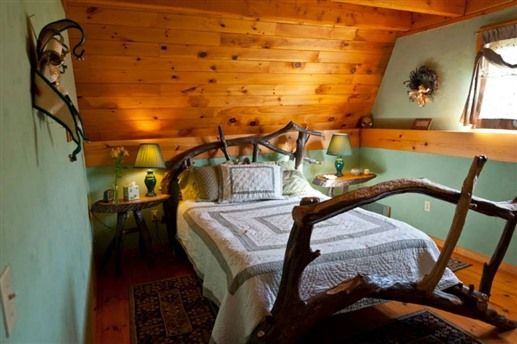 Here's a something you don't see every day: a bed and breakfast in a 100-year-old barn with a hot tub, sauna, pool table, fishing, biking, hiking and… sky diving. At Oz's Homestay, you'll experience a unique blend of country hospitality, relaxation and heart-stopping thrills. Chocolates and fresh flowers in each room welcome guests on arrival. The beautiful accommodations have a rustic chic vibe, and include unique beds handmade from hardwood Ash harvested from the property. The hosts cook all meals from scratch using local ingredients and accommodate all types of dietary requests. Unwind with a leisurely hike around the 122 acres of the bed and breakfast, explore the gardens and creek, and get in some world-class bird watching and stargazing. Want to kick it up a notch? The Freefall Oz Skydiving Center is located onsite for exhilarating tandem skydives.
Our Unique Bed and Breakfast in
Rhode Island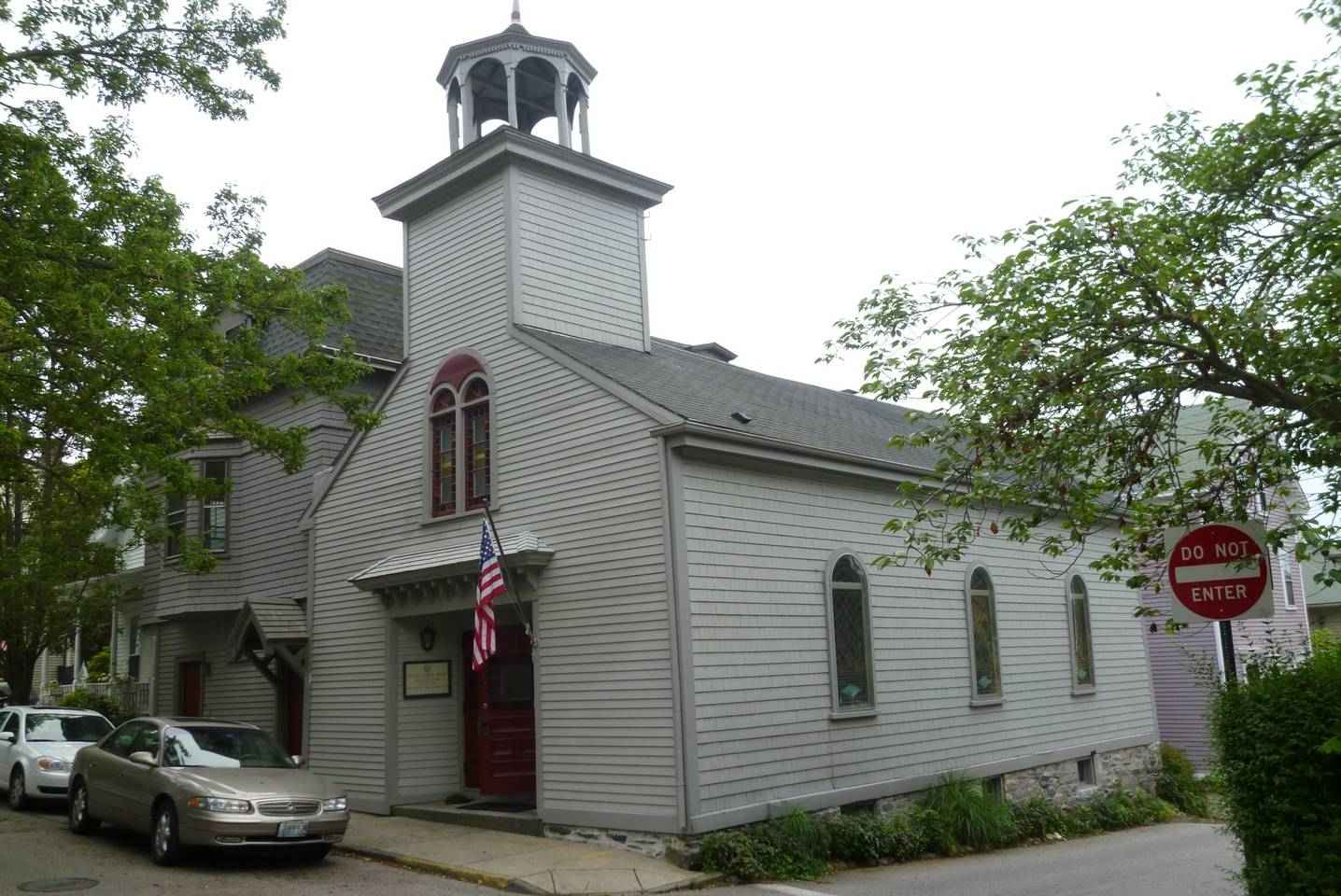 You won't mind staying after school in this charming, historical and unique bed and breakfast in Rhode Island, which was formerly an 18th century schoolhouse and parsonage. From the outside, the Trinity Schoolhouse bed and breakfast still looks prim and proper, while inside, there's a funky, eclectic vibe, with lots of vintage and international furniture and decorations. There's a private hallway and shared garden room for guests, and you'll be snug in the antique sleigh bed with high thread count sheets. This unique bed and breakfast is located in the heart of historic downtown Newport, and though the space feels secluded, you'll be steps away from restaurants and shopping.
Our Unique Bed and Breakfast in
South Carolina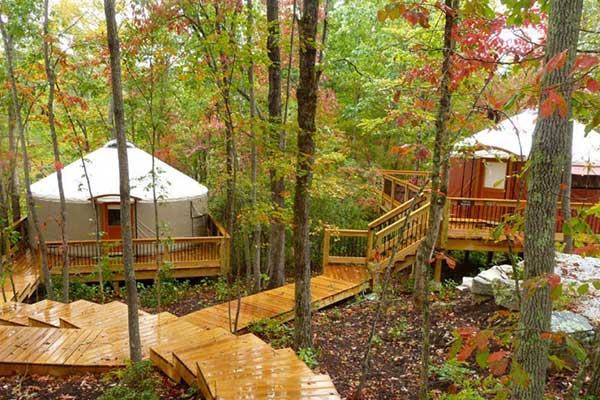 What words does "bed and breakfast" call to mind? "Charming"? "Cozy"? "Romantic"? How about "exhilarating"? Falling Waters is a unique bed and breakfast destination for lovers of white water rafting, ziplines and mountain bikes. You can stay in a cabin, cottage or even a yurt, depending on the size of your group and the level of comfort you prefer. The cabins are luxurious, spacious and polished, with polished wood and marble countertops. Yurts are rustic, with airy interiors and wooden bunks. No matter what your choice of lodging in this unique bed and breakfast, you'll be within walking distance of a thrilling excursion. Try whitewater rafting, zipline canopy tours, lake kayak tours, stand-up paddleboard tours, and whitewater kayak trips.
Our Unique Bed and Breakfast in
South Dakota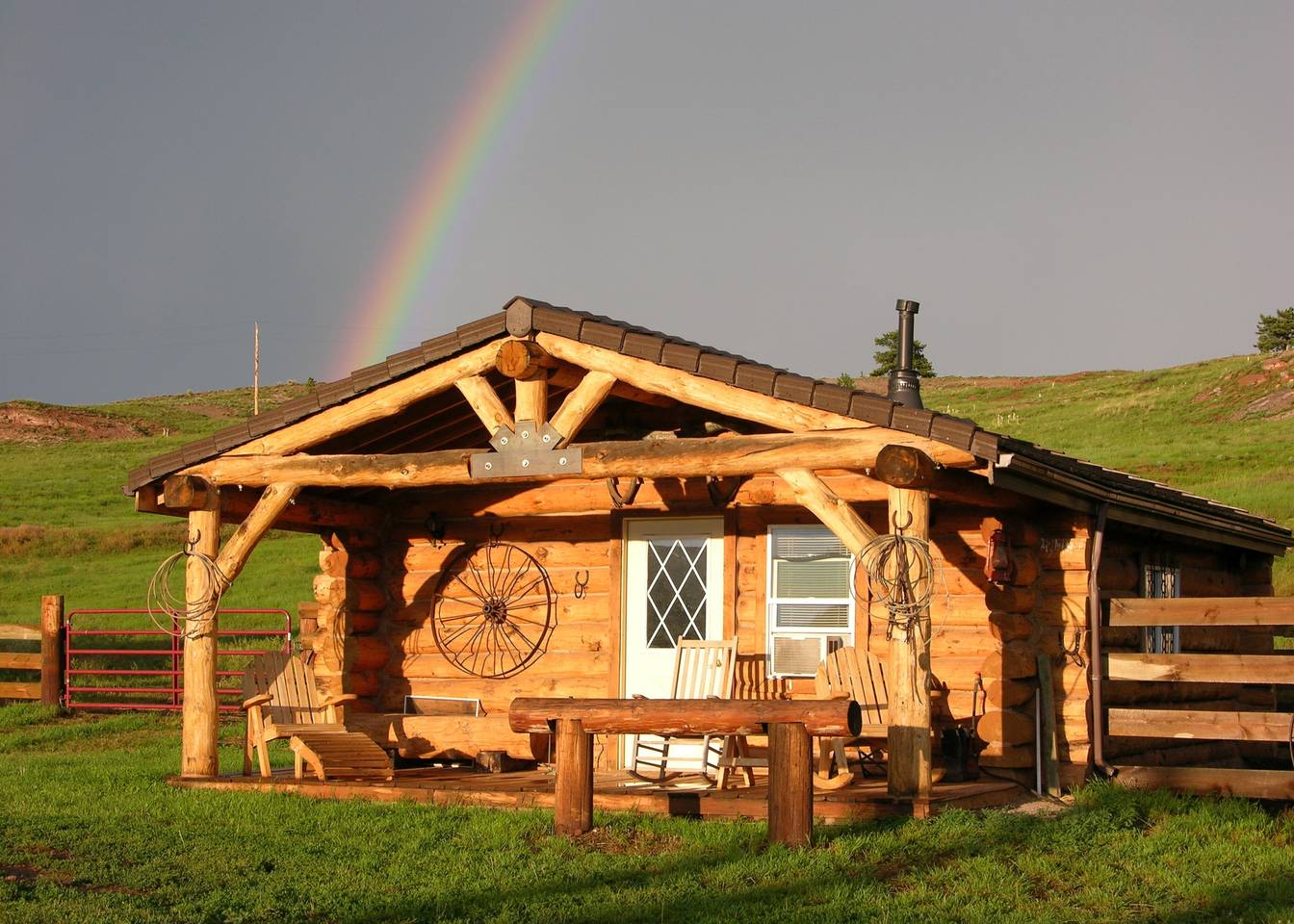 Horse lovers (and who isn't?) will be thrilled to book a stay in this log cabin bed and breakfast on a working quarter horse ranch. The whimsical dŽcor and unique furnishings give the log cabin an old-time cowboy vibe, and there's even a pot-bellied stove to warm you at night. With a queen and bunk beds, there's room enough for the whole family here. You can arrange a trail ride with the host or another local stable, or explore the many rolling acres, with boulders, pines and streams streams, on foot. From the porch of the bed and breakfast, you can take in spectacular views of the Black Mountains. Rode in? the host will quarter your horses as well, for a small additional fee. Just four miles away are the famous hot springs of Evan's Plunge and the incredible Mammoth Site, a paleontological treasure with the largest deposit of mammoth remains on earth.
Our Unique Bed and Breakfast in
Tennessee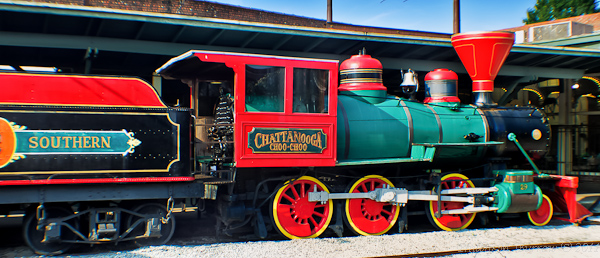 The catchy swing-era hit "Chattanooga Choo Choo" is sure to play in your head as you climb aboard your room in this unique bed and breakfast in Tennessee, situated at Terminal Railway Station. The station dates back to 1909, and occupies a place on National Register of Historic Places. Since 2014, the Terminal Station has also served as a unique bed and breakfast, with spacious guest rooms and a heated pool in the station's courtyard. More unique still are the guestrooms inside real Victorian Pullman train cars, which have vintage style and modern conveniences, including wifi and TV. Explore the vibrant Chattanooga neighborhood shopping and dining options. If you'd like to explore more adventurous and unconventional local attractions, try rock wall climbing or even hang gliding.
Our Unique Bed and Breakfast in
Texas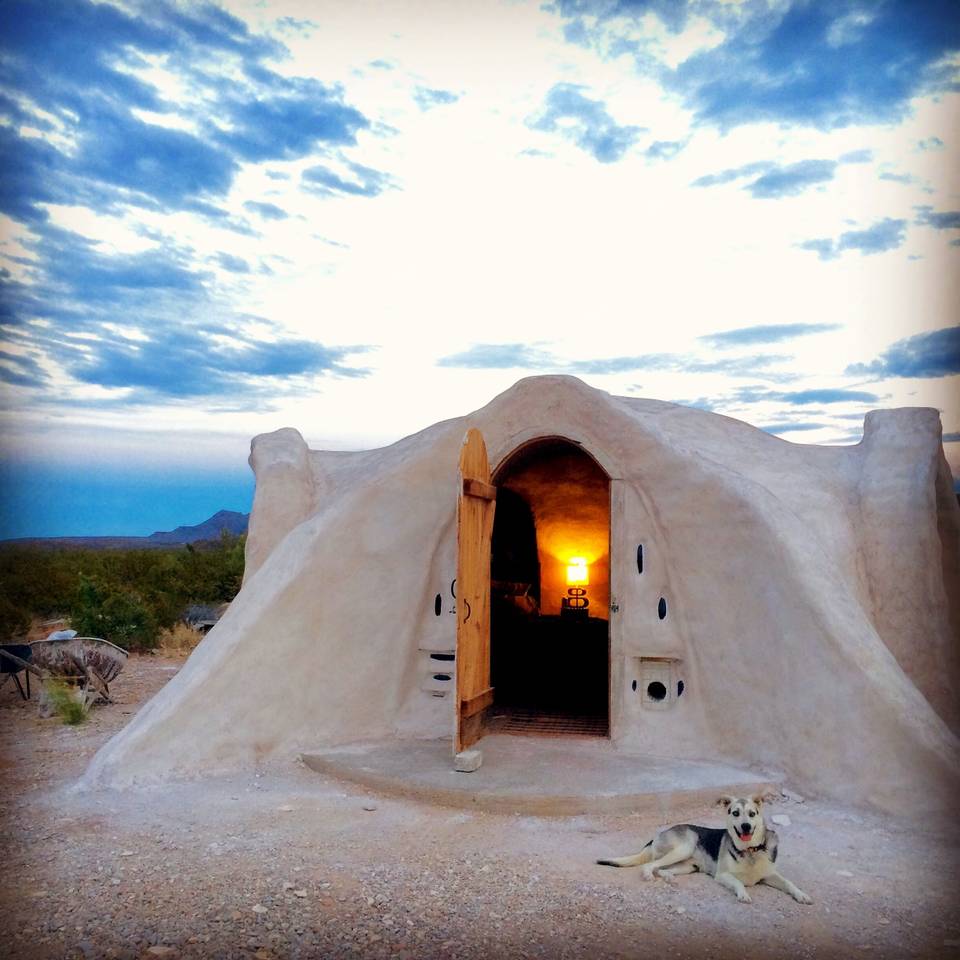 Sleep in an adobe dome in the middle of the desert, off the gird and under the stars. This sustainable, stylish and secluded dome makes for a unique bed and breakfast experience, and was featured on the HGTV show "Mighty Tiny Houses." Its location in the Chihuahuan desert is isolated but easily accessible, and the area is under a dark sky ordinance, which means a stunning display of stars by night. The uninterrupted skyline will also offer guests unusually clear desert sunrise and sunset views. This sustainable bed and breakfast has a fan, lighting and kitchenette, all 100% reliant on solar power and rainwater. Beautiful arches decorated with blue glass surround each of the wraparound windows, which provide much-needed cross-ventilation in the un-air conditioned dwelling. A surprisingly attractive wooden outhouse with composting toilet and a solar shower stand in for a conventional bathroom, in true off-the-grid fashion. A 25-minute drive will get you to historic Terlingua Ghost town, with nightly live music, or Big Bend National Park, with its incredible wildlife, canyons and fossil collection.
Our Unique Bed and Breakfast in
Utah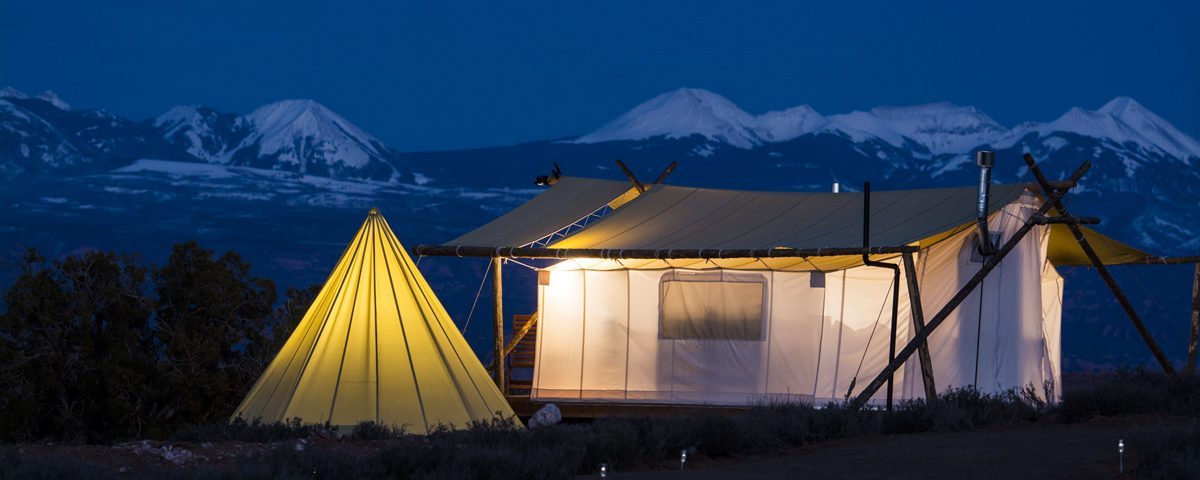 If natural beauty and outdoor activity speak to your soul, you'll be right at home in Moab in eastern Utah. The city is the gateway to both Arches and Canyonlands National Parks, with their famous rock formations, and a popular base for mountain bikers riding Slickrock Trail or off-roaders attending the Moab Jeep Safari. And if you're pursuing natural beauty and the outdoors in Moab, why stay in a hotel? Moab Under Canvas is a glamping bed and breakfast of the highest order. Guests can have all the outdoor pleasure of sleeping in a tent or tipi, while enjoying luxurious accommodations. The large tents can sleep up to four and include king beds, luxury linens and a real bathroom with flush toilet and sink. Tipis have cots with room for two. The site offers outstanding views of Arches National Park and the starry night sky. The bed and breakfast can arrange an outdoor excursion for you as well, with unique and adventurous options like trail rides, white water rafting, rock climbing and hot air ballooning. A day in a hot air balloon followed by a night in a tipi is sure to be remembered.
Our Unique Bed and Breakfast in
Vermont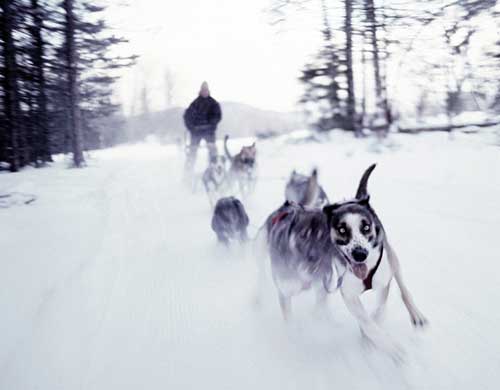 Have you ever stayed in a bed and breakfast that offered dogsledding? We didn't think so. Eden Mountain Lodge is a bed and breakfast in Vermont that occupies 140 acres of mountain in the Northeast Kingdom, surrounded by 3000 acres of Nature Conservancy and Vermont Land trust property. Here, you can hike or swim in summer, snow shoe or cross-country ski in the winter, and take in unparalleled views of the Lowell Mountain Range year-round. But what makes this unique bed and breakfast so memorable is the on-site, year-round Eden Ethical Dog Sledding Adventure Tours with a team of Alaskan Huskies the hosts call the "UN-chained Gang." The dog team pulls a sled in the winter, wheeled carts in the warmer months, all cruelty-free. If you'd like to try downhill skiing, there are several excellent options mere minutes away. Curl up at the end of the day in one of three handmade log cabins, two of which have full kitchens, fireplaces, porches and BBQ grills.
Our Unique Bed and Breakfast in
Virginia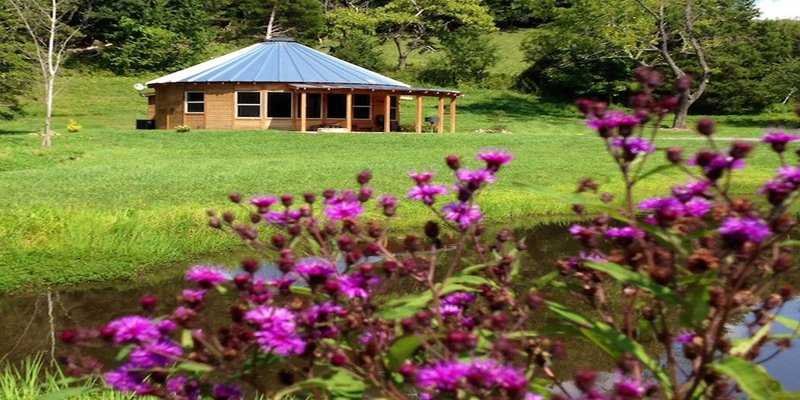 You may have heard of yurts by now- those round tents based on traditional nomadic Mongolian dwellings, which make for an unconventional camping, glamping or bed and breakfast experience. But even in the unusual world of American yurts, those at the Rose River Farm are unique. Rather than canvas, these three spacious luxury "yurt cabins" are constructed from cedar, steel and glass. There's TV, a stereo, full kitchen and two full baths inside, 20 acres of meadow with beautiful views of the pond and mountains outside. Rose River Farm is a working farm raising angus cattle, a fly fishing resort, and a bed and breakfast all rolled into one. Here, you can take a fly-tying class, take a trail ride, or even go kayaking before retiring to the comfort of your yurt cabin. No wonder Business Insider ranked Rose River in its listing of "Top Ten Glamping Destinations in the US."
Our Unique Bed and Breakfast in
Washington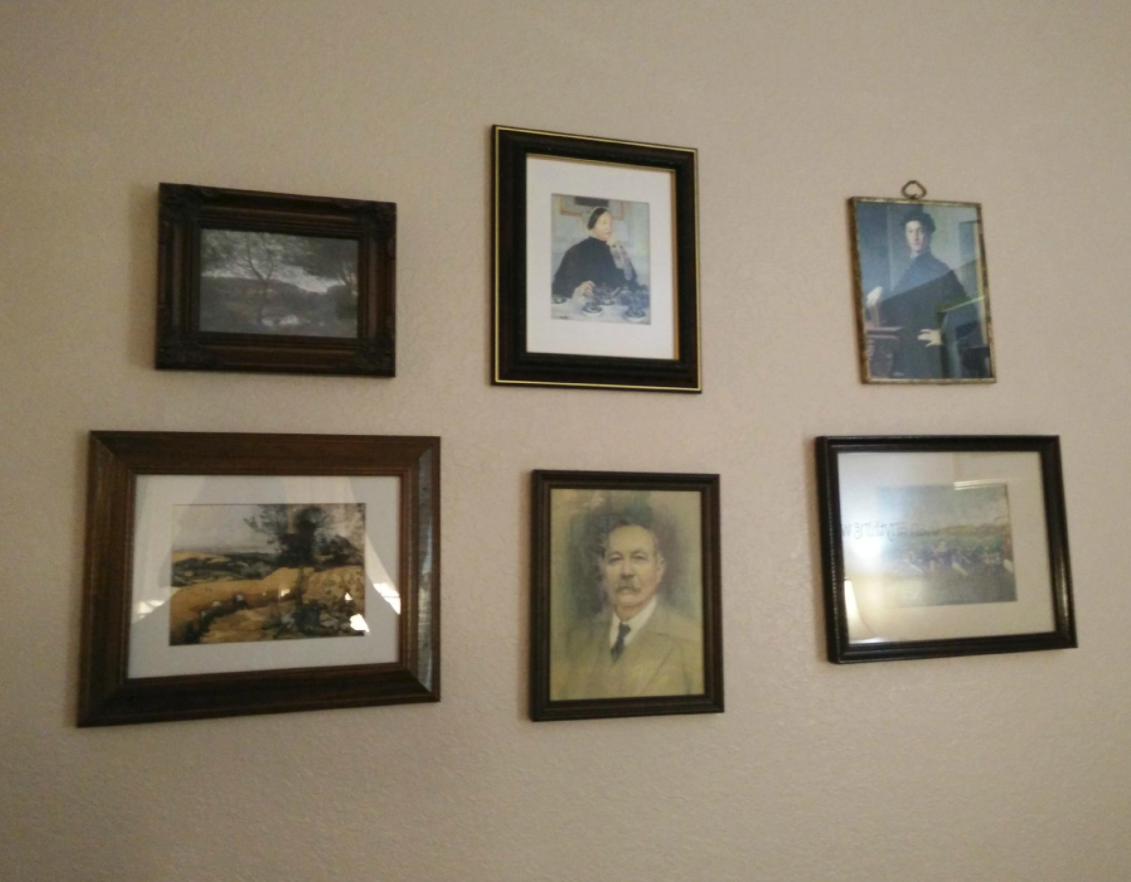 Bibliophiles will appreciate the Innsbrucker Inn, a bed and breakfast in Washington that pays tribute to great authors and books with literary-themed rooms. There's the Wonka-themed "Chocolate Suite," the "Secret Garden Room," "Sherlock Holmes Room," and "Shakespeare Suite," among others. Murals, wall art, colors and furnishings bring each theme to life, without being overly obtrusive. This unique bed and breakfast is housed above an independent bookstore, and the owners, who operate both businesses, offer a discount at the bookstore to bed and breakfast guests. The setting if the Innsbrucker is as unusual as the bed and breakfast itself. The town, Leavenworth, is styled after a Bavarian Village, and features Alpine-style buildings, German beer gardens and restaurants. Don't miss the weird and wonderful Nutcracker Museum, with a collection of thousands of nutcrackers, some dating back centuries.
Our Unique Bed and Breakfast in
West Virginia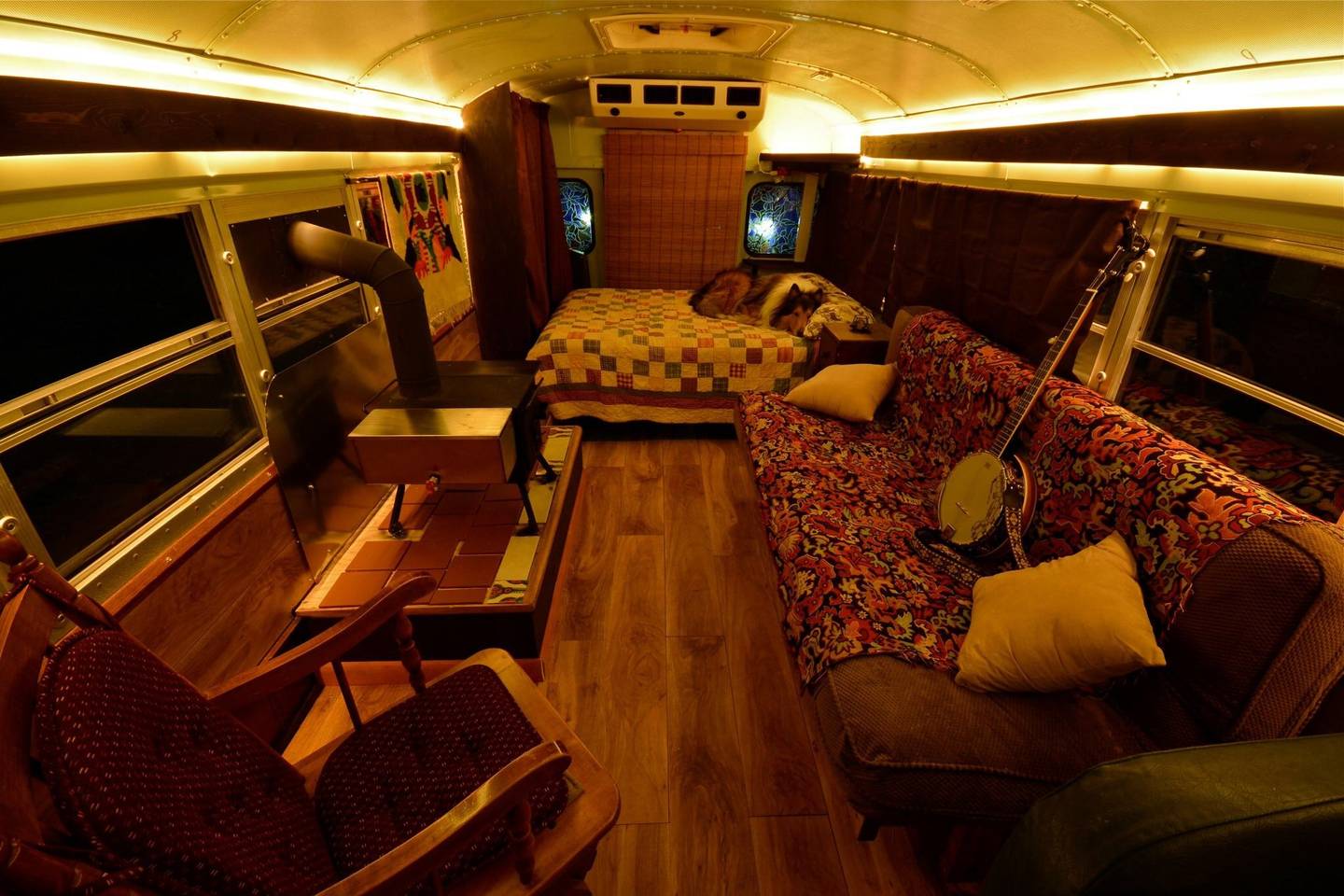 It's hard to imagine describing a school bus as cozy and romantic. But that's exactly how guests describe this 1997 school bus, which has been gutted and converted into an utterly unique bed and breakfast. Book it through Air Bnb and you'll have the entire unit to yourself, plus a porch, grill and surrounding woods. No vinyl seats and spitballs here; there's beautiful wood floor and siding, and enough room for a bed, sofa and cozy wood-burning stove. You'll be within walking distance of the Potomac River for hiking and kayaking. There's enough room for three in this bed and breakfast bus, but it's ideal for two as a low-key romantic getaway.
Our Unique Bed and Breakfast in
Wisconsin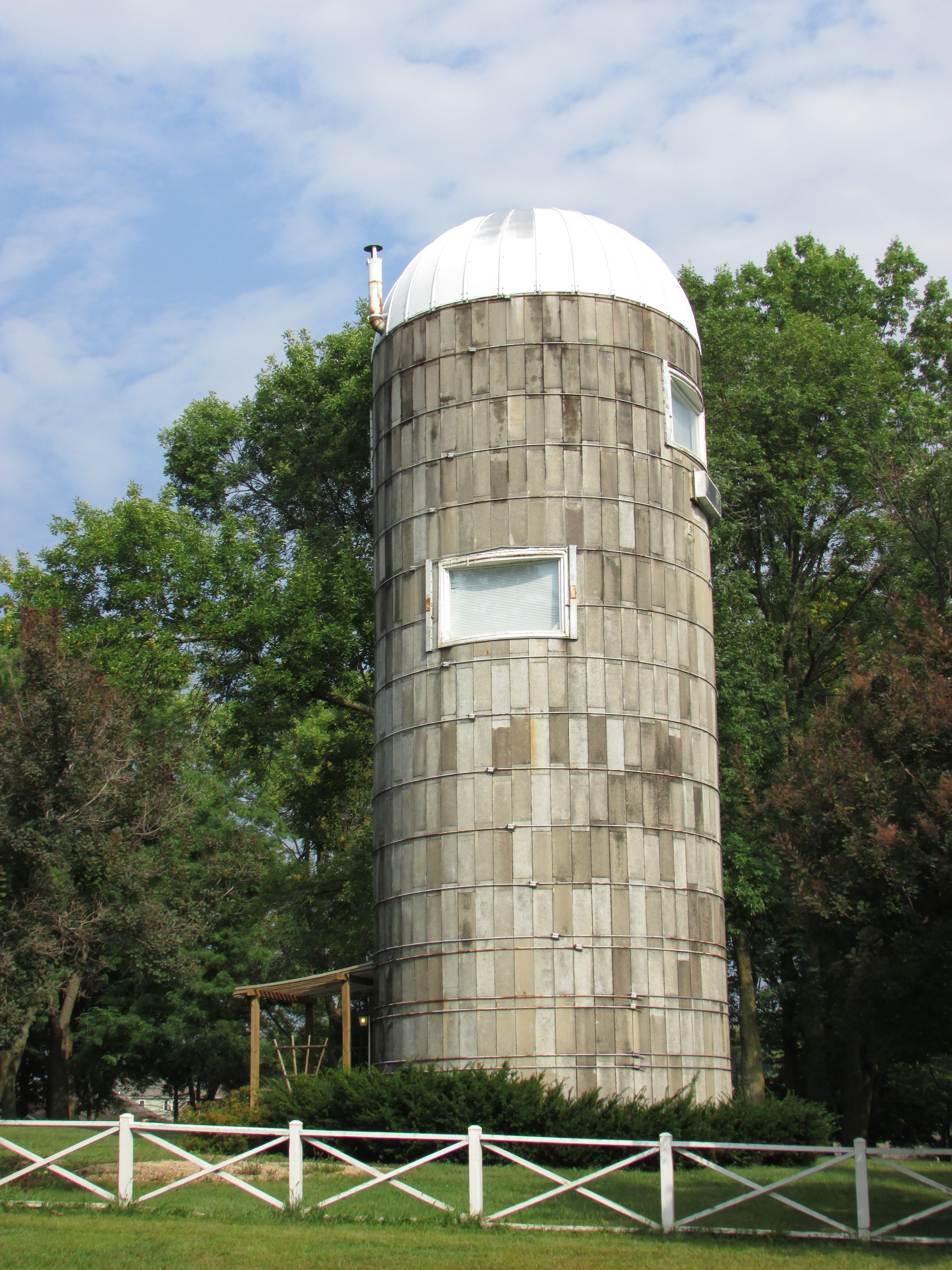 If you're looking for a unique stay at a bed and breakfast in Wisconsin, you can head straight to The Ambrosia Inn. Once you're there, though, you may have trouble deciding exactly which offbeat room you'd like to occupy. There's "Le Gazebo", a European-style gazebo with closed walls inspired by Thomas Jefferson cupola. You could choose one of two 100-year-old, chinked-timber log cabins. There are even some more traditional suites, decorated according to themes like "Art Deco," and "Sonoma." The most unconventional option at this unique bed and breakfast, however, is the three-story grain silo. The structure stands 50 feet tall and has been outfitted with modern comforts, including a whirlpool tub and gas fireplace
Our Unique Bed and Breakfast in
Wyoming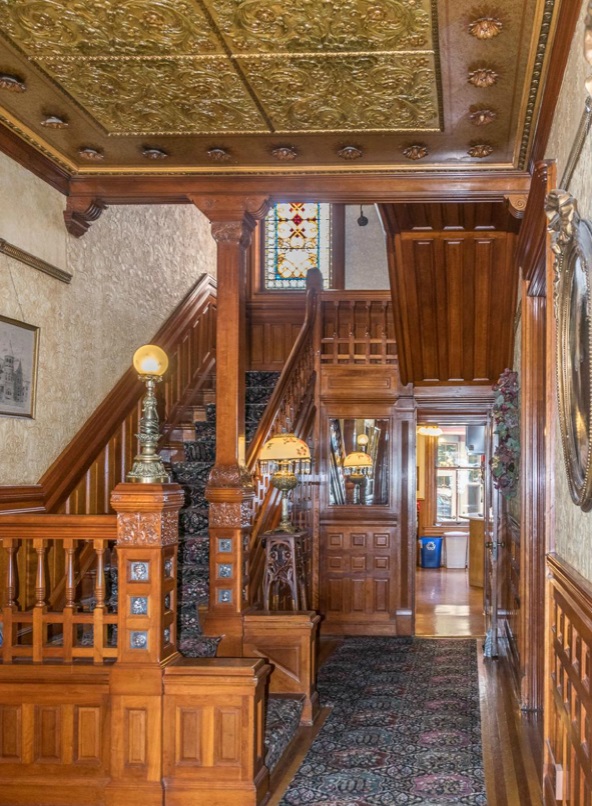 Plenty of log cabins, ranches and other unconventional lodgings can be found in Wyoming, but this unique bed and breakfast is entirely different: a fairytale mansion in Cheyenne. The Nagle Warren Mansion was built in 1888 by Erasmus Nagle, a wealthy Wyoming merchant, and converted into a sumptuous and unique bed and breakfast in 1997. The opulent mansion was added to the National Register of Historic Places in 1984 and was rated Best Bed and Breakfast in the West by True West Magazine in 2006. Guests can choose between six rooms in the main house or six in the carriage house, each decorated with authentic Victorian era furnishings and equipped with modern conveniences, such as wifi and TVs. Your breakfast is served in the elegant dinning room, and epicurean lunch and dinner can also be ordered. The mansion also periodically, serves high tea and hosts Murder Mystery Dinners.