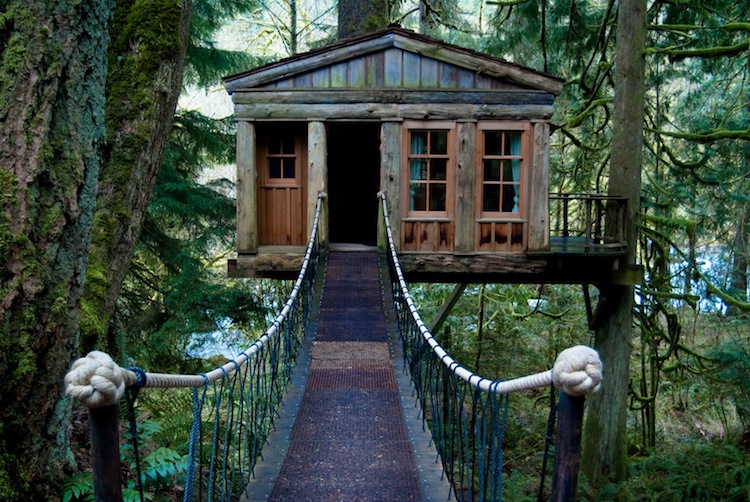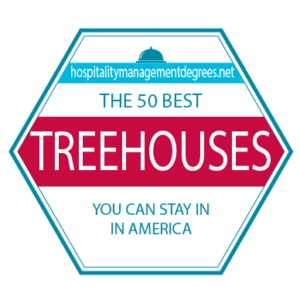 For a truly elevated lodging experience, why not nest for the night in a treetop? If that sounds a little crazy, you'd better take a closer look. Treehouse hotels have been a popular alternative trend in the hospitality sector for some time, and can now be found at every price point, in every size and in every state in the nation. There are primitive digs for rustic treetop camping, as well as luxurious treetop hotels with granite kitchens and hot tubs. We've scoured the choices from coast to coast to bring you the best, the coolest and the most unique treehouse rentals. Want to stay in an eco-friendly treehouse by a volcano in the rainforest in Hawaii? We found you one. How about a designer treehouse rental on a private island in Michigan? We've got that, too. There's even a beachside "human nest" made from driftwood sticks and branches out in California. Explore our state-by-state guide to treehouse rentals and take your travels to new heights.
Stay in a Treehouse in
Alabama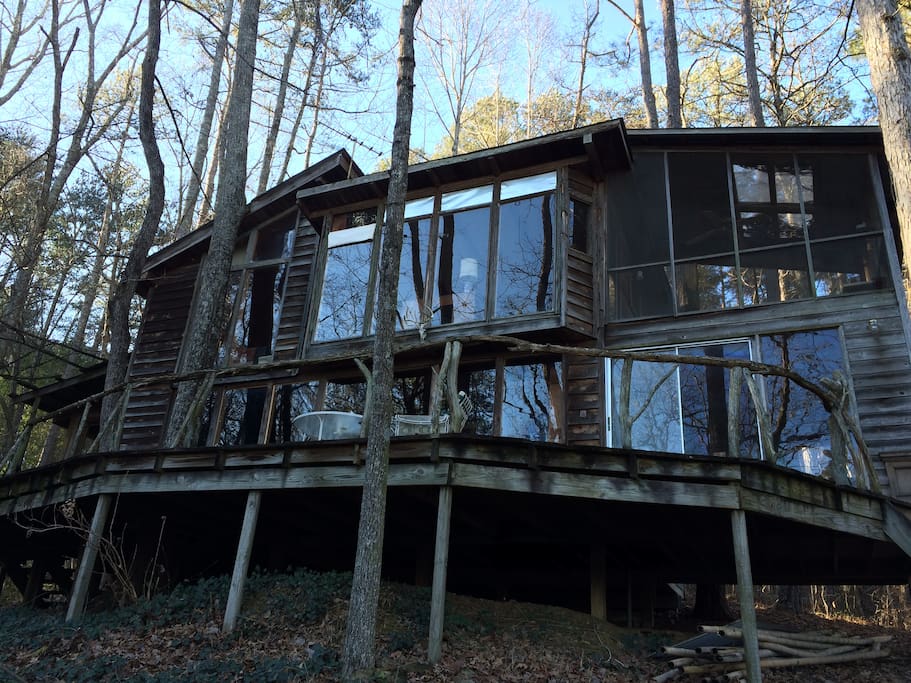 The sunrise streams through the tree branches and fills the living space of the Glass Treehouse in Alabama, with its floor-to-ceiling windows. Hand-construction, rustic details, eclectic antiques and provocative artwork make this an unusual setting. Here, guests can stay in a treehouse and also enjoy abundant ground-level attractions; the estate features a pool, gardens, chickens, boats, a waterfall, and hiking trails though the deep woods. A private room in a shared house on the grounds can be rented as well.
Stay in a Treehouse in
Alaska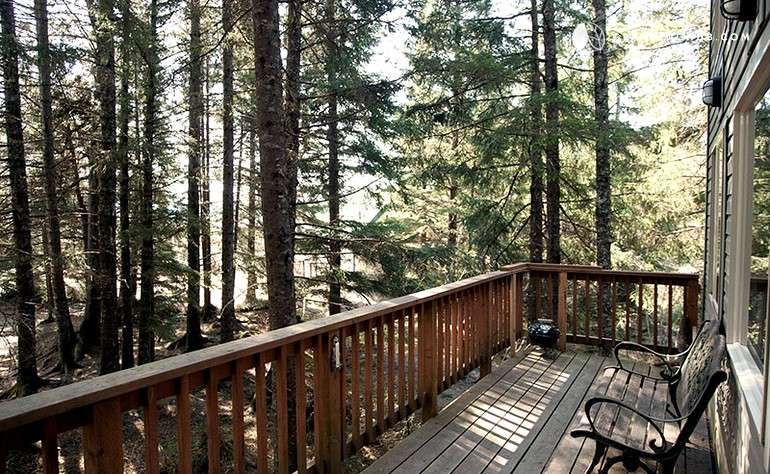 The forest or the beach- why not both? Here, you can stay in a treehouse close to a beautiful beach. The spacious digs in this Glamping unit can accommodate as many as seven guests, and a grill, picnic area and fire pit add to the group entertainment appeal. This treehouse hotel features traditional Alaskan décor, from furs and textiles to polished pine, along with a stunning spiral staircase carved from a single tree.
Stay in a Treehouse in
Arizona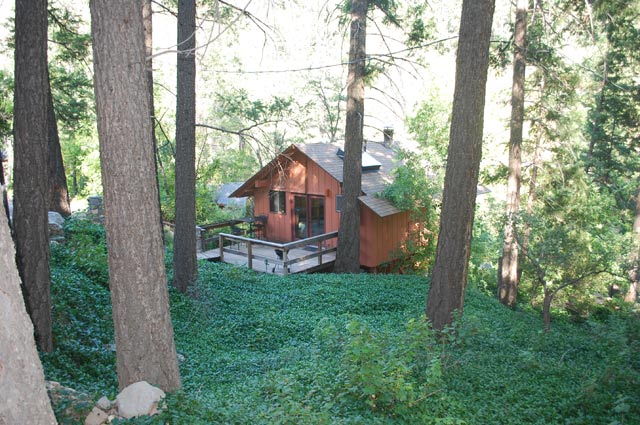 Outside of Sedona, the Forest Houses Resort can be found nestled in a pristine river gorge. Here, guests can stay in a stilt-raised treehouse or choose one of the 15 other cabins built at ground level. This treehouse hotel features a freestanding fireplace and balcony, and can accommodate 2 guests. The grounds are the biggest draw for this cute treehouse in Arizona; guests have access to acres of idyllic canyon forest, unusual rock formations, fishing and wildlife.
Stay in a Treehouse in
Arkansas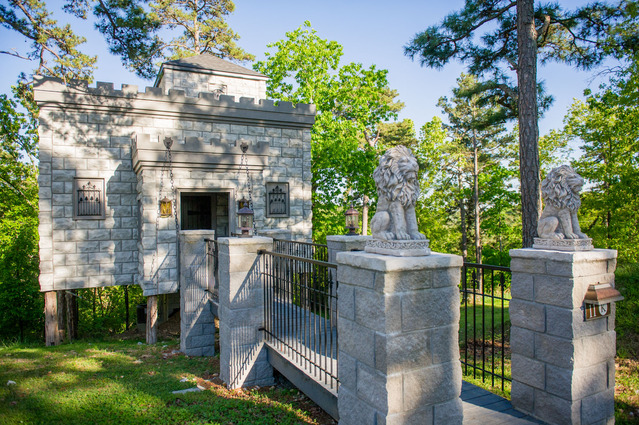 If you choose to stay in a treehouse, you probably have an playful streak. If you're ready to get seriously whimsical, don't miss Eureka Springs Treehouses in the Ozarks. This fabulously eccentric getaway features a number of fantasy lodgings, including Hobbit Caves, Kaui Lodges, Harry Potter Hogsveil Cottages, and Enchanted Forest Caverns, along with no less than thirteen treehouses. Each treehouse hotel features a Jacuzzi and private walkway, flatscreen TV and WiFi. Guests can stay in a treehouse styled like a Harry Potter castle complete with a secret passage, iron grates and tower. Only slightly more traditional are the city-themed options, where guests can stay in a treehouse styled after Venice, Paris or Santa Fe, among others.
Stay in a Treehouse in
California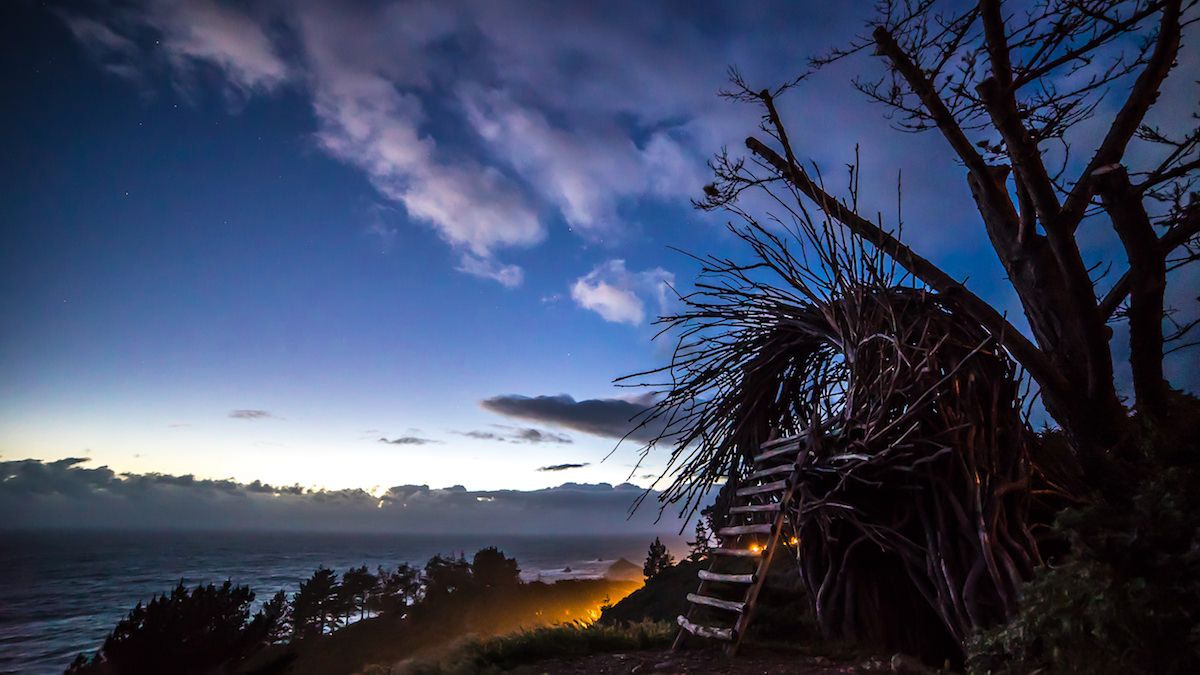 With a booming tourism industry, redwood forests, balmy climate and outdoorsy populace, it's no surprise that California is home to a wealth of treehouse rentals of every type, from the glamorous to the rustic. But few are as striking as the Human Nest, located on the grounds of the Treebones Resort in Big Sur. Local artistJayson Fanncreated this unusual wood art installation, which overlooks the beach and breathtaking sunsets. Built of swirling driftwood, the Human Nest is more treehouse campsite than treehouse hotel; guests must bring their own sleeping bags into the shelter, and may want to bring a tent as well, since the Nest is not rain-proof. Below the nest, guests can use a cook site and picnic area, and restrooms are a short walk away.
Stay in a Treehouse in
Colorado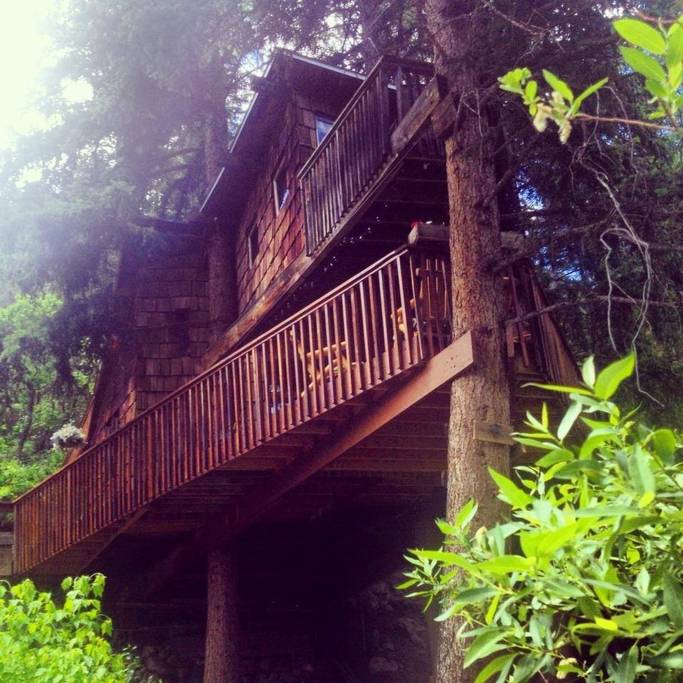 Colorado has no shortage of treehouse rentals, which are frequented by both the state's many tourists and its famously outdoorsy natives. Of the states many treehouse hotels, the Rocky Mountain Treehouse stands out for it's classic looks and luxurious amenities. Guests at this Airbnb get to stay in a treehouse attached to four 100-foot spruces, while also enjoying such comforts as a wood-burning stove, skylights, granite and copper detailed kitchen, balcony, rock shower and hot tub. Below this treehouse rental are found two wooded acres, a creek, fire pit and garden.
Stay in a Treehouse in
Connecticut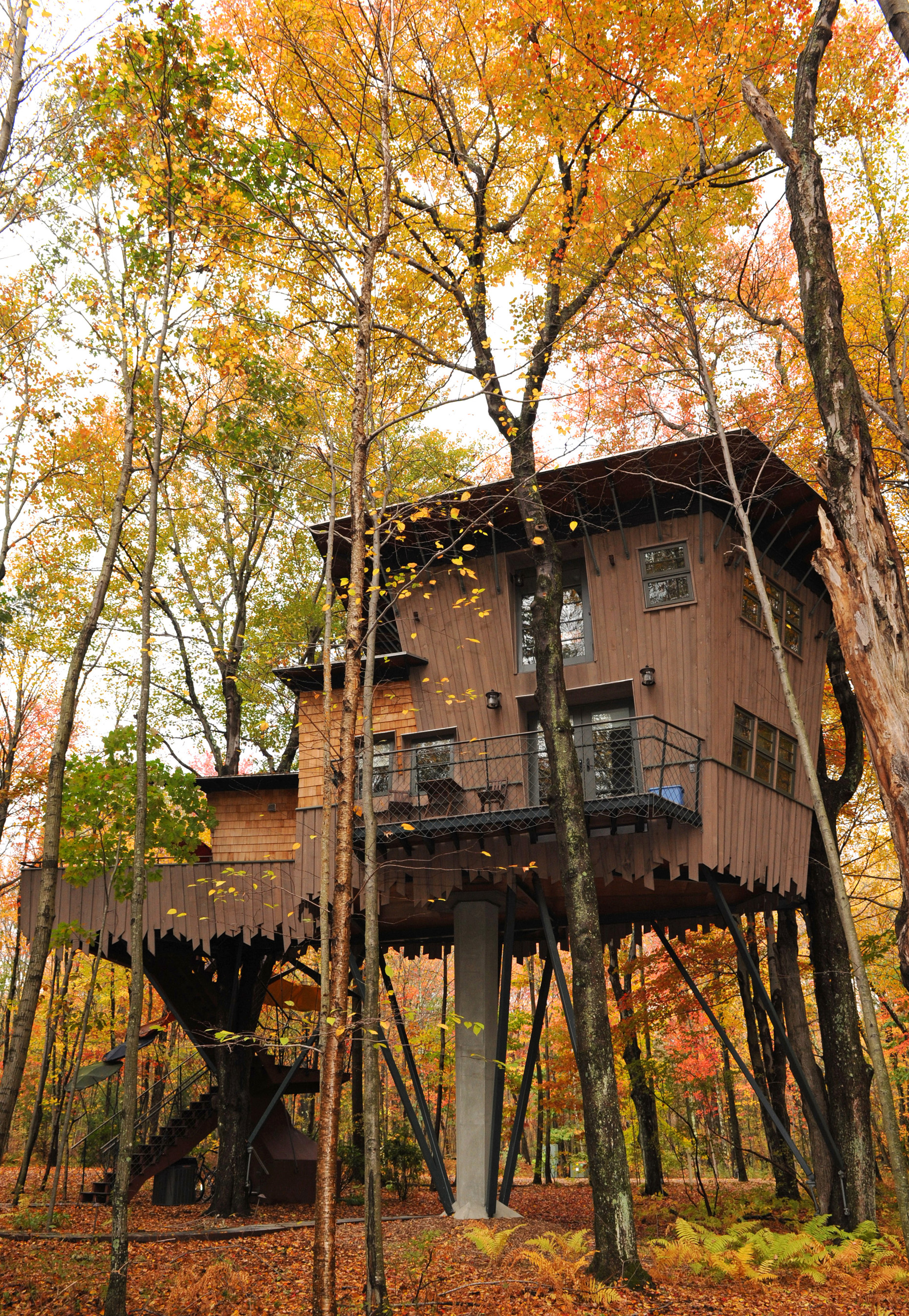 This treehouse in Connnecticut made Fodor's list of " 10 Incredible Treehouse Hotels in the US. It's part of Winvian Farms, a resort on in the Litchfield Hills which bills itself as "113 acres of heaven on earth." It's hard to argue with that claim; the historic estate features a spa, a five-star farm-to-table restaurant, organic gardens, scenic trails and bikes at each of the resort's 18 individually designed cottages. These include a greenhouse, a music conservatory or, of course, a sophisticated treehouse rental. A spiral staircase with multicolored canopy takes guests 35 feet up to the entrance of the beautifully designed treehouse hotel. Inside, amenities include two fireplaces, king-size bed, full bar, steam shower, balcony and Jacuzzi.
Stay in a Treehouse in
Delaware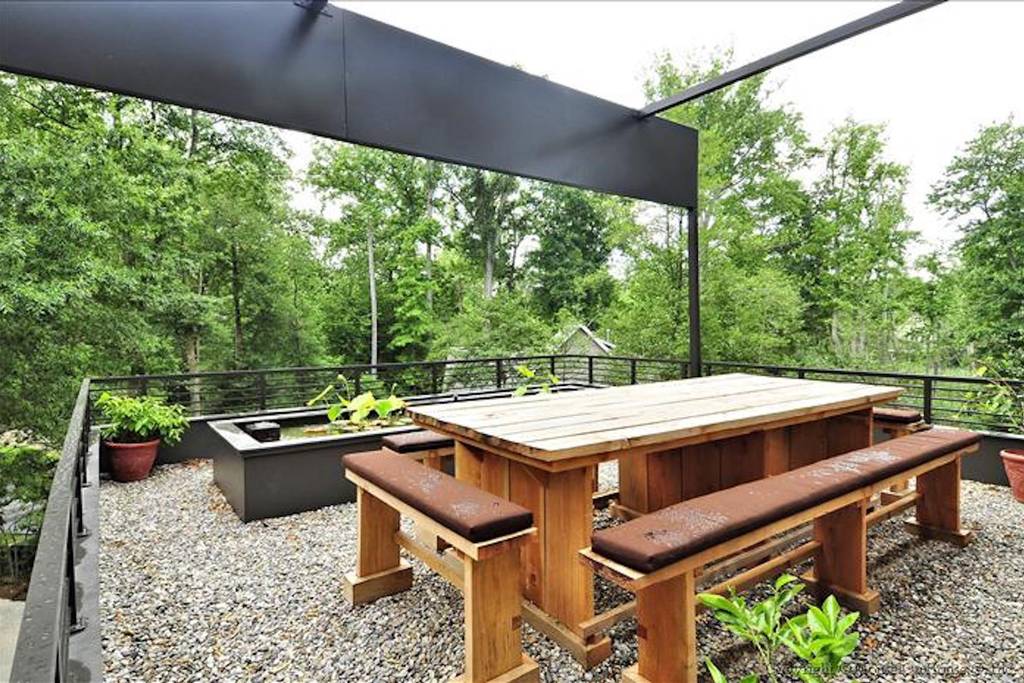 The Atlantic Coast town of Rehoboth Beach is a charming destination, with boardwalk, entertainment, dining and summer outdoor concerts and festivals. This Airbnb treehouse in Delaware is located 2.5 miles from the boardwalk- near enough to walk to the fun but far enough for quiet. While the hosts affectionately call this huge, 5-bedroom structure a treehouse, it's more a of a tall, tree-nestled modern building, with clean lines, glass, exposed wood and steel. Floor-to-ceiling windows complete the sense of being immersed in the treetops. Each bedroom has unique outdoor access, including decks and balconies, and there's even an outdoor claw-footed bathtub. No rope ladder in this treehouse hotel- guests can ascend to the top floor in a wood-paneled elevator.
Stay in a Treehouse in
Florida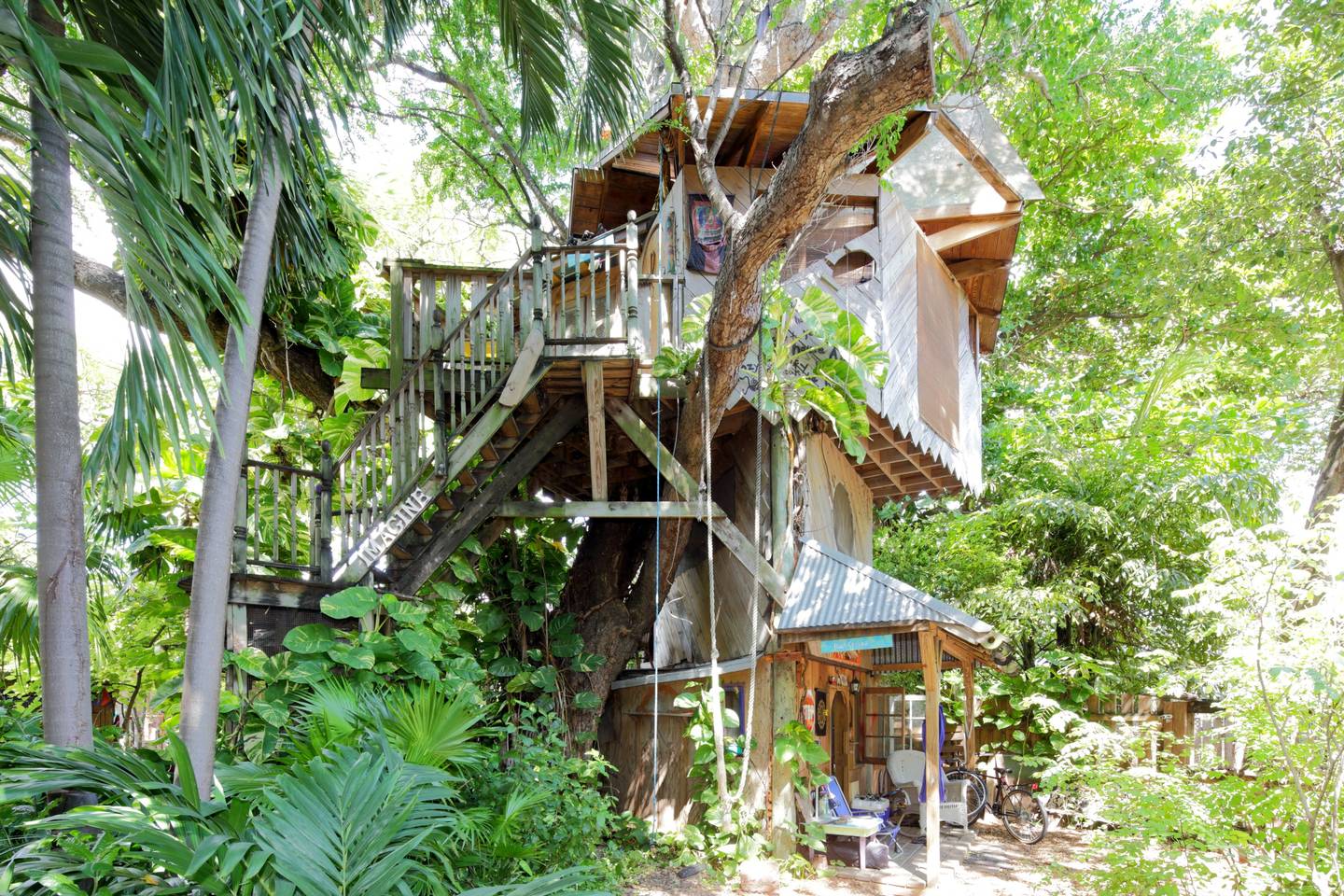 This enchanting Airbnb treehouse in Florida looks like it popped out of the tropical islands in Swiss Family Robinson, yet is based in Miami's Little Haiti, just 15 minutes from the airport. The charming mashup of different types of wood and corrugated metal blends harmoniously with salvaged architectural details. The entire three-level structure actually wraps around a tall tree, whose large trunk runs right through the bedroom. This unusual treehouse hotel is set on a working urban farm. Guests who stay in the treehouse can expect to see goats, pigs, emus, chickens and honeybees, and to enjoy seasonally-available produce, milk, eggs and honey with the included breakfast. Air conditioning and plumbing are not available, though- guests who stay in the treehouse can make use of fans and a downstairs toilet.
Stay in a Treehouse in
Georgia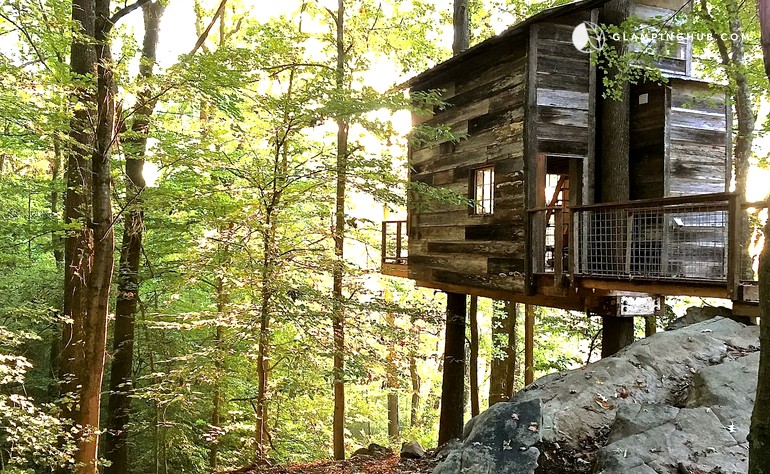 The Treetop Hideaway treehouse in Georgia is billed as "part glamping, part boutique hotel." With its sophisticated yet casual design and minimal-yet-luxurious amenities, this treehouse hotel certainly seems to cater to a young, hip crowd. The Hideaway operates two treehouses, each with room for four and amenities including AC and heat, Tuft and Needle mattresses, WiFi, kitchenette and specialty craft beverages and toiletries. Beautiful views of the mountains and woods create a sense of restful seclusion, but a quick ten-minute drive will get you to the bustling berg of Chatanooga, right across the state line, for shopping, dining and nightlife.
Stay in a Treehouse in
Hawaii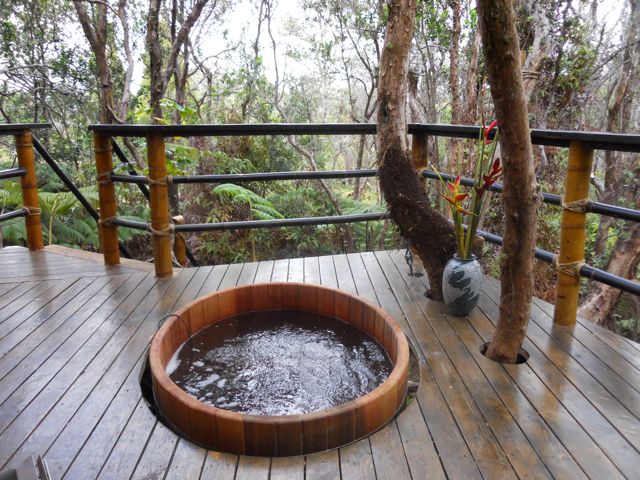 Stroll through the rainforest, walk through a lava tube (a long tunnel of igneous rock), climb a ladder, pass through a trap door and emerge into this stunning treehouse in Hawaii. The Aloha State has a number of treehouse rentals, but this one is remarkably exotic, beautiful and eco-friendly. All power is provided by wind and sun, rainwater is collected for showering, and the treehouse hotel itself is constructed from sustainable and salvaged materials. Multiple living trees grow through the structure's decks. This treehouse hotel is built up at the level of the forest canopy, overlooking lush vines, giant ferns and orchids below. Guests who stay in the treehouse can relax in a hammock, soak in the cedar hot tub or visit Hawaii Volcanoes National Park, located just 5 minutes away.
Stay in a Treehouse in
Idaho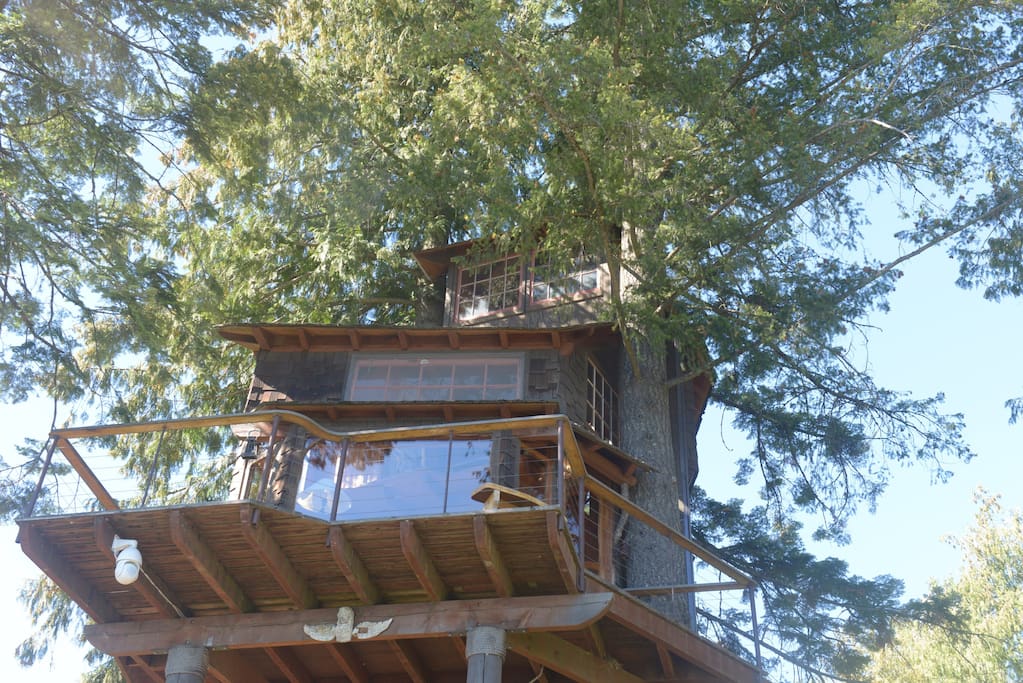 This fabulous treehouse rental can be found on Lake Pend O'reille overlooking the lake and a private dock, walking distance from the shops and restaurants of Sandy Point. The property was featured in Great Homes of Idaho, and with good reason- it's beautifully built and full of attractive design details inside and out. The exterior features asymmetrical angles and wooden shingles, while the interior has hand-carved wood curving wood details rarely seen in a treehouse hotel. Guests who stay in the treehouse will need to climb both stairs and a ladder, entering through a trapdoor. A balcony offers views of the water, as well as occasional glimpses of bald eagles hunting below.
Stay in a Treehouse in
Illinois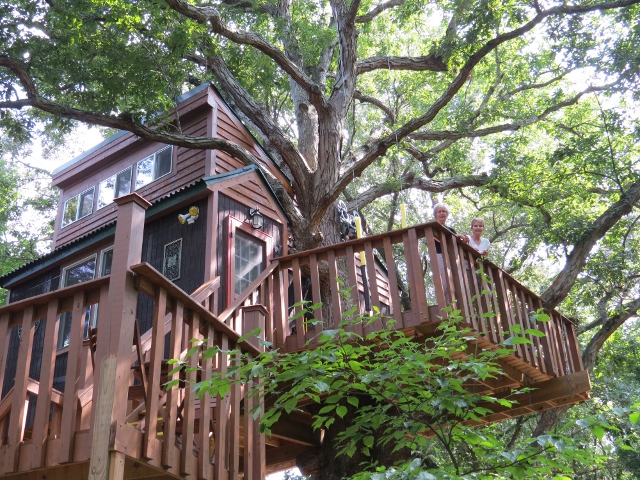 Visitors to Timber Ridge Outpost can stay in a treehouse or a log cabin on the edge of Shawnee National Forest in Illinois. There are two lovely treehouse rentals on site: a small one ideal for couples and a larger one with room for a whole family. The larger unit is built around a 200 year old white oak, whose trunk extends right through the living quarters. No need to forego creature comforts in this treehouse hotel- both have heat and AC, a kitchenette and shower, and can grill or hold a campfire using provided firewood. On-site and adjacent outdoor activities make this treehouse rental really stand out. Visitors can try archery golf, horseback riding, kayaking, boating, massage, hiking or even arrange a guided wild mushrooming expedition.
Stay in a Treehouse in
Indiana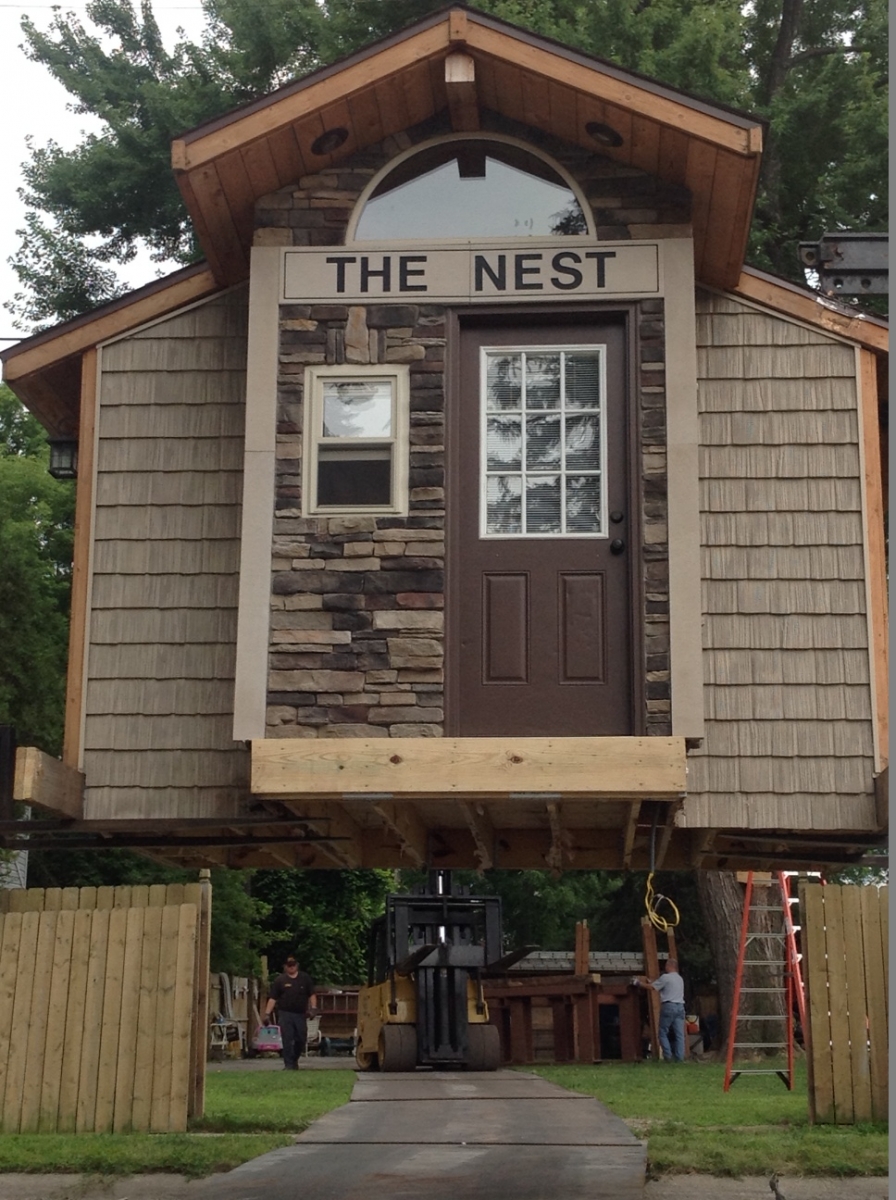 Camp Oh-We-Gotta, opening in 2018, will mark the first time that families can stay in a treehouse in Indiana. No less than 16 treehouse rental units will make up the outdoor resort, which will attract families with activities like a waterslide, playground, swimming pool, volleyball, horseshoes and campfires. A large central playground area is planned for the center of the resort, with the balcony of each treehouse rental cleverly arranged to face the play area for adult supervision.
Stay in a Treehouse in
Iowa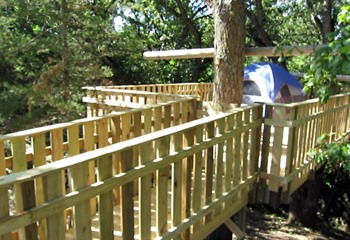 The John15 Meeting and Retreat Center, based in Scranton, Iowa, offers a treehouse camping experience. Lovers of the outdoors will enjoy pitching a tent on this rustic treehouse rental, which consists of an elevated platform perched high in the canopy, and overlooking a working vineyard. This is decidedly treehouse camping, not a treehouse hotel- don't look for heat, AC or running water here. Guests who say in the treehouse campground can play Pitch and Putt golf on the premises, hike in the words or fish in the pond. Guided vineyard tours are available free of charge, and produce and products from the vineyard can be purchased as well.
Stay in a Treehouse in
Kansas
If you're looking for a comfortable stay in a treehouse in Kansas- or a log cabin- Branson Cedars is the way to go. The resort blends the best of outdoor living- with spacious decks, sweeping views from a crow's nest and cozy campfires- with all the comforts of home. The treehouse rentals are beautifully constructed of polished wood and have attractive but casual furnishings. Guests who stay in each treehouse will enjoy the use of ceiling fans, two bathrooms with jacuzzis, washer and dryer, multiple cable TVs, fireplace, gas grill, and king-size beds. Each treehouse rental has 2-4 bedrooms, making this an excellent choice for a unique family vacation.
Stay in a Treehouse in
Kentucky
For a cute and affordable stay in a treehouse in Kentucky, just hike ten minutes through the forest up to a secluded corner of the Red River Gorge Geological Area. The Flying Squirrel Treehouse is as cute and high-flying as its namesake, high up a flight of steep stairs, and built with an asymmetrical, modern design that incorporates clean lines along with raw, knotted wood. A balcony wrapping around two sides provides leafy views. This is not a treehouse hotel, but treehouse camping- guests who stay in the treehouse will be using a composting toilet and downstairs outdoor shower in leiu of plumbing, and can rely on a propane stove and lantern in lieu of electricity. For a truly secluded little nest hidden the heart of the woods, this treehouse rental is a real gem.
Stay in a Treehouse in
Louisiana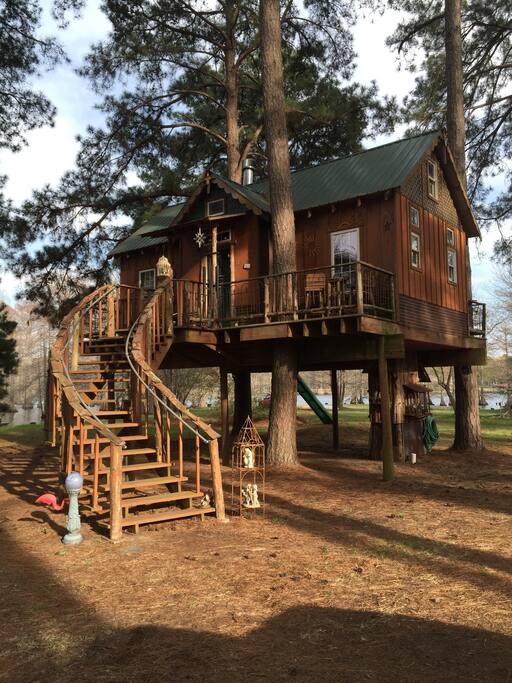 The Cedar Treehouse in Louisiana's Pine Island is located on two private acres of cypress and pine forest overlooking Cross Lake. The tin roof and raw timber construction make for a quaint effect, and living trees grow right up through the deck, making this treehouse hotel feel like a part of the forest itself. Indoors, there's a clawfoot tub, kitchenette and air conditioning. Outside, there's a grill, terra cotta fireplace, pool and lounge chairs. Guests who stay in the treehouse can make the most of the lake with the use of provided fishing poles and kayaks.
Stay in a Treehouse in
Maine
Imagine taking in the fall colors of the Northeast from lodging amid the treetops. If you want to stay in a treehouse in Maine, there are no less than four treehouse rental options at TimberStone Adventures. The resort has one primitive treehouse rental for nature lovers who prefer rustic beauty to indoor plumbing and heat. The other three are true treehouse hotels, with designer interiors and luxury amenities. The largest of these, the Grand Oak, sleeps 8 and features a carved spiral staircase, Jacuzzi, and ultra-modern full kitchen. Outdoors, guests can enjoy grilling, campfires and hiking- the resort borders the White Mountain National Forest– and an 8-acre frisbee golf course.
Stay in a Treehouse in
Maryland
Nature lovers who want to stay in a treehouse in Maryland have 14 treehouse rentals to choose from at the Maple Tree Campground. Of these, ten are basic treehouse rental units set up for camping- enclosed elevated cabins with decks and bunks (though no mattresses). Since there's no heat or AC, campers can only stay in these treehouses in Spring, Summer and fall. Want a little more indoor comfort? Opt for one of the four cottage-style treehouse rentals, which are insulated for year-round use and include mattresses, a wood stove, fire pit and grill.
Stay in a Treehouse in
Massachusetts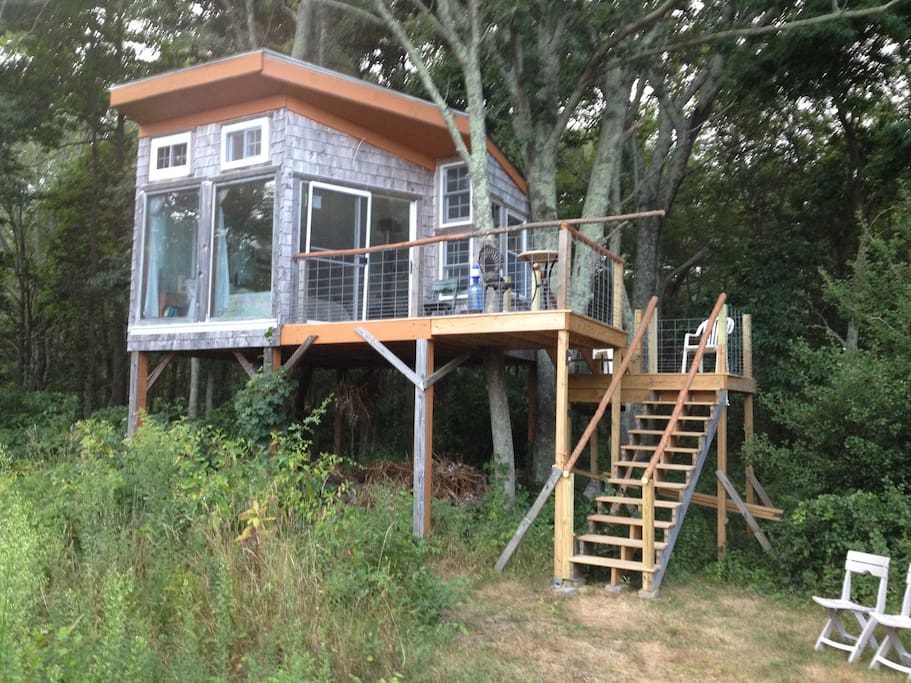 Treehouse meets farm in this rural treehouse in Massachusetts, which is located on a working sustainable farm. Guests who stay in the treehouse can expect to encounter dairy goats, heritage hogs, poultry, horses, sheep and even a water buffalo. The Airbnb hosts describe this property as "off-the-grid" and they mean what they say- the unit has no no plumbing or electricity. Instead, guests can rely on lanterns, a composting toilet, an outdoor shower and wood stove. Guests who stay in the treehouse enjoy a hearty breakfast in the main house, with eggs and yogurt straight from the farm.
Stay in a Treehouse in
Michigan
You could stay in a treehouse in Michigan… or you could rent a whole private island, with a treehouse, cottage and pontoon boat to boot. Just 35 minutes from Ann Arbor lies AshKay Island, an 8-acre island situated on Iron Mill lake near the Irish Hills. The island is 8 acres of mature hardwoods within a 156 acre lake. Island guests can stay in a treehouse with a modern design and beautiful post-and-beam construction. This is glamping at its finest; an in indoor ladder leads to queen beds in an airy loft, there's a TV with Blu-Ray, giant treetop deck and hammocks. For acrophobic guests, there's a 1,700 square foot cottage with solar panels and a wood stove. Ospreys nest in the island's hardwood trees, and guests can fish or pontoon on the lake.
Stay in a Treehouse in
Minnesota
The Land of 1,000 Lakes is home to many unique accommodations- including yurts, teepees and ice hotels. But if you want to stay in a treehouse in Minnesota, head to the Long Prairie Treehouse. This tiny and attractive rural treehouse hotel features a unique octagonal construction and handsome rustic lodge-style decor, complete with a wood burning stove. Guests who stay in this treehouse rental can enjoy the outdoors with a zipline, hammock and nature trail, or canoe on the nearby river.
Stay in a Treehouse in
Mississippi
Even in the fanciful world of treehouse rentals, the Johnny Knight Treehouse hotel stands out. This spacious treehouse in Mississippi was designed and hand-built by its namesake, a local carpenter and artist, following a unique vision that can best be described as "elven". The asymmetrical roof, suspended bridge, log details and flared cypress stilts give this treehouse hotel a quirky, fairytale appearance, particularly when illuminated by many strings of lights after dark. The treehouse hotel sleeps 4-6 and is equipped with a fireplace, kitchen, full bath, heat and AC make this a comfortable glamping destination. Outdoors, there's a fresh water spring, creek and walking trails.
Stay in a Treehouse in
Missouri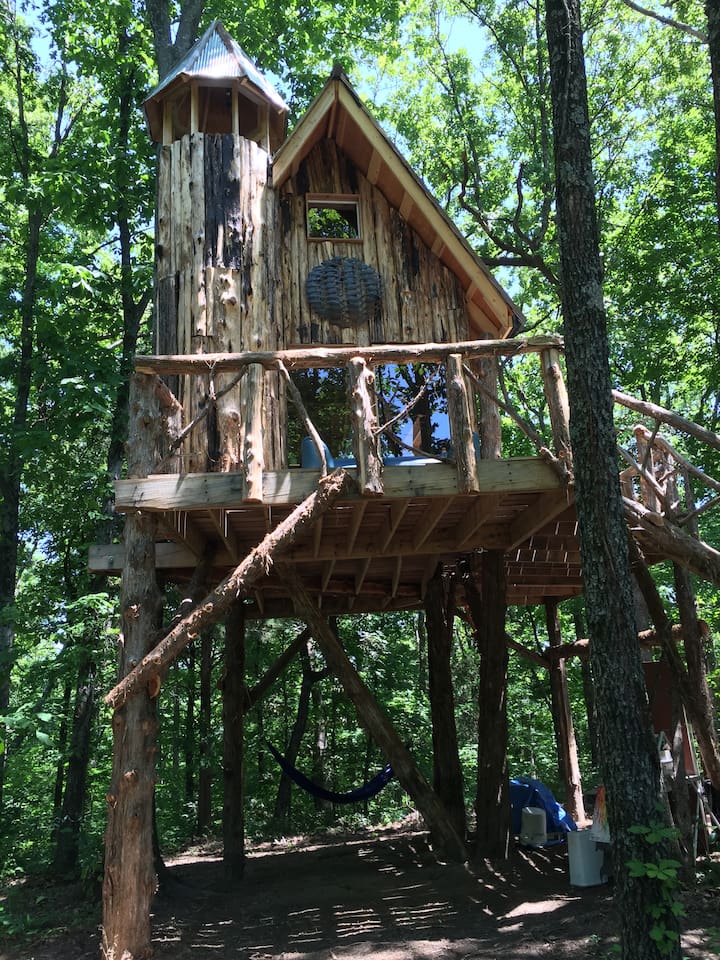 This adorable little treehouse in Missouri will satisfy your need for the outdoors, with its birdhouse looks and wooded setting. The owners of this Airbnb bill it as a "hermitage" and encourage peaceful reflection with a stone spiral path and dreamy hammock. The treehouse rental unit features a cute silo-style tower, and a rounded, hobbit-house front door, with a branch ladder leading to a small bed in the loft. There's no indoor plumbing or electricity- think treehouse camping instead of treehouse hotel. At just $55 per night, a stay in this treehouse hermitage is an affordable way to get zen out in nature.
Stay in a Treehouse in
Montana
The Montana Treehouse Retreat- the name says it all. For location, looks and amenities, there's no better place to stay in a treehouse in Montana. This impressive suite of treehouse hotels was featured on season three of The Treehouse Guys on the DIY Network. The resort is located at the gateway to Glacier National Park, minutes from skiing, golfing, fishing, whitewater rafting, boating, skiing/snowboarding, and hiking destinations. The treehouse itself boasts two stories, two spiral staircases, two decks, full kitchen, dishwasher, and tempur-pedic bed. Four living trees grow directly through the structure of this beautiful treehouse hotel, creating a sense of being immersed in the woods from the comfort of home.
Stay in a Treehouse in
Nebraska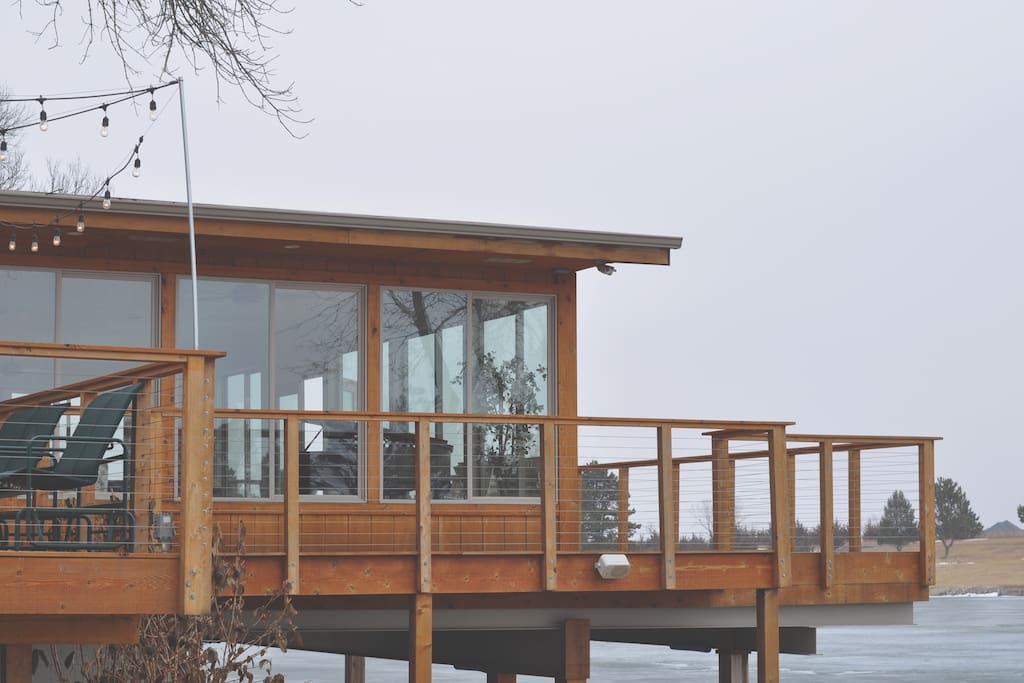 The Cornhuskers State is the birthplace of Arbor Day, and a great destination for outdoor activities like hunting, fishing and hiking. In Crete, just ten minutes outside of Lincoln, up to 12 visitors can stay in a large lakeside treehouse-style boathouse that's equipped with a number of luxury features and close to a number of family-friendly outdoor activities. Indoors, there's WiFi, cable, a double-sided fireplace, travertine tiled shower and granite-countered kitchen. Outdoors, there's kayaking, canoeing, swimming in the lake and even a tiny island to explore.
Stay in a Treehouse in
Nevada
Lake Tahoe is known for pure mountain air, virgin forests and outdoor sports, from skiing to boating. It's the ideal vista for this ultimate luxury treehouse, which combines super-luxe amenities with tasteful lodge-style décor. The interior is white marble counters and hand-hewn pine logs, with floor-to-ceiling windows and an oversized fireplace. Eye-popping mountain and lake views can be taken in from the walkway, deck and even from the huge marble shower. Want to stay in this treehouse? You'll need to have an impressive vacation home of your own- this treehouse rental is available to members of the Third Home Club, who swap time in their swank second homes with other members.
Stay in a Treehouse in
New Hampshire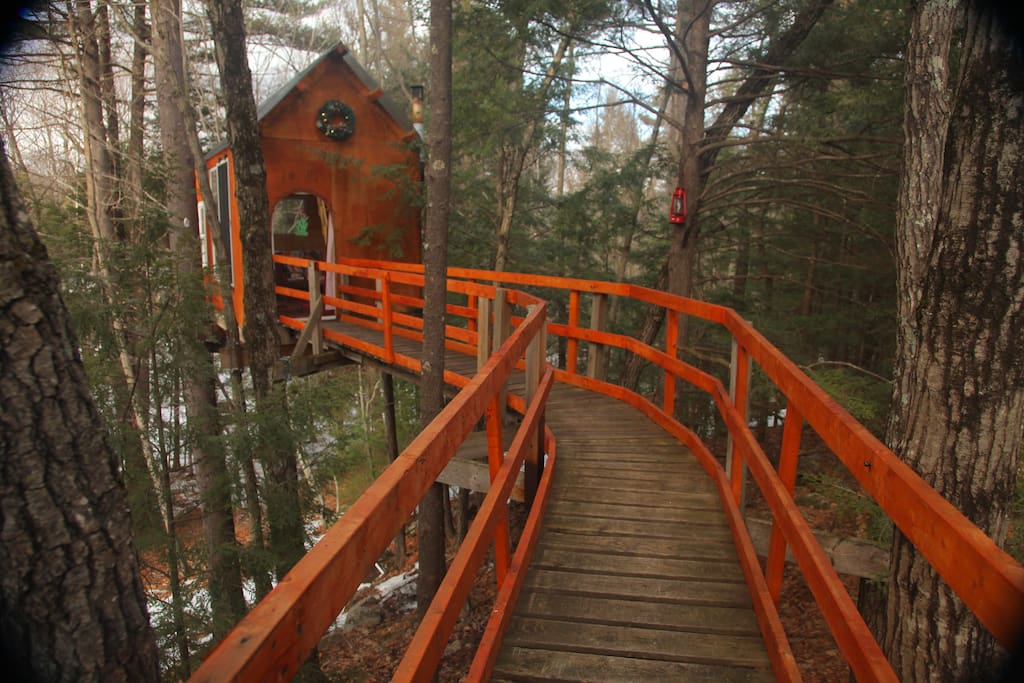 This treehouse in New Hampshire is both classic and unconventional. At 30 feet high, it's a true treehouse rental- no cottage-on-stilts here. The design and construction, too, recalls a childhood treehouse. The boardwalk, though, makes this treehouse in New Hampshire's Dunbarton Forest unique. It's starts off at the top of the hillside, proceeding in a winding but perfectly level path for 75 feet to meet the treehouse entrance halfway down the hill. Inside, you'll find WiFi and a wood-burning stove, along with a composting toilet and illumination from strings of Christmas lights. There's a second bed tucked in a tiny loft, and large windows let in plenty of sunlight, making this charming little treehouse rental a real glamping gem.
Stay in a Treehouse in
New Jersey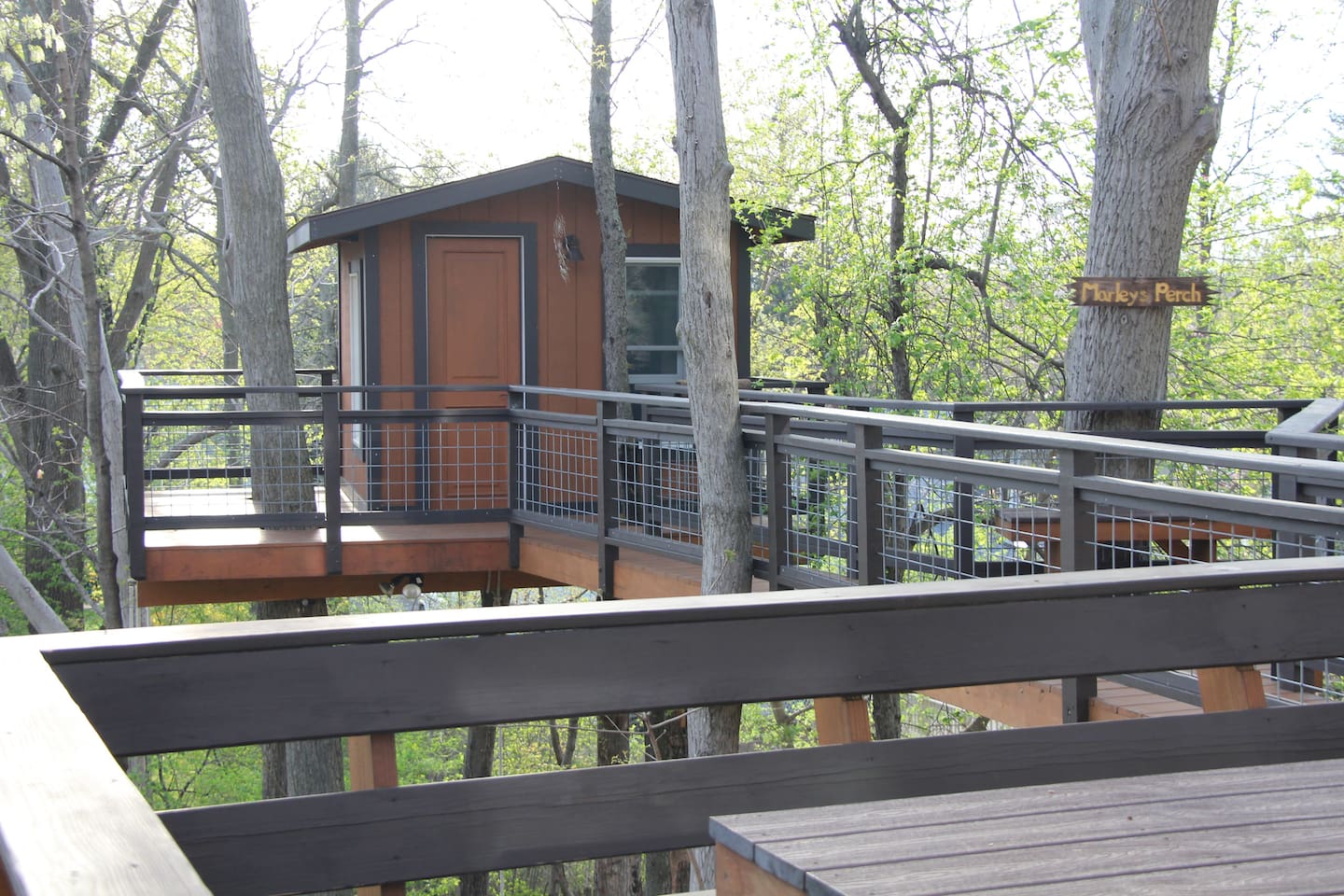 This tiny, modern and ultra-affordable treehouse close to New Jersey (we could not locate any treehouses for rent in New Jersey) would make an ideal glamping getaway for city dwellers fleeing the Big Apple for the weekend. It's located in Valley Cottage, two miles from the town of Nyack and Close to the Seven Lakes in Harriman State Park. Bunk beds, a fire pit and a picnic table recall childhood camping, while WiFi and a flatscreen TV fulfill your adult need to stay connected. Guests who stay in the treehouse can rent a kayak or bikes for a small additional charge.
Stay in a Treehouse in
New Mexico
You'll be transported to a simpler time in this homey yet artistic treehouse in New Mexico, where beautiful views and gardens are paired with the charm of llamas, geese and chickens on a real working farm. The building was created and decorated by a local sculptor, and features funky metal sculptures, antiques and an artistic style. Guests who stay in the treehouse rental will not only encounter livestock, but may well see wildlife such as deer, foxes bears and elk on the 13.5-acre estate.
Stay in a Treehouse in New York
The town of Woodstock, once decidedly crunchy, has morphed into a chic destination for the sophisticated to seek tranquility in style. This ultra-modern treehouse hotel is the height of upscale zen, looking as much like a site-specific art installation as a weekend dwelling. There's an entire wall of window glass which looks out onto a large, swimmable pond, and a wood-fired hot tub can be enjoyed by the deck below. Indoors, the look is luxe and minimalist, with natural stone, wood and textiles throughout. Ultra-chic city-dwellers who want to escape to a treehouse in New York's forest- without sacrificing style- should book this sleek and sophisticated Airbnb.
Stay in a Treehouse in
North Carolina
Sipping hand crafted Cabernet Sauvignon as the sun sets over the porch of your treehouse in North Carolina… how's that for a combination of childhood escape and adult sophistication? Treehouse Vineyards offers exactly what the name says- a family owned Vineyard and Winery on an expansive property dotted with three charming treehouse rentals. Guests can not only stay in a treehouse here, but can also enjoy all the sophistication of a modern destination vineyard, including winery tours, wine tastings and Saturday night concerts. Don't want to leave the nest? Gas grill and hammocks on the spacious deck of all overnight treehouse rentals, along with the scenic view from 30 feet high, would be ideal for a BBQ, and the accommodations are big enough for large groups.
Stay in a Treehouse in
North Dakota
Don't expect to get too high off the ground in the Great Plains. North Dakota is known for scenic rolling prairies, not trees or treehouse hotels. That said, there are plenty of options for unconventional and outdoorsy lodging in North Dakota; you can stay in a teepee, yurt, or log cabin or even spend the night in a covered wagon. But if you're determined to stay in a treehouse in North Dakota, your best bet is an elevated cabin in Beaver Lake State Park. Bunk beds, rustic construction, fire pits and picnic tables will recall childhood treehouses and camping memories. There are lights and heating, and a deck for hanging out. Guests who stay in the treehouse cabin will enjoy boating, canoeing, water skiing and fishing on the grounds of the beautiful Beaver Lake nature preserve.
Stay in a Treehouse in
Ohio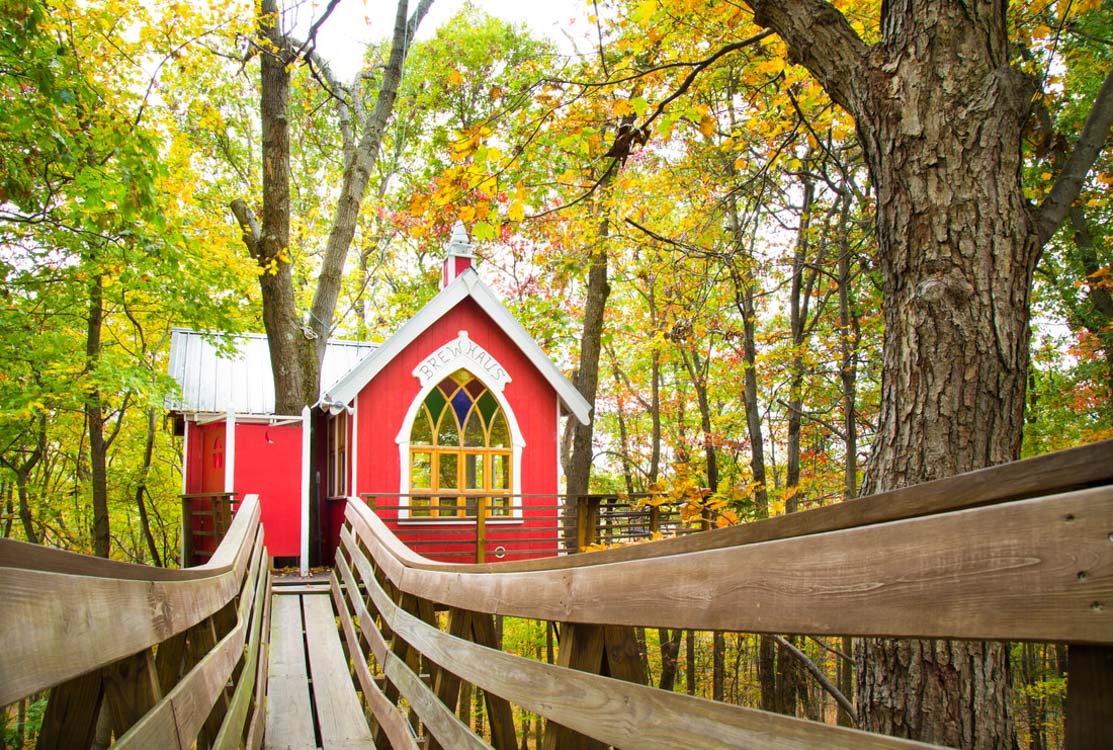 Here's a glamping experience you won't soon forget: a night in a treetop "Brew Haus". Nestled in 75 acres of wilderness, The Mohicans actually features three treehouse hotels, all of which were featured on the show Treehouse Masters. The Little Red Treehouse was modeled after a German tavern, and features stained glass windows and a suspension bridge. Two other treehouse rentals, White Oak and Old Pine have traditional rustic-chic design. All three treehouse rentals are Amish built with salvaged and sustainable materials and have kitchenettes, granite counters, AC and heat, TV, ladders, decks and living trees growing directly through the structures.
Stay in a Treehouse in
Oklahoma
Located in the woods just one mile from Lake Eaufula, Ra's "Treesort" is a cute treehouse rental perfect for a group weekend escape. The cedar construction, rails crafted from natural branches, decorative tin ceiling and interior barn door add a lot of charm to this treehouse rental, which comfortably sleeps up to 5 people. You won't be roughing it in this treehouse rental- there's AC, heat, a kitchenette, and shower. Enjoy the outdoors from the balcony, firepit, rope swings or hammocks, or stroll over to Lake Eaufula for swimming and boating.
Stay in a Treehouse in
Oregon
The Beaver State is famously outdoorsy, unconventional and heavily forested. It should come as no surprise that it's easy to stay in a treehouse in Oregon- a quick Airbnb search turns up a dozen adorable treehouse hotels. But you won't find any treehouse rentals like the Out 'n' About Treehouse Treesort in Cave Junction. The resort looks remarkably similar to the treetop Ewok Villiage of Star Wars, with a network of square and octagonal treetop huts complete with ladders, boardwalks and suspension bridges. There are no less than 15 beautiful treehouse rentals to choose from, with room for 2-6 people in each. During the day, plan for adventure- the facilities offers horseback riding, river rafting, arts and crafts, and hiking, plus a stunning course of eleven ziplines.
Stay in a Treehouse in
Pennsylvania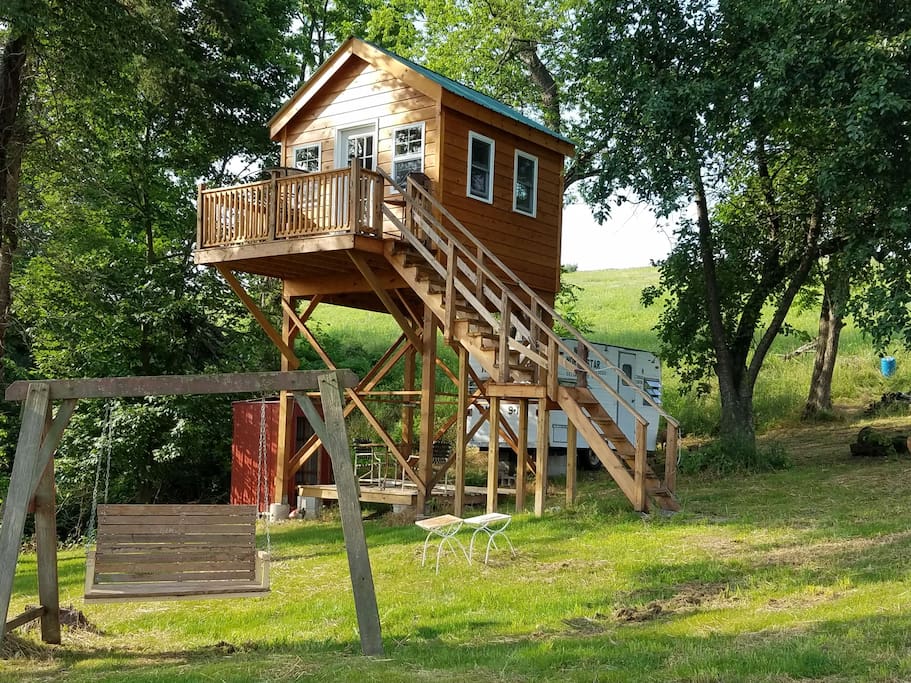 Why stay in a treehouse in Pennsylvania when you can stay in a treehouse and a vintage trailer camper? This combination of off-the-grid longings out in Winfield can accommodate up to 10 guests, making it an excellent destination for a large semi-camping group. A small kitchen, fire pit, porch swing and tiki torches provide the makings of a lovely outdoor get-together. You'll also have access to running water and a refrigerator thanks to the trailer's battery, and solar-powered lights in the treehouse. A 50-foot deck offers sweeping views of the surrounding woods, mountains and valleys. Drive 45 minutes away and you can swim and hike in R.B. Winter State Park.
Stay in a Treehouse in
Rhode Island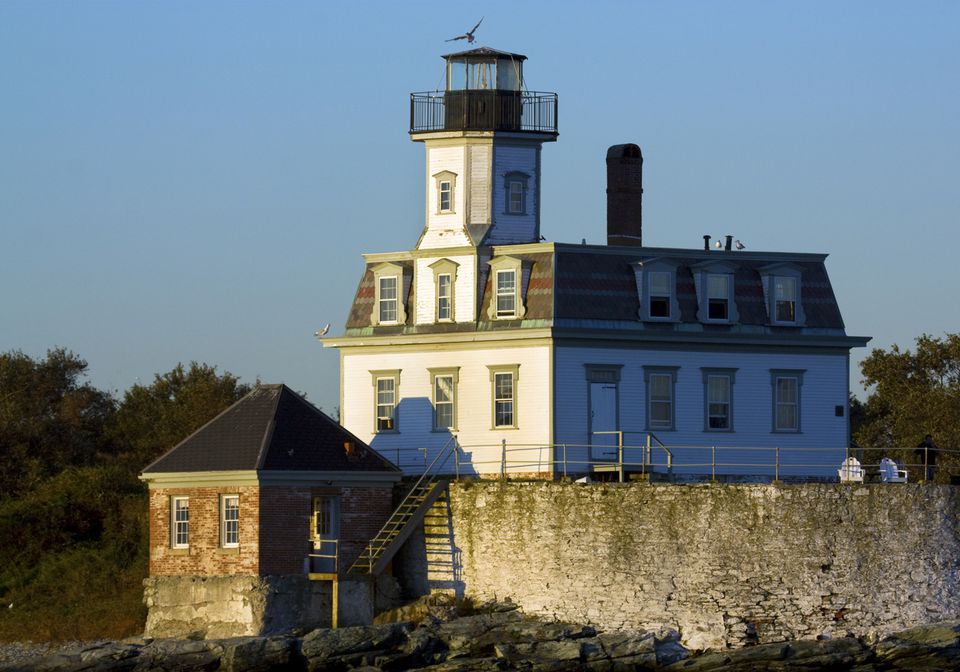 The smallest state in the nation is short on treehouse rentals, but the Ocean State is long on scenic coastline, and it's here that we find Rhode Island's version of elevated lodging, a historic tree-high lighthouse that accepts overnight guests. About a mile off the shore of Newport, the Rose Island Lighthouse boasts an impressive elevation for stunning views, and the building serves as a museum by day, offering tours to visitors. The accommodations feature beautiful exposed brick and antiques, all set in the room that once housed the lighthouse's steam-powered foghorn equipment.
Stay in a Treehouse in
South Carolina
If you want to stay in a treehouse in North Carolina through Carolina Heritage Outfitters, you'll first have to canoe down the Edisto River. These three secluded swamp island treehouses are located on a nature preserve and serve as the halfway point for paddlers completing the company's 23-mile canoe trip. Each is constructed with "rustic elegance" in mind, using locally harvested wood, and sleeps 2-8 people. Don't look for treehouse hotel accommodations here- these rustic sites have no running water, plumbing or electricity, but guests can count on having a propane grill, cooking gear and a cozy sleeping perch. The treehouse rentals have been featured in a number of publications, including USA Today's list of Top Ten Magical Treehouses.
Stay in a Treehouse in
South Dakota
As if a stay in a treehouse was not already unusual enough, the Chateau de Soleil in the Black Hills of South Dakota offers a new level of unique. The 4,100-square foot home is set on 6 acres and includes a 400-square foot treehouse hotel with some truly quirky designs. Living trees grow through the wraparound deck, which is covered in astro-turf on the walkway and rails alike. Round, Hobbit-style doors and windows open into an interior crafted to look like a hollow tree- leaf canopy included. There's three floors, a fireplace with a curvy chimney, kitchenette and gas grill.
Stay in a Treehouse in
Tennessee
The Hummingbird Hideaway Treehouse in Tennessee offers a classic cabin style in a cozy woodland treehouse hotel. The structure has attractive hand-hewn timber siding for a log-cabin look, along with a large deck and boardwalk. Inside, the open concept living area has a stone fireplace, futon, TV with cable, WiFi, queen bed and kitchenette. Outdoors, there is a hot tub, porch swing, grill, fire pit and walking trails. With its diminutive size and cozy features, the Hummingbird Hideaway would make an ideal place to snuggle up for a romantic weekend away from it all.
Stay in a Treehouse in
Texas
This eye-popping treehouse hotel outside of Austin features the cool and offbeat hipster style that put the city on the map. The treehouse has multiple levels and the design features a bold combination of salvaged and naturally-shaped polished wood and steel. The treehouse rental is adjacent to a creek and waterfall, and has two bedrooms, kitchenette, dining room, outdoor shower and lounge area. It's perched above a creek and next to a small waterfall, and a swimming pool is available in the warmer months.
Stay in a Treehouse in
Utah
Location, location, location. It's as true for a treehouse hotel as real estate. This impressive, two-story treehouse rental is located just 10 minutes from restaurants and shopping in downtown Park City, yet seems like a part of the forest. Guests who stay in the treehouse will have spectacular views of the Unita Mountains and enjoy hiking, biking, skiing and boating. The property has woods and stream, and guests can even spot the occasional moose on the grounds. A live Douglas Fir- branches and all- grows through the living space, which is stylishly designed with high-end dŽcor and furnishings. Up to four guests can stay and will have the use of a full kitchen, grill, swings, bumper pool, and blu ray TV.
Stay in a Treehouse in
Vermont
This beautifully designed treehouse in Vermont can be found near Walker Pond and features two White Pines growing through the living space. The interior tastefully integrates the outdoors with log and wood elements, combines with high-end modern design touches such as custom tile and floor-to-ceiling windows. Out on the deck, there's a porch swing, fire pit and beautiful cedar hot tub. Guests who stay in the treehouse can canoe in the pond or hike the surrounding woods, where wild turkeys, deer and moose are often spotted.
Stay in a Treehouse in
Virginia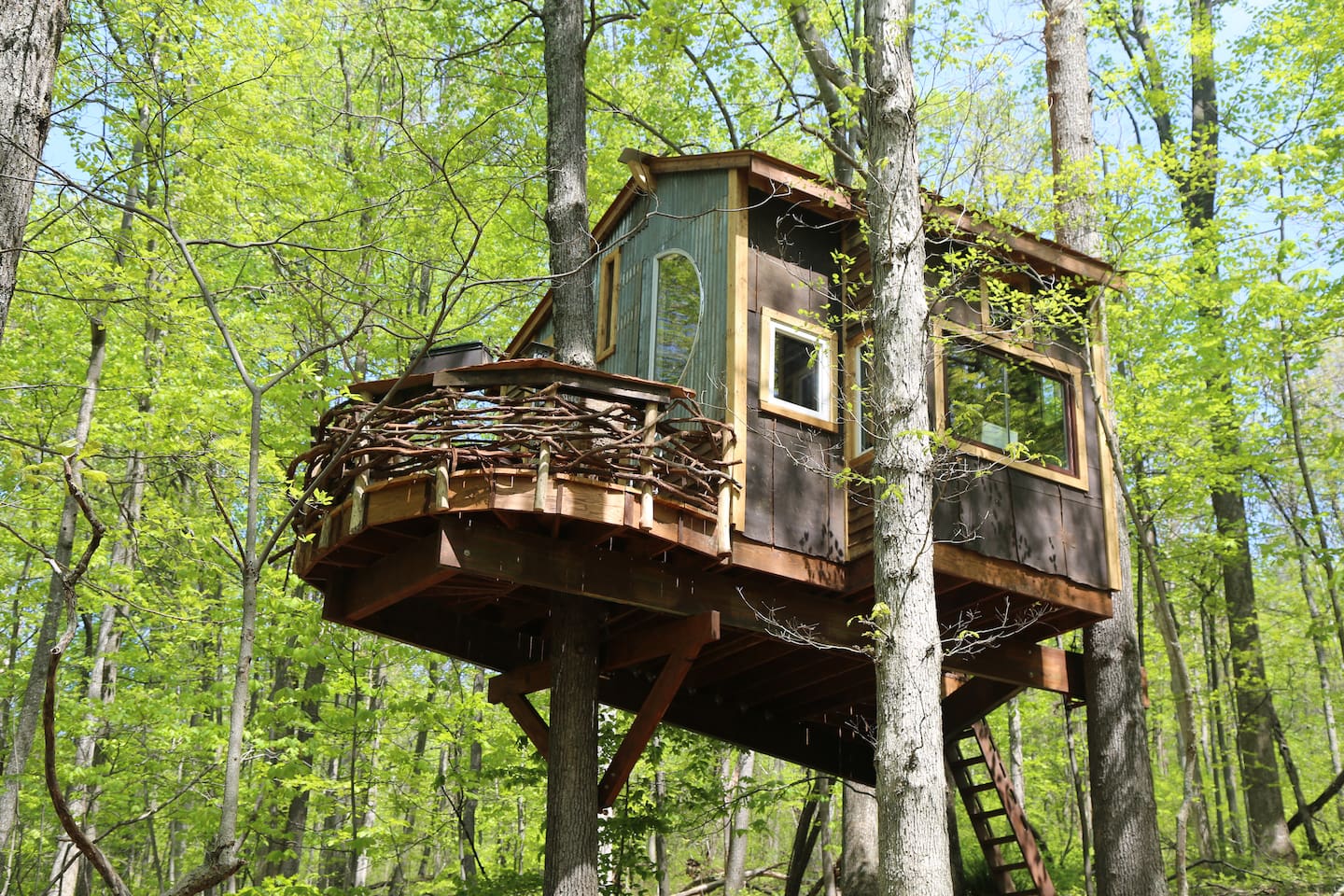 If you'd like to camp in style in a treehouse in Virginia, look no further. This little treehouse rental boasts hip style inside and out. The interior has a bed tucked in a loft with a beautiful iron grate, and shabby-chic furniture throughout. Outside, the're a fire pit and deck chairs on the balcony, which is curved and constructed with branches, calling a bird's nest to mind. Guests who stay in the treehouse will be using a composting toilet, unheated spring-water shower, gas stove and battery-powered lights. Love to hike? This treehouse rental is located on a 200 acre wooded property with abundant trails, including one that meets up with the Appalachian Trail.
Stay in a Treehouse in
Washington
Six utterly unique treehouses can be rented at Treehouse Point in Washington. The resort is nestled deep in old-growth forest along the Raging River, just 30 minutes from Seattle, where giant spruce trees draped with moss create a fairytale atmosphere. Each artistic treehouse rental has unique and beautiful architecture, and integrates the stunning natural environment. Would you like to stay in a treehouse with a pulley ladder? A bridge across a stream? Floor-to-ceiling windows? Treehouse Point is your destination. Yoga, massage, and even colonic hydrotherapy are available for guests who stay in the treehouse rentals, and visitors can come to the main lodge for breakfast, games, reading and relaxing by the oversize fireplace.
Stay in a Treehouse in
West Virginia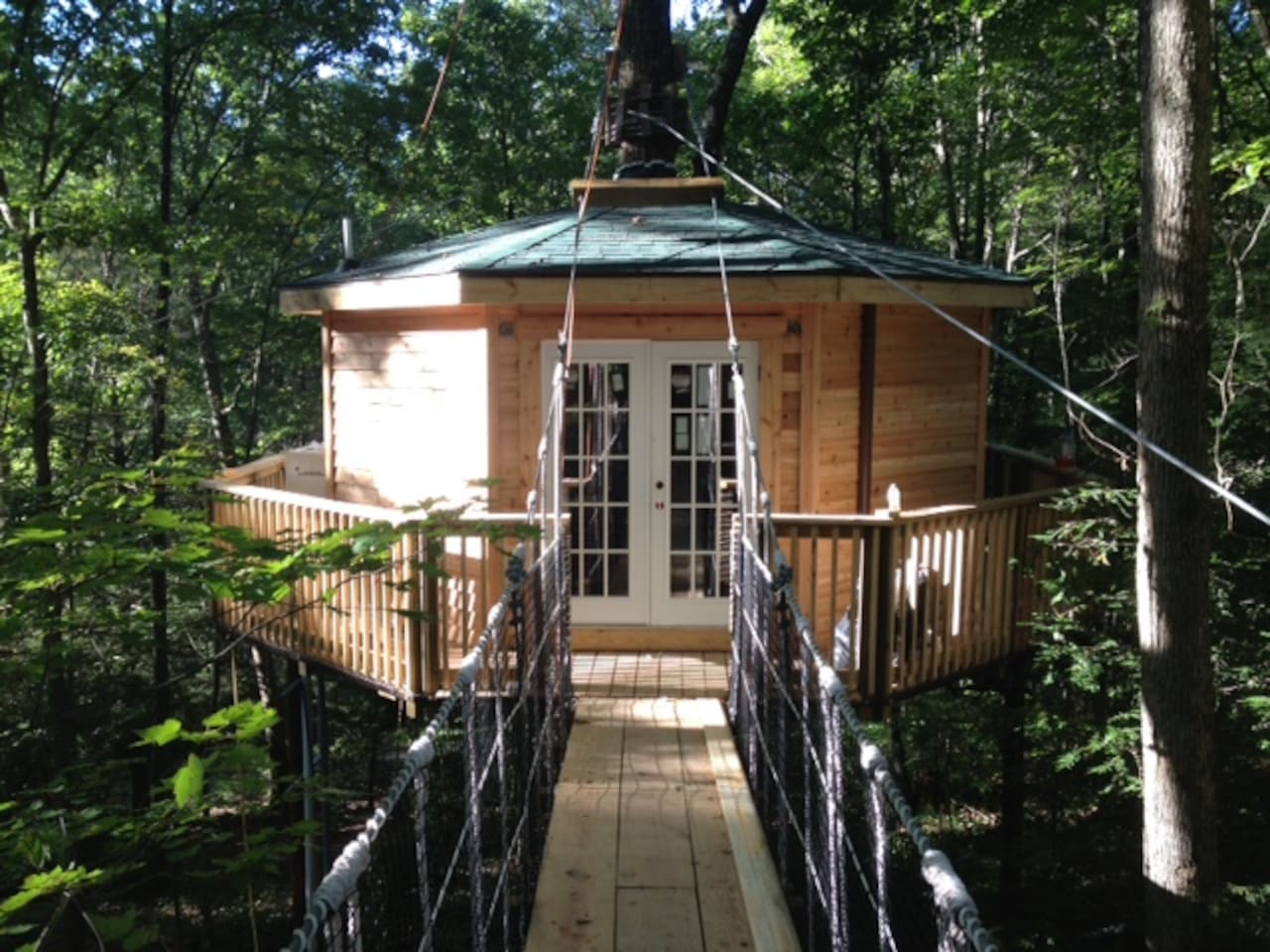 This treehouse hotel in West Virginia boasts a unique design. A suspension bridge leads guests to the double French front doors, which opens into an octagonal living space with extensive windows to let in leafy sunlight and treetop views. A wraparound deck encircles the building, and a large oak grows directly through the center of the open concept living area. Guests who stay in the treehouse hotel can enjoy soaking in the hot tub on the deck, and there's a full kitchen, cable TV and AC. This little treehouse hotel would make a lovely and snug romantic getaway.
Stay in a Treehouse in
Wisconsin
Wisconsin Dells has earned the title of Waterslide Capital of the World, and is also home to a number of other oddball attractions, including a reptile house, carnival rides, go-karts, a wax museum and more. The seven wacky-looking treehouse rentals at American Campgrounds are right at home in this kitschy, quirky and family-friendly vacation destination. Each treehouse hotel unit has a queen and bunk beds, kitchenette, WiFi, TV and fire pit, and shared bathrooms are a short walk away. Guests who stay in the treehouse can access two Jacuzzis, two indoor swimming pools, and basketball, volleyball and tennis courts.
Stay in a Treehouse in
Wyoming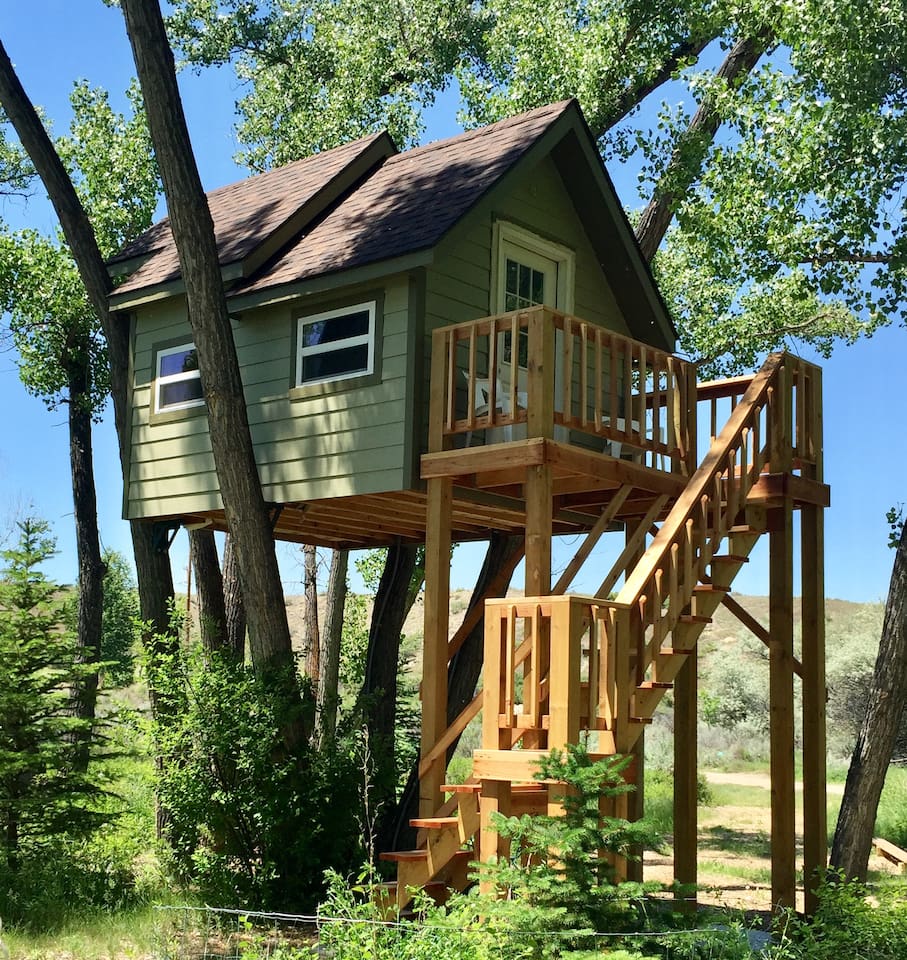 This primitive treehouse in Wyoming adjoins a rustic cabin on a scenic wooded property. Together, the facilities can comfortably sleep up to 8 people. Outdoors, a large fire pit, seating and a swing are available to guests who stay in the treehouse. Indoors, the accommodations are rustic- look for bunk beds and unfinished wood panel walls. The lodging caters to traveling families and hunting parties, and there's loads of taxidermy on the walls- from pheasants to elk- to attest to successful hunting in the area. The cabin and treehouse are based in Worland, not far from the world's largest mineral hot springs and Dinosaur Center in Thermopolis.