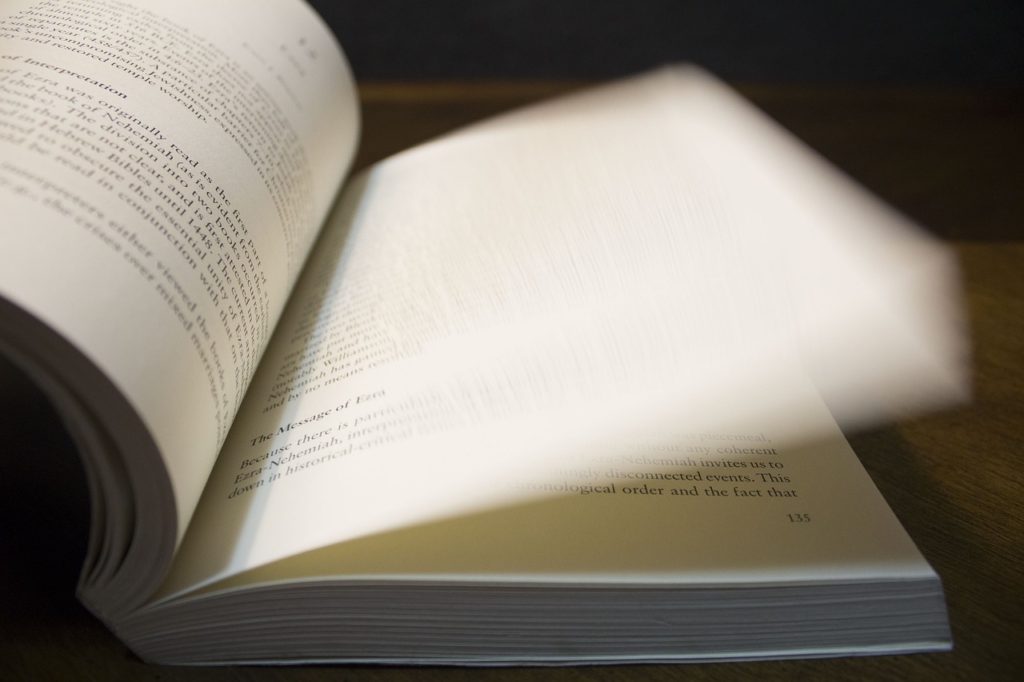 Whether you're an experienced hospitality professional, an aspiring hospitality worker, or are earning a degree hospitality management, it always helps to stay up-to-date on the latest trends, strategies, and insights in the industry. Over the past few decades, as the hospitality business has increased its international presence and refined its operations, several stellar books have been published that cover some of these changes: from specialized handbooks on digital marketing strategy and e-commerce tourism, to personal memoirs, how-to guides, and breakdowns of the hospitality industry in general. Below, we've selected ten of the best books on hospitality management, with an eye diverse titles and areas of expertise. Check it out to find the right book for you!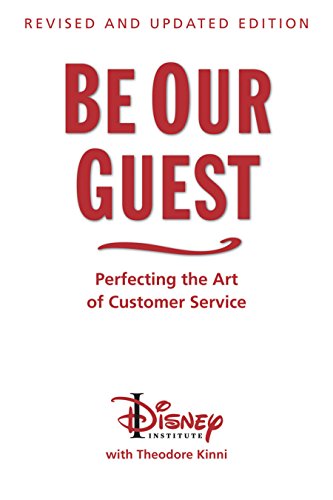 Leave it to Disney, the publisher of Be Our Guest, to distill the finer points of customer service and hospitality in clear, practical language for current and aspiring professionals in the field. Written by Theodore Kinni, the book's key theme is exceeding expectations: know what your customer wants, and then double down. Customer service is the art, or in Disney parlance, the magic, of delivering something that is above and beyond the standard, creating an experience that is both unique and memorable. Mere satisfaction doesn't develop brand loyalty – for that, you need something much more rare, but definitively superior. Needless to say, the book can be applied to any business practices, and Kinni has written or edited twenty books on various business topics: sales, marketing, and leadership, among them. But hospitality management is the target audience here, and industry professionals would do well to heed the advice.
Rating: 4.6 stars
Price: $11.99
In the event you're unfamiliar, Danny Meyer is worth listening to. In Setting the Table, the award-winning restauranteur of such successful New York hotspots as Union Square Cafe, Gramercy Tavern, and Shake Shack gives hospitality professionals and businesspeople in general an inside look at how he managed to build an empire in one of the most competitive industries and cities in the world. Namely, the book explains Meyer's philosophy of "Enlightened Hospitality," which emphasizes strong in-house relationships and high-quality customer service. Hospitality is like any other business: the product reflects the producers, and if your employees are unsatisfied, your customers will be too. Through personal anecdotes, lessons, and advice drawn from over thirty years of hospitality experience, this bestseller offers a clear roadmap to success for any business or organization.
Rating: 4.5 stars
Price: $11.89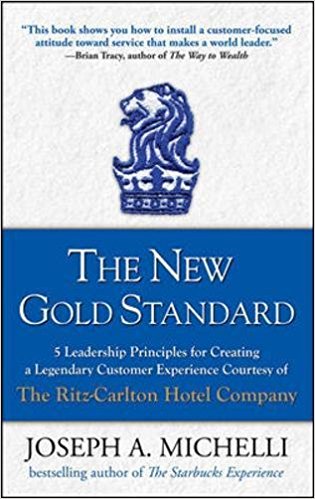 The Ritz Carlton is synonymous with world-class hospitality, perhaps more than any other brand in the world. In The New Gold Standard, bestselling-author Joseph Michelli outlines the Ritz's singular approach to the hospitality business and the way to replicate it in your own business: understanding what the customer needs; understanding what employees need; how to exceed customer expectations; and how to develop a state-of-the-art employee training program. With behind-the-scenes access, practical how-to advice, and a clear implementation plan, The New Gold Standard offers hospitality managers and professionals a highly readable guide that's full of nuanced insights and tips to help your organization reach the level of the Ritz.
Rating: 4.5 stars
Price: $15.31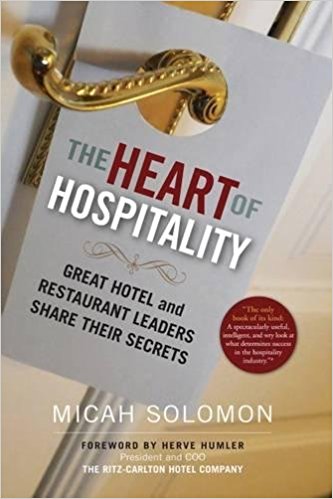 Speaking of the Ritz, Company President and COO Herve Humler pens this praise in the forward to The Heart of Hospitality: "If you want to create and sustain a level of service so memorable that it becomes an unbeatable competitive advantage, you'll find the secrets here." Authored by Forbes.com contributor Micah Solomon, this book includes advice from some of the hospitality industry's leading executives and business professionals: Virgin Hotels CEO Raul Leal; Craft Restaurants' Top Chef Tom Colicchio; Four Seasons Hotels & Resorts Chairman Isadore Sharp; Union Square Hospitality Group CEO Danny Meyer; Le Bernardin Chef Eric Ripert; and Restaurateur Traci Des Jardins, among others. For a book of its length, just under 200 pages, you're unlikely to find a more compelling, useful handbook to successful hospitality management and customer service — a must-have for hospitality workers at every level.
Rating: 4.8 stars
Price: $22.95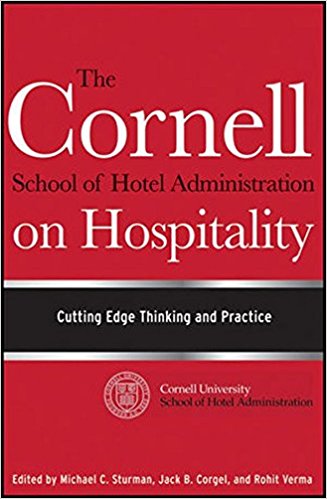 Good luck finding a more comprehensive book on the hospitality industry: Cornell's authorative tome comes in at 2 pounds and 500 pages. For the serious hospitality professional, especially managers and executives, this is the Bible of hospitality theory and practice; master's candidates in Hospitality Management would do well to study it, too. In particular, the book covers: how to develop and manage a successful career in the multinational hospitality industry; how to maximize profits from franchise agreements, management contracts, and leases; understanding and predicting customer needs; motivating staff to provide superior customer service; managing hospitality real estate assets; and controlling costs and directing brand strategy. Founded in 1922, Cornell's School Of Hotel Administration is widely considered to offer the best hospitality program in the world.
Rating: 4.4 stars
Price: $28.63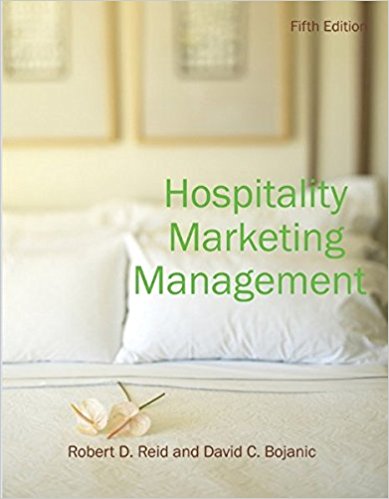 Now in its 5th edition, Hospitality Marketing Management is the definitive guide to marketing campaigns in the hospitality business. The premise is simple enough: as with every other industry, innovation and technological advances have revolutionized the traditional business model for hospitality. In order to survive a global economy, hospitality managers and executives need to learn essential new marketing skills designed to target new customers, build brand loyalty among previous customers, and develop new revenue streams. Specifically, the book covers service and customer satisfaction in hospitality; promotion, advertising, and pricing strategies; tourism and destination marketing; internet marketing for hospitality; and consumer behavior, market segmentation, and positioning. As with the previous recommendation, this one is a biggie, tallying 670 pages, but as a general resource, it's one of the best in its class.
Rating: 4.5 stars
Price: $18.99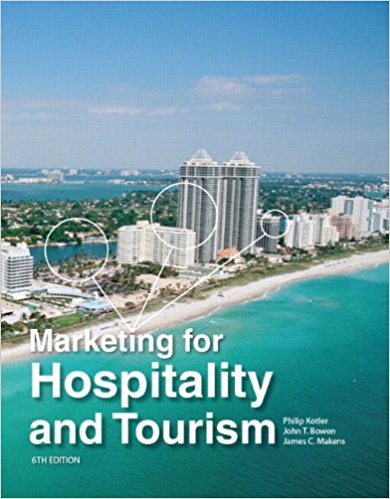 If you're looking for an even more thorough guide than the above, Marketing for Hospitality and Tourism is another excellent resource book for hospitality professionals interested in marketing (and if we're keeping score, this one has reached its 6th edition). Authored by three bestselling authors and experts in hospitality, the primary focus is on hotel marketing, offering real-world case studies, helpful application examples, practice exercises, and more to help students and professionals alike tackle the biggest challenges facing the global hospitality industry. Sixth edition features include social media coverage, current industry trends, and new hands-on assignments.
Rating: 4.1 stars
Price: $21.89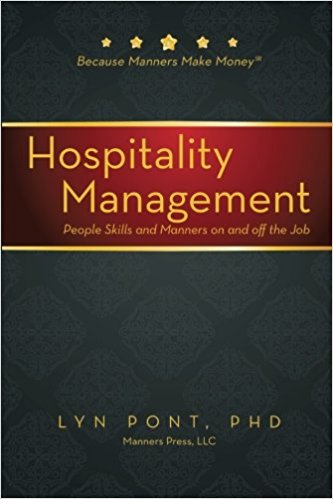 President and Founder of Manners for Business, Inc., Lyn Pont holds a PhD in Leadership and works as a motivational public speaker and educator. In Hospitality Management, she covers the essentials that hospitality executives, students, and new hires alike could all stand to remember: customer service, relationships, personal image and brand identity, integrity, communications, etiquette (team, dining, digital, and global) and much more. Contrary to some of the more technical manuals, this book emphasizes a return to hospitality basics, which ultimately comes down to the question of how we treat each other. In that regard, despite its title, the book applies to general readers and business professionals of all backgrounds. With endorsements from executives at Four Seasons Hotels and Resorts and American Airlines, Hospitality Management reminds us that good business and good manners go hand in hand.
Rating: 4.2 stars
Price: $21.95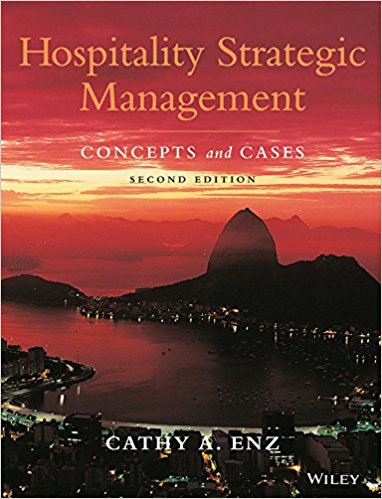 Hospitality Strategic Management, now in its 2nd edition, is another highly useful, Swiss Army Knife of a hospitality book: equal parts textbook, resource guide, technical manual, and practice tool. Here you'll find in-depth discussions on innovation, entrepreneurship, leadership, ethics, and franchising within the international hospitality industry, as well eight complete case studies that range from cruise and airlines, to lodging, gaming, food and beverage, and tourism e-commerce. Concluding each of the ten chapters, Enz features a helpful key points summary as well as review questions and critical thinking and application questions for further study.
Rating: 4.6 stars
Price: $19.44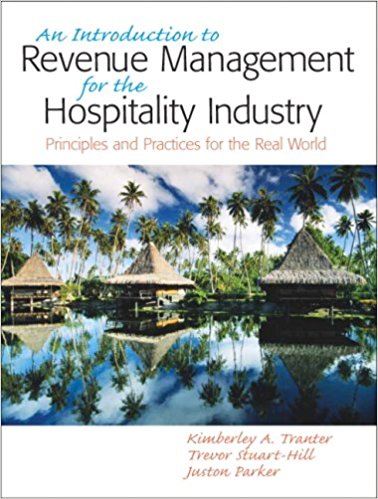 One of the more modestly-sized academic treatments of hospitality on our list, Revenue Management for the Hospitality Industry bills itself as a one-of-a-kind book, mapping the basics of hospitality revenue management process as well as strategies to effective planning, including development, implementation, and evaluation. In addition to highlighting revenue manager skills, the book also provides a unique history of the field, followed by chapters on customer knowledge and consumer behavior, market segmentation and selection, internal assessment and competitive analysis, economic principles and demand forecasting, dynamic value-based pricing, and the revenue management team, among others. Readable, informative, and compelling, the book should serve as an important resource for the developing field.
Rating: 4.6 stars
Price: $55.78