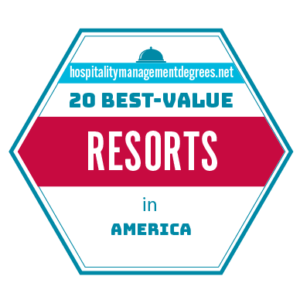 Have you ever left a vacation thinking: I need a vacation from my vacation! If so, we completely understand. Not all vacations go as planned, accommodate everyone, and some vacations just turn out to be logistical nightmares. A resort vacation is a great way to accommodate the needs of everyone and without the hassle of planning each and every segment. Though sometimes resorts and their hidden fees lighten the wallet a little quicker than planned, there are many resorts that can provide a great value for taking care of everything you need on a vacation. Some are as affordable as a bed and breakfast, and others have great rates during off-seasons. All of these resorts include games, spa days, fun excursions and plenty of space to accommodate large parties or romantic couple getaways. No matter who you are, you deserve a break. Why not take your next vacation at one of our choices for the "best value" resorts in America?
1.)Peppermill Resort Spa Casino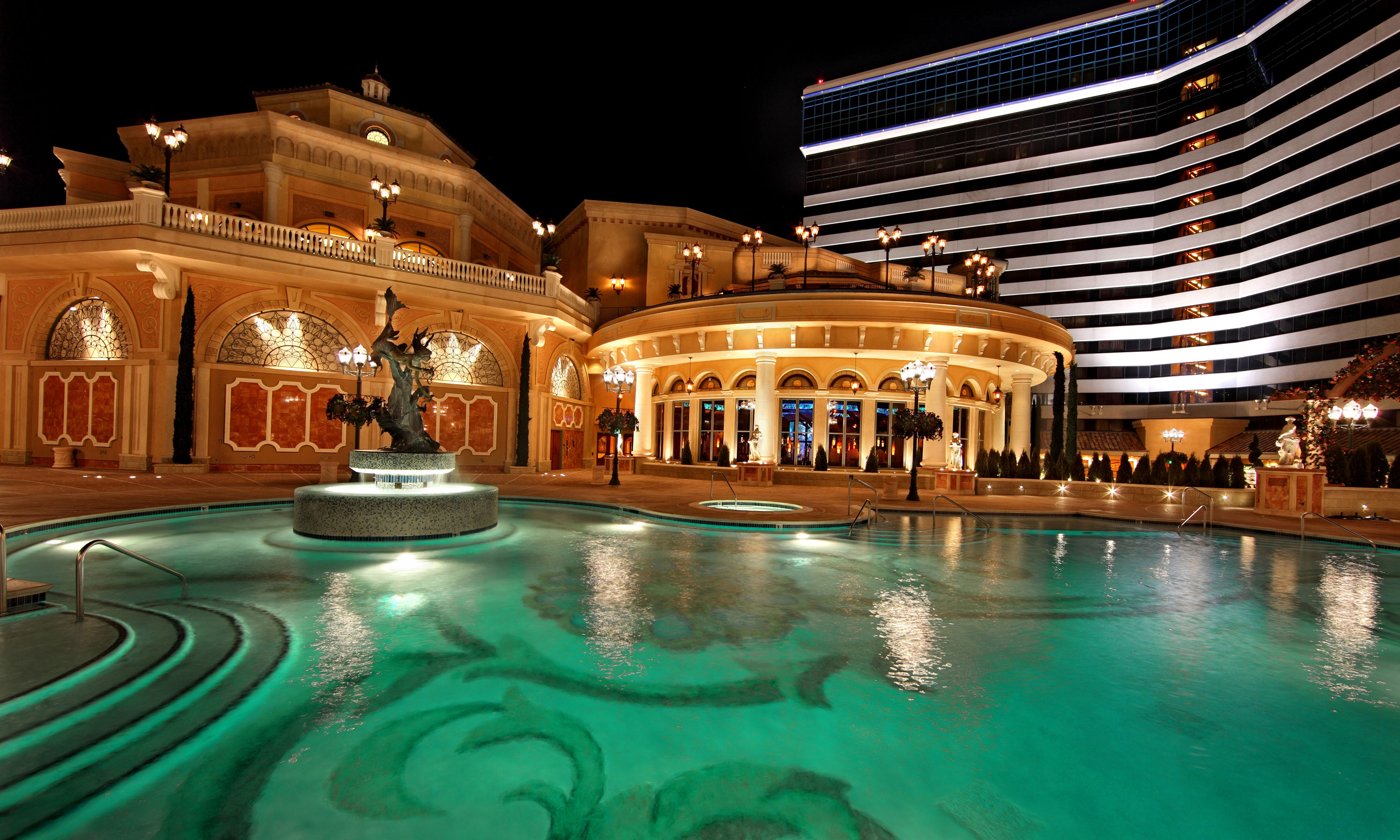 Peppermill Resort Spa and Casino has it all for those who need to unwind. If you want to experience an oasis in a desert that has games, sunshine, great food, and lazy spa days, Peppermill Resort Spa and Casino in Reno, Nevada has all of that and more. Peppermill Resort Spa and Casino is a great choice to book for your next wedding or birthday party and is one of the most affordable of our picks. Winter prices average around $77 per night and Summer at peak season is still a great deal at just $116 per night. You'll feel right at home in their cozy hotel rooms, spacious gyms, sparkling pools, and impeccable shops. But if relaxation and good times weren't enough, Peppermill Resort and Spa Casino is also ecologically friendly. That's right, Peppermill is devoted to multiple green initiatives including Clean the World- an initiative that provides soaps and bottled amenities to families-in-need throughout the world. Peppermill is also known for its great customer service, accessible amenities, and low-bet roulette tables. If you're ready to cut loose without breaking the bank, Peppermill is a great affordable option.
2.)Omni Hilton Head Oceanfront Resort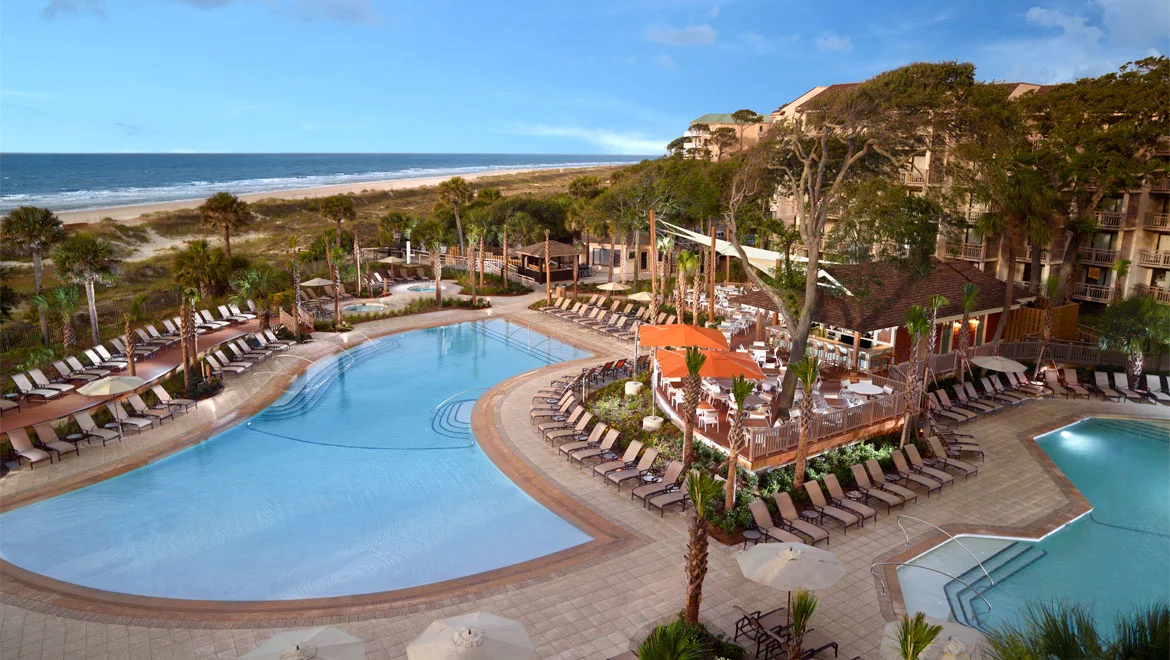 It's all in the name at Omni Hilton Head Oceanfront Resort. Omni Hilton Head is located on the East coast of Hilton Head Island, South Carolina. This destination paradise resort includes an 11-mile lagoon system with bike trails, golf courses, tennis courts, and more. This little slice of Southern paradise is the perfect getaway both for couples, and families alike. In fact, Omni Hilton Head has over 15,000 square feet for events and meetings- and would make a lush location for a business convention. Wellness is at the heart of the Oceanfront resort that includes the full-range of spa amenities, pools for all ages, and the Atlantic Ocean just a few steps away. For a custom experience, Omni Hilton Head offers a number of packages including their custom package that helps you tailor your experience to meet your specific needs. Whether a romantic excursion, family adventure, or a fun spot to play a few rounds of golf, Omni Hilton Head Oceanfront Hotel is your ace in the hole.
3.)Catamaran Resort Hotel and Spa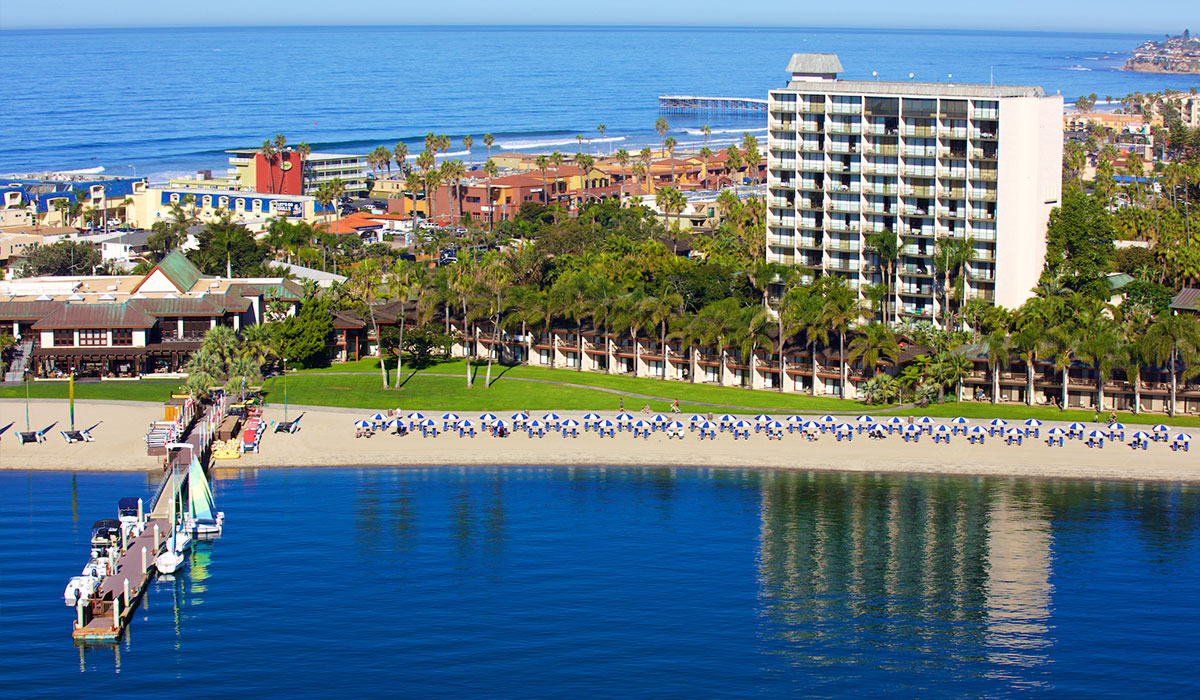 For anyone craving elegance and a place to hideaway in San Diego, the Catamaran Resort Hotel and Spa is not to be missed. Even though Catamaran is an all-inclusive resort, privacy is still central- each of their 310 rooms and suites come with a private patio or balcony. You'll enter feeling relaxed and enjoy your stay like you have the place to yourself. When you're ready to join the crowd, there's plenty of action at Catamaran including a cruise around Mission Bay aboard the Bahia Belle sternwheeler. Bahia Belle is a great place to take in the Mission and cut loose on the dance floor. This Polynesian-themed resort houses some truly exotic attractions like their exotic bird show, sunset luau, and Mai Tai cocktail hour at Moray's. Just across from the resort is Pacific Beach- a great place to head if you're ready to catch some waves and soak in the sun. No need to head all the way to Polynesia to unwind island-style, and Catamaran has unique ways to save already built into the experience with no resort fees and no amenities fees either. Whether you're heading into San Diego for the Zoo, their famous restaurant week or are looking for the perfect "Staycation" the Catamaran Resort Hotel and Spa has something for you.
4.)Sonesta Resort Hilton Head Island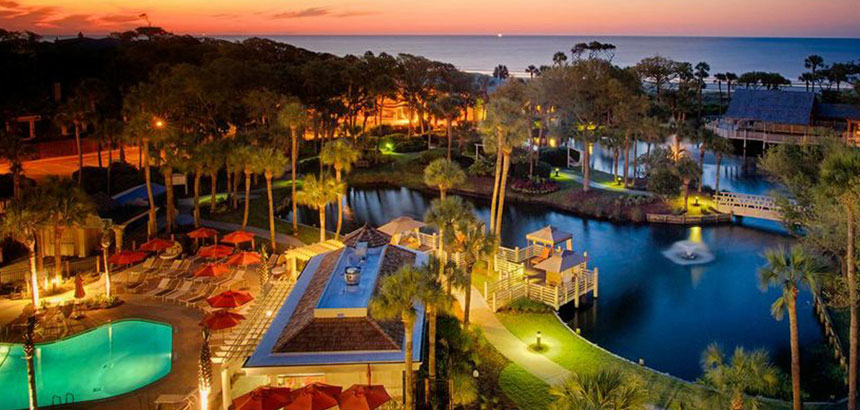 Hilton Head is known as a family-friendly island with over ten miles of beaches, the Sea Pines Forest Preserve, phenomenal nightlife and shopping, as well as convenient proximity to Savannah and Charleston. The Sonesta Resort Hilton Head Island is the ultimate destination for any individual, couple, family, or group looking for the ultimate escape. Each room comes equipped with a mini kitchen, high speed internet, a private patio and more. This all-inclusive resort is the perfect place to host a wedding or your next work event as the Sonesta houses over 23,000 square feet of space for whatever your function. The island of Hilton Head is a great place to unwind outdoors on their bicycle trails, golf courses, and nearby tennis courts. If you're looking for value, AAA and CAA members receive a discount and the Sonesta offers myriad hotel packages for all types of parties. In the Winter, you'll save 20% off the best deals during your stay of two nights or more. If you're looking for a high value unforgettable vacation, the Sonesta Resort Hilton Head Island is the perfect retreat.
5.)Omni Bedford Springs Resort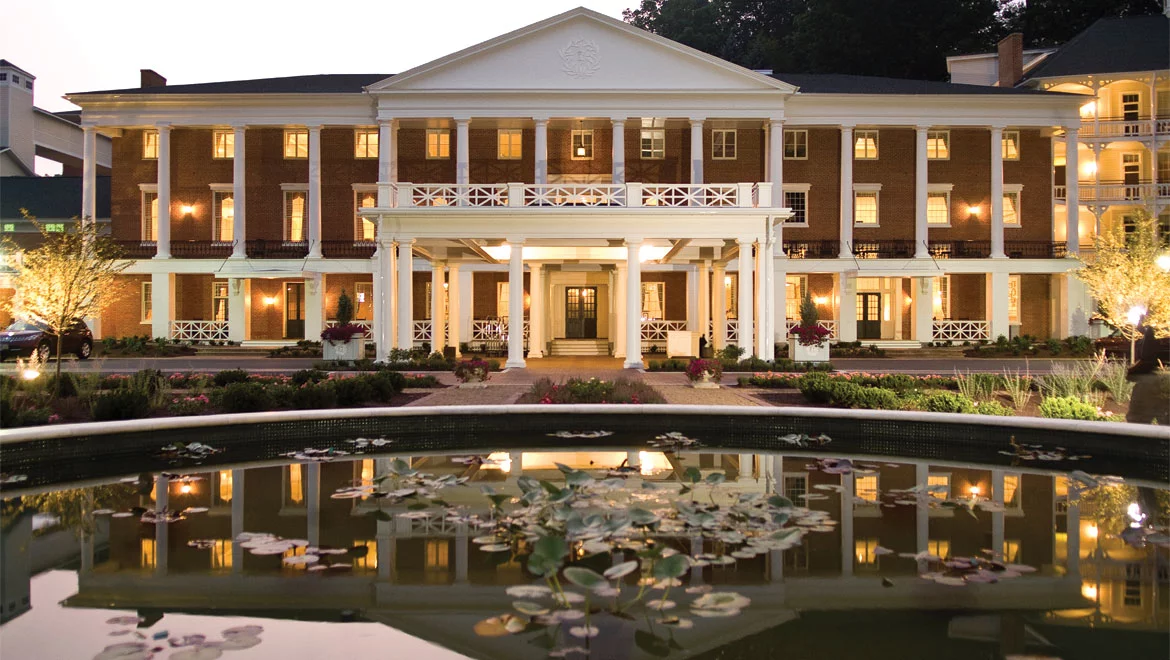 Some of the best natural hot springs in the United States are located in the West and South West. But did you know that deep in the Cumberland Valley of Pennsylvania lies an over 200-year-old world-class hot spring turned resort? Omni's Bedford Springs Resort is the perfect place to find historic charms, modern creature comforts, and ancient rejuvenating natural mineral waters. In June of 2017, Omni opened the Clubhouse at the Old Court where guests enjoy over 6,000 square feet of club space to wine and dine, relax by a fire, and of course golf! As an all-inclusive resort, Omni Bedford Springs offers spa days, pool days, myriad of dining options, and event space. The bedrooms are luxurious and provide old-world charms like afternoon tea, rocking chairs, and marble flooring as well as modern accommodations like WiFI and HDTV. Indoors you can take a dip in their spring filled pool or enjoy the 30,000 square foot spa room that uses ancient springwaters in a number of their spa treatments. Bedford Springs is the perfect combination of quaint old-world charm and premium new-world luxury.
6.)Enchantment Resort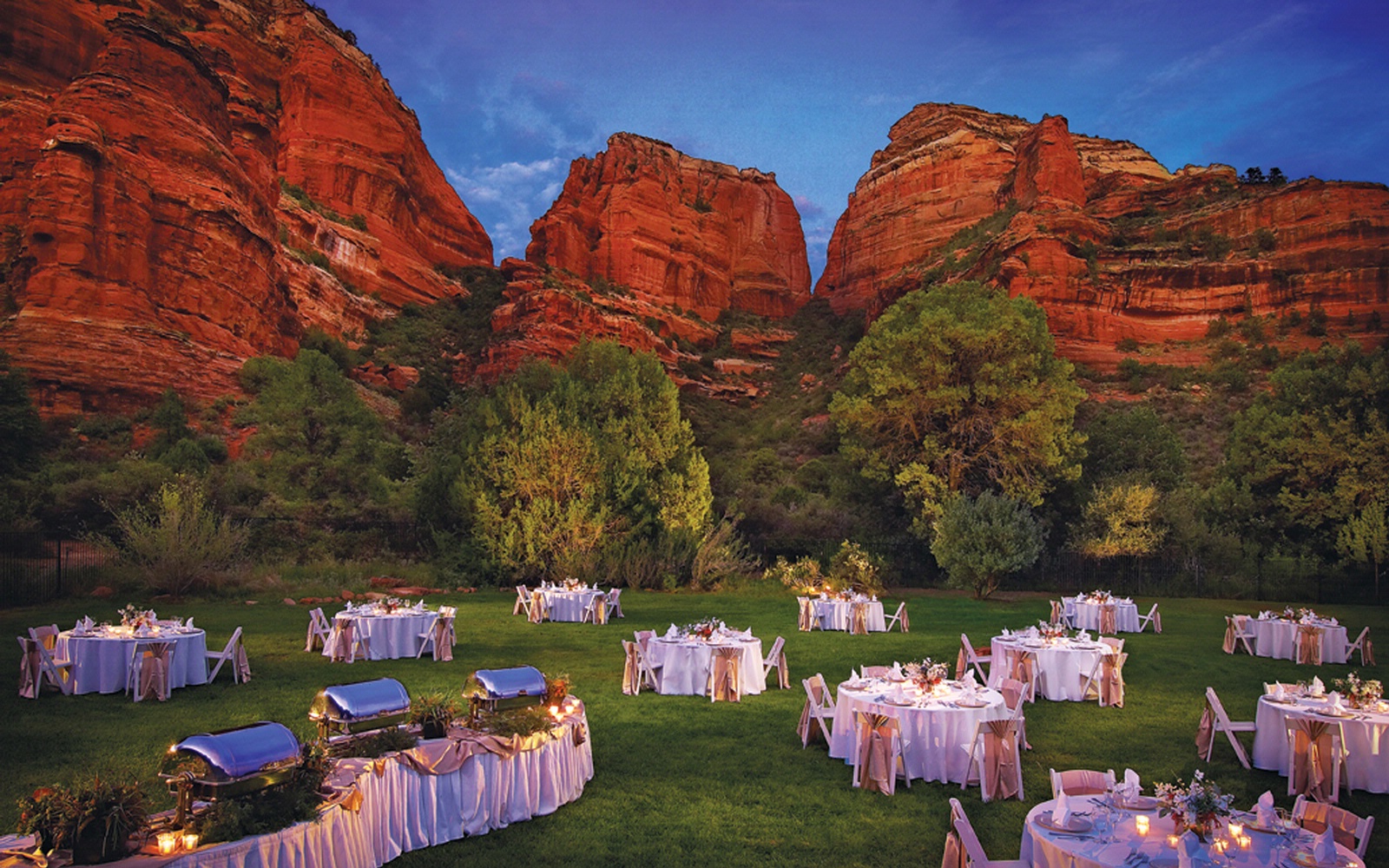 Imagine waking up to the dramatic red rocks, and dazzling sun streaming through your hotel window. Your stroll isn't a stroll at all but an adventure through steep canyon walls and scented pine forests. This is an enchanting moment that you will never forget thanks to your stay at Enchantment Resort in Sedona, Arizona. You'll never want to leave Enchantment as the amenities are truly diverse including a day in the spa, a trek through ancient Native American land, golfing the seven canyons and even a camp for children- Camp Cayote. All of this sits on the spiritual land that once was inhabited by the Hopi, Apache, and Navajo tribes. Enchantment resort makes sure to preserve those traditions and culture through their Solistic and Equinox Celebrations, Canyon Conservationists Programs and their Che Ah Chi: The History of Boynton Canyon documentary. A stay at Enchantment Resort is truly unlike anything else.
7.)Hyatt Regency Grand Cypress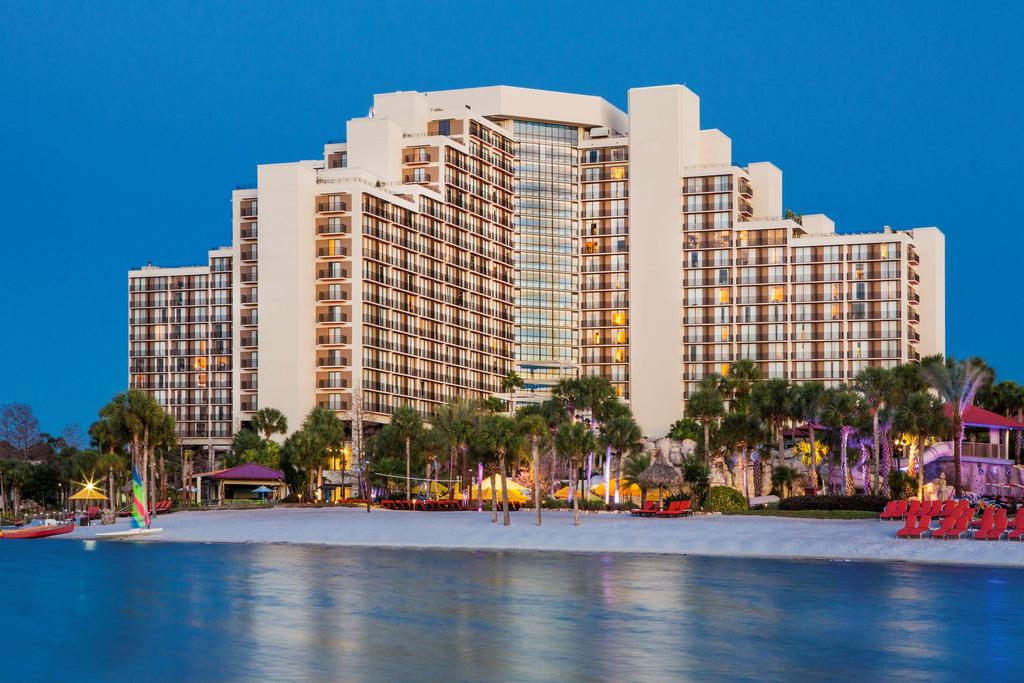 If you need to unwind after a day of mouse ears and long lines, try the Hyatt Regency Grand Cypress. This family-friendly resort offers affordable prices all year long and is less than a mile from Walt Disney World. You don't have to be here with family to enjoy all of Hyatt Regency Grand Cypress' amenities. Grand Cypress is great for a romantic getaway or a place to hold a business meeting. In fact, there are 65,000 square feet of meeting spaces available throughout the resort. If love is in the air, the Grand Cypress is a popular wedding destination location with lakeside views and gorgeous Florida sunshine as the backdrop. Grand Cypress offers premiere wedding packages that help take the guesswork out of your wedding planning experience. When you're ready to hit the lake there are several options for those who take to the water- go paddle boating, water skiing and canoeing. If you're more of a land dweller this is the place to try your hand at golf- as Grand Cypress is among the top 25 golf schools in the United States. There's something for everyone and all budgets at Grand Cypress!
8.)Pier House Resort and Spa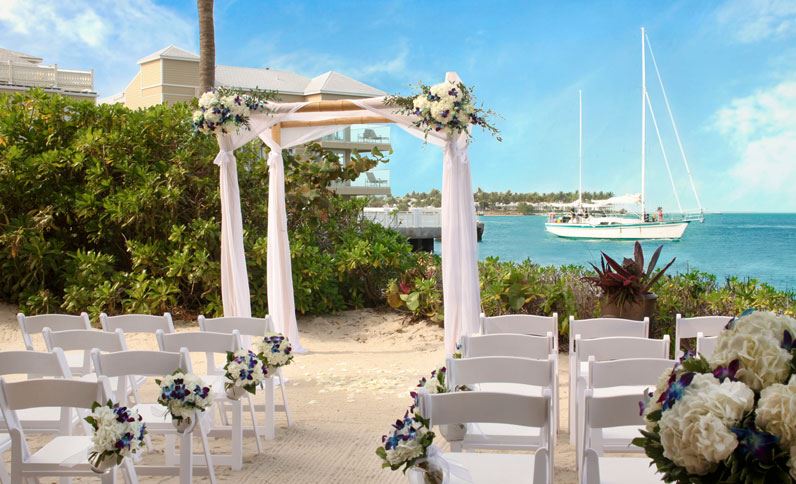 The Florida Keys are a coral cay archipelago located on the southeastern coast of Florida and the perfect destination for snorkeling, scuba, and boating. Key West is one of dozens of major islands off the coast of Florida, and is home to a conveniently located International Airport. Once here, you'll need a place to stay and nothing comes at a better value than Pier House Resort and Spa. Pier House Resort and Spa was built in the late 1960s and became a haven for anyone who wanted to get away. Ernest Hemingway, Tennessee Williams, and Shel Silverstein were just a few authors who spent years of peak creativity among the shores of the Florida Keys. During you'll stay you'll understand why some of America's greatest writers came to escape here- the atmosphere is secluded and peaceful- the truest definition of "getaway." This historic beachfront resort offers thousands of square feet of conference space, event catering and of course private ceremonies. Of the 142 luxury rooms and suites most have private balconies and ocean views that exude relaxation and privacy. You won't be too far away from modern amenities however as Pier House Resort includes WiFi and Tesla car charging stations. For a great value, and your own taste of paradise, visit Pier House Resort and Spa.
9.)L'Auberge de Sedona
L'Auberge when translated from the French means "The Inn" but L'Auberge de Sedona is much more than just an Inn. It's a world-famous destination for the adventurer at heart. The heart of your adventure is up to you-whether you're looking for an unforgettable romantic retreat or a grandiose wedding with an ancient backdrop, you'll find it here. What's more, is that the Summer prices tend to drop- meaning that your next Summer vacation will not only be magical but also affordable. No matter what you seek, you'll find five-star accommodations. The customer service and quality are some of the most renowned features of this affordable resort. The whole family can come along too- even Fido! That's right, L'Auberge welcomes pets in certain locations. For even more deals try the L'Auberge packages such as their 2-night chef's tasting, babymoon maternity package, and anniversary experience. There's something for every occasion at L'Auberge de Sedona.
10.)Rosen Shingle Creek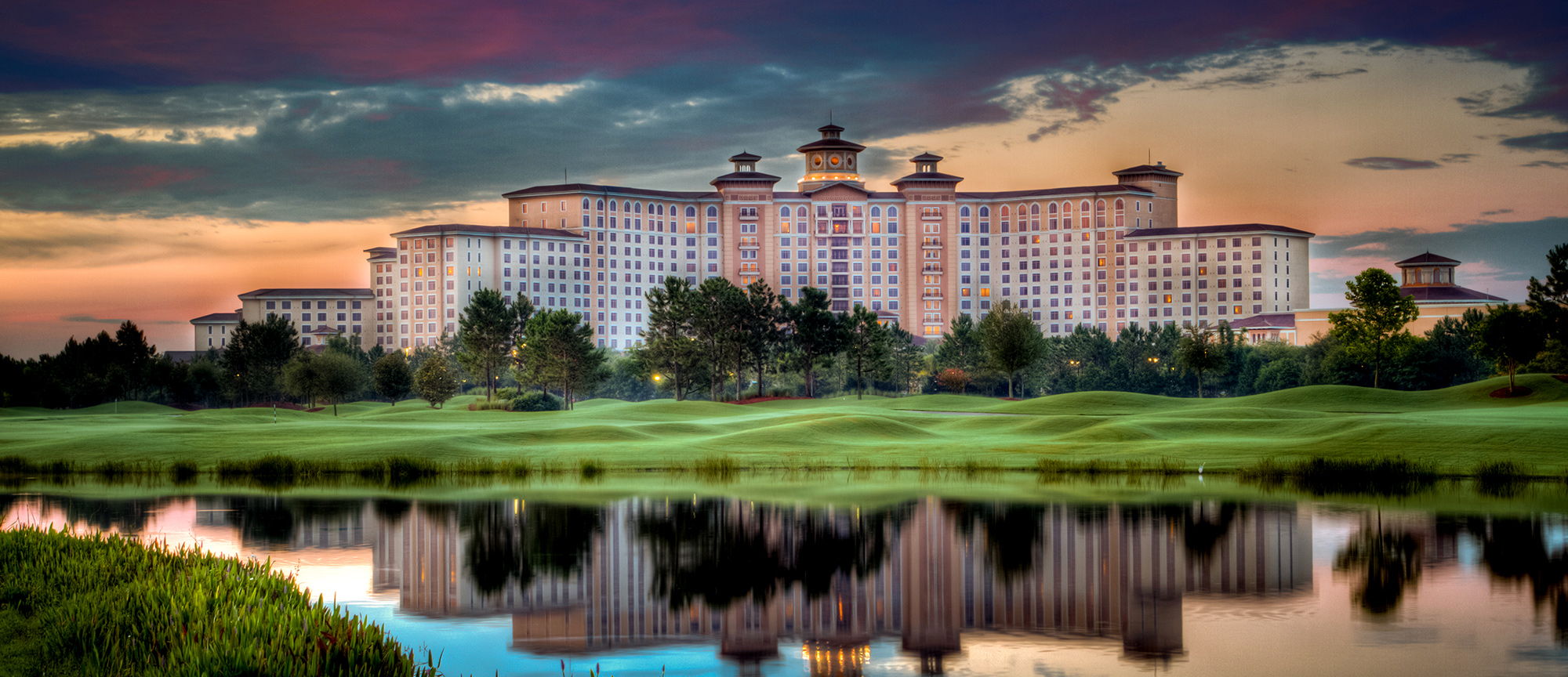 Floating down the creek came the mighty cypress tree and their hollow trunks that provided just the right materials to create shingles for roofs over settler's heads. Rosen Shingle Creek gets its name from the 1800s practice of preparing and creating shelter from these beloved native Floridian trees. Today, Rosen Shingle Creek is a beloved all-inclusive resort for couples, families and business members. Here you'll find endless Florida sunshine and myriad of amenities that make your stay feel as cosy as setting foot into your own home. You can relax by the pool or spend a few hours playing a round of golf with your buddies. This Award-Winning Orlando golf course partners with Arnold Palmer Design Company. Check out their newsletter for affordable deals. You'll feel like royalty in any of their King Suites fully serviced by VIP concierge assistance. Rosen Shingle Creek is fully equipped to accommodate your wedding or other special occasion and uses green practices throughout the resort. For a truly welcoming stay that makes you feel like you're home sweet home but without any of the responsibilities, Rosen Shingle Creek is a great pick.
11.)Bilmar Beach Resort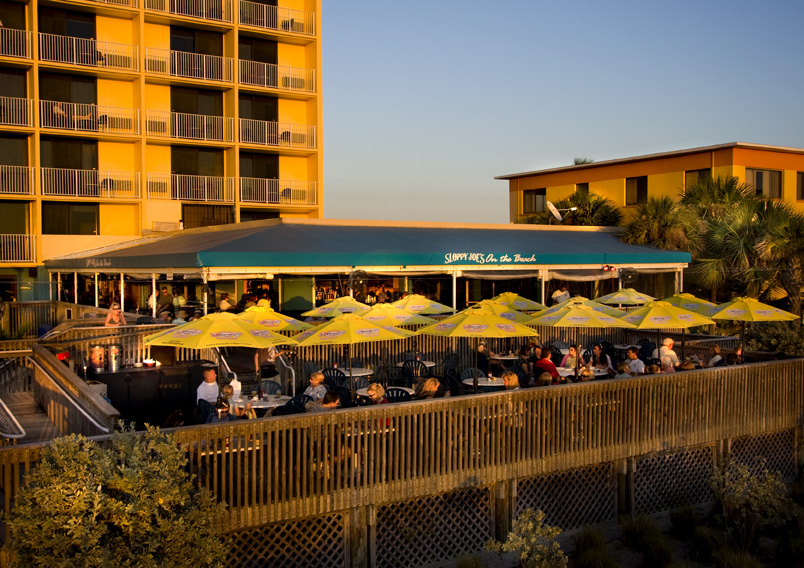 Bilmar Beach Resort located on Treasure Island, Florida is one of our best value resorts. Treasure Island is located on the West coast of Florida across from the Gulf of Mexico. The vast majority of rooms overlook the beach. You can find all of the best rates directly on their website and Bilmar Beach Resort regularly posts steep discounts for all types of guests. The vast array of amenities make Bilmar Beach Resort a welcome stay for families, groups on business, newly weds, and brides-to-be. You won't be stuck in the sand with nothing to do as Bilmar Beach provides cruisers, paddle boards and kayaks for those ready to take to the waves. When you're all sunkissed and ready to retire, you can unwine in one of their two heated pools, relax by the fire pit or have a nightcap at the local restaurant. For the convention-goers there's over 8,000 square feet of meeting space- not a bad place to build moral among the white sandy beaches of the gulf coast region. Bilmar also includes a number of business services to ensure that your business meetings are smooth sailing. Speaking of smooth sailing, you're only a few steps away from nearby parasailing and watercraft rentals. Let your cares float away with a stay at Bilmar Beach Resort.
12.)Disney's Port Orleans Resort- French Quarter
There's no arguing that Disney has the ability to transport you anywhere your imagination can take you. When you enter Disney's Port Orleans Resort, you'll feel like you've been ferried away to the French Quarter in New Orleans. Lamp posts, and float emblems adorn the lobby and carnivalesque features are dotted all around the resort quarters. Naturally this is a family-friendly location, but what about a romantic vacation? Does a moonlit ride in a horse drawn carriage sound like your idea of romance? What about a night of jazz music and cocktails? There's something for everyone at this magnificent Disney Resort. Of course the New Orleans theme wouldn't be complete without great food. And Disney's Port Orleans Resort does not disappoint. Sassagoula Floatworks and Food Factory serves up all of New Orleans' staples like Jambalaya, beignets, creamy grits, and king cake. In addition to horse-drawn carriage rides, and great food and drinks, Port Orleans offers two refreshing pools, cajun campfire activities, surrey bike rentals, and movies under the stars. For a taste of New Orleans all in one location, Disney's Port Orleans Resort is the way to go.
13.)The Kahala Hotel and Resort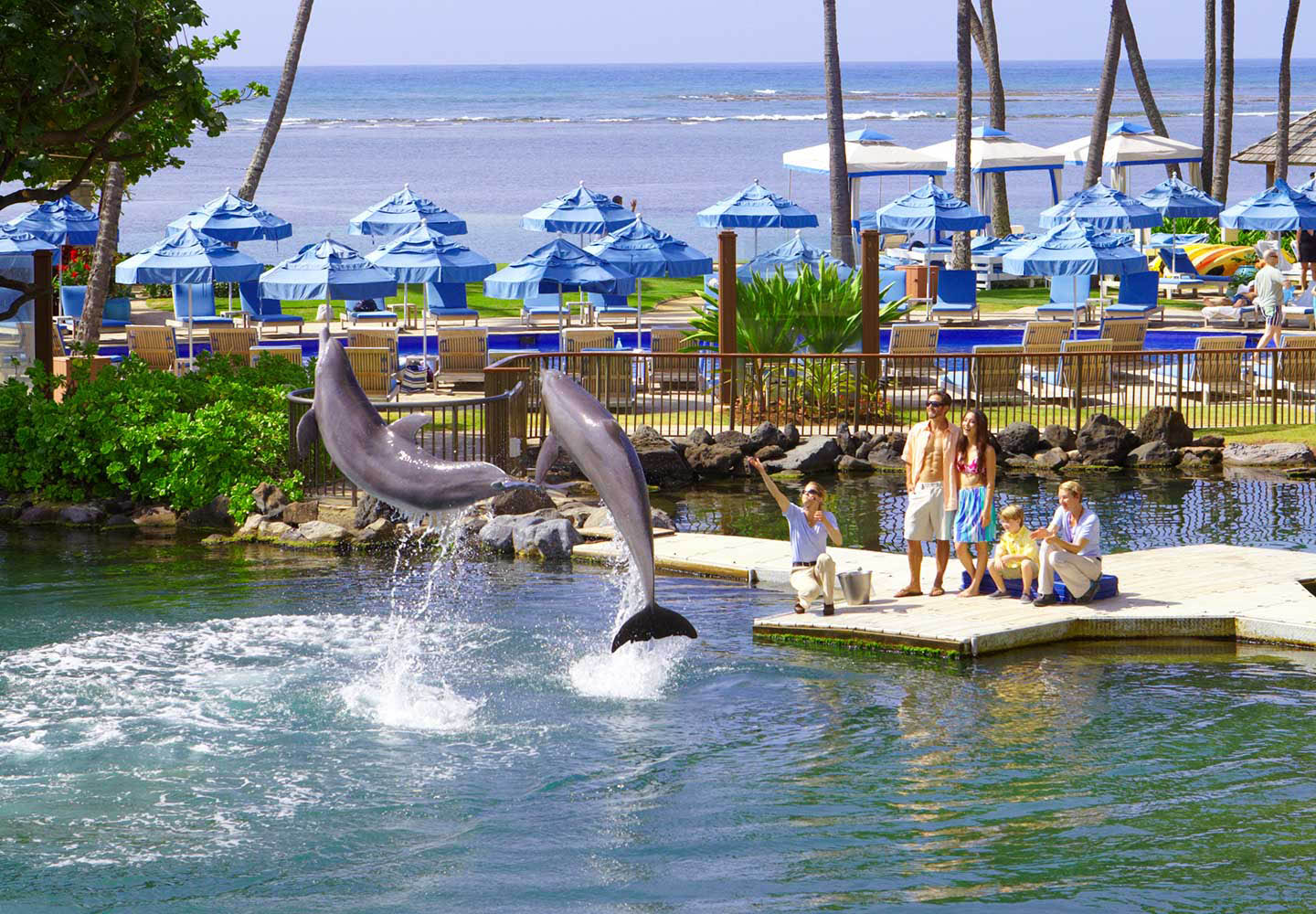 If you are making the trip to Hawai'i, chances are you're spending some time in Waikiki on the Island of Oahu. Along the sandy beaches in earshot of the crashing waves is the exclusive Kahala Hotel and Resort. This "luxury hideaway" has it all- including their own resident dolphin! Have you ever wanted to try yoga on a paddle board, then relax in a rejuvenating spa and spend the evenings sipping on champagne and strawberries? Well, you can here. Considering the location and number of high quality amenities, this resort is very affordable. Take a look on their site to ensure you get the best rates possible, and don't hesitate to extend your stay- every 4th night is free! If you book 60 days in advance you save 15% and Kahala even has a rewards program for its members. Do we need to list all of the reasons to spend your next vacation or honeymoon in Hawai'i? We think you get the picture, but just in case here are a few of the unique experiences available to those who stay at Kahala: Luau buffet at night, helicopter tours of the island, go snorkeling with turtles, or jet ski across the Oahu bay. Amenities include something for everyone including kids. For vacation memories that last a lifetime, Kahala Hotel and Resort is here to make it happen.
14.)Omni Orlando Resort at Championsgate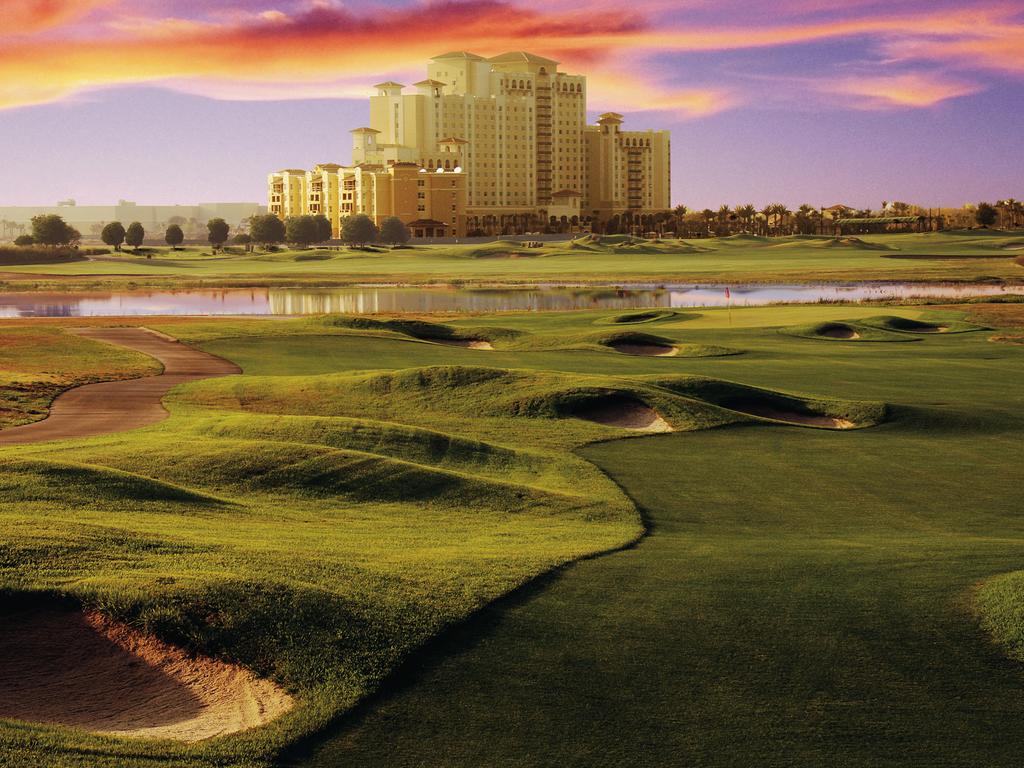 Four! Omni Orlando Resort at Championsgate is where golfers go to compete. There are 36 holes of championship golf available and for the kids or child-at-heart you can even try their 18-hole miniature golf or a lighter 9-hole course. This is a luxury retreat resort located right in the heart of Florida close to all of the famous Orlando amusement parks and other attractions. The amenities within the resort are enough to keep you and your family busy- like the family pool with the 125-foot water slide or the wave pool, Mokara spa, and Sports Training Complex. Of course WiFi is included as are complimentary shuttles to Walt Disney World. The Mokara spa includes face and body treatments like manicures, massages, pedicures, facials, and more. If you're planning a wedding- don't worry! Omni Orlando Resort at Championsgate offers a wedding package that includes your entire wedding team. All of these phenomenal amenities and more come at the same low price year round! If you are looking for an affordable luxury vacation, try Omni at Championsgate.
15.)JW Marriott Phoenix Desert Ridge Resort and Spa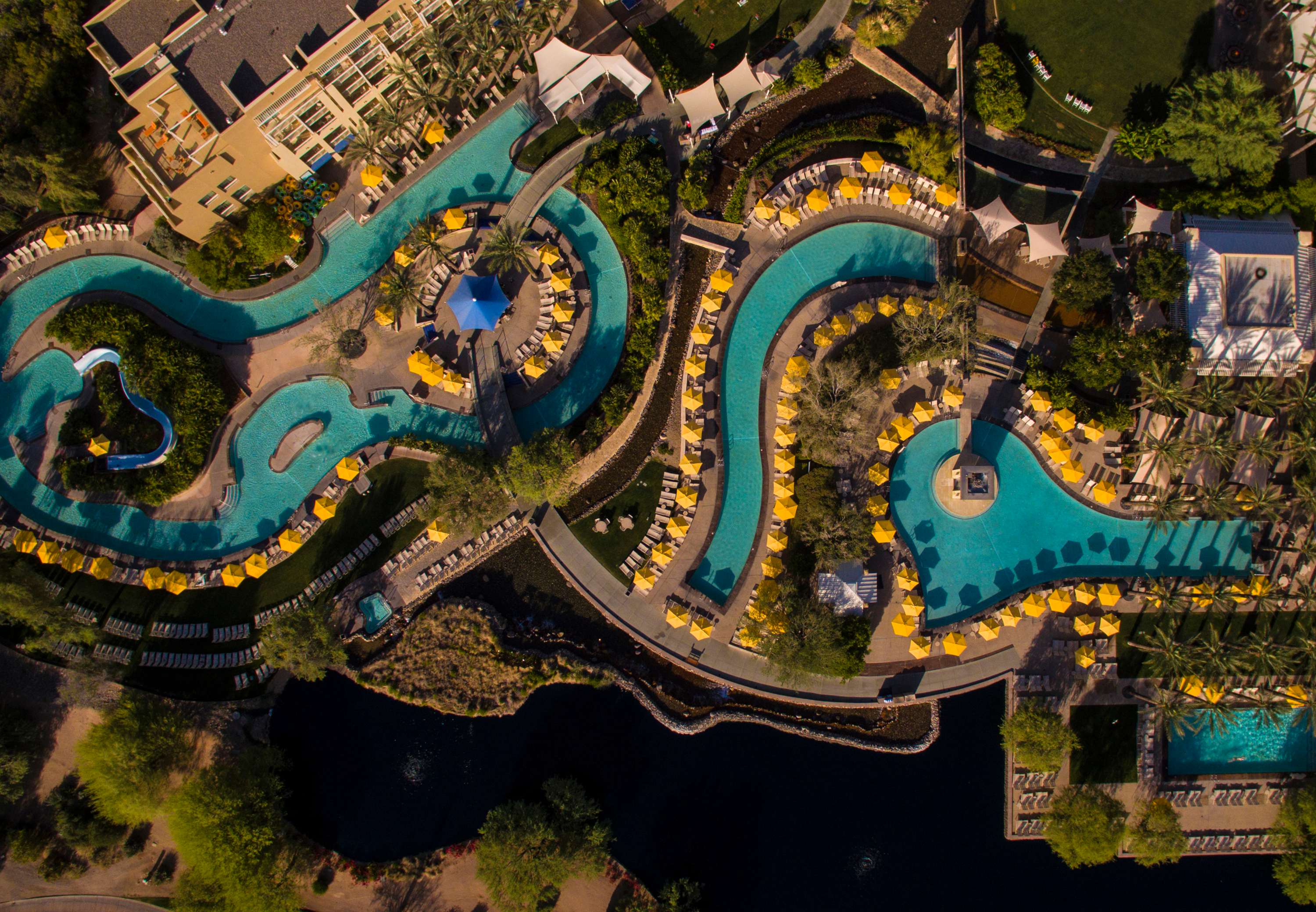 JW Marriott Phoenix Desert Ridge Resort and Spa is a great fit for any type of traveler- whether going along, travelling with family or on business, make your next stay in Phoenix at JW Marriott Phoenix Desert Ridge Resort and Spa. This is a great opportunity to maintain your fitness regime while out on vacation as you play around or two of golf at any one of their championship golf courses, get your cardio at the onsite fitness center or take a dip in any one of their five pools. When you need to unwind, take a tube down the lazy river or lay down and allow the massage therapist to rub your cares away in their luxury spa. For those one business, why not splash out a little at the JW Griffin club where you'll enjoy concierge services from sun up to sun down. If you're looking for ways to save, try coming in the Summertime. The heat is on, but the dry heat makes it much lighter than you'd imagine and the prices are cut in half. Escape from it all at JW Marriott Phoenix Desert Ridge Resort and Spa.
16.)Disney's Grand Floridian Resort and Spa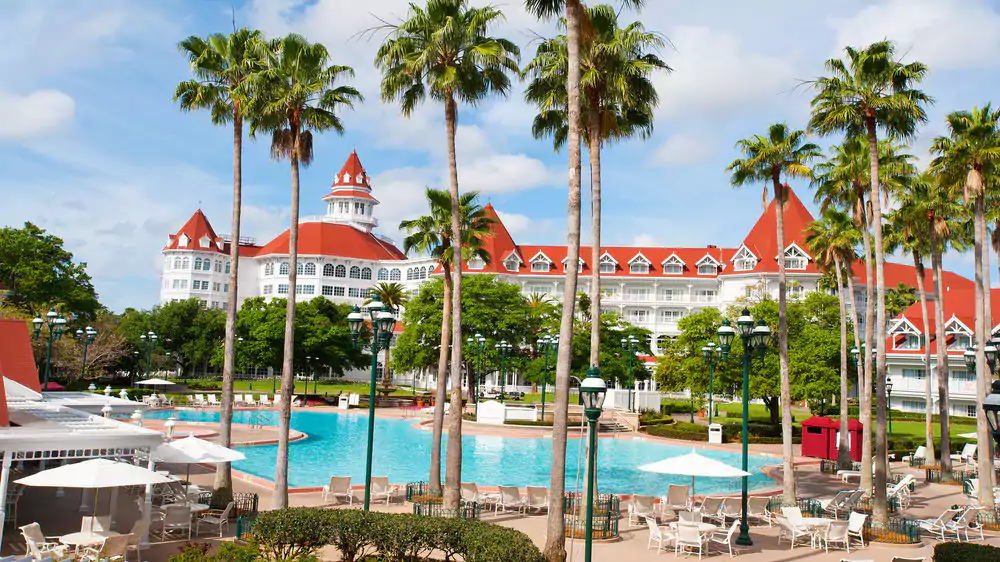 In the mid 1980s as Michael Eisner took over as CEO of Walt Disney World, the Grand Floridian Resort- one of Disney's five flagship resorts- finally took shape. Over the years Disney's Grand Floridian Resort and Spa have become known as one of the Disney icons. Though not as iconic as a pair of mouse ears, those who love Disney and its history will have dreamed to a stay at the Grand Floridian and for some very good reasons! Most all inclusive resorts boast 2 or three restaurants, but at Disney's Grand Floridian you can enjoy fine dining at 8! This Resort and Spa is fully equipped with fine dining, dining on-the-go and cocktail hours galore. After a long day walking at the Walt Disney World parks, you'll have plenty of options to chow down and unwind. The Grand Floridian is now also includes a world-class spa- Senses. At Senses enjoy aromatherapy, facials, massages, body wraps and more for a clear head and a rejuvenated spirit. Each night The Grand Floridian hosts a light parade on the water known as the Electrical Water Pageant- and the resort has its own viewing space. There's something for all ages at this lavish Victorian-themed Disney resort.
17.)Carneros Resort and Spa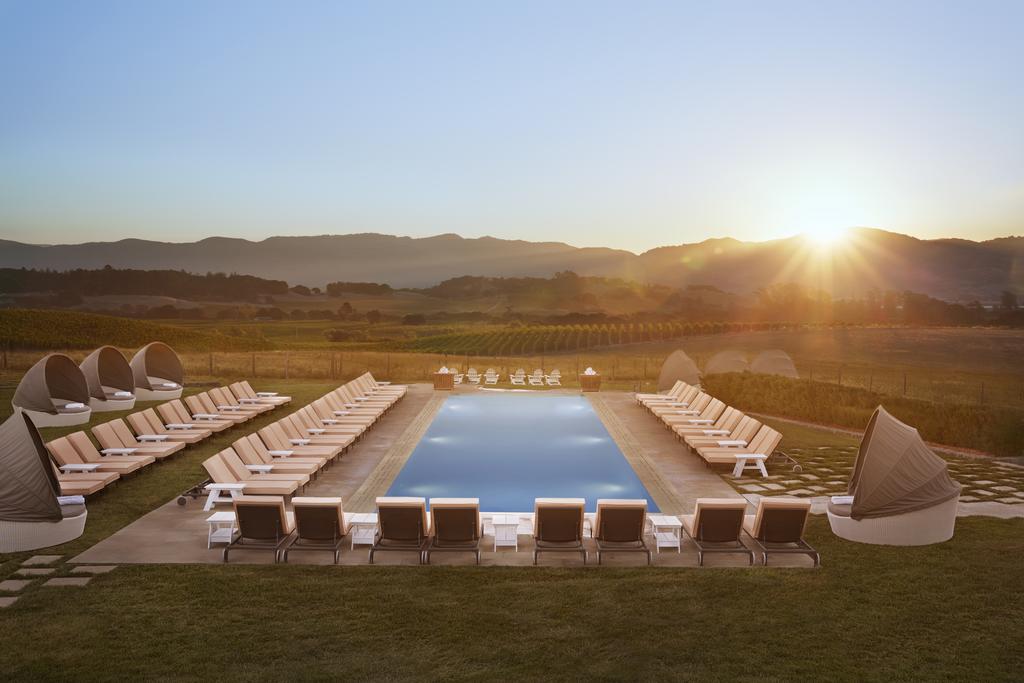 Are you a wine connoisseur looking to plan your dream vacation to the Napa Valley? Carneros Resort and Spa is one of the prime spots for an unforgettable trip to Napa. When you close your eyes and take your first sip of some of the region's finest wines you'll open them again overlooking some of the finest vineyards of the Sonoma. Carneros Resort and Spa is particularly romantic for couples and will happily house both grand and intimate elopement style weddings. The luxury spa includes a full menu of facials, massage, body treatments, beauty treatments, nail therapy, and fitness. Food and wine are the perfect pairing, and Carneros Resort and Spa offers a number of fantastic farm to table restaurants and gourmet meals- of course paired with the perfect bottle of wine. If you are looking for a dream getaway with your loved ones, or a chance to splash out in one of the most famous wine regions in the world, Carneros Resort and Spa is unbeatable.
18.)Lago Mar Beach Resort and Club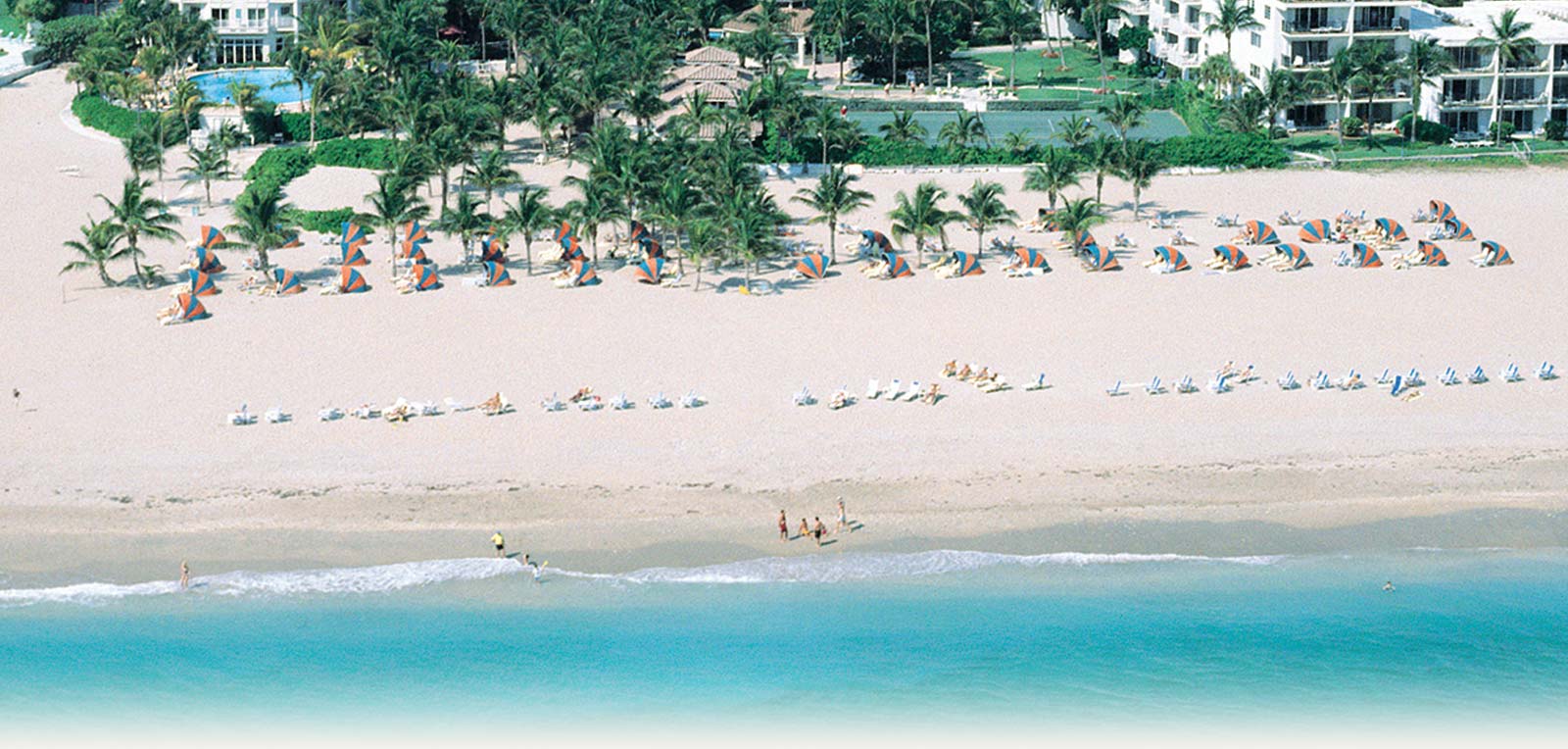 Fort Lauderdale is just slightly North of Miami and is home to some of the best beaches on the East Coast of the United States. Lago Mar Beach Resort and Club is a high value resort where you can experience phenomenal luxury and relaxation at an affordable price. This is a family-owned resort that prides itself on its homey and quaint decor that is understated yet refined. The city of Fort Lauderdale recognizes Largo Mar for its "Best Architectural Design." Lago Mar offers deluxe one-bedroom suites, two-bedroom suites, executive suites, and a penthouse suite. Onsite you'll find three fine dining restaurants as well as the soda shop, and wine cellar lounge. Lago Mar is a romantic setting as well and accommodates both large and small weddings as well as both indoors and outdoor beach weddings. Lag Mar also includes large and small meeting venues perfect for parties and other social events complete with banquet menus. If you are looking for a high quality affordable stay in Southern Florida, look no further than Lago Mar Beach Resort and Club.
19.)Wailea Beach Resort and Club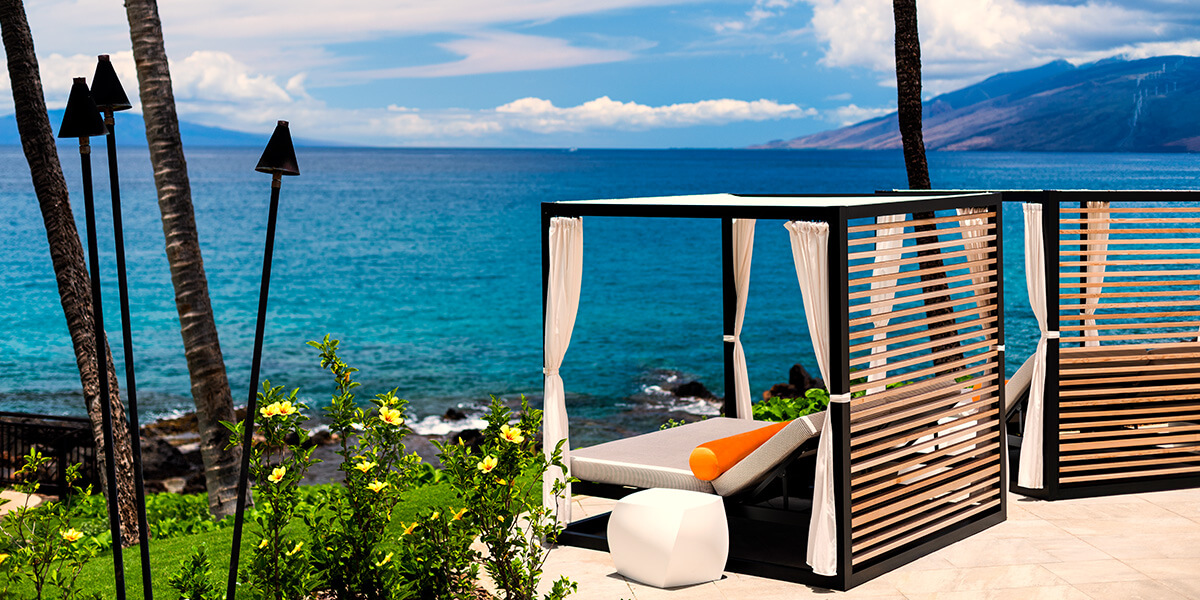 When the idea of a trip to Hawai'i comes crashing in head to the Island of Maui where you'll find Marriott's premium resort- Wailea Beach Resort and Club. This is a great option for families, groups, individuals, or couples. The resort is located right on the water's edge overlooking the Pacific Ocean so is the perfect place to catch some waves and some zzzzs. For some more bright ideas, test out Wailea Beach Resorts many amenities like their championship-level golf courses, floating cabanas, and luau show. This resort is home to the largest water slide in Hawaii and situated right on the Pacific where you'll often spot a humpback whale, is a great place to take the kids. Looking for something larger? No problem as this resort houses nearly 30,000 square feet of event space perfect for a grand beach wedding or a special business meeting. You're only a coconut's throw away from the Maui Tropical Plantation where you can learn about Hawaiian plants, tropical fruits and learn to husk your own coconut. Tuck yourself in to your room with an ocean view and a sundeck. Considering the location and supreme amenities, a stay in the Summer time is high value and affordable.
20.)The Ritz-Carlton, Sarasota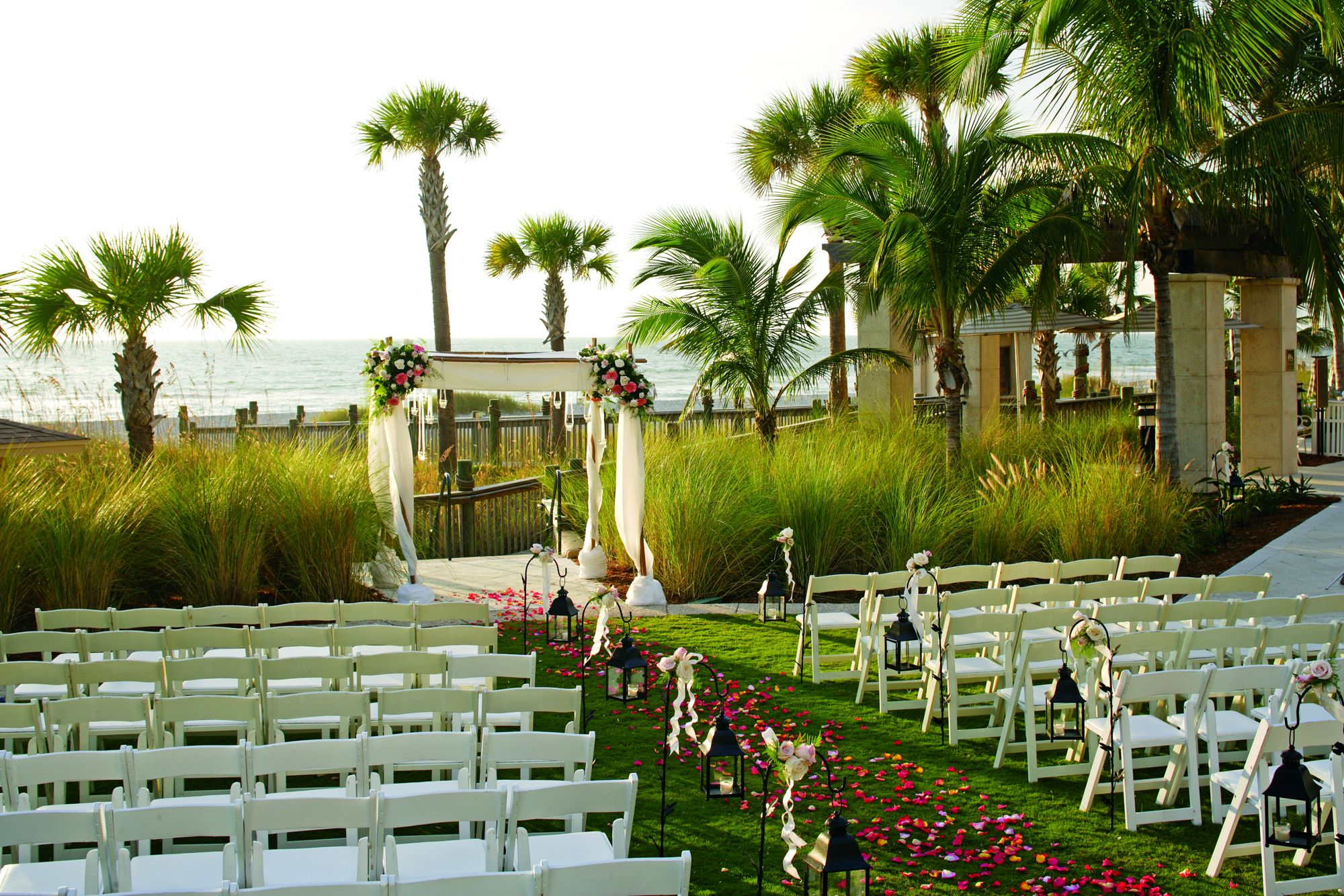 Putting on the Ritz in Sarasota has never been hipper! That's right, in recent years Sarasota has hit the map with international cuisines, cool shops, and a great slice of pizza to boot. Really can you think of anything sweeter than a hip fun city right on the beach? The Ritz-Carlton Sarasota is the place to stay when you're ready to see what we're talking about. This happening town is welcoming to guests and so friendly- locals would love to show you around. Staying in a luxury resort doesn't have to break the bank, either. In the Sunshine State the weather is good all year round so do consider booking during off-season to ensure an even greater value. In addition to beachside fun, Ritz-Carlton Sarasota has all of the amenities you could possibly dream of in a resort- like championship golf courses, a luxurious spa, and of course venu space for the perfect beach side wedding or happening meeting. If you don't fancy stepping out of the resort for dinner, no problem. The Jack-Dusty is a breathtaking waterfront seafood restaurant located right on the beach and features local cuisine as well as local liqueurs. Ridley's Porch is a great place to bring the kids and hold on to your seat when you sit down for a powerful tiki drink at the Ledo Key Tiki Bar. Are you ready for a hip adventure to the beach with luxury and 24 hour accommodation as well? try the Ritz-Carlton- Sarasota!