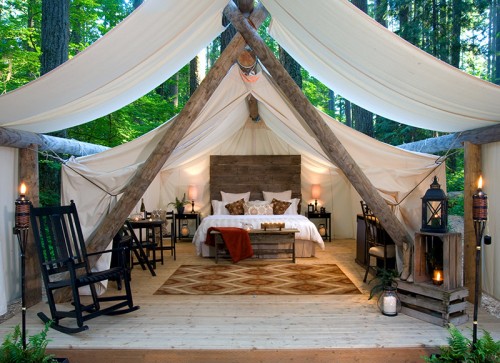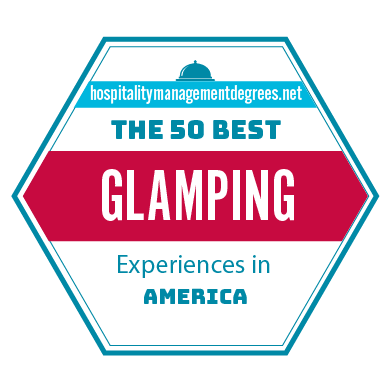 Relaxing under the trees, warming up by a campfire, falling asleep to the sound of crickets and waking up to the sound of birdsong… everyone loves camping out. If only there were a way to experience the magic of camping without all the discomfort and hassle- pitching unwieldy tents, hauling coolers, and sleeping on the cold, uneven ground. At last you can- all hail the "glamping" phenomenon!
For those of us with outdoorsy souls but indoor sensibilities, glamping combines "camping" and "glamor" into one cushy wilderness experience. The classic glamping setup entails a roomy, fully-furnished canvas tent with a traditional bed, lighting, and (best of all) a clean bathroom with a flushing toilet. Some glamping companies take the "glamor" idea one step further, with designer furniture, luxury bedding, and even spa services. Some provide lodgings in tipis, yurts or cabins. Some offer on-site outdoor adventures, like whitewater rafting or horseback riding. Other companies have introduced novel twists on traditional glamping, catering to every type of nature lover. Want to be a kid again? There's a
summer camp for adults, complete with canoeing, craft cocktails, and, yes, friendship bracelets. Want to be a cowboy? There's a glamping destination on a working dude ranch. Want to be a farmer? There's farm glamping, complete with chickens and ducks, waiting for you. Check out our guide to Glamping Destinations in Every State in the Nation and learn how you can sleep under the stars- in five-star accommodations- in your state.
Glamping in
Alabama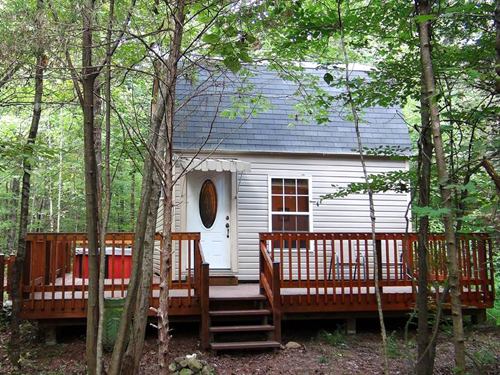 Instead of struggling with a tent stakes and mosquitoes at a traditional campsite, why not truly unwind and recharge in the great outdoors by glamping in Alabama at The Yurt Garden? This charming outdoor retreat is nestled on five acres of natural forest and permaculture gardens at the base of Keel Mountain. Just 30 minutes from Huntsville, guests can escape to this tranquil setting to recharge their batteries. The well-tended grounds have wildflower beds, a hidden garden, a small creek, wind chimes, a Japanese sand garden, and a large meditation labyrinth. The owner is a licensed massage therapist with over 20 years' experience, and offers guests hot stone or Swedish massages, energy work, and life coaching. The large yurt on site is available for rental to host workshops, and accommodates up to 12. Overnight guests, however, will want to stay in the cabin on site, which has a shower, flush toilet, and kitchenette. A cozy queen bed has room enough for two. The surrounding wooden deck is even equipped with a hot tub, stocked with non-chlorinated water and chemical-free spa products. The property itself offers glamping guests a number of low-key activities. Attend an on-site yoga, tai chi, or wellness workshop, book a one-on-one bodywork session, meditate in the gardens, stroll along the banks of the Goose Creek through the forest. If you're feeling energetic, try hiking, biking or fishing in nearby Hays Nature Preserve or explore Keel Mountain, with its clear streams and picturesque waterfalls.
Rates: $100 per night
Location: Gurley, Alabama
At a Glance: a cozy cabin for restful and restorative glamping in Alabama
Glamping in
Alaska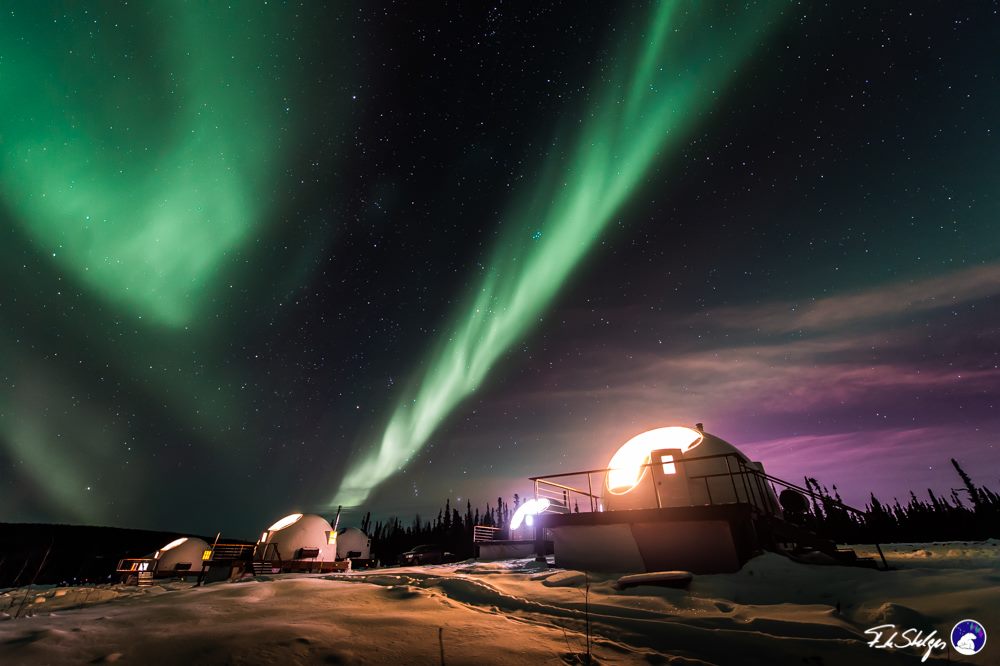 Sleeping under the stars is magical. Sleeping under the Northern Lights is a once-in-a-lifetime experience. At Borealis Basecamp, you can lay back in your luxurious bed and gaze at the Aurora Borealis through the ceiling of your private designer igloo. The elegant domes feature simple, modern Northern-European style, with white walls and pale wood throughout. Each dome has a kitchenette, full bathroom and queen bed. A locally-crafted yurt on the premises serves gourmet meal. Guests can stay busy with on-site photography lessons, dogsledding and snowmobiling.
Rates: $339 per night, two night minimum
Location: Fairbanks, Alaska
At a Glance: Glamping in Alaska under the Northern Lights
Glamping in
Arizona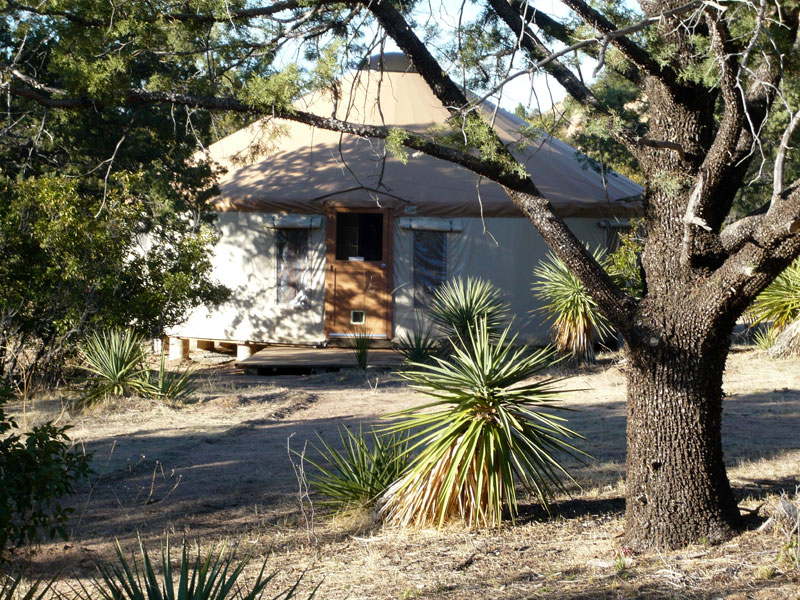 If you really want to get away from it all, drive 90 miles southeast of Tuscon to Cochise Stronghold Retreat. Located at a 5,000 feet elevation in the remote and rugged Dragoon Mountains, this glamping destination in Arizona promises absolute seclusion from modern life. Guests can stay in a 700 square foot woodland yurt, tucked in a secluded grove of juniper and oak trees. With three queen beds, there's room for up to eight, and guests can make themselves at home with a full bathroom, kitchenette and heating/cooling system. The hosts serve decadent, locally-sourced and mostly organic breakfasts. Guests can try out world-class rock climbing on the neighboring cliffs of Coronado National Forest, soak in a the hot tub or take a tour of the local vineyards. Lovers of birds and wildlife will likely spot roadrunners, woodpeckers, hummingbirds, deer, javelina, coatimundi, and foxes.
Rates: $115 per night
Location: Pearce, Arizona
At a Glance: remote desert glamping in Arizona in the Dragoon Mountains
Glamping in
Arkansas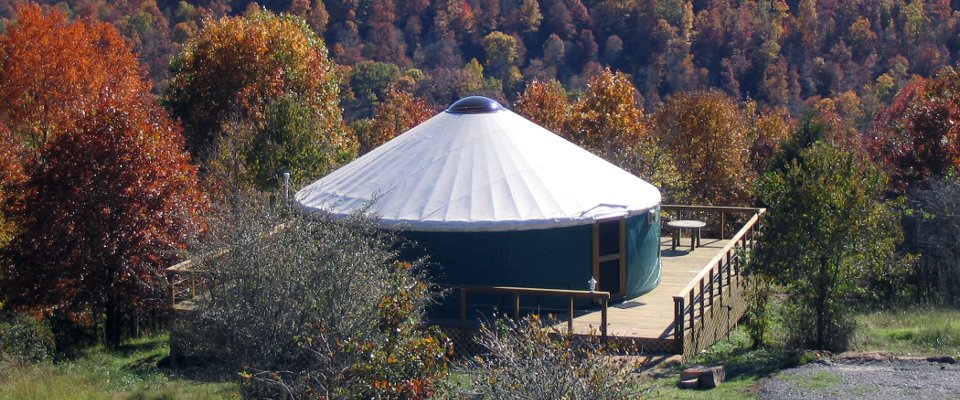 Along with tipis and safari tents, yurts are among the most popular glamping rental accommodations. This round, domed structure hails from Mongolia, where nomads of the steppes used them for portable dwellings. The plush yurt cabins at Stone Wind Retreat are about as far from this ancient tradition as can be imagined. Each has a private deck with a hot tub, custom king or queen beds and full kitchens and baths. There are even sofas and TVs, so you can enjoy all the Ozark Mountains have to offer without missing the big game. There are qui gong and meditation classes available on site, as well as in-cabin massages and a one-mile walking path through the retreat's stone gardens. This glamping destination is also adjacent to the Ozarks National Forest, where you'll find horse trails, hiking, caverns and stunning foliage in autumn.
Rates: $145-$195 per night
Location: Chester, Arkansas
At a Glance: Glamping in Arkansas in a cushy yurt
Glamping in
California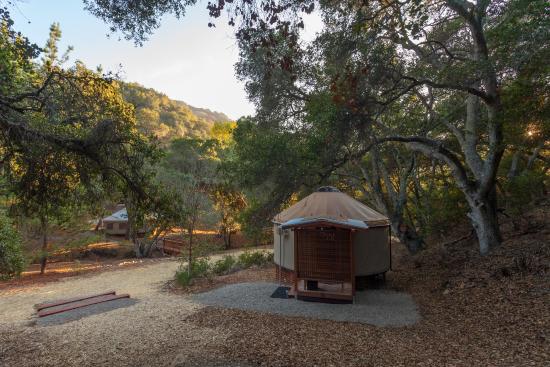 Lovers of the outdoors who also appreciate creature comforts will be overwhelmed with options at Wellspring Ranch. This secluded and tranquil glamping destination offers an abundance of natural pleasures on 160 acres of pristine costal California. Guests can hike 20 miles of wooded trails sample fruit and herbs from the ranch's garden, soak in a handmade cedar hot tub, cool off in an outdoor shower, or enjoy a bonfire (with s'mores) under the stars. Massages, and meditation and yoga classes help guests fully unwind. Few other sites for glamping in California can match Wellspring Ranch for choices in lodging, or for luxury amenities. There are three lavish yurts, a glamorous Airstream trailer and even an eco-friendly cabin hand-build entirely from adobe and bales of straw. Each has luxury linens, memory-foam mattress, fireplace, organic bath products, Turkish bathrobes and even a towel warmer.
Rates: $390 per night
Location: Cayucos, California
At a Glance: elite wellness glamping in California near the beach
Glamping in
Colorado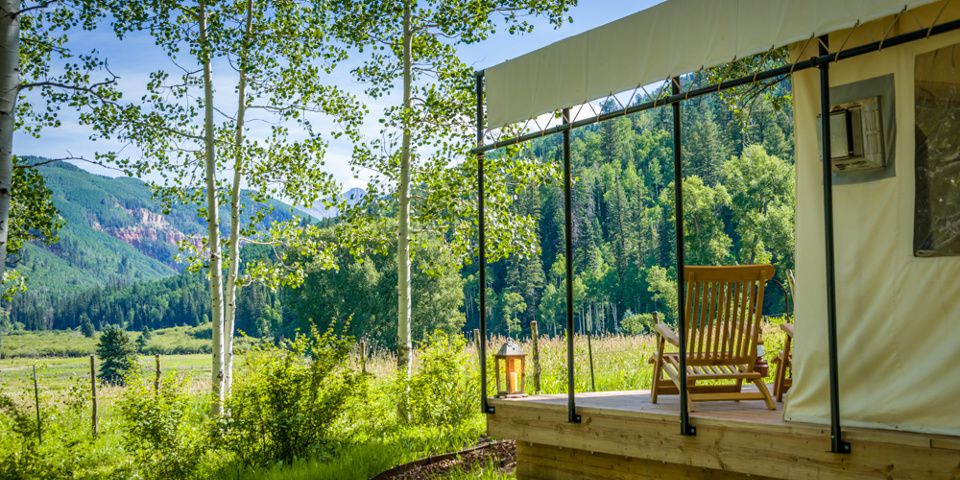 The most refined glamping in Colorado can be found on the site of a former cattle ranch dating back to the late 1800s. Dunton River Camp occupies 500 pristine acres in the Rockies, on the banks of the West Fork of the Dolores River. There are eight spacious, safari-style tents available for glamping rental: four on the riverbank and four nestled in the ranch's aspen forest. Each is sumptuously appointed, with covered decks, king beds, showers, oversize soaker tubs, and comes with two mountain bikes for exploring the area. There's even an on-site spa offering body wraps, scrubs and massages. A new gourmet menu is created daily by the executive chefs from farm-to-table and foraged ingredients. All meals, cocktails and use of the sauna are included in the glamping pricetag, as is fly fishing and outdoor yoga class. After dinner, guests gather around the communal fire pit to savor s'mores… usually along with a fine bourbon.
Rates: $1,500 per night, includes all meals and drinks
Location: Dolores, Colorado
At a Glance: princely glamping in Colorado, with fly fishing, yoga and spa
Glamping in
Connecticut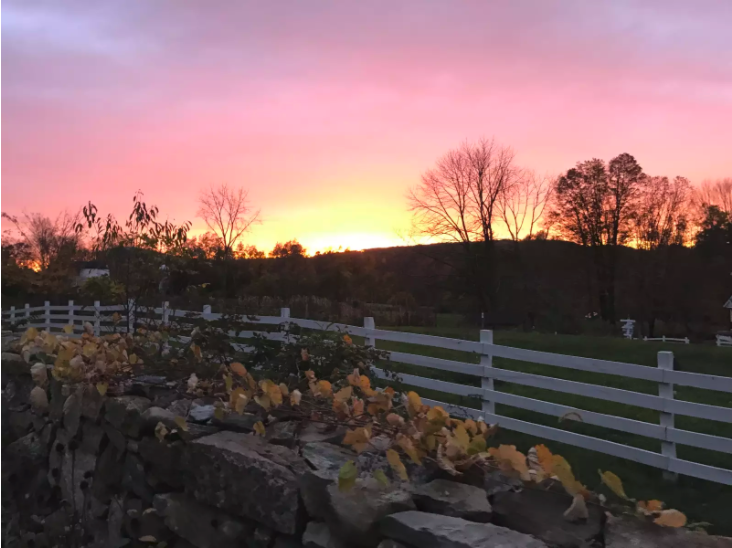 Get back to the land by glamping in Connecticut, farm-style. This small, permaculture farm offers guests the chance to experience farm life, with simple and comfortable accommodations. Animal lovers can mingle with the livestock, which include goats, cows, ducks, chickens and even yaks. This glamping destination in Connecticut is for those yearning for a taste of outdoor country living, along with basic comforts, rather than extensive pampering. The glamping rental unit is simple but lovely, a white bell lotus tent set on a raised wooden platform at the edge of the woods. The tent offers humble yet attractive accommodations, and is appointed with a king size bed and seating. A composting toilet is located in a surprisingly cute adjacent outhouse. Outside, there's a picnic table and campfire area. Guests can swim or fish in nearby Lake Waramaug on in the large pond on the property.
Rates: $120 per night
Location:Washington, Connecticut
At a Glance:simple farm stay glamping in Connecticut
Glamping in
Delaware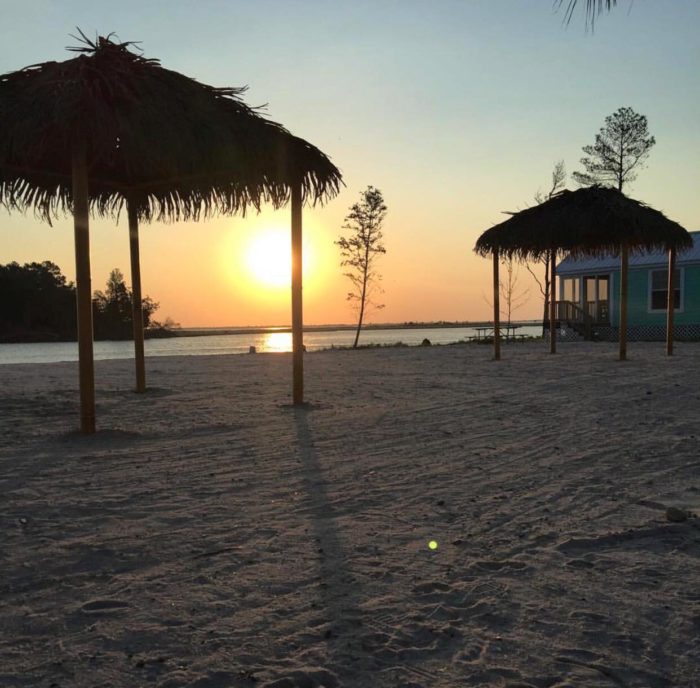 The Resort at Massey's Landing is an ideal seaside glamping destination in Delaware for active families. The resort offers both tent camping and well-appointed beach-side cabins, which can sleep up to seven. Cabins have ocean views, screened porches, kitchens, and full bathrooms. The whole family will stay busy at this glamping destination; there's stand-up paddleboarding, canoeing and kayaking, biking, fishing and golf. Adults can enjoy cocktails at the beachside tiki bar or a swim-up splash bar in the resort's enormous swimming pool.
Rates: $45-$387 per night
Rates: Millsboro, Delaware
At a Glance: family-friendly glamping in Delaware at a beach resort
Glamping in
Florida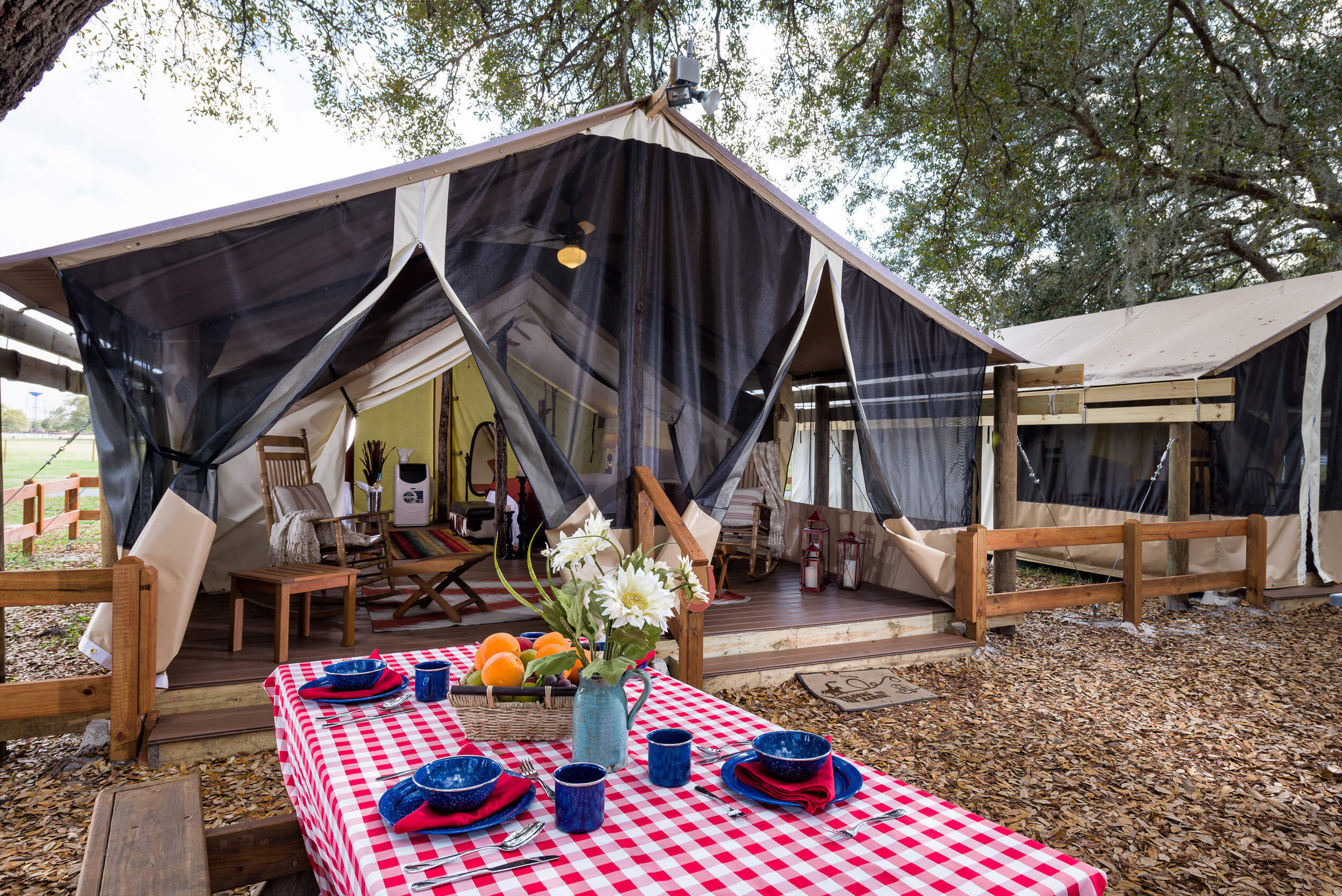 Play cowboy or cowgirl for your weekend getaway by glamping in Florida at the state's largest working dude ranch. Just an hour south of Orlando, Westgate River Ranch is set in 1,700 acres of wooded Florida wilderness. The ranch offers more activities than guests can possibly sample in a single visit. There's horseback riding, a mechanical bull, skeet shooting, archery, bungee jumping, swamp buggy, airboats, zip lines, fishing, and boating. Kids can try mini golf, hayrides, visit the petting zoo or take a pony ride. Every Saturday night, a rodeo takes place in the 1,200-seat arena, complete with bucking broncos, barrel racing and calf roping. Two types of glamping rental units are available: Glamping Safari Tents or a Luxe Tipi. Both feature air conditioning, a fireplace, kitchenette, luxury linens, shower and fire pit. The staff delivers juice and coffee each morning and fresh firewood every evening. A personal glamping concierge schedules daily activities and arranges any services required. Camping with a butler? That's what we call glamorous.
Rates: $169-$250 per night
Location: River Ranch, Florida
At a Glance: glamping in Florida on the state's largest dude ranch
Glamping in
Georgia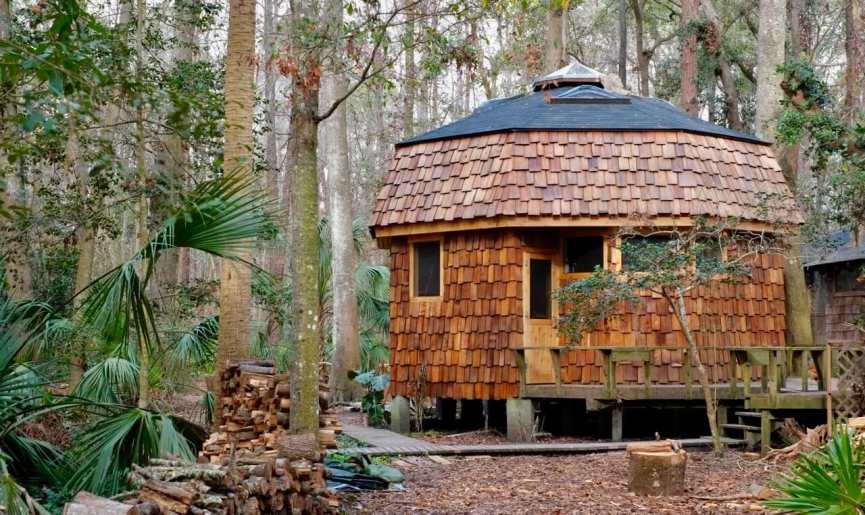 The Hostel in the Forest is a miniature woodland utopia: a collection of geodesic domes and treehouses amid the dense, sub-tropical Georgia woods. This quirky glamping destination is set on 133 acres of forest and wetlands, with moss-draped oaks, magnolia trees and saw palmettos, and close to a Georgia seashore dotted with costal barrrier islands. Glamping guests might spot river otters, herons or alligators on the grounds. Natural harmony is everything at the Hostel in the Forest. The facility employs solar pumps, compost, recycles vegetable oil and solar lighting. The hosts prepare nightly, communal vegetarian meals from produce grown on the grounds and eggs from the hostel's chickens and ducks, and professionally roast their own blend of coffee beans. The accommodations are simple; treehouses and domes have double beds, and there are composting toilets and outdoor hot showers. Guests are encouraged to meditate in the Glass House hermitage or participate in a Lakota style sweat lodge experience. For a crunchy and comfortable retreat from modern civilization, there's no better glamping destination in Georgia.
Rates: $30 per person per night, 3-night minimum
Location: Brunswick, Georgia
At a Glance: utopian treehouse or dome glamping in Georgia
Glamping in
Georgia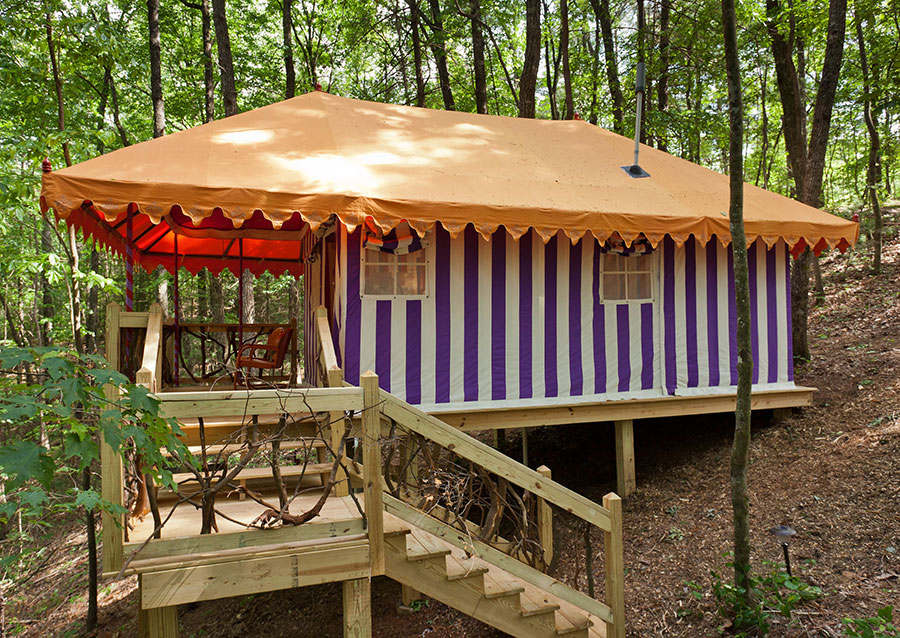 This bonus entry for Georgia is inspired by a luxury tent stay during a trip to India, the owners of the Martyn House decided to recreate the experience for guests of popular mountain farm retreat with this exotic glamping rental unit. The colorful, double-occupancy tents are imported from India and feature exotic antique furnishings. Guests can relax in style with luxury bedding, covered porches, and private bathrooms with hot water and composting toilets. The property has 18 acres of meadows, hills, streams and forests, as well as organic vegetable and flower gardens and chickens. Guests can swim in the pond, hike the forest trail or just curl up with a book in the garden or coffee shop located on the property.
Rates: $180 per night
Location: Ellijay, Georgia
At a Glance: an elegant wooded farmland glamping destination in Georgia
Glamping in
Hawaii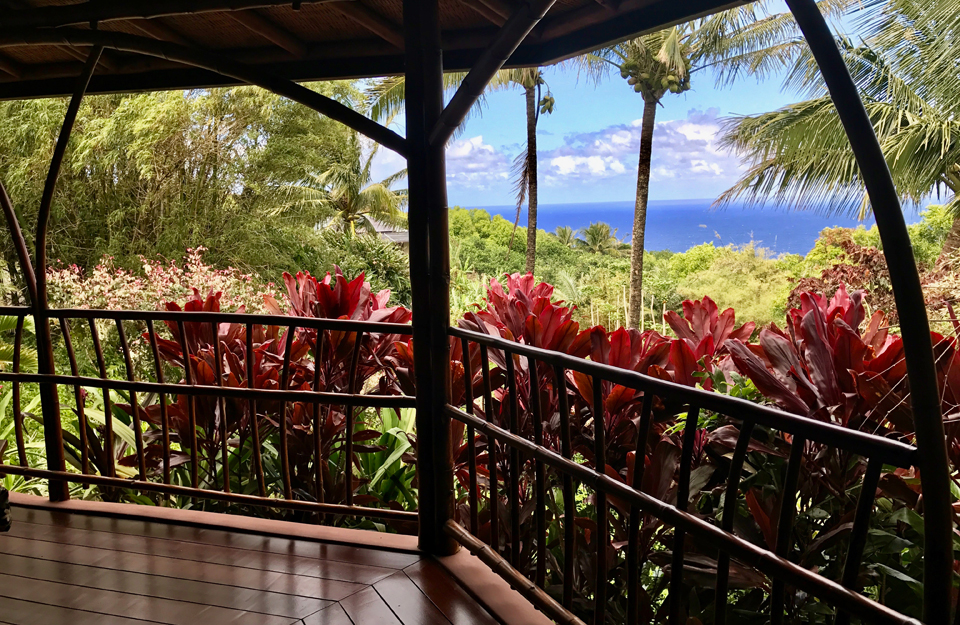 Many glamping destinations, especially glamping destinations in Hawaii, are built with sustainability in mind. The Maui Eco Retreat takes eco-conscious to a new level, though, with a deep, spiritual connection to nature built into every aspect of design, construction and operation. The founders based this paradise retreat on their "search for a universal Eco-Soul," chronicled in their documentary "The Dance of Earth & Spirit," The grounds feature lush jungle, native plant gardens with flowers and fruit trees, and overlook the sapphire-blue ocean. A short walk brings glamping guests to a waterfall, which flows into a natural pool for swimming. The retreat's Bamboo Temple cabin was the first permitted bamboo structure in the entire United States, and is constructed in the shape of a nautilus, reflecting the principle of natural harmony. The cabin features stone staircases lead to a large deck, a wide expanse of windows offering panoramic views of the Hana coastline. Set in the center of the round ceiling, directly over the bed, is a prism-shaped window, allowing glamping guests to gaze up at the stars from the comfort of their four-post bamboo bed. A private outdoor shower, walk-in closet, private deck, and kitchen with gas stove make this among the most comfortable, as well as eco-friendly, places for glamping in Hawaii.
Rates: $238 per night
Rates: Haiku, Hawaii
At a Glance: bamboo cabin glamping in Hawaii in an "Eco-Soul" paradise
Glamping in
Idaho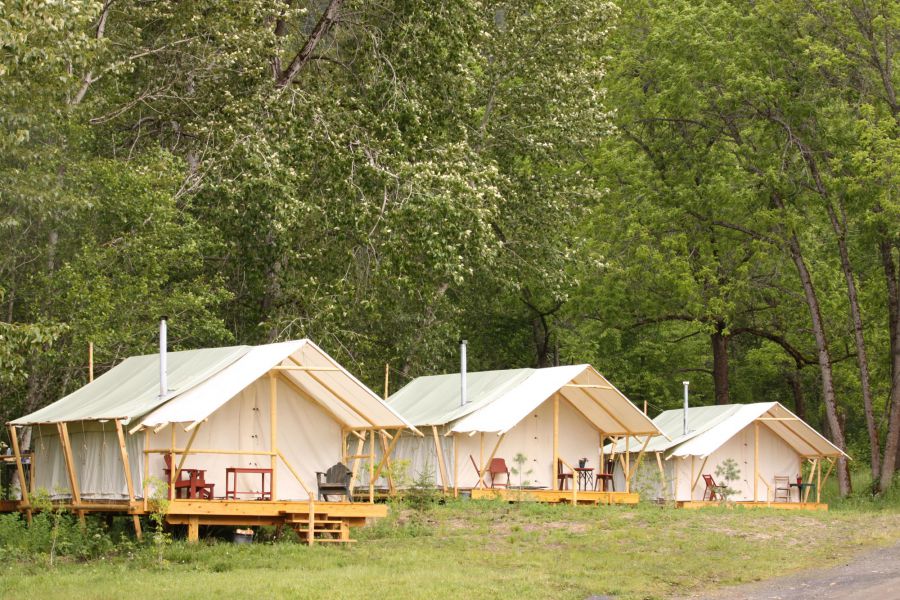 Guests will stay busy- and comfortable- at the River Dance Lodge. This large retreat for glamping in Idaho offers horseback riding, whitewater rafting, kayaking, fly-fishing, hiking, and mountain biking. Families can also choose to spend the day on the nearby river beach, while outdoor history buffs can take a guided tour of the Lewis and Clark Trail. River Dance Lodge is the largest resort for glamping in Idaho, with small and large cabin rentals, and luxury tents for those who want a more outdoor experience. All luxury tents feature wood floors, claw-foot tubs, wood stoves, private porches, and wifi. An old-fashioned pitcher and wash basin stand in for a sink, and composting toilets are located adjacent to tents. About 100 feet away, glamping guests have shared access to flushing toilets, along with showers, charcoal grills and a campfire area. Attractive and comfortable accommodations, along with an abundance of wilderness activities, make River Dance Lodge the premiere destination for glamping in Idaho for both couples and families.
Rates: $109 per night
Location: Kooskia, Idaho
At a Glance: comfortable tent glamping in Idaho with whitewater rafting and other wilderness activities
Glamping in
Illinois
If farm living is the life for you, book a weekend at Kinnikinnick Farm. This country site for glamping in Illinois is just a 90-minute drive from Chicago, yet feels like a different world. Guests visiting the city can get their hands dirty gathering eggs, feeding pigs and milking goats. Bed down for the night in the farm's "Feather Down Tent," which accommodates up to six. The wood and canvas tent has European linens, a water pump, an ice chest, and a fire pit. Showers and a flush toilet are located in the main farmhouse. You can dine on farm-fresh produce and meats or create your own pizza, provided by the hosts, over the farm's outdoor wood-fired oven.
Rates: $650-$750 for two nights
Rates: Caledonia, Illinois
At a Glance: a centrally-located farm for country-style glamping in Illinois
Glamping in
Indiana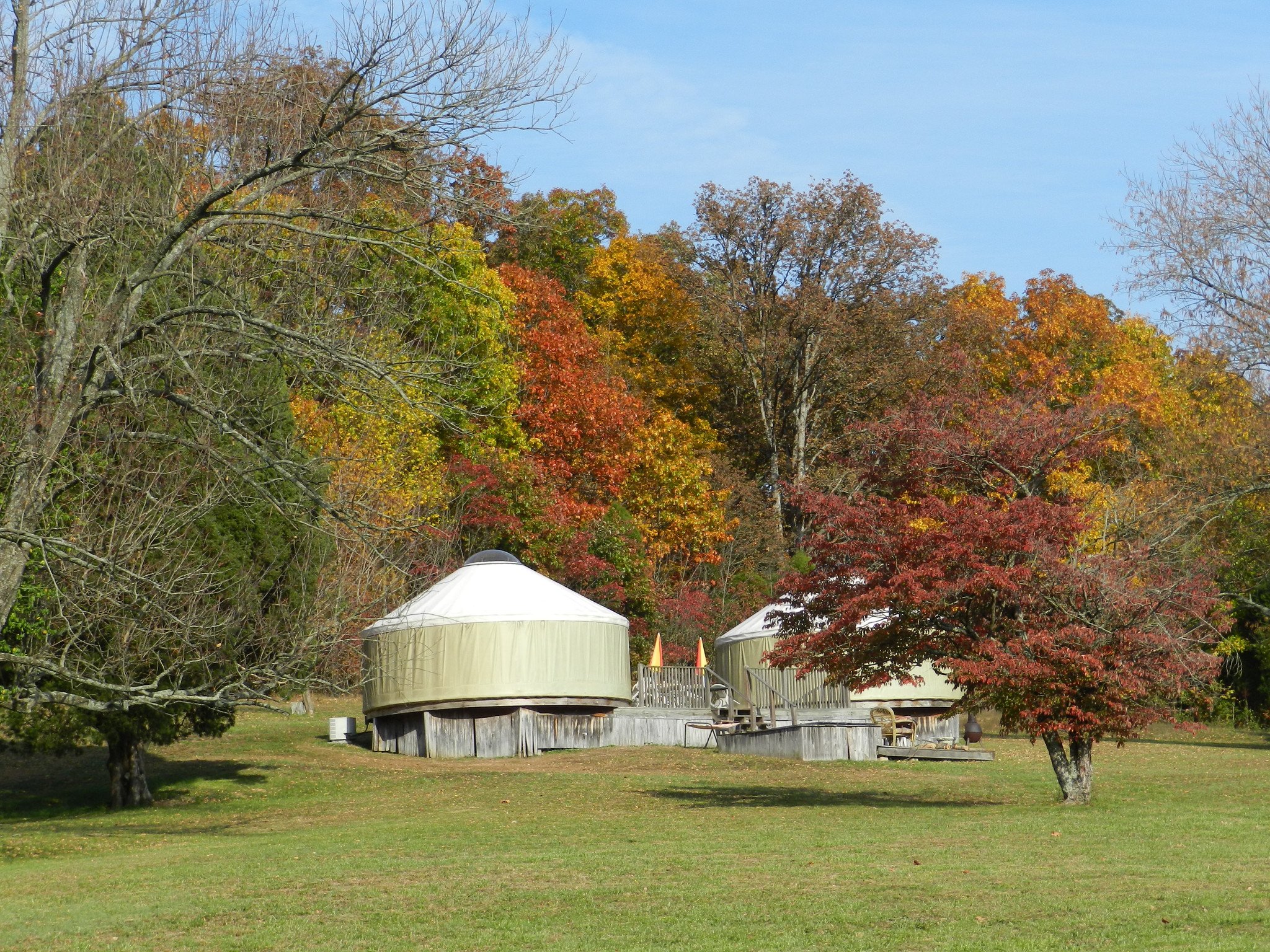 The beautiful Cattail Valley is a splendid destination for glamping in Indiana, and Mary Rose Herb Farm makes the most of this bucolic setting. This organic herb farm and holistic retreat is set on rolling hills, interspersed with pastures, ponds and hardwood forests, and is especially idyllic in spring and autumn. There are two glamping rental yurts, which share a deck between them. Each is equipped with two double beds, wood stove, central heat and cooling, a kitchenette, stereo and mini-library. Toilets are found outside, as is a fire pit. A Japanese-style bromine soaking tub is located outdoors, and must be reserved in advance. Birds and frogs wake guests each morning, followed by a farm-fresh breakfast served by the glamping hosts on the deck. Guests who venture off the property can hike the surrounding hills or visit the Benedictine monks at the nearby Saint Meinard Abbey. This secluded and quiet glamping destination would be a picture-perfect setting for a romantic couple's weekend.
Rates: $90 per night
Location: Bristow, Indiana
At a Glance: tranquil and secluded country glamping in Indiana
Glamping in
Iowa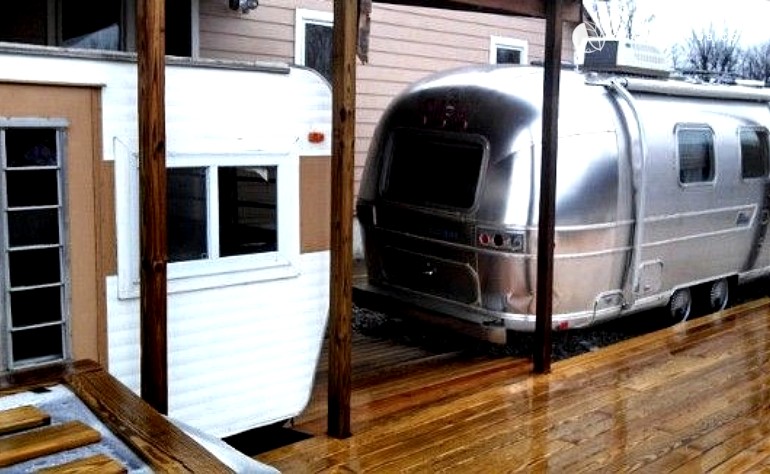 Country Side Caravans is a small resort for simple glamping in Iowa. Families will appreciate the opportunity to savor classic camping experiences, such as hiking, fishing and toasting marshmallows around a campfire, while enjoying the comforts of home in their own caravan. Each glamping rental units is climate controlled, and has showers, electricity and wifi. There are BBQ grills, a playground, and a Jacuzzi on site, as well as a large patio. Guests can take a scenic, five-minute stroll to Red Haw State Park for fishing, boating or hiking. Another four miles away is the town of Chariton, where guests can shop and dine, and enjoy drinks and square dancing at the Trading Post. For families who want to enjoy the outdoors without roughing it, Country Side Caravans is family-friendly glamping in Iowa at its best.
Rates: $192 per night
Location: Chariton, Iowa
At a Glance: family-friendly caravan glamping in Iowa
Glamping in
Kansas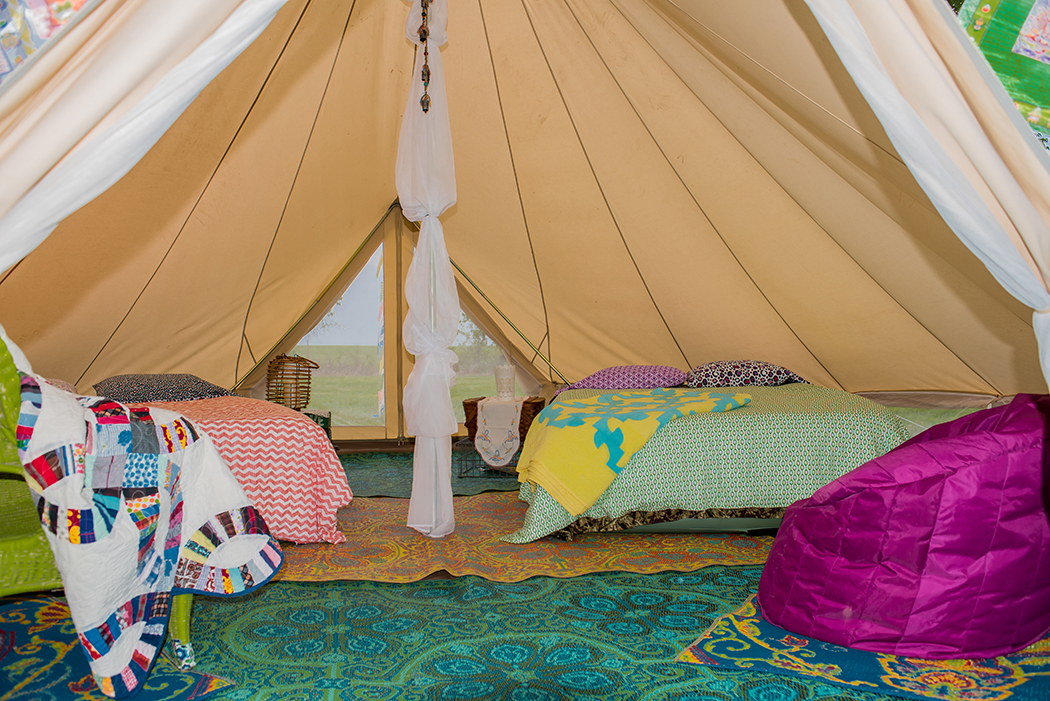 It's hard to imagine a more pretty and tranquil setting for glamping in Kansas than Hoot Owl Hill. This charming glamping destination is nestled on a 14 acres, overlooking the Marais de Cygne river valley. The property has vineyards of Concord and Frontenac gris grapevines, an espaliered fruit tree garden, berry patches, raised bed vegetable gardens, butterfly gardens, and a native wildflower meadow. Just as magical as the setting are the accommodations- spacious elevated bell tents, with air beds and vintage furniture, handmade quits and pastel textiles, with a campfire area located just outside. A fresh breakfast, including eggs from Hoot Owl's own chickens and ducks, is included in the price of the glamping rental, and the hosts will provide a farm-to-table dinner or lunch for an additional fee. The hosts also create their own line of natural bath and body products, with which the tents are stocked. Those who venture off the property can tour the nearby Louisburg Cider Mill, visit rescued tigers at the Cedar Cove Big Cat Sanctuary, or explore the region's wineries.
Rates: $99 per person per night
Location: Paola, Kansas
At a Glance: serene and picturesque glamping in Kansas in the countryside
Glamping in
Kentucky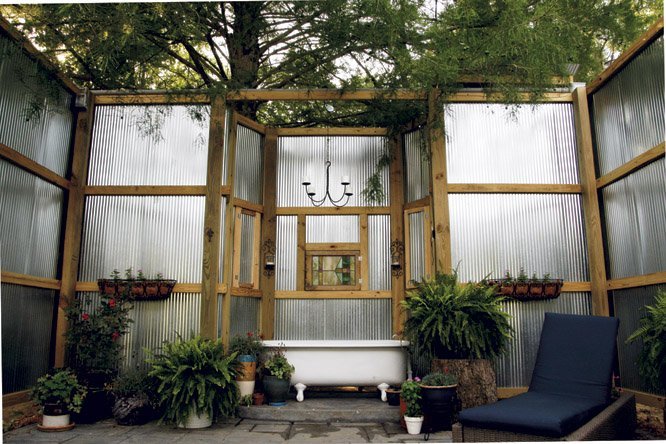 With luxury accommodations and wilderness adventures, Paris Landing is the ultimate destination for sophisticated glamping in Kentucky. The resort has several cabins, as well as five luxury tents. Each spacious tent has vintage furnishings, and a double bed with luxury linens and quilts made by local artisans. Outside, visitors have their own fire pit, with firewood provided. Want to elevate your campfire experience? The resort can arrange for your family to hear ghost stories from a local storyteller, campfire songs with a local musician, or have a local astronomer give you a personal tour of the night sky. The price of glamping rental includes access to all resort activities, including waterbiking, canoeing, kayaking, or fishing from the property's landing on Stoner Creek. Off the grounds, horse enthusiasts can tour Kentucky Horse Park, a breeding ground for multiple champions. Those who appreciate fine spirits can venture a bit further to explore distilleries along the Kentucky Bourbon Trail. With style and adventure, this riverside gem is our top choice for glamping in Kentucky.
Rates: $125 per night, two night minimum
Rates: Paris Landing, Kentucky
At a Glance: glamping in Kentucky with waterfront adventure and relaxation
Glamping in
Louisiana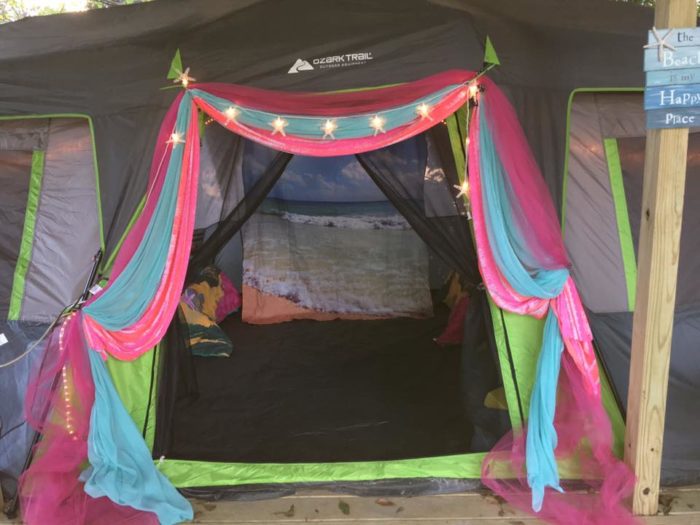 Visitors can enjoy an authentic Cajun experience by glamping in Louisiana in the Alligator Tent on the grounds of the Cajun Mansion. The tent is decorated with festive Mardi Gras colors and alligator decor throughout, and sleeps up to four on air mattresses. There's air conditioning for the evenings, an essential for any glamping in Louisiana, with its famously humid climate. A tin-roofed deck provides shelter from the elements, along with deck space for lounging. At night, there are tiki torches, a BBQ and a fire pit to keep the party going. The ten is located on the grounds of the historic Cajun Mansion, a historic bed and breakfast, and visitors glamping in the tent can enjoy the dame perks ass bed and breakfast guests, including a continental breakfast and extra services, such as painting classes, candle making workshops, spa services and traditional Cajun cookouts. The hosts can also arrange for a number of day excursions, with guided visits to local attractions such as swamp tours and plantations.
Rates: $160 per night
Location: Youngsville, Louisiana
At a Glance: a simple and authentic destination for Cajun glamping in Louisiana
Glamping in
Maine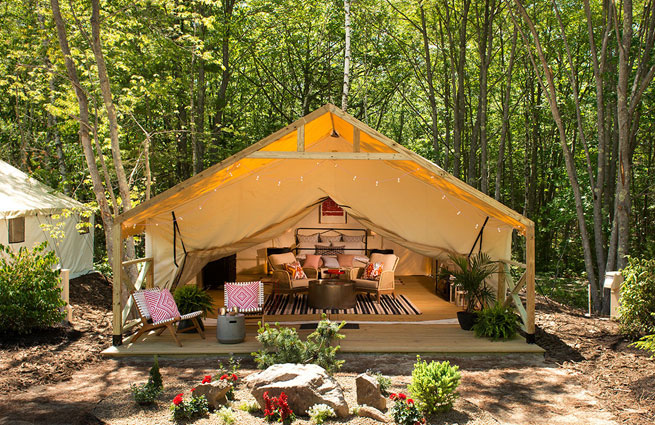 If you want sophisticated style along with family-friendly activities, head to Sandy Pines Campground in the popular costal resort town of Kennebunkport. This resort offers cabins, RV and tent space rentals, along with the finest luxury tent glamping in Maine. The glamping tents are nestled in a secluded beach forest and bordered by salt marsh, with ocean views and shaded by pine trees. Each tent features a king bed, mini fridge, and an outdoor wood deck with seating. Inside, visitors will be surrounded by chic, high-design furnishings with a rustic flair, including cowhide and steel furniture and a gauzy canopied bed with posts made from floor-to-ceiling birch tree branches. Sparkling clean bathrooms are a short walk away. The Sandy Pines Campground itself offers every activity typically found in an upscale resort, including a beach, saltwater pool, snack bar, shuffleboard, volleyball, kayaking, biking and stand-up paddle boarding. Visitors can even place an order through the resort to have a steamed lobster dinner delivered to their tent, a luxury which surely elevates glamping in Maine to a whole new level.
Rates: $179 per night
Location: Kennebunkport, Maine
At a Glance: family-friendly glamping in Maine with abundant activities and sophisticated style
Glamping in
Maryland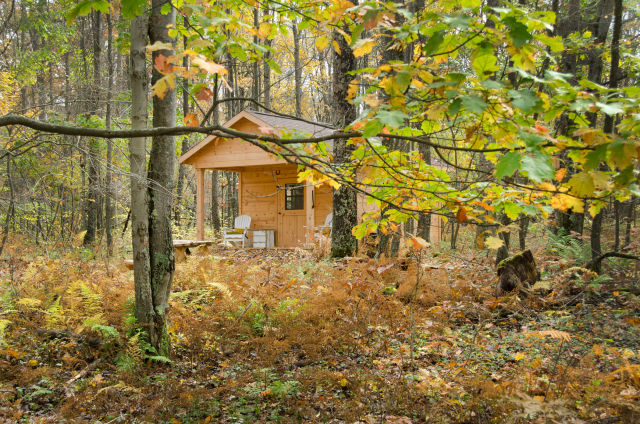 The Youghiogheny River runs through the heart of this scenic destination for glamping in Maryland, hence the name "Wild Yough." The glamping rentals sit on 350 private wooded acres, and the grounds lie adjacent to thousands of acres of state park and forest, including Garrett State Forest. Glamping rental options include several simple wooden huts or an attractive Delta Tipi. Each unit has a campfire area, picnic table, wood stove, and BBQ grill, along with access to shared bathhouse and pavilion. Visitors staying in the glamping rentals can paddle or swim in nearby Bear Creek, hike the mountain trails, try out geocaching on the property, visit the state parks or watch for local wildlife, including songbirds, deer and coyotes.
Rates: $75-95 per night
Location: Oakland, Maryland
At a Glance: simple tipi hut glamping in Maryland on an expansive forested property
Glamping in
Massachusetts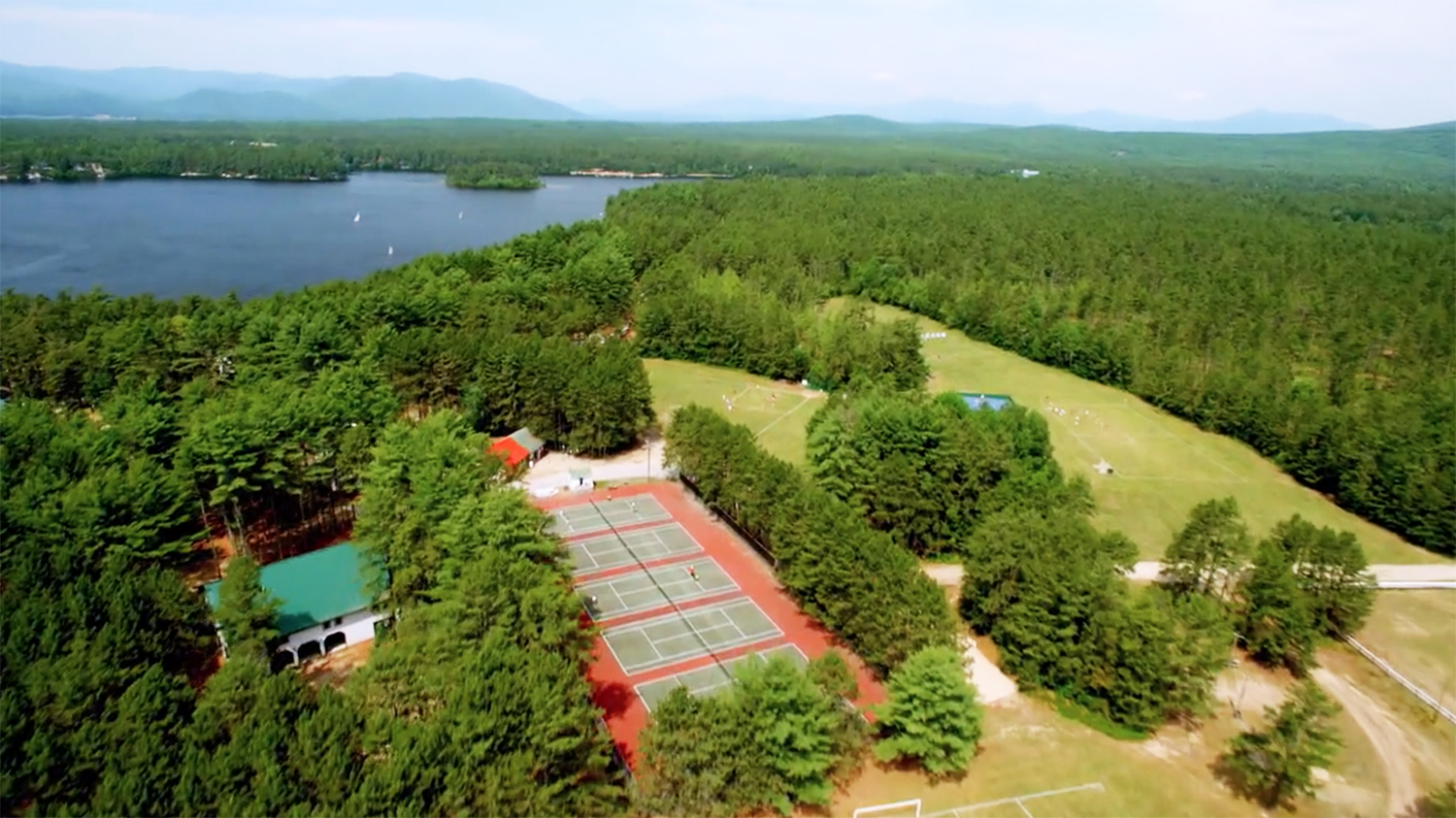 For many, summers spent at sleepaway camp were the backdrop for their most treasured childhood memories. Why, one might ask, does it ever have to end? The folks behind Camp No Counselors clearly believe that it shouldn't. They've made it their mission to bring the simple joy of summer camp to adults, by hosting periodic sleepaway camp weekends for adult across America, including outside of Boston. Camp No Counselors rents out upscale summer camp sites during the off season, and introduce a few essential adult options, like yoga and cocktails. The company motto is "play like a kid, party like a grownup." As such, weekends include traditional camp activities like arts and crafts, tubing, zip lines, water balloon wars, and hiking, followed by a pumped-up nightly theme party, complete with a DJ or band and an open bar. At night, adult campers can gather around a campfire before bedding down in sleeping bags in newly-renovated dorms. And, because this is glamping, meals are prepared by an executive chef, who serves up smoked ribs, fish tacos and other adult gourmet meals in the camp's dining hall.
Rates: $725 for three nights, includes activities, meals and open bar
Location: Boston, Massachusetts
At a Glance: adult glamping in Massachusetts at a kids' summer camp site
Glamping in
Michigan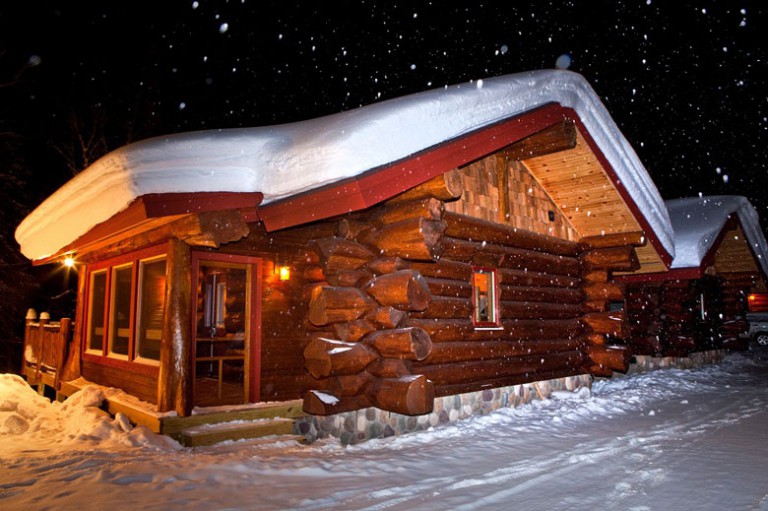 Snow sports lovers will be in heaven at Mount Bohemia Adventure Resort. Visitors ready for serious winter glamping in Michigan can stay in a yurt or waterside log cabin at night, and try out downhill skiing, cross country skiing, snowshoeing, or snowmobiling by day. Not a snow lover? Visit during the warmer months and try hiking, biking, stand-up paddle boarding, sea kayaking and fishing on the sprawling 1,1000-acre property. There's a hot tub, sauna, and yoga available year round. All meals are included, and feature appetizing, hearty fare for active guests. The log cabin glamping rentals sleep up to five in bunk beds, and have a screened porch and private deck, along with heating and full bathrooms. Visitors will love the cozy, rustic look of the cabins, with their log construction, heavy wood and leather furniture, and antler chandeliers. The trailside yurts are more basic, with heating, bathrooms and beds but without provided bedding or outdoor lounging areas. What the yurts lack in indoor amenities, though, they make up for in outdoor access; they are located directly on a ski-able mountain slope, allowing lodgers to ski right out their doors in the morning. For a true winter sports fanatic, there's no better glamping in Michigan.
Rates: $192-285 per night, two night minimum
Location: Houghton, Michigan
At a Glance: glamping in Michigan in the heart of ski heaven
Glamping in
Minnesota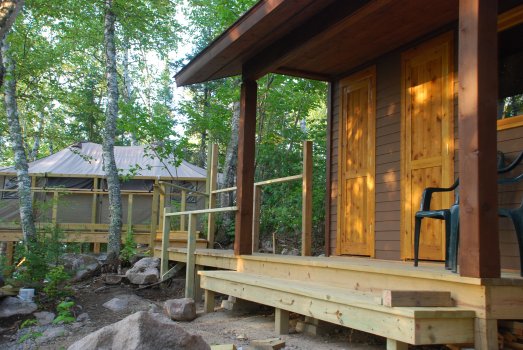 The "Land of Many Lakes" has no shortage of beautiful lakeside camping and glamping destinations. For true seclusion and serenity while glamping in Minnesota, why not stake out your own private island? Riverside Island Campsites rents two rustic glamping lodgings on Ely's White Iron Lake on a private, 10-acre island. The spacious tents are true, outdoor tents free from high-end trappings, though thoroughly well-appointed. The 12′ by 20′ tent features a king bed or two twins with linens, lanterns and carpet, along with cooking supplies and utensils- right down to the wine bottle opener you'll be using to enjoy your fireside libations in the evening. The nearby screened-off cooking area has picnic table seating and a Weber grill. Visit in the warmer months, and you'll be able to hike, golf and mountain bike in Ely and have access to the Boundary Waters Canoe Area for canoe and kayak day trips or even overnight excursions. The lake also has some of the area's best fishing for walleye, northern and trout. Wintertime visitors will be able to try out snowshoeing, dog sledding, snowmobiling, and cross-country skiing. Guests who want to have the place all to themselves can even rent out the entire island, for the ultimate in secluded glamping in Minnesota.
Rates: $175 per night, 3-night minimum or $1050 per week. Entire island, $2,000 per week.
Rates: Ely, Minnesota
At a Glance: rustic glamping in Minnesota on a private island
Glamping in
Mississippi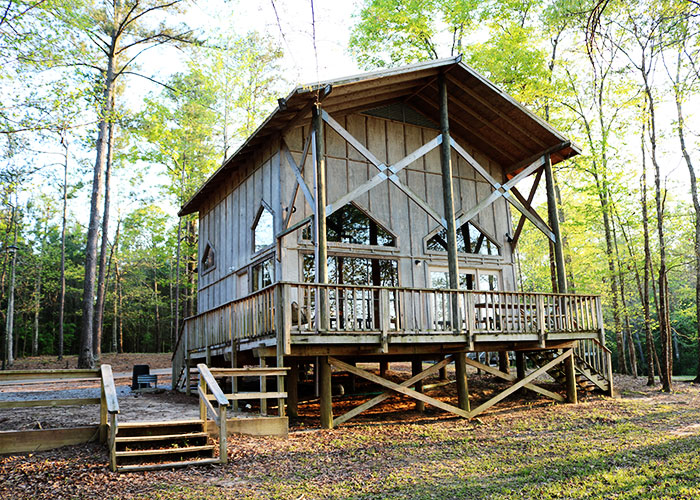 Families will appreciate the many waterside activities and laid-back vibe at Little Black Creek Campground and Park. This large and tranquil campsite offers both traditional RV and tent camping, along with cozy cabin glamping in Mississippi, all surrounding a 640-acre lake. There are 20 tin-roofed cabins, built for family-style comfort and boasting full bathrooms and kitchens, along with large porches with Adirondack chairs. About half have waterfront views, the remainder are nestled in the woods. Active families will appreciate the abundance of on-site outdoor activities. Glamping visitors can try out fishing, swimming, bike riding, kayaking, canoeing, pontooning, frisbee golf, motorboating, annd zip lining. Guests can even rent a golf cart to get around the expansive property.
Rates: $110-$160 per night
Location: Lumberton, Mississippi
At a Glance: active outdoor glamping in Mississippi beside a large lake
Glamping in
Missouri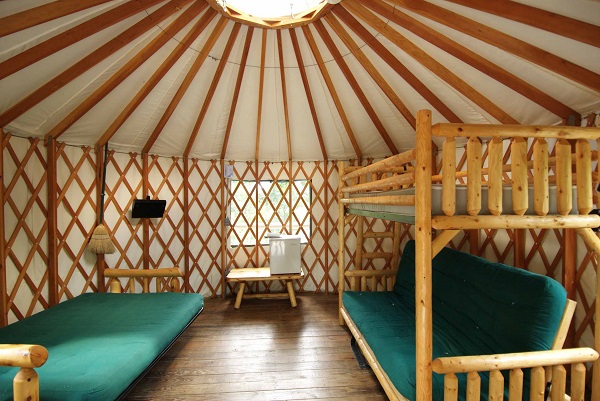 State parks, while offering the utmost in natural beauty and a minimal cost, rarely offer more for the overnight camper than a clear area to pitch a tent and a shared bathroom facility. When glamping in Missouri at the Outpost in Lake of the Ozarks State Park, however, you'll have more than a roof over your head. The park has two yurts available for glamping rental. Each yurt sits on an elevated wooden platform, and features a wraparound deck, dome skylight, a log futon, log bunk bed, mini-refrigerator, microwave, heater and air conditioner. Outside, a picnic table, fire ring and grill are available for picnicking, barbecuing or campfires. Clean shared bathrooms, with showers and flush toilets, are a short walk away. These cozy and well-appointed glamping rentals are avaible at a highly affordable rate, and the many activities available at Lake of the Ozarks State Park only add to this impressive value. Glamping guests can hike, mountain bike, fish, or swim in one of the state's largest lakes. History buffs can also take guided or self-guided tours of local historical homes and Civil War battlefields.
Rates: $50-$55 per night
At a Glance: budget-friendly yurt glamping in a Missouri state park
Glamping in
Montana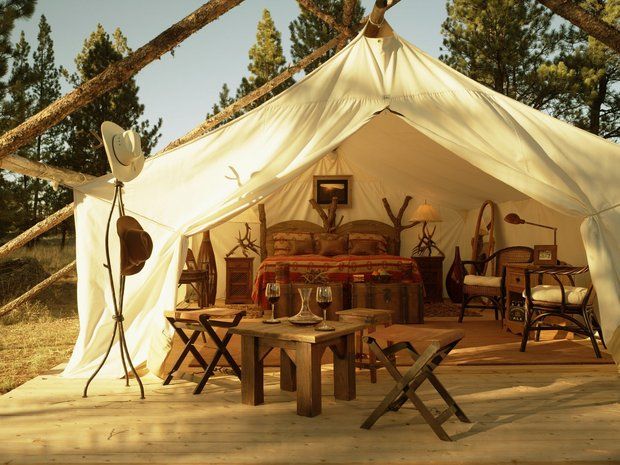 With a booming tourism industry, rugged beauty and famous outdoor recreation, Montana is a natural destination for glamping. Though there are a wealth of options for enjoying luxury amid the wilderness, the Resort at Paws Up is something of a legend for glamping in Montana. The 37,000-acre wilderness retreat is set on the Blackfoot River, and is home to a sprawling cattle ranch, nature preserve, haute cuisine restaurant and spa. Guests can try out outdoor nature adventures, such as horseback riding, canoeing, rafting, canoeing, fly fishing, stand-up paddle boarding, mountain biking and rapelling. There's also paintball, skeet shooting, yoga, golf and ATV tours. Safari-style tents, tricked out with designer furniture and luxury bedding, are pitched along the river every summer, for the finest, and most pampered glamping in Montana. Camps, canvas-sided and Ðroofed cabins, are available year round, and come with wood burning stoves and floor-to-ceiling windows. Guests are provided with everything they could want- from a camp chef, to nightly bonfires and s'mores, to a personal glamping butler, who caters to their every whim. It's no wonder that this stunning location for glamping in Montana has been featured in premiere sources like the New York Times, Oprah Magazine, the Travel Channel and many more.
Rates: $1215-$3434 per night
Location: Greenough, Montana
At a Glance: princely tent glamping in Montana, complete with spa and butler
Glamping in
Nebraska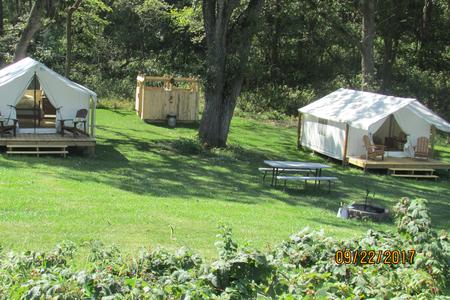 The chirp of crickets in the country air, a picnic dinner, and marshmallows toasting on the campfire… plus a flight of local wines. If you've ever imagined revisiting simple childhood pleasures, updated with adult sensibilities, try glamping in Nebraska at Oak Haven Vineyard. This working vineyard has two lovely glamping rental tents for overnight guests. Each is 12′ by 14′, set on an elevated platform with a shaded deck and Adirondack chairs. Inside, both are furnished with attractive antiques and queen size bed. Fires are kindled nightly in the shared fire pit, and guests are provided with s'mores. Guests can have foil dinners for campfire cooking delivered in the evening, or order breakfast served in their glamping tent. The vineyard offers tours, tastings and education. It's hard to imagine a more perfect couple's weekend
Rates: $55-$75 per night
Location: Plattsmouth, Nebraska
At a Glance: tent glamping in Nebraska on a working vineyard
Glamping in
Nevada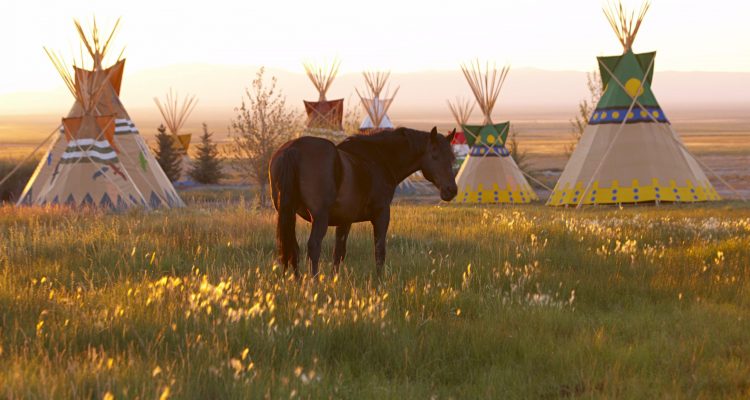 If you love horses (and, really, who doesn't?), you'll fall hard for the utterly unique experience of glamping in Nevada at Mustang Monument, an eco-preserve unlike any other. The property occupies a majestic 900 square miles of painted desert and soaring bluffs, where 650 rescued wild horses roam free. Guests will be awestruck by the view from the mountain, the wide-sky sunsets and herds of grazing mustangs, as they embark on outdoor adventures like range shooting, archery, wagon rides, ropes courses, rappelling, mountain climbing, and the resort's signature American Mustang Safari tour. As if that weren't unusual enough, glamping guests can stay overnight in luxury tipis, which boast fine furniture, hardwood floors, custom beds, Native American textiles, and over 300 feet of living space. In-tipi spa treatments like massages and facials are even offered, and gourmet meals are served in the main lodge. For lavish living in a pristine patch of American Wild West, nothing could beat glamping in Nevada at Mustang Monument.
Rates: $165 to $345 per night
Location: Tahoe City, Nevada
At a Glance: a lavish eco-retreat for glamping in Nevada, with mustangs, tipis, and outdoor activities
Glamping in
New Hampshire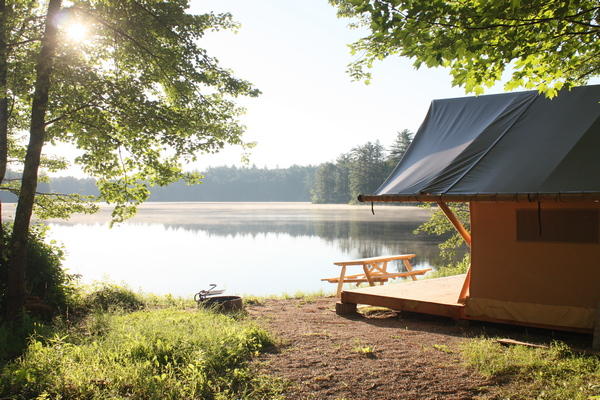 Leave it to the French to bring a civilized touch to the rough-and-ready experience of camping. Huttopia was founded in 1999 in Lyon, France, and comprises a network of over 30 outdoor getaways in France and Canade, designed to take the grime and discomfort out of a night in nature. The Huttopia location in the White Mountains is the company's first stateside location, and offers some of the finest glamping in New Hanpshire. Here, guests can stay in a cabin or charming wood and canvas tent set against a quiet, forested lake and bounded by two babbling streams. Swimmers can dive into the lake or take a dip in the resort's heated pool. Canoeing, stand-up paddle boarding, Frisbee golf, volleyball, hiking and fishing are also available. Local bands, storytellers and performers entertain guests on the weekends, and the resort also hosts sports tournaments. Meander over to the dining area at mealtimes, a spacious deck with cafe seating, where fine yet casual French food is served from a retrofitted Airstream trailer. You can even enjoy a glass of beer or wine with your croissants and crepes. With European style amid the great outdoors, Huttopia is certainly the best of both worlds.
Rates: $39-$220 per night
Location: North Conway, New Hampshire
At a Glance: casual glamping in New Hampshire with French style and sophistication
Glamping in
New Jersey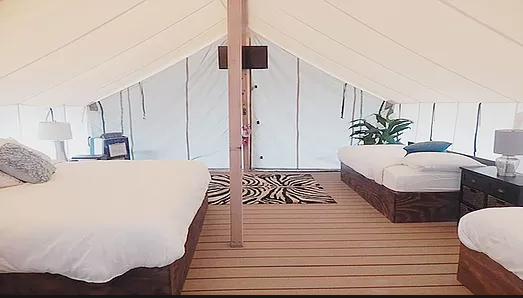 Family-owned Holly Shores packs in plenty of recreation for young and old. This fun-filled camping resort is also a glamping destination- guests can not only rent homelike cabins or tenst spaces, but beautiful and well-appointed safari tents. Each bright white canvas safari tent is 16′ by 20′ and comes with a king bed, mini-refrigerator, coffee maker, flush toilet, heating and cooling. Outside, each has a deck, grill, picnic table, and fire ring. On the grounds, guests have access to a heated pool with two hot tubs, bathhouses, a camp store and a playground. Activities are included in the price of rental, and are scheduled throughout the summer. Choices include Bingo, Arts and Crafts, Wet & Wild and Glow Stick Hayrides, Ceramics, Poolside Adult Bingo, Poolside Dance Parties, and Karaoke. Guests can also opt for extra activities by booking kayaking, biking or fishing. This destination for glamping in New Jersey not only welcomes kids of all ages, but is great for older family members, with wheelchair-accessible facilities and golf cart rentals for added mobility. Families can even bring their pets- there's a fenced dog park right on the grounds.
Rates: $100-$181 per night
Rates: Cape May, New Jersey
At a Glance: glamping in New Jersey in a casual and family-friendly environment
Glamping in
New Mexico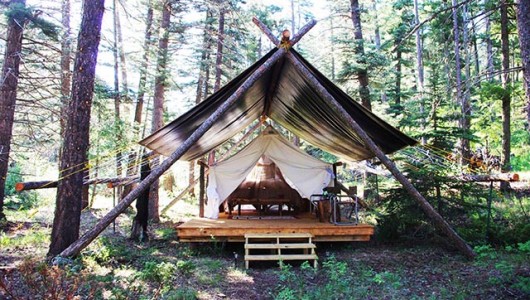 Fishtail Camp, situated in the mountains of Chama, offers wilderness adventures and glamping in New Mexico. Expert guides instruct guests in the fundamentals, ethics, and safety rules associated with basic horsemanship, fly fishing, archery, and hunting. All activities, snacks and meals are included in the cost of the glamping rental. Fishtail Ranch specializes in the "fair chase" hunting of free-ranging elk, which entails the sportsmanlike pursuit of wild animals, guided by ethical and legal principles. At night, log-and-canvas safari tents welcome visitors to bed down in comfort, with queen beds draped in gauzy netting, covered decks with seating, a fire pit, BBQ and lanterns. Bathrooms are located nearby in a shared facility. Glamping is available only during the summer months, when Fishtail Camp also hosts wilderness guide training camp for kids who want to learn tracking and outdoor survival skills.
Rates: $435 per night
Location: Chama, New Mexico
At a Glance: glamping in New Mexico for hunters and nature lovers
Glamping in
New York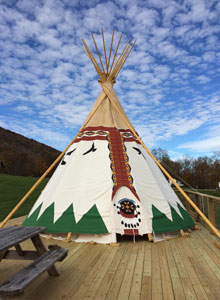 New Yorkers are a famously sophisticated bunch, and any glamping in New York worth its salt would have to meet some pretty high standards in hipster style. Firelight Camps fits the bill. This chic and charming glamping destination is set on the 70-acre grounds of La Tourelle Resort and Spa in Ithaca, in New York's beautiful Finger Lake's region. Ithaca is famous for its stunning gorges and waterfalls, and glamping guests will be camped right beside the Upper Buttermilk Falls hiking trails. The tents themselves feature stylish furnishings and queen beds with high thread-count sheets. Most are lit by battery power, while a few have electricity. Outside, a private campfire is lit twice daily by staff, who also furnish s'more supplies. Adjacent bathhouses have organic bath products. Firelight Camps caters to guests with an innovative "lobby tent", where guests can check in, enjoy their complimentary breakfast (gluten free and vegan options available!), and sip coffee-snob quality, pour-over java, custom-roasted for Firelight. In the nearby lounge, games like bocce and corn hole are available, along with classic board games, and a bar serves an array of Finger Lakes craft beverages. In the morning, a local yogini leads an invigorating series of asana yoga flows outdoors. It's hard to envision a more ideal spot for upscale hipster glamping in New York.
Rates: $189-$259 per night, two-night minimum
Location: Ithaca, New York
</li
At a Glance: upscale hipster glamping in the New York Finger Lake region
Glamping in
North Carolina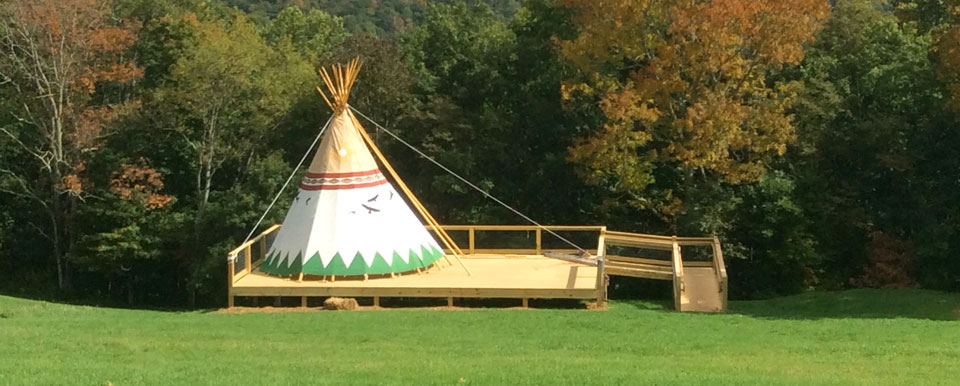 With just two glamping rentals on the entire 150 acre property, Blue Bear Mountain gives visitors glamping in North Carolina exceptional seclusion and tranquility.
The cabin and tipi both feature eco-friendly construction, and have a deck with a rocking chair and a fire ring with log benches for outdoor relaxation. The cabin, which sleeps up to four, is solar powered and has a flush toilet and gas grill. The hand painted tipi, also solar powered, features a queen bed with fine linens and has an impressive mountain view. Guests can fish in the trout pond or hike in the surrounding area, exploring trails various that lead to sweeping mountain views or small waterfalls. Quiet and comfort in a beautiful mountain setting makes for simple and peaceful way to experience glamping in North Carolina.
Rates: $80-$136 per night, 2 night minimum
Rates: Todd, North Carolina
At a Glance: secluded tipi or cabin glamping in North Carolina
Glamping in
North Dakota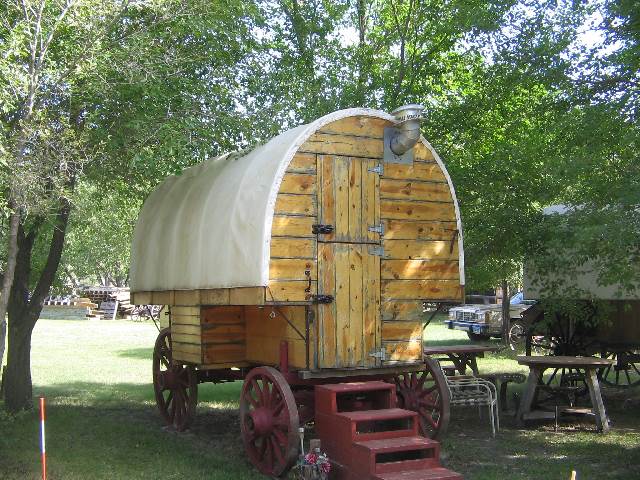 The city of Medora is the #1 vacation destination in the state of North Dakota, with the nation's largest grassland, the beautiful Badlands, and many historical sites. It's also a great destination for history buffs to try out some unusual glamping in North Dakota- by spending the night in an authentic covered wagon. The owners of Custer's Cottage, a bed and breakfast in Medora, have a total of five genuine shepherds' covered wagons ("Wooly Wagons") on their property, which serve as glamping rentals. Each is made from canvas and wood, and the snug quarters a lamp, table, coffee maker, and a cozy twin bed with a charming handmade quilt. Outside, guests can roast hot dogs over an open fore and relax around the tree-shaded picnic tables. Clean bathroom and shower facilities are located adjacent to the circle of wagons. Off site, visitors can explore the prairie dog towns, painted canyons and stunning rock formations of Theodore Roosevelt National Park, or follow in General Custer's footsteps along Custer's Trail.
Rates: $28-$40 per night
Rates: Medora, North Dakota
At a Glance: cozy quarters for wagon glamping in North Dakota, close to historical sites
Glamping in
Ohio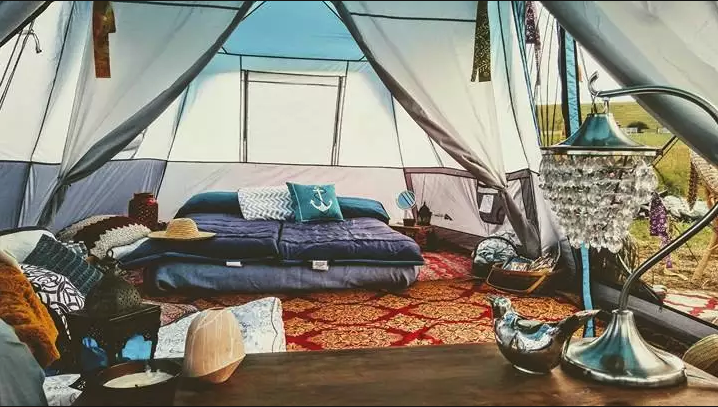 Burnt Toast Farms,Êa biodynamic farm which raises flowers, heirloom vegetables and alpacas. The owners, back-to-the-land professionals turned farmers, are thoroughly versed in the French tradition of biodynamics and regenerativeÊagriculture, ethical stewardship, ecology, organic practices, and biointensive cultivation. Needless to say, Burnt Toast is a labor of love, and every part of the charming grounds reflects passion, idealism, and expertise. The glamping rental site is situated on three acres of prairie meadow, bordered by lush flower fields, and pastures dotted by grazing alpacas. The glamping rental unit is rotated based on the season- a tipi or tent in summer, a yurt in the colder months, and each is furnished with colorful and eclectic boho furniture and decor. Guests will enjoy a wood deck with seating, fire pit, gas grill, dual climate shower, restrooms, changing areas, daily Champagne breakfasts, and, of course, fresh-cut flowers and farm-fresh egs and produce. Out and about, visitors can try activities in the area such as kayaking, horseback riding, nature hikes, farm tours and wine tastings. Burnt Toast Farms frequently hosts weddings, and it's easy to see why- the bright and charming atmosphere is photo-perfect. For couples' glamping in Ohio, we vote for a relaxed and romantic agrotourism weekend at Burnt Toast.
Rates: $110 night
Location: Paris Township, Ohio
At a Glance: idyllic agrotourist glamping in Ohio on a flower and alpaca farm
Glamping in
Oklahoma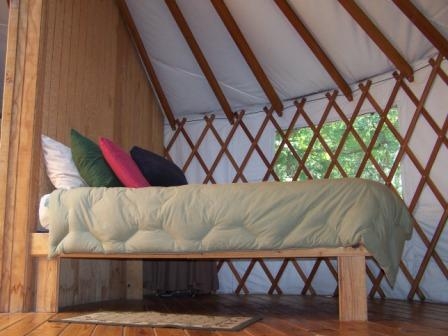 There are decidedly few destinations for glamping in Oklahoma. Fortunately for those looking to connect with nature in comfort, Elephant Rock Nature Park is not only one of the state's only options, but an excellent one. Here, visitors can rent yurts, a classic of glamping lodgings, in the middle of 210 acres of the beautiful Ozark foothills. The units have room for the whole family, with two full beds and a futon of the same size. There's also a complete kitchen with stove, oven and microwave, and a bathroom with shower. Unlike most campgrounds in the state, the Elephant Rock yurt is open year-round, thanks to great insulation and climate control. A five-foot glass widow at the peak of the domed ceiling, allows guests to gaze up at the stars from the comfort of their yurt. Outside, glamping guests can grill on the BBQ, warm up by a campfire, eat at a picnic table or relax in the hammock. There are miles of mountain trails and guided nature hikes avaible for daytime excursions, but the main attraction is the park's stretch of the Illinois River. Bordered by limestone bluffs and gravel shoals, with occasional whitewater, the Illinois is Oklahoma's premier scenic floating river, and visitors can rent kayaks, canoes or rafts to experience it. Don't miss the park's namesake rock formation, a prominent outcropping of elephant-head-shaped limestone that can be spotted as you float down the river.
Rates: $120-140 per night
Location: Tahlequah, Oklahoma
At a Glance: relaxing yurt glamping in Oklahoma on the Illinois River
Glamping in
Oregon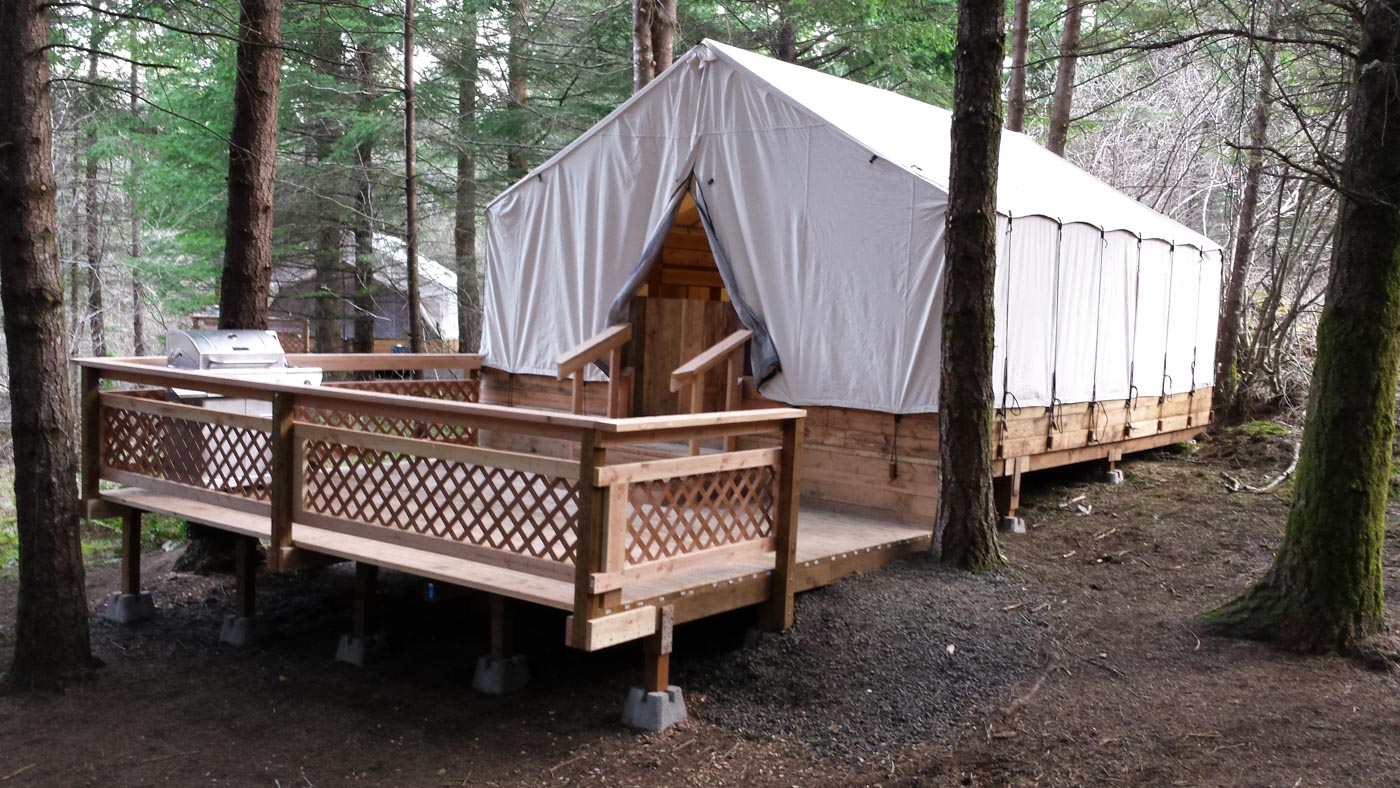 There are almost too many fun things to do at Camp Dakota. There's zip lines, a high ropes challenge course, archery, tomahawk throwing, paintball, a rock climbing wall, gold panning, treasure hunting and an 18-holes of Frisbee golf, for starters. Many visitors come for outdoor group challenges or team building activities. Some spend the night in RVs, cabins or pitch tents. But you're here, no doubt, for some of the best glamping in Oregon, so head straight to the resort's large and comfortable tipis, yurts and safari tents, which sleep between 4 and 9 people. The fun doesn't stop once you unpack in your glamping rental unit- each is equipped with indoor games like foosball, pool, air hockey and darts. Glamping rentals are also party-friendly; the tents and yurts have decks and gas grills perfect for a BQ dinner, or you can order catered meals or pizza delivery. Want some downtime? Relax by the campfire, take the kids to the playground or just wander around the 45 forested acres. This adventure-packed glamping destination is also surprisingly convenient- just one hour from about an hour from Portland or Salem, Oregon.
Rates: $170-$185 per night
Location: Scotts Mills, Oregon
At a Glance: group glamping in Orgeon on a fun-filled outdoor adventure resort
Glamping in
Pennsylvania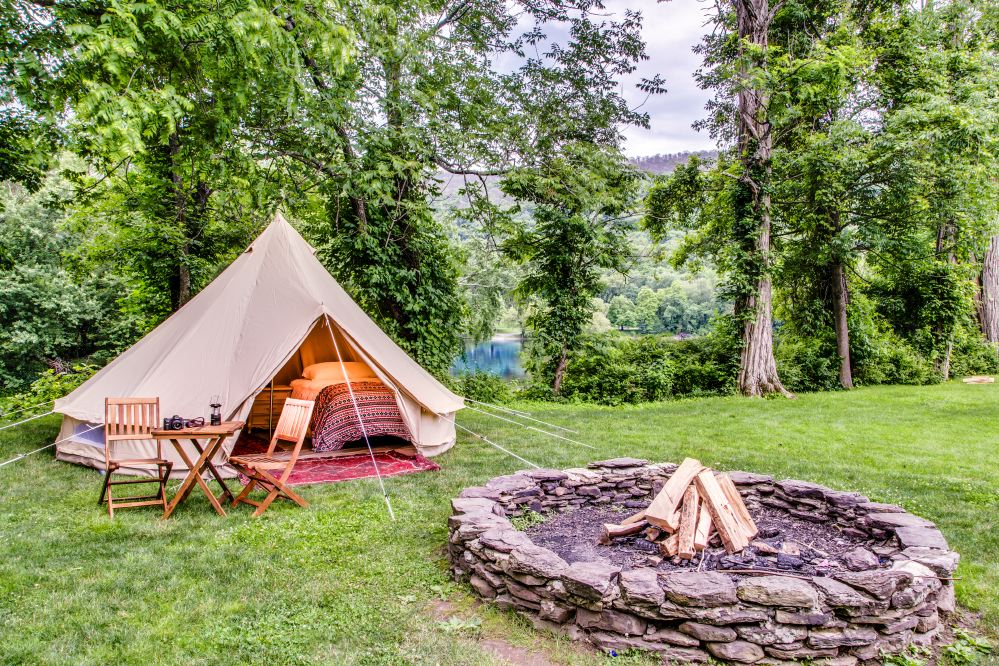 You'd love to go glamping in Pennsylvania, if only that didn't mean having to give up golfing and massages for hiking and campfires. Fortunately, there's Shawnee Inn. Set at the foot of the Pocono Mountains, this majestic and historic retreat has welcomed patrician nature lovers since 1911. On the grounds of this magnificent golf resort, you'll find four glamping rentals, outfitted in comfort and style, where you can access the best of both worlds. In and around the manor, there's award-winning, world-class golf and yoga, spa treatments, concerts and an onsite brewpub. Out on the grounds of the estate, there's rafting, bocce, archery, hiking, canoeing, and kayaking. At night, you'll return to your glamping rental- a cushy safari tent pitched alongside the river or out on a small island accessible only by guided canoe, where an island attendant serves as nature guide and concierge. Each tent has electricity (even wifi), a private deck, hammock, fire area, luxury bedding and, of course, splendid views of the water. Your gourmet breakfast is included, andfie, farm-to-table dining can be had in the resort's cafe, brewpub or dining room.  You only have to visit The Shawnee Inn once to be captivated by its majestic mountain scenery and historic charm. Just two miles from the Delaware Water Gap and I-80, this landmark resort sits at the rolling foothills of Pennsylvania's magnificent Pocono Mountains just 70 miles from New York City and 100 miles from Philadelphia. If your fantasy for glamping in Pennsylvania includes a facial, steak and craft ale, look no further than Shawnee Inn.
Rates: $269 per night
Rates: East Stroudsburg, Pennsylvania
At a Glance: golf and glamping in Pennsylvania on the grounds of a stately historic resort
Glamping in
Rhode Island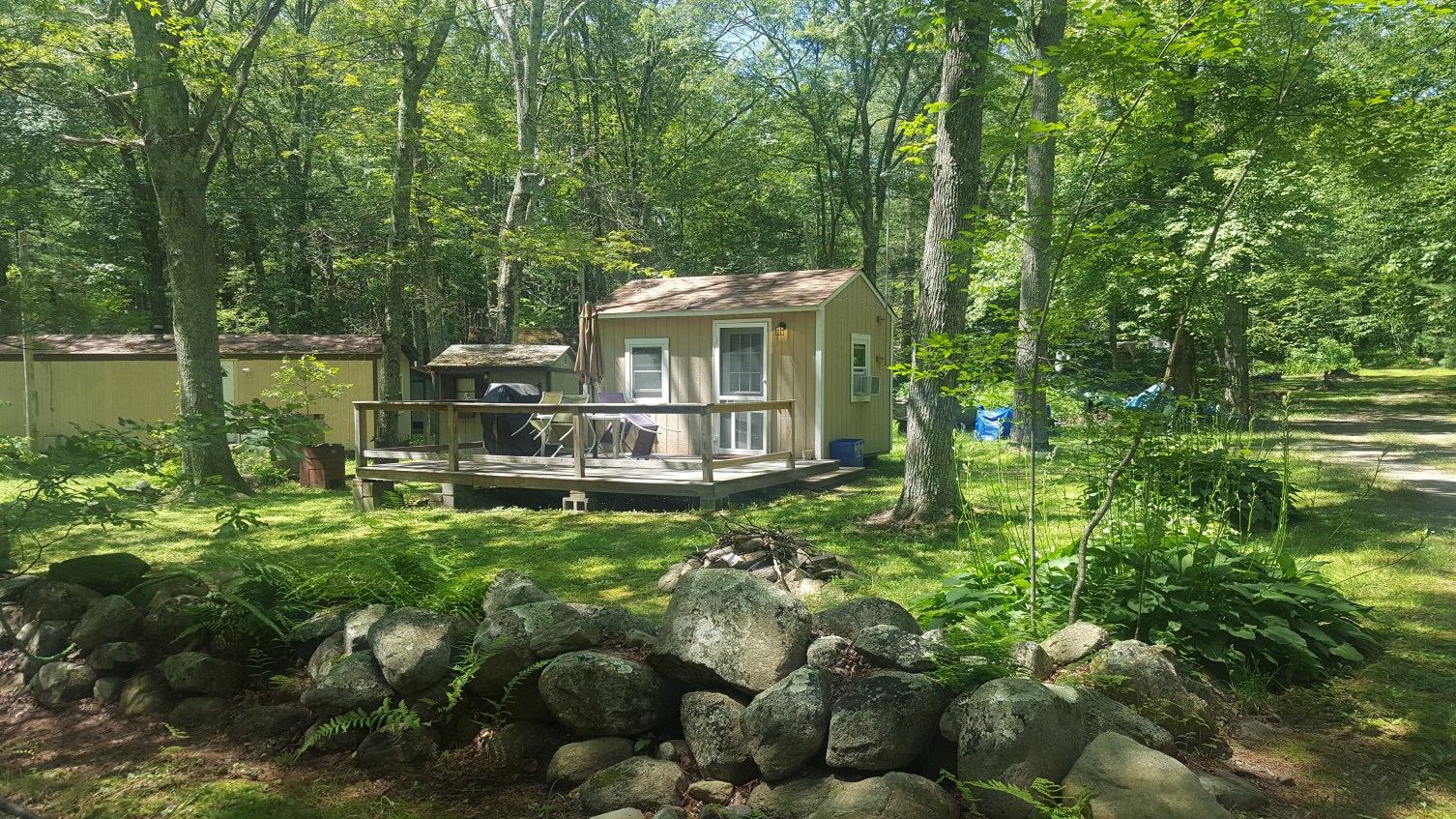 You've tried glamping in yurts, tents, trailers, tipis and treehouses. So why not try something truly different by glamping in Rhode Island in a cozy cabin… in a nudist resort? If your idea of getting natural means ditching your clothing along with your smartphone, look no further than Dyer Woods Campgrounds. For over 50 years, Dyer Woods has offered the finest clothing-free camping and glamping in Rhode Island. The grounds have a spring-fed swimming pond with water slide, a wood-fired sauna, picnic area, and abundant wooded hiking trails. Guests can play volleyball, tetherball or Frisbee golf as well. While the majority of visitors choose to stay in tents or RVs, Dyer Woods also has a small cabin available for glamping rental. The cozy cabin, set in a little wooded glen, has room for four with a queen bed and futon, along with a kitchenette, grill, and shady deck. The bathhouse, with showers and toilets, is a short walk away. If you're ready to strip off your stress and inhibitions, you're bound to have a weekend of freedom and fun by nude glamping in Rhode Island at Dyer Woods.
Rates: $105 per night
Location: Foster, Rhode Island
At a Glance: a modest cabin for nudist glamping in Rhode Island
Glamping in
South Carolina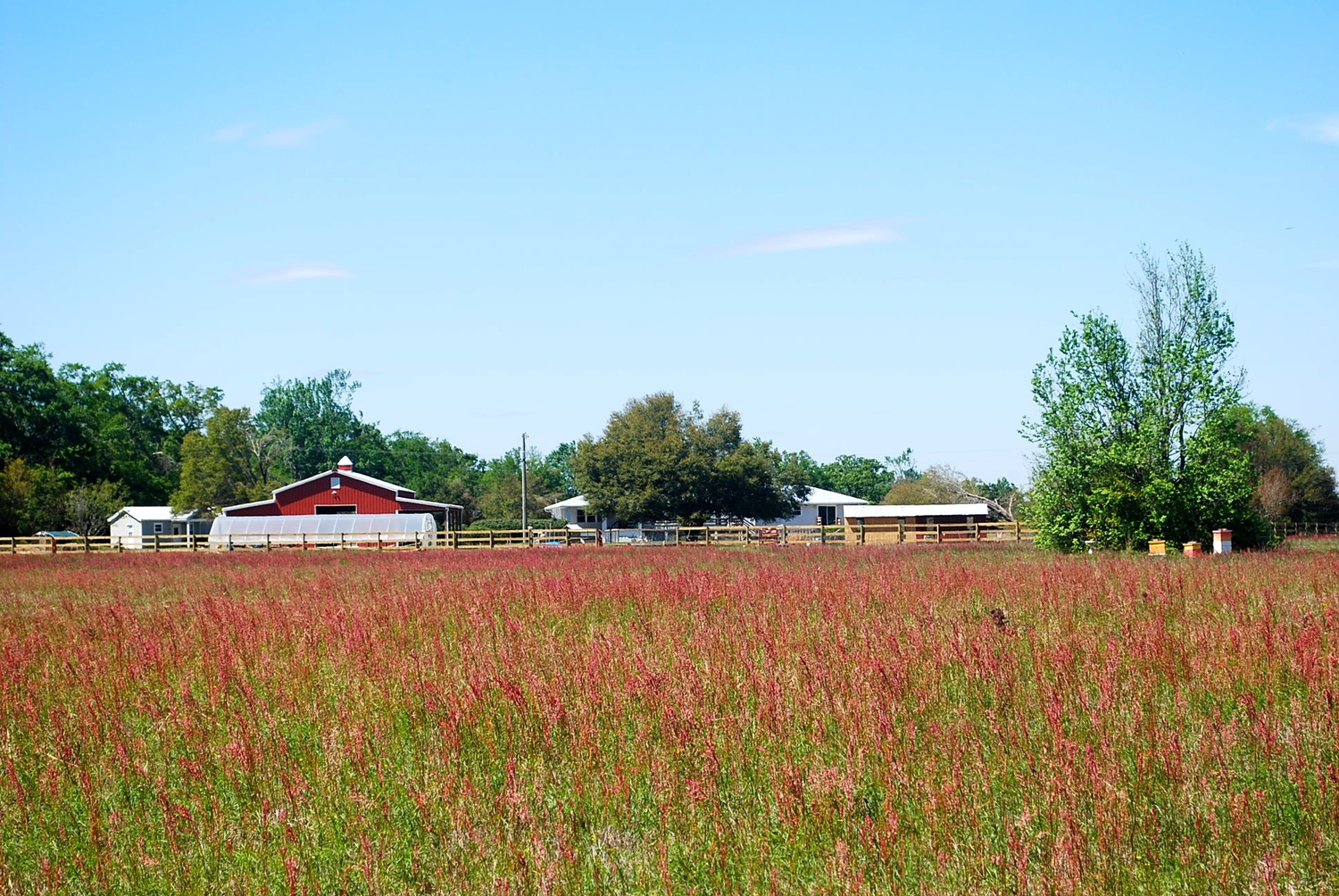 Wake up to the rooster's crow and savor a lazy morning in your luxurious tent at Happy Earth Farm. This charming organic farm welcomes agrotourists for laid-back glamping in North Carolina, just eight miles from the quaint country town of Aiken. The 14′ by 16′ safari tent is set on a wooden platform and has electricity, a covered porch with Adirondack chairs, two queen beds and a futon. The simple and charming decor is all white canvas, natural wood, and pops of sunny color, including a multicolored glass chandelier. A nearby shared bathhouse has a flushing toilet and sink, plus an outdoor shower. Glamping guests can also share the use of a gas grill and swimming pool. If you're staying on the farm, you'll want to tour the fields of organic fruit and vegetables, and meet the farm's many animals, including beef cattle, egg laying chickens, meat chickens, turkeys and guinea fowl. Guests who want to get their hands dirty are welcome to try their hand at gathering eggs from the chickens, feeding the turkeys or various other farm chores. The quaint country town of Aiken has a number of cute restaurants, antique stores and historical attractions as well. Don't miss the chance to try out a local craft beer at the Aiken Brewing Company. But plan of having your morning meal on the farm; breakfast is included and- with eggs, honey and produce straight from the farm- not to be missed.
Rates: $53 per night
Rates: Aiken, South Carolina
At a Glance:glamping in South Carolina with country charm on a working organic farm
Glamping in
South Dakota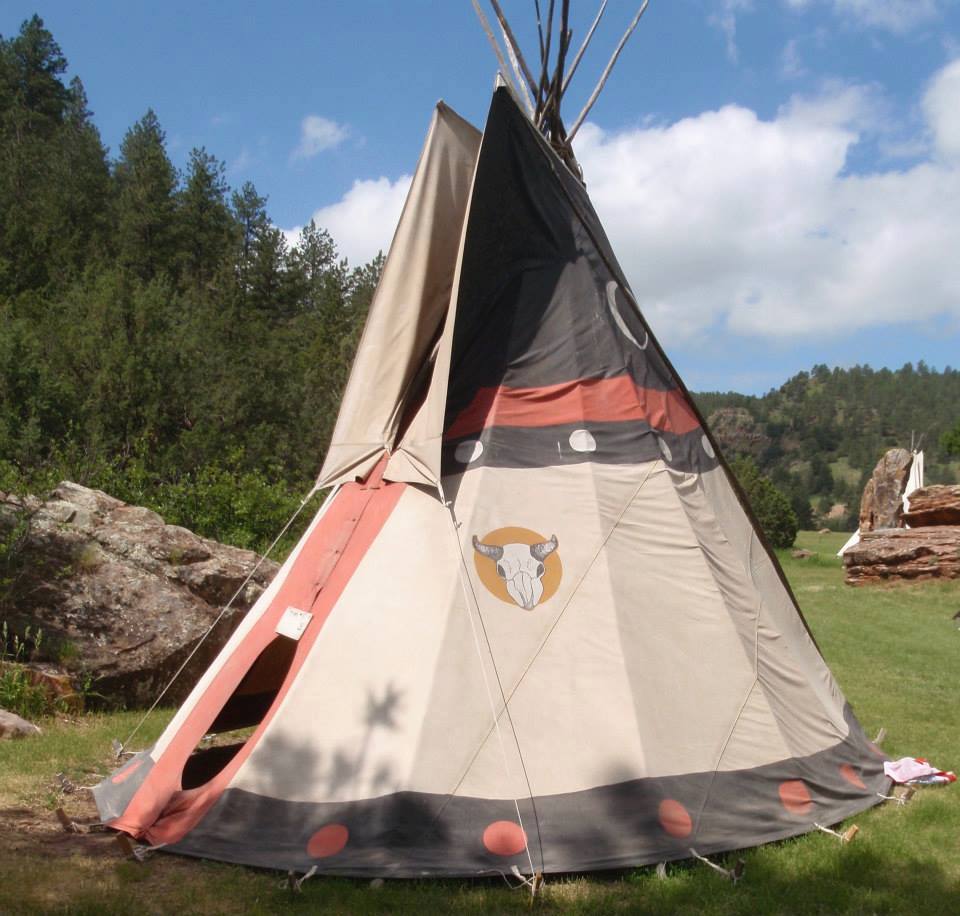 With its natural rugged beauty, caves, rock formations and ancient forests, the Black Hills are the ideal location for glamping in South Dakota. Here, Allen Ranch Campground hosts glamping rentals and a tipi village on the banks of gentle, hot-spring-fed river called "Minnekahta", the river of warm water. The campground has been owned by the same family for five generations, and guests glamping on the property will immediately feel like family themselves. The hosts serve up hearty, family style cowboy fare at dinnertime, such as barbecue with beans and grilled corn. The Allen Ranch is deeply immersed in the area's rich history of mountain men and the Lakota Sioux Nation, and shares this with visitors through demonstrations, reenactments and authentic touches, like the accurate styling of the tipi village. The canvas glamping tents have wood flooring, hotel-style queen beds with gauzy netting, attractive furniture and electricity. Guests can swim or tube on the river, hike, or watch for wildlife like wild turkeys, deer and flying squirrels. Venture off the property, and you can visit natural wonders such as Evan's Plunge a giant natural mineral hot spring with water slides and a plunge pool, and Mammoth Site, the world's largest deposit of mammoth remains on earth.
Rates: $50-$120 per night
Rates: Hot Springs, South Dakota
At a Glance: glamping in South Dakota with tubing, cowboy dinners and historical reenactments
Glamping in
Tennessee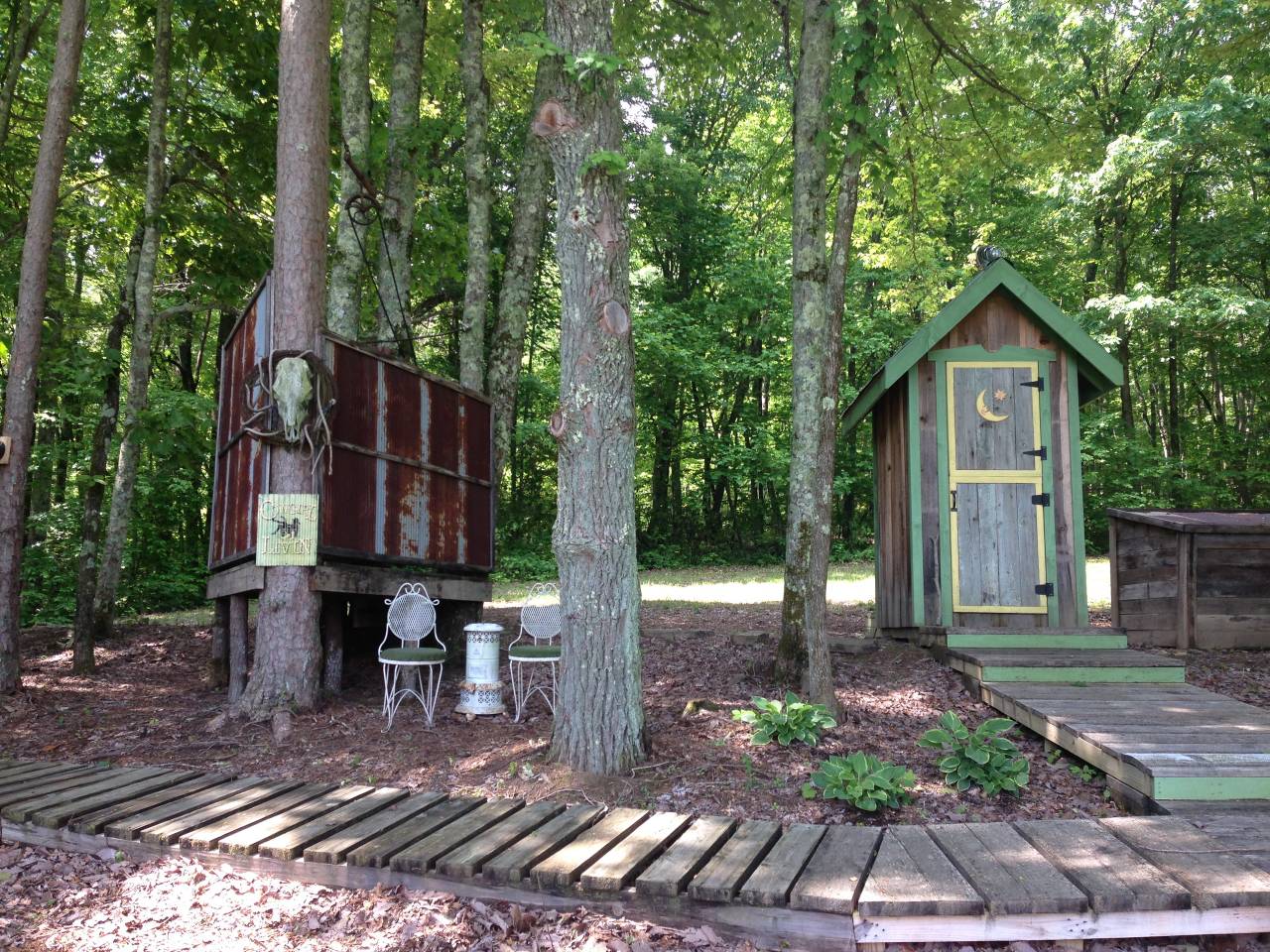 Some glamping destinations focus on providing indoor-style pampering with outdoor styling (think traditional hotel room with tent walls and outdoor decor). But the Cowgirl Cabin at Grandview Mountain Cottages is just the opposite- a homelike cabin with pretty furnishings that's fully off the grid. No plumbing or electricity here; guests can use collected rainwater and LED lanterns instead, along with what must be the world's cutest outhouse. Heat is supplied by a wood-burning stove, an outdoor solar-heated shower serves for cleaning, an outdoor grill over an open fire or charcoal pit provides a way to cook. Though the lifestyle recalls a simpler time, the decor is thoroughly refined, with white, pastel, understated floral and shabby-chic decor throughout. Eco-friendly principles dictated the cabin's construction and maintenance- low-VOC paint, salvaged materials and natural cleaning products are used throughout. There are beautiful forest and mountain views from the cabin's balcony, and guests can look for wildlife passing by, such as deer, red fox, and possums. The 145-acre grounds have miles of hiking trails and a spring fed fish pond. The Grandview Mountain Cottages grows heirloom, organic berries, fruit, vegetables and herbs, all of which are used in the on-site farmhouse kitchen, which serves baked goods and artisan pizzas, along with farm eggs, butter and homemade jams. Venture off the property to visit nearby orchards and farms, and you'll see cows, donkeys, goats and chickens. Hikes in the surrounding area can take you to a number of scenic waterfalls, as the grounds are located the center of Cumberland Trail System. For stylish, off-grid glamping in Tennessee, you won't find a more charming choice than the Cowgirl Cabin at Grandview Mountain Cottages.
Rates: $125 per night
Rates: Grandview, Tennessee
At a Glance: a quaint, off-grid cabin for glamping in Tennessee
Glamping in
Texas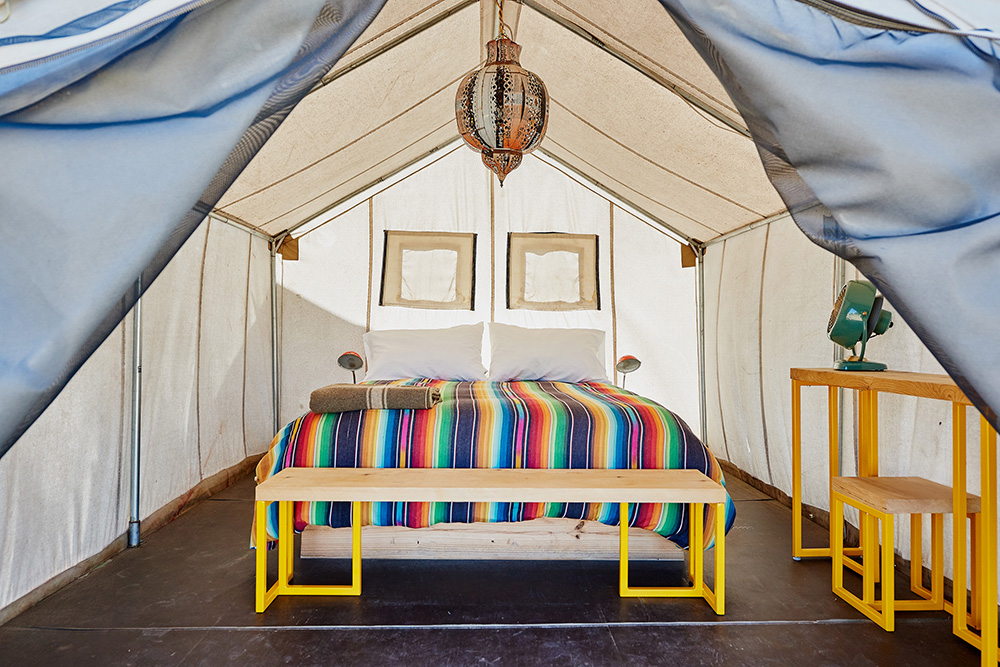 Founded in the early 1880s as a railroad water stop, the small, desert city of Marfa is a today a major hub for large-scale minimalist art. A town with cutting-edge museums and galleries like Building 98, cool festivals like Marfa Myths, and trendy stores like Cobra Rock, it's no surprise that El Cosmico, the town's premiere glampground, is the hippest place for glamping in Texas. This 21-acre "nomadic hotel" is home to such glamping rental units as vintage trailers, scout tents, Mongolian-yurts, and Sioux-style tepees. Needless to say, all are created with the most refined and eye-popping bohemian-modern aesthetics, and feature rugged iron, weathered wood, leather, industrial materials, and indigenous textiles. Each room has electricity and climate control, and guests have access to a bath house, wood-fired hot tubs, and bikes, as well as a shaded hammock grove for lounging. Craft cocktails, food, and artistic gifts and provisions can all be purchased on site and enjoyed outdoors in the picnic area. El Cosmico regularly hosts events like outdoor culinary instruction, songwriting workshops and art classes. After a day visiting the local museums and galleries, head out to the city limits and you may get a look at the mysterious Marfa Lights, otherworldly glowing orbs sometimes reported in the area's night sky.
Rates: $65-$185 per night
Location: Marfa, Texas
At a Glance: an ultra-stylish "nomadic hotel" for glamping in Texas
Glamping in
Utah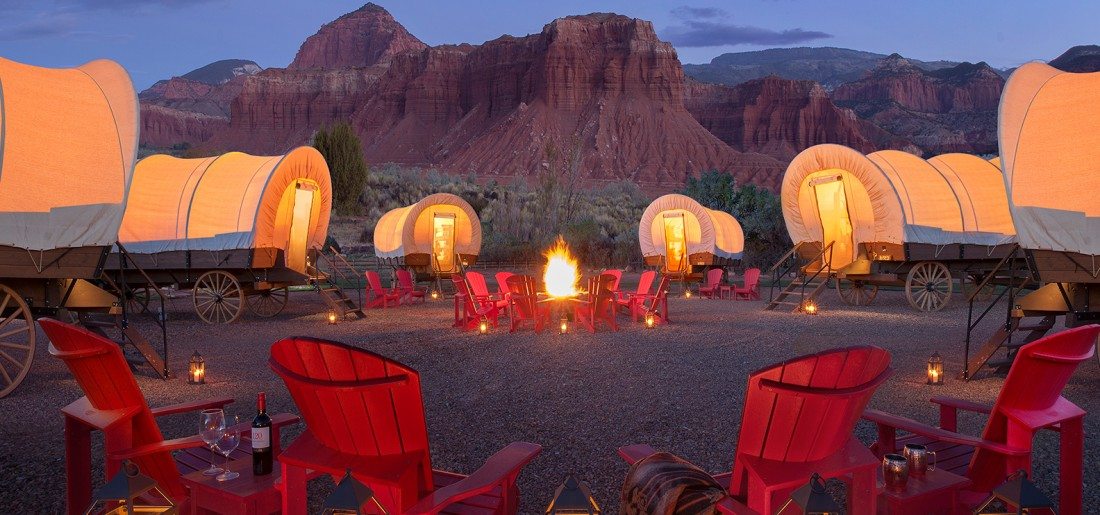 Glamping in Utah is bound to be a delight. The state has wide skies, sunny weather and a stunning landscapes, including some truly spectacular rock formations. Even among glamping destinations in Utah, Capitol Reef Resort stands out. The 58-acre resort is set in the midst of the "Grand Circle of National Parks," close to Grand Staircase, Bryce Canyon National Park, Canyonlands National Park, and Zion National Park. The resort offers outdoor adventures to day visitors as well as overnights guests, including guided hikes, horseback riding, and llama excursions. There are elegant cabins for rent, but we prefer the glamping rentals- glamorous tipis and luxurious Conestoga covered wagons. Both are situated at the foot of the magnificent Red Cliffs, and feature pillow-top king beds, large flat screen TV, and wifi, and are steps away from a shared bathroom. On the grounds, glamping guests have access to a pool, jacuzzi and gym, as well as laundry facilities. At mealtimes, western comfort fare, like skirt steak and grilled trout, is served up at the resort's "Pioneer Kitchen."
Rates: $149 per night
Location: Torrey, Utah
At a Glance: covered wagons and tipis for glamping in Utah near multiple national parks
Glamping in
Vermont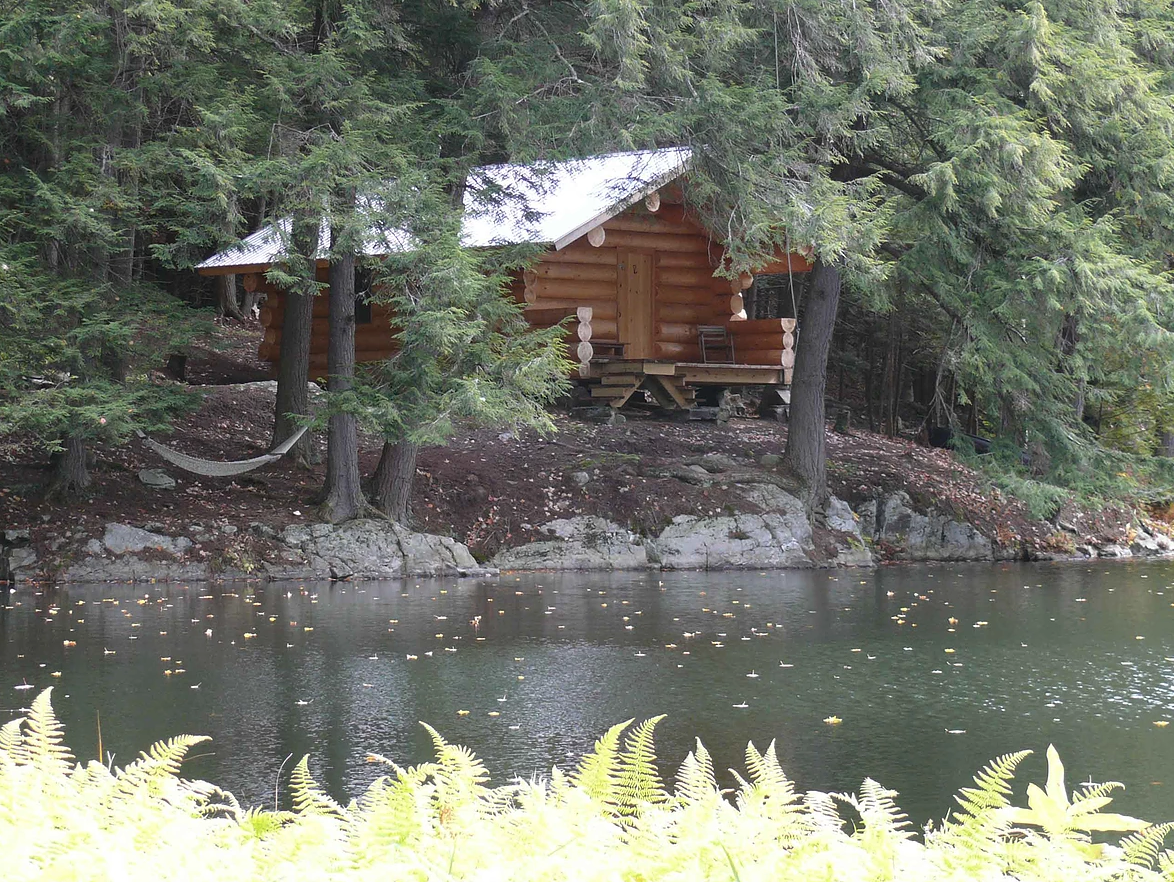 Cabinsense is the place for glamping in Vermont for those who want rugged beauty and a few simple comforts, without excessive coddling and pampering. The glamping rental is a picture-perfect, classic log cabin, built from massive, full-scribed (Swedish Cope) white pine logs. The beautiful premises are entirely without cell phone reception, indoor plumbing or electricity. Nonetheless, guests will stay warm, thanks to extensive, recycled-fiber insulation, a wood-burning stove, and an outdoor campfire ring. Guests can roast hot dogs over the open fire, use the indoor stove griddle, or have a full cookout on the BBQ grill. (dare we say) quaint outhouse is located a short distance from the cabin. This rustic setting is about as primitive as glamping gets, yet the beauty and thoughtful design of the lodgings elevates this above your average campground. The cabin is furnished with antiques, and furniture handmade from branches. The cleverly design wood-burning stove acts as a heater, griddle, hot water boiler and even as oven. The covered porch looks directly out onto one of three spring-fed ponds on the property. The 175-acre grounds are the biggest draw- mossy ledges and pristine old-growth forests with scenic hiking trails leading to springs, bogs and elevated views. There's even a rope swing that swings out over the pond for some serious plunges. Guests are likely to spot wildlife such as owls, ducks, deer, foxes and even black bears. Activities include hiking, swimming, kayaking, or just resting in the shaded hammock and appreciating the quiet. With no cell phone service, you'll be truly unplugged when glamping in Vermont at Cabinsense.
Rates: $150 per night
Location: Fairlee, Vermont
At a Glance: rustic, off-grid glamping in Vermont in a fabulous log cabin
Glamping in
Virginia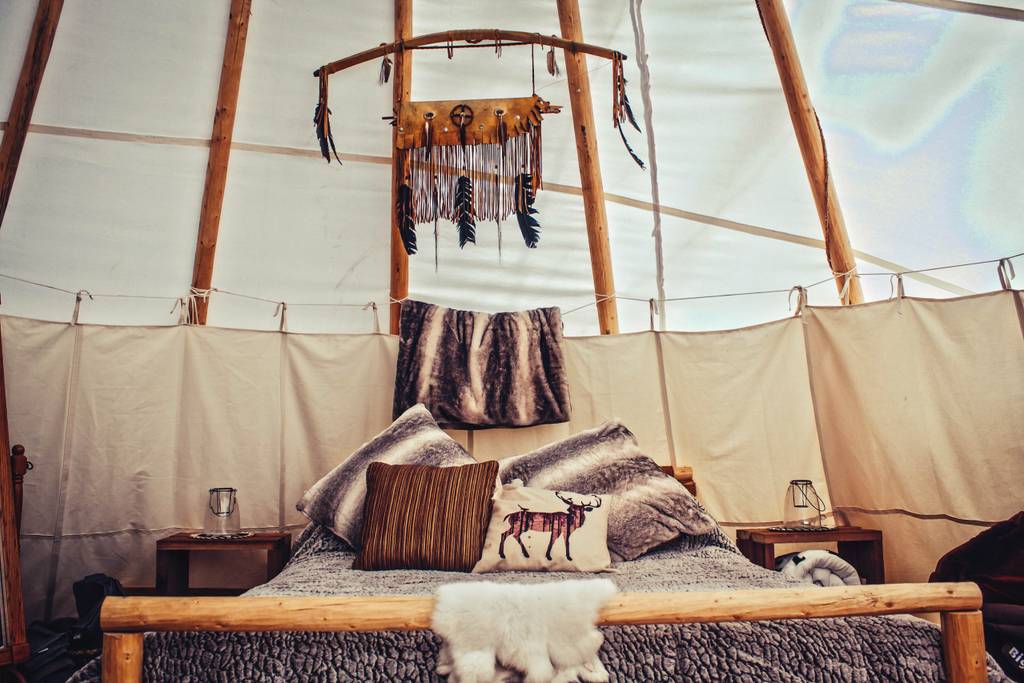 Two luxury tipis are available for glamping rental: one with a queen bed, and a slightly larger one with an additional pull-out couch. Both have indoor sinks and fireplaces, and are decorated with a rustic-chic vibe. Heated outdoor showers and a clean outhouse can be found a few steps away. Outside, guests can cook on the camp stove, toast marshmallows over the fire pit, snooze in their own hammock, or gather for a meal around the picnic table. There are plenty of on-site, outdoor activities for active families. Glamping guests can stay busy playing games in the rec fields, hiking the 3 miles of trails, fishing the stocked lake, and taking horse back riding lessons or group trail rides. If you're visiting with the kids, make time for a trip into town to visit Amazement Square, an educational kids museum packed with hands-on activities, including a climbing wall, slide and zipline. This glamping destination is also located close to Liberty University, making it a great weekend getaway for overworked students to de-stress with friends in the great outdoors.
Rates: $75 per night
Rates: Lynchburg, Virginia
At a Glance: tipi glamping in Virginia with trail rides and a petting zoo
Glamping in
Washington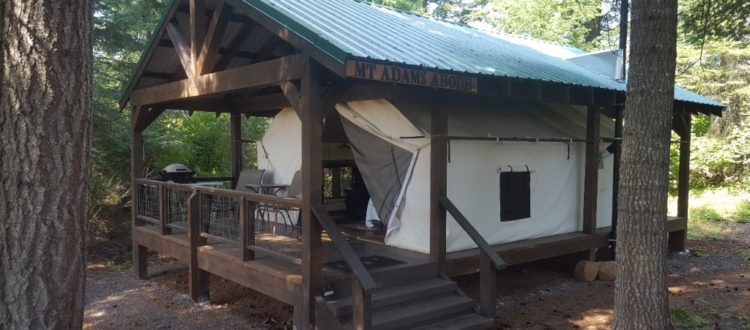 If your idea of "contentment" includes tranquil scenery, comfortable lodgings and low-key outdoor activities, you'll find it at Contentment Acres. This is the ideal place for glamping in Washington when you want a quiet place to unwind with the family. The 20-acre property has a pavilion, a bar/cook area, propane fire rings (regulations prohibit wood fires), tidy outhouses, water spigots, horseshoes, and hammocks. Glamping rentals are 16′ by 20′ safari tents pitched beneath a pavilion-style roof on an elevated platform. Inside, the homelike furnishings are both attractive and cozy, with armchairs, a king bed, wood-burning stove, full kitchen, composting toilet, and indoor solar shower. Each glamping rental tent has a covered outdoor porch, equipped with seating and a propane BBQ grill, as well.The 20-acre property is deeply wooded and set on the border of Pinchot National Forest, with its stunning forests, mountains, river valleys, waterfalls, and volcanoes. Visit the nearby White Salmon River for white water rafting, or drive to the Columbia River and try your hand at wind surfing and kite boarding, or just hike through the beautiful Glamping guests can explore the beautiful Columbia River Gorge.
Rates: $125 per night
At a Glance: quiet, comfortable and cozy tent glamping in Washington
Glamping in
West Virginia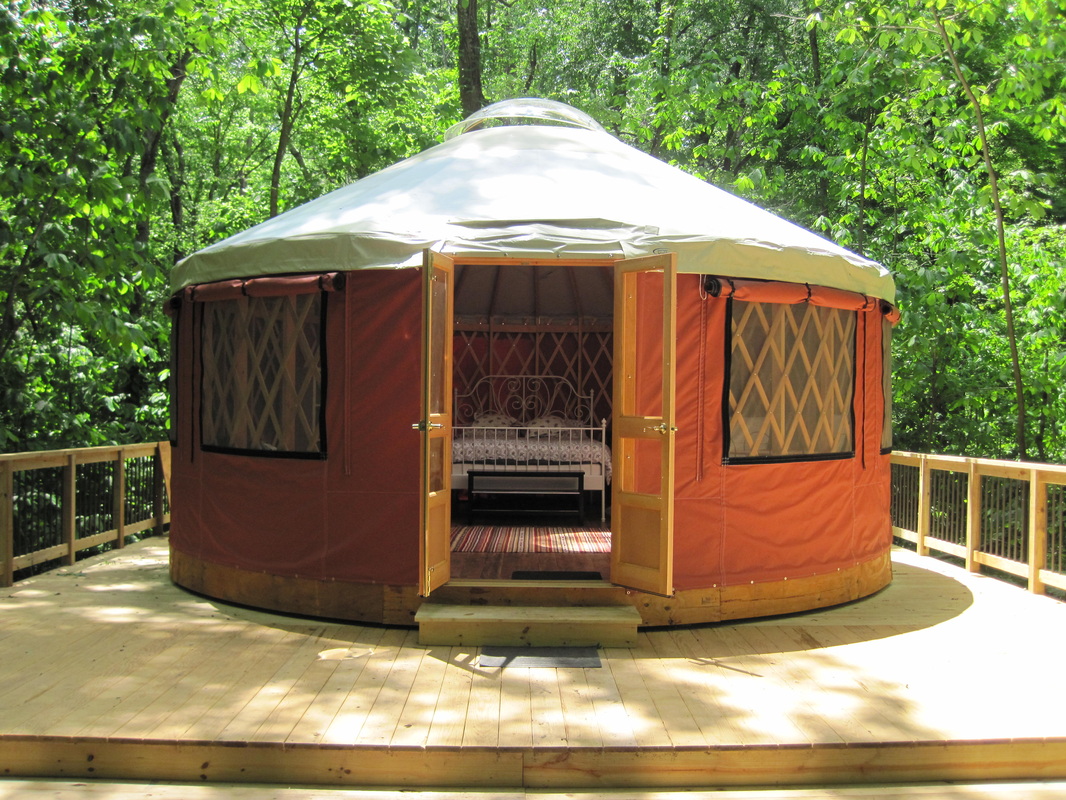 You're more than likely to experience decision paralysis when faced with the many fabulous and unusual options for guests at Three Otters Eco-Retreat. This remarkable getaway for glamping in West Virgina offers luxury yurts, cabins, vintage trailers, traditional tents, bell tents, pop-up campers, and tent cottages. Feeling even more daring? You can also rent a "floating tree tent," a hammock-like, clear-sided, three-person tent suspended 4 feet off the forest floor. With so many options, there's a glamping rental unit for every budget, group size and desired level of comfort. For the most glamorous glamping, we recommend the yurts and tent cottages, which are furnished with cute furniture and snug beds, and have electricity, fans, heaters, area rugs, and coffee pots. On-site, glamping guests will have access to a bathhouse, campfire area, organic garden, cafe, forest trails, grill pavilion, picnic area, and a dock on the Potomac River. Three Otters' mission is to connect modern people to the Great Outdoors, and the resort offers a number of outdoor adventures, like tubing, kayaking, canoeing, hiking, biking, swimming, snorkeling, and fishing. The center also hosts workshops, classes and retreats on yoga, permaculture, cooking and creative arts. For a little extra rest and relaxation, visit nearby Berkeley Springs, the nationÕs first spa town, for a mineral water soak.
Rates: $40-$165 per night
Location: Great Cacapon, West Virginia
At a Glance: back-to-nature glamping in West Virginia on the Potomac River
Glamping in
Wisconsin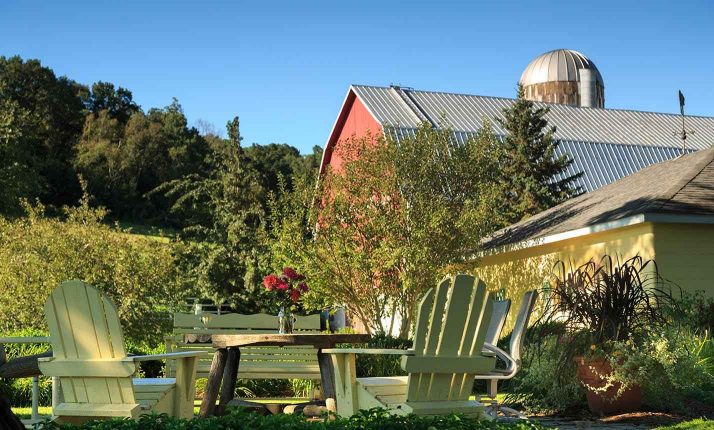 Glamping in Wisconsin is as pretty as a picture when you're curled up in the "Wisconsin Camping Cabin" at Justin Trails. This cheery little azure cabin has all the basics, plus room enough for a large family. You'll be able to sleep up to six with three plus beds: a king, a queen, a Select Comfort full, plus an optional cot. There's a refrigerator, climate control, and plenty of seating indoors and outside on the private deck. Bathrooms and showers are located 35 feet away in a rather elegant, renovated barn. A small garden surrounds the cabin, which abuts one of the resort's two Frisbee golf courses. If you prefer a more rustic dwelling, Justin's Trails also has a hand-crafted, Sioux-style tipi for rent. A hearty farm-to-table breakfast is included in the price of glamping rental, and lunch, wine and cheese and desserts are available as well. On the grounds, there's plenty to see and do; Justin Trails has 50 acres of organic farmland as well as 150 acres of oak savanna and woodland forest. Take a farm tour, a yoga class or participate in a Frisbee golf tournament. In the colder months, try sledding, snow tubing, snow shoeing, or cross country skiing on the property. With such a charming setting and so much to do year round, its no surprise that this destination for glamping in Wisconsin was ranked in the state's Top Ten Eco-Luxury Inns by the state's Department of Tourism.
Rates: $129 per night
Location: Sparta, Wisconsin
At a Glance: a charming setting for tipi or cabin glamping in Wisconsin
Glamping in
Wyoming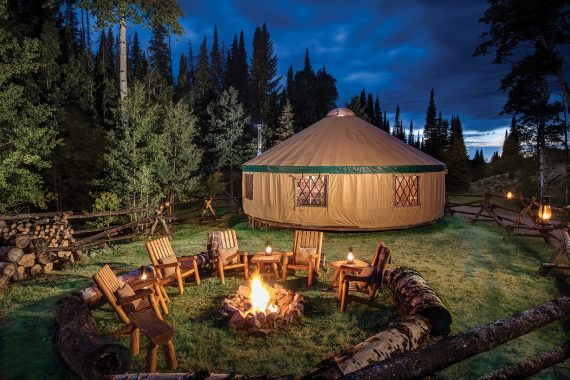 For truly elite glamping in Wyoming, Brush Creek Ranch Resort and Spa is without peer. The resort is consistently rated as among the nation's very best by such discriminating sources as Conde Nast, Forbes and Elle. Brush Creek occupies 30,000 acres of pristine land in the heart of the Platte River Valley, surrounded by sweeping views of the Sierra Madre and Snowy Mountains. Here, guests enjoy superlative luxury, from fine libations to spa pampering, while also indulging in outdoor adventures. Here, you can try fly fishing on 20 miles of private river, hut elk, deer, and moose, or hike, bike or ride on horseback over 100 miles of scenic trails. In winter, try snowshoeing, cross-country skiing, sledding and snowmobiling. Adventurous souls can try rock climbing, paintball, an elevated ropes course or zip lines. All lodgings are sumptuous, from the restored log cabins to the opulent lodges on the property, but our pick for glamping is the resort's luxury yurt. A wilderness guide and wrangler personally lead glamping guests on horseback to the 700-foot yurt, which is located in the more remote reaches of the resort's property. Though far afield, guests will feel pampered amid sumptuous furnishings and spacious digs. Your guide will personally prepare your gourmet meals during your stay, and might your campfire in the evening (s'mores fixings provided, of course). You won't find a more elite way to experience glamping in Wyoming.
Rates: $800 per night
Rates: Saratoga, Wyoming
At a Glance: opulent glamping in Wyoming, with spa, dude ranch and everything in between