As with many fields, certificates and professional certifications can be some of the most time and money effective ways to fast track your career. Hospitality management is no different. There are a variety of different certificate and certification types that can both enhance your skills and lead to automatic raises in some corporations. First, let's make the distinction between certificate and certification. Typically, certificate programs are offered by universities or online course platforms that show that a student has successfully completed a small grouping of courses. Certificate programs can occur at the high school through master's levels and often require a student to take several for-credit courses. On the other hand, professional certifications often rely on some combination of on-the-job learning, experience, and preparatory work and are granted by professional organizations after an applicant successfully pasts a test. Some professional certifications are also paired with the taking of a course at the end of which the student takes a test to obtain their certification. There are pros and cons to both, and where certificate programs will definitely be the best choice for some hospitality workers, certifications will work better for others. With that said, both can successfully increase vocational skills and lead to greater opportunities and rewards in your work life.
Let's check out some of the most common professional certifications and certificate programs for hospitality-related fields below. If you're looking to skip ahead, we have two general sections we're going to cover in this guide:
Certificate Courses from the American Hotel & Lodging Educational Institute
And for-credit certificate programs at the associates through graduate levels
American Hotel & Lodging Educational Institute (AHLEI) Certificate Courses
The American Hotel & Lodging Educational Institute is one of the longest running (it was founded in 1953) and most prestigious professional organizations for hospitality management continuing education. They offer a wide range of certification programs for those working in the following facets of hospitality and lodging:
The front office
Revenue Management
Food & Beverage
Housekeeping
Maintenance
Security
Human Resources
Sales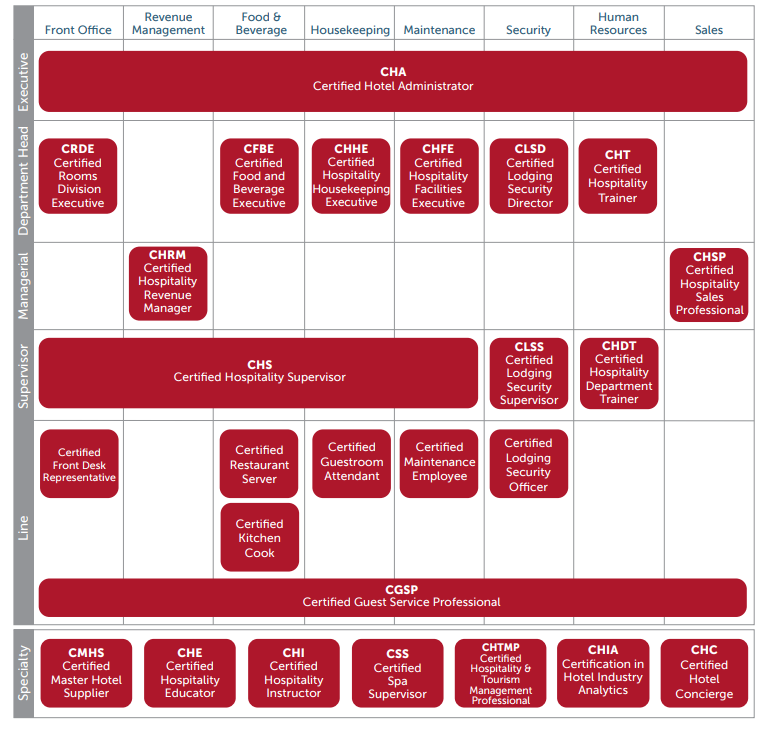 For most disciplines, their courses of study spans multiple seniority levels from front line through executive positions. Each certificate has work experience requirements as well as testing requirements. Certifications last for five years, in which some recipients elect to re-certify at the same level while others may elect to pursue more senior certifications. Free online courses and continuing education credits may be used towards re-certification. Most certification programs are offered through institutions of higher learning or specific large corporations. The three most general certification programs are listed below from lowest to highest seniority levels.
Certified Guest Services Professional
Certified Guest Services Professionals have exhibited academic and work experience showing their ability to effectively engage and connect with guests in a way that goes above and beyond their call to duty. This certification is known as the highest award for guest service attainable today. Three training options are available in this certification including a "making connections" track, a "golden opportunities" track, and a "tourism" track. Each track requires seven competency areas to be displayed for successful completion of the certification. Students may study for the certification through a variety of tracks including self-study online, through group training, and through select academic institutions. A further benefit to your place of employment comes through the fact that hospitality properties may apply to be designated Certified Guest Service Property or Certified Guest Service Partner properties once all guest services employees have obtained this certification. Only 291 properties in the world have obtained this coveted status. Currently close to 120 academic institutions offer training for this certification. Check the AHLEI site for more details.
Certified Hospitality Supervisor
The Certified Hospitality Supervisor Certification is the most prestigious hospitality certification available to supervisors in a wide range of hospitality settings: the front office, revenue management, food & beverage, housekeeping, or maintenance. Prerequisites for attempting to gain the certificate include being in a supervisory role over at least two other individuals and in which you spend at least 20% of your working time supervising. Eligible supervises must have been in a supervisory role for at least 90 days or have already achieved a supervisory, department head, management, or executive hospitality certification. Preparatory workbooks are available and recommended prior to testing. The exam includes 100 questions on nine skill areas as well as practical hospitality questions. Areas covered in the exam include:
https://www.ahlei.org/Certifications/AHLEI-Professional-Certification/
Supervision
Leadership
Time Management
Effective Communication
Problem Solving and Conflict Resolution
Orientation and Training
Motivation and Team Building
Staffing and Scheduling
Improving Employee Performance
Certified Hotel Administrator (CHA)
The Certified Hotel Administrator Certification is the most prestigious certification available to hotel general or assistant managers and hospitality executives. Online training modules allow for practice in a wide variety of hospitality management disciplines. Prerequisites include being a general manager or owner/operator of a hospitality venue, or a corporate executive at a hospitality corporation who is in charge of at least two properties. An experience stipulation is also present for entering the program, though previous high-level certifications lower the time required in your current role. The final exam requires 35 questions to be answered at 70% success rate of higher in the following topics:
Financial Management
Food and Beverage Management
Human Resources
Leadership
Marketing and Sales
Revenue Management
Rooms Management
For those who have already passed the exam, some institutions of higher education are willing to accept the certification as the equivalent of college credit in comperable areas.
As shared in the image above, there are many other specialty certifications offered by the American Hotel & Lodging Educational Institute. If you have not seen a certification for your role in a hospitality venue, please check their page to find the appropriate certification.
For-Credit Certificate Programs
A second route one may pursue to advance their hospitality career prospects through a certificate includes passing a for-credit certificate program from an institution of higher learning. These credit programs involve taking a "cluster" of university courses to gain and prove expertise in an area. These certifications are often more about acquiring new knowledge through several intensive courses than passing a test and proving knowledge you may have mostly acquired on the job (as with the certifications in the previous section). For-credit certificates are often available at the associates, bachelor's, master's, and post-graduate levels. In the hospitality management space, some culinary certificates are also available at the high school diploma level. While often more expensive (often the typical for-credit course rate for universities), for-credit certificates can allow you to place some of the most prestigious hospitality management schools on the planet on your resume for much less time and money than a typical degree. If you're interested in seeing some of the best schools that offer certificate programs, check out our ranking of the most prestigious hospitality management departments in the world. Below we've just listed a sampling of certificate programs offered by universities as examples.
High School-Level For-Credit Certificates
Lehigh Career & Technical Institute is a great example of for-credit certifications that can occur at the high school level. At the end of their program for high schoolers attendees can obtain the following certifications while still in high school:
Certified Junior Culinarian via American Culinary Federation
ServSafe Food Protection Manager Certification
S/P2 Culinary Certificate
First Aid Certification via American Red Cross
Pennsylvania Skills Certificate via NOCTI®
Furthermore, select hospitality management universities will accept certifications and credit taken while in high school as college credit in related programs. While there are a number of other certifications for high schoolers, including some online, Lehigh's program exemplifies some of the best of what hospitality certificates can mean for high school students. Participants should be able to obtain skilled work in hospitality settings upon completion, and coupled with an associates or bachelor's degree in a related discipline advance even further.
Associates-Level For-Credit Certificates
A much wider range of certificates related to hospitality management are available at the associates degree level. Many community colleges and vocational schools offer certificate programs in hotel management, restaurant management, bar management, and related disciplines. Some certificate programs will be part of a larger associates degree, while others stand alone. A Great example of a certificate more thorough than others is the Hotel Management Certificate offered by Houston Community College. This certificate requires 2 semesters of study and a total of 9 courses. While less than a degree, it provides a solid basis in a wide range of academic topics pertinent to hospitality management including human resources, accounting, management, hospitality law, and hands-on experience. For students looking to avoid the time and money of a full degree, certificates like HCC's can be a great way to quickly gain qualifications for lower level management positions.
Bachelor's-Level For-Credit Certificates
Bachelor's level certificates in hospitality management generally come in two forms. The first are certificates that are quite similar to associates-level certifications. After all, associates level coursework is part of bachelor's level coursework. In this sense, some institutions that are not community colleges may offer certificates similar to our last example at Houston Community College. Though in a sense this is a "bachelor's" certificate instead of an "associates"-level certificate. Alternatively, some bachelor's-level degrees offer certificates as a way of specializing a more general course of study. An example of this form of hospitality management certificate can be seen in Capella University's online bachelor's-level certificates. These courses of study are often paired with a bachelor's degree, though don't have to be. These particular certificates take about 1.5 years of study, and can be applied to a bachelor's degree if the student continues on to pursue one.
Graduate-Level For-Credit Certificates
Perhaps the most common form of for-credit hospitality management certificate are those at the graduate level. What this means is that students endeavoring to receive a certificate must have finished their undergraduate course of study. With that said, admissions are often much easier for certificate programs that full-on graduate degrees. They also take much less time and are often geared almost entirely towards practical business skills (rather than theory). A great example of a graduate-level for-credit certificate in hospitality management can be seen from the world class Cornell University school of hospitality management. Cornell's Online Graduate Certificate in Hospitality Management requires 5 graduate courses in marketing, human resources, management, revenue management, and accounting. Think of this sort of course of study as a "mini-MBA" of sorts. You can obtain career-specific graduate-level knowledge without taking any courses that won't pertain to your discipline. Taking a graduate-level certificate in hospitality management is a great way to really stand out from your competition in the workplace.