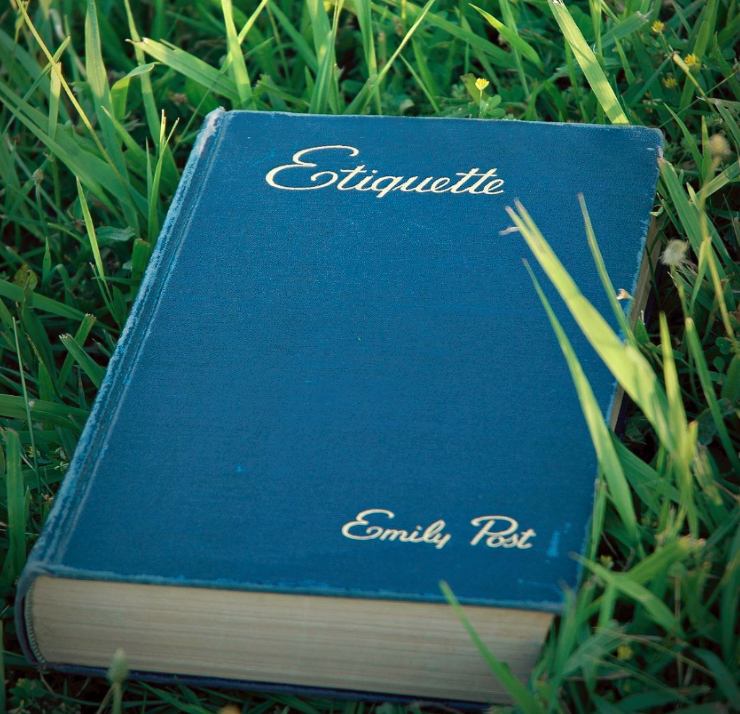 "Etiquette is all about making people feel comfortable and being respectful."-Peggy Post
Proper etiquette may come naturally to most professional event planners as they want their guests to have the best experience, but a novice planner may need to rely on a time-honored code of behavior. The idea of a party is to have fun, but the planning process can be daunting. Whether it's your best friend's wedding or an intimate gathering, hosting a group event can feel overwhelming. Fortunately, there are some basic etiquette tips that you can use to make it a lot easier. Event etiquette is essential to making sure you do not overstep your boundaries or end up with a subpar reputation as a host. Etiquette is not a thing from the past but an essential part of making people feel at ease—at the table, in business meetings, and at social events.
Planning a large scale event can take months, so whether you are planning a casual gathering or a formal gala, you need to do everything you can to make sure that your event goes smoothly by avoiding rookies mistakes and faux-pas. If you are planning a wedding or a company event and you are not sure about the protocol to follow, you may want to refer to the consensus. As the host, the first thing you need to do is, of course, choose a venue. After you have selected the appropriate place for the occasion, the next step is to invite your guests. Then questions like–who to invite, when to send the invites, or who pays for what–vary based on the event. One thing is sure is that as the host and event planner, you can create a memorable day for someone and in order to leave your legacy intact, here are some essential etiquette tips you may want to follow.
General Hosting Etiquette
1. Manners
Good table manners say a lot about you personally and professionally. Without a professional code, it is easy to cross the line of acceptable behavior.
2. Be punctual.
There are certain demands that are expected from the host and being on time is one of them. If you're the host, make sure to be on time. Need we say more?
3. Dinner Timing
Plan dinner for at least an hour later than the time noted on the invitation, and give enough time to have a couple of cocktails in the meantime.
4. Delaying Dinner
It is acceptable to delay dinner fifteen minutes for a late guest. Upon the guest's arrival, proceed with the course that is being served at the time.
5. Smartphone Etiquette
We live in a digital world, and as a host/event planner you certainly will need to stay connected throughout your event to ensure that you are available in the event of a crisis. Keep your smartphone in your purse and set the ringer to vibrate. If you must take a call, politely excuse yourself from the room or make the conversation short and sweet.
6. Communication
Make sure to let the staff know that you are the host (and their contact) so they can appropriately serve everyone else first (see #7 for Proper Seating)
7. Seating Arrangements
Make a seating plan in order to help your guests to not only make new connections but also to prevent awkward pairings. Don't forget to tell guests that there will be a seating arrangement. Traditionally, guests were seated according to title and status rather than personality, but the modern seating protocol is a lot more relaxed. Here are some simple rules:
Do sit host and co-host opposite each other
Alternate men and women
Pair people based on common interests, language ability, and expertise
Don't hesitate to separate husbands and wife
If there is a guest of honor, he or she should be seated to the right of the host
8. Introduce Guests The Right Way
Greet your guests warmly as they arrive and make them feel welcome and comfortable going into the evening. As the host, you will be expected to introduce various guests to one another. Prior to the event, make sure to research your guests' backgrounds so you can make introductions with context, including titles such as "Judge", "Professor", or "Doctor". This is particularly important at corporate events. Additionally, be sure to introduce lower-ranking guests to higher-ranking guests.
9. Conversation Topics
If you are hosting a formal dinner, make sure to keep the conversation light and if it ever turns to politics, religion, or anything inappropriate, make sure to redirect.
10. Dietary Preferences And Restrictions
More and more people have dietary restrictions nowadays, so it is paramount to have a least one gluten-free, vegan, and kosher option on the menu.
11. Attire
When coordinators plan a party, they should be specific about the type of attire required. For instance, base your recommendations on the type of event and the rest of the guest list. Know what type of clothing is expected at this particular gathering. The type of attire might be dictated by the time of day, season, or by the quality of the meeting and event space.
12. Invitation Timing
As a quick reference, the larger and more important the event, the sooner you'll want to mail the invitations. As a general guideline:
Formal dinner: 3 to 6 weeks
Informal dinner: a few days to 3 weeks
Fundraising: 6 weeks to 3 months
13. Post-Event Follow-Up
Post-event follow-up is essential and a great way to thank attendees for coming or to get feedback on the venue, menu, and overall event. Dropping a thank you via email may be appropriate–above all if you sent paperless invites–but a handwritten note is certainly expected for a formal event.
14. Handling The Bill
When dining at a restaurant, discreetly tell the maitre d' or waiter ahead of time that you will be responsible for the check.
15. Alcohol Selection
Although guests won't expect a large selection of beverages, not having enough options to choose from is a mistake. Whether you decide to only offer wine and beer, make sure to provide several crowd-pleasing options.
Tips for Bartenders
16. How to Serve a Bottle of Champagne the Right Way
First and foremost, your bottle should be properly chilled to around 45 degrees Fahrenheit–the perfect temperature will prevent the cork from becoming a dangerous projectile.
Next, tilt the glass to a 45 degree angle while pouring. Start with just a splash, then wait for the bubbles to settle before filling. Then, in order to avoid spillage, only fill up the glass to ¾ full.
17. Giving Advice
Do not offer unsolicited advice but always know a joke or two
When Hiring Bartenders
18. Dos and Don'ts
As the host, you are responsible for taking care of the bartenders, not the guests. A tip jar is never an appropriate option at a wedding or any other formal event so remember to tip them generously at the end of the evening.
Do send a thank you note
Wait Staff Etiquette Dos & Don'ts
19. Approach from the left
As a general rule of thumb, you should serve drinks, change cutlery, and serve dishes from the left. Traditionally, it is assumed that most people are right-handed so serving from the left is less likely to interfere with the meal.
20. Wine Glass Holding
Hold wine glasses by the stem as you pour, and (if you can) pour while holding the bottom of the bottle. Glassware is placed to the right. Bread plates will be placed to the left.
21. Keeping Distance
Wait staff shouldn't be overbearing and should stand up rather than bend to the level of the guest while all together keeping a respectful distance.
22. When to clear the table
Don't start clearing the table until everyone is finished, and always ask the guest if they would like to order something else before proceeding to remove dishes from the right.
23. Be presentable.
This goes without saying but wearing a clean, ironed outfit is expected.
Hosting a Catered Function
24. Dos & Don'ts
If you are the host at a corporate event, you are representing your company and as such, some basic etiquette applies
As the host, you should eat and drink lightly and wait until all the guests are served before going through the buffet line
If the event is formal, conversation should be geared toward business
The host shouldn't linger at the party and preferably leave before the end of the event
Fundraiser
Planning a large-scale event can take months, so whether you are planning a casual gathering or a formal gala, you need to do everything you can to make sure that your event goes smoothly and make the night a success.
25. How to solicit contributions
First of all, do not hit up people directly more than once a year. For small contributions, it is fine to send a blanket email or to post a request on social media, but when soliciting larger amounts, send a personal email building your case for the charity and make sure to include an opening for someone to decline. Make it clear on the invitation that this is a fundraising event by using words such as "donations gratefully accepted" or "please remember to bring your checkbooks".
26. Presentation
During the party, it's a good idea to wait until the guests have been enjoying themselves for at least 30-45 minutes or so before giving your pitch. Let people know where the money is going and how much you're hoping to raise during the event.
27. Who to Invite?
First on your list are your established donors who are familiar with your cause; reach out to them as they are most likely to introduce new prospective supporters to attend. Encourage your donor pool to bring a "plus one" to make new connections.
28. Following-up
One of the most important part of your event is to reach out to every donor (and potential ones), vendor, and volunteer to thank them for their support.
Hosting a Business Lunch or Dinner in a Restaurant
29. Who Pays the Bill?
When hosting a business lunch or dinner, your job is to handle the logistics such as selecting an appropriate restaurant and making reservations ahead of time. Technically, the host should always pay the bill–the host being the one who did the inviting–regardless of gender. However, this rule is not rigid and can be altered based upon circumstances. An elegant way to handle the situation is to go pay the bill away from the guests.
Bachelor & Bachelorette Party
Bachelorette parties became popular during the 1960s (and the women's sexual revolution), but it wasn't until 1981 that the term"bachelorette party" came about.
30. Who is Hosting?
It's long been customary for the maid of honor to hostand plan the event. While everyone pays her own way, whoever throws the party is expected to cover the cost for the bride, but it's perfectly OK for other guests to contribute as well (in that case, include a respectful request for a financial contribution).
31. Who is Invited?
The guest list should include the wedding party, sisters, and besties. Make sure to consider everyone's budget when choosing a venue and/or an activity.
32. Invitations
Invites can be sent via email or any other methods and do not need to be formal unless the party itself is formal–then, the invitations need to be mailed. They should be mailed at least 3 weeks in advance (earlier when it's a destination party). You may want to include relevant information such as time, place, maps, cost, when and how to RSVP, etc…
Bachelor party
The tradition of the bachelor party originated in the 5th century BC from the Spartans and was meant to celebrate the rite of passage of marriage. Just as with the bachelorette party, the job of planning the party usually falls on the best man. Again, everyone is expected to pay for themselves and chip in for the cost of the groom.
33. Choose the Date
Since a rehearsal dinneris often set for the night before the wedding, make sure to plan to have the gathering several weeks before the wedding so that it doesn't conflict with other events and can accomodate out-of-town guests.
34. Who is Invited?
Men in thewedding party, good friends, and close male relatives of the groom should be invited.
35. Choosing a Venue
Tailor the activities to the groom's interests–not your own–and do not assume that all men are into strip clubs.
Rehearsal Dinner
36. Who is Hosting?
In the past, the groom's parents generally hosted the rehearsal dinner, but, today, there are no set rules. As you probably guessed, the one who hosts also pays for the event. Traditionally held the night before the wedding, it is an opportunity for the future couple to meet and greet in a less formal setting than the wedding. It is also the time to give thanks to everyone who has been helping with the wedding preparation.
37. The Guest List
Aside from close family members, the rehearsal dinner list usually includes the wedding party–including the wedding officiates–and potentially out-of-town guests, depending on budget.
Wedding Reception
38. Attire
Never ever wear white. "Probably the worst faux pas, I think ever, is for someone to wear white at a wedding," says David Monn, a renowned event planner to celebrities. Traditionally, white is reserved for the bride, and no one should outstage the bride on her special day.
39. Who is invited?
For starters, in order to spare hurt feelings, be sure to invite all shower guests to the wedding, then make a guest list based on budget and family size.
40. Second Wedding Dos & Don'ts
The celebration can be as extravagant as you wish
If you are throwing a bridal shower, the second time around, it needs to be kept small and simple. Also, as the hostess, you may want to specify on the invite that gifts
are optional.
Even if you are still in good terms, an Ex-spouse shouldn't be invited to the wedding.
Bridal Shower
Bridal showers are thought to have originated in 16th century Holland as a replacement of the dowry system.
41. Who is Hosting?
Traditionally, the maid of honor or the bridesmaids have been in charge of throwing the wedding shower, but, more recently, the bride's mother has been taking over that role.
42. Who Should You Invite?
You may send invitations to the bride's closest female friends, relatives, the groom, close female relatives of the groom, and basically anyone who shares a close relationship with the bride. Each guest should pay for her own meal, while the host paysfor the bride.
Baby Shower
This celebratory custom to welcome a new baby in the world originated in ancient Rome and Greece.
43. Who's throwing the baby shower?
Anyone is able to volunteer, with the exception of the mother-to-be or her spouse, but typically a friend or one of the father's grandmothers will throw a shower.
44. The Invitations
The host or hostess of the shower should make the invitation clear—whether it's for women only or coed. Another concern is to ask the couple if they would prefer a pre-or post-birth shower, but traditionally the event is held around 2 months before the birth. Invitations should include the following information:
Name of the expectant parents
Name of the host
location and time of the shower
theme of the shower
type of gifts
45. Dos
Do invite the fertility-challenged, but give them an option to decline.
46. Don'ts
Do not serve alcohol at a baby shower since the mother-to-be cannot drink.
Funeral Reception
47. Who is invited?
A funeral reception, or repass, is a gathering that anyone can attend unless specified otherwise by the family.
48. Greeting and introducing guests
As guests enter the room, make sure to make them feel at ease–greet them, make introductions, and escort them to the receiving line. It may be a good idea to have a printed service program including relevant informations.
49. Reception Etiquette
The family should be the first to be served at the funeral reception, then other attendees can be served. While not all family members will want to eat, it is proper etiquette that they should have the option.
50. International Etiquette
While it is true that some etiquette holds true just about anywhere, other rules vary by culture. If you are running an international event or are dealing with an international audience, be aware of some basic cultural differences as some gestures may cause confusion or even be offensive. The bottom line: do your research before hosting a dinner or giving a speech to an international crowd.