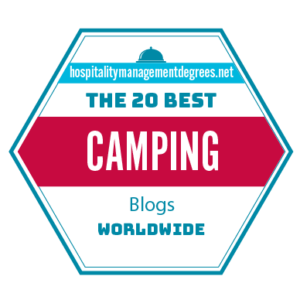 Camping is fun. Camping without knowing what you're doing is not fun. Pretty straightforward.
But even experienced campers and outdoor enthusiasts occasionally need some advice. What's the best year-round tent? Where do I find an awesome, overlooked campsite? How do I convince my family to go camping with me? For these questions and more, the internet offers a trove of excellent camping blogs that – lucky for you – we've spotlighted and ranked. Whether you're a backpacker, cyclist, hiker, or generalist, these blogs will serve to inspire and, hopefully, make your next camping trip the best yet.
Keep reading to find the right camping blog for you!
1) Reddit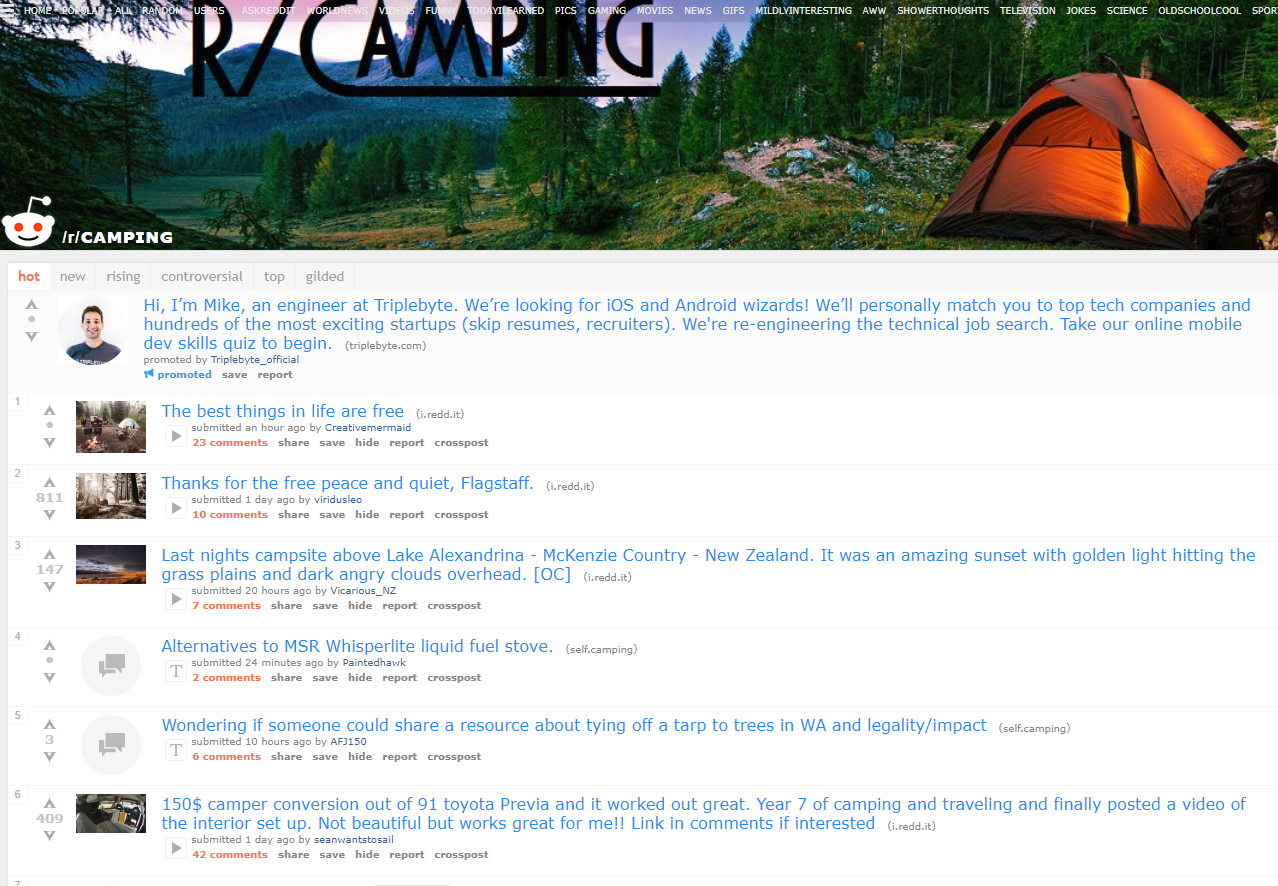 Maybe this is cheating – whatever. Reddit hosts five essential camping blogs (and/or camping-adjacent blogs), respectively r/camping, r/tents, r//hammockcamping, r/motocamping, r/Glamping, and r/canoecamping. Assuming the titles are self-explanatory, the best thing about Reddit tends to be it's advice threads: where to go, what to do, what not to do, best gear, etc. If you've got a camping question, odds are someone else does, too – and that it's been answered! In short, come for the tips, stay for the community.
2) REI Co-Op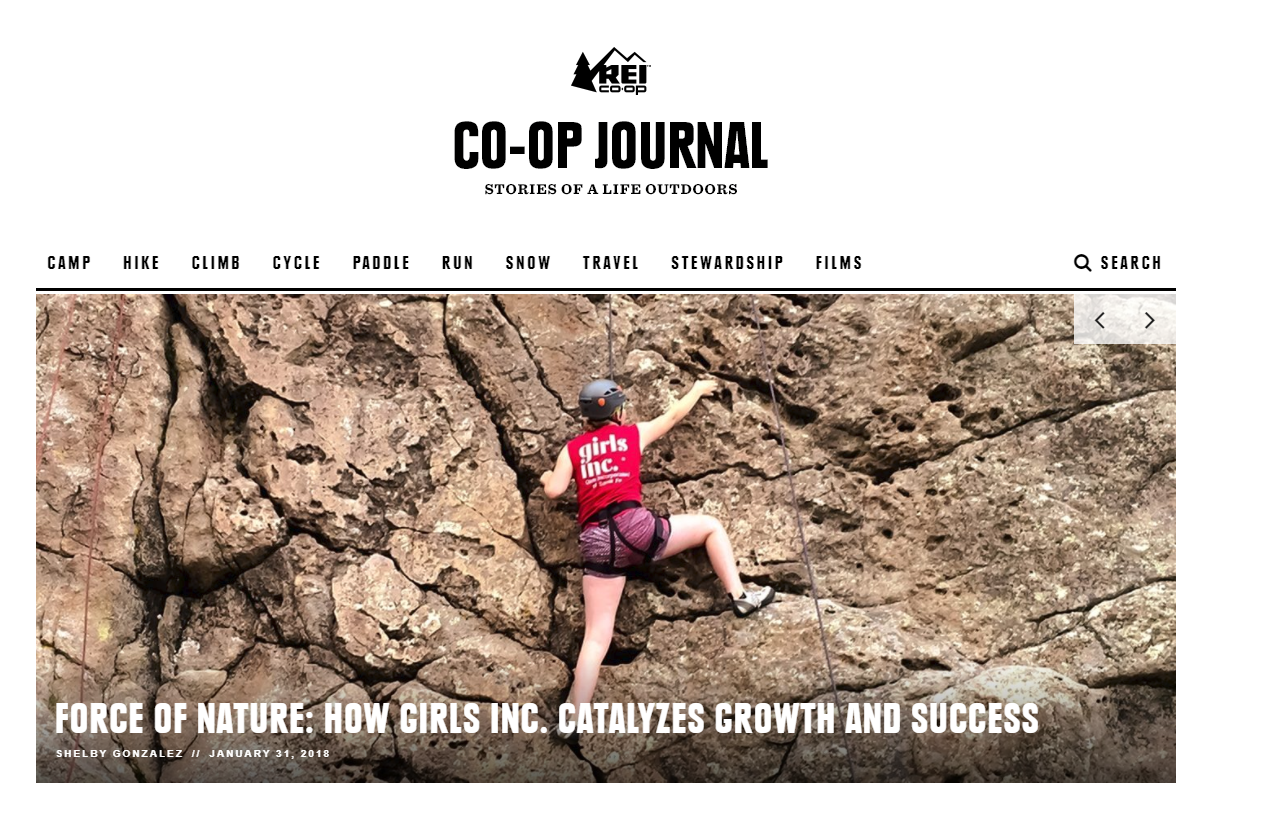 One of the premier outdoor brands, REI also boasts a great camping blog. First impression? Professionalism. Not only are you getting quality writing, you're also getting expert camping insights and advice that you can trust. Sure, some of the blog dips into sponsored content territory – after all, REI presumably needs to sell merchandise – but don't let that keep you away. In addition to how-to entries, Co-Op also features awesome camping recipes (sweet potato and chorizo breakfast hash? please), an extensiveDIY camping series, REI member portraits, essays, and compelling op-eds, like why leave no trace is more important than ever.
3) Glamping Hub Blog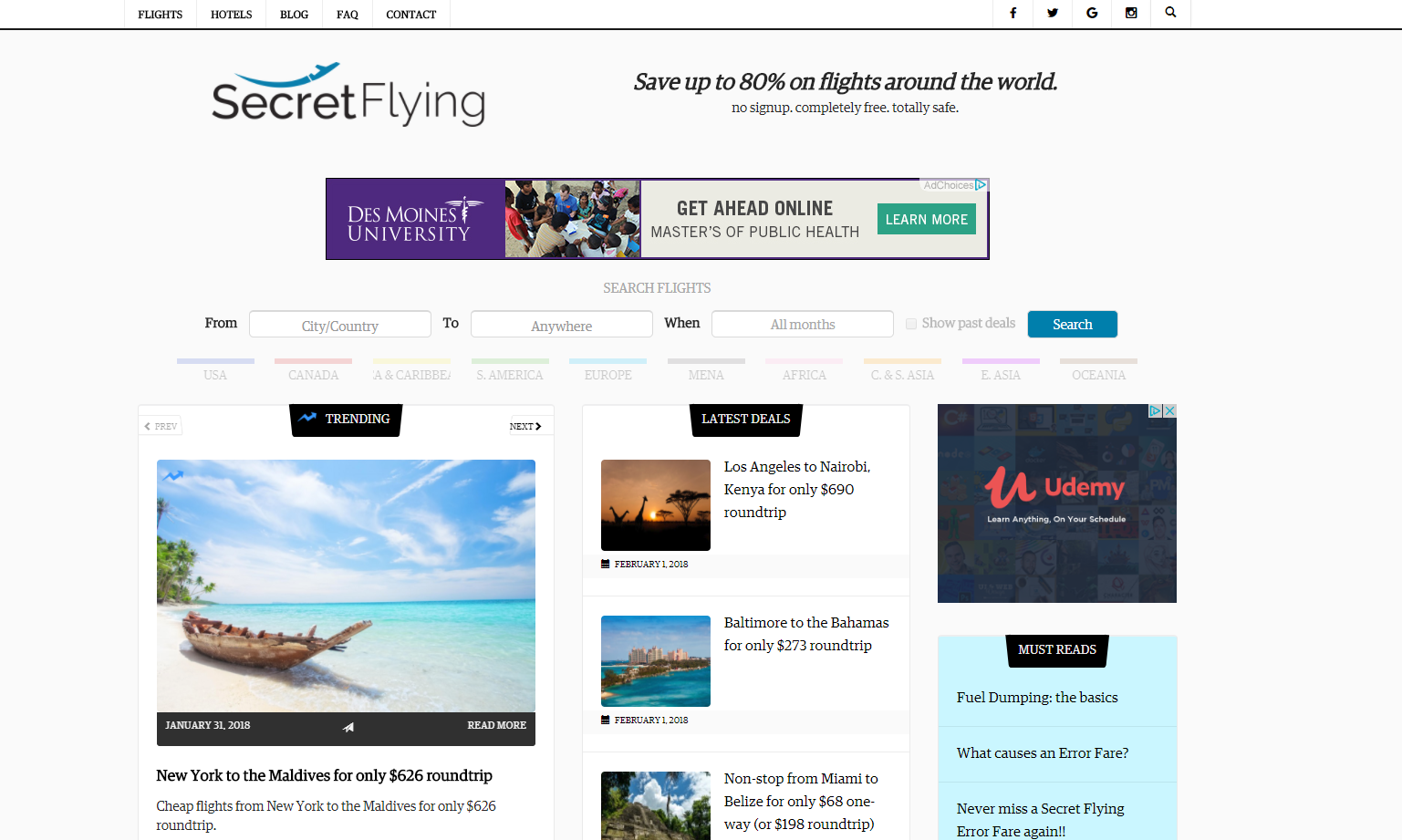 If glamping is your thing – that is, if you prefer to camp in style – the Glamping Hub is worth your attention. First, for the staff picks: find luxe camping destinations across the world, from a seven-unit tent rental in the Himalayan mountains to a preposterously sleek tree house in Swedish Lapland (for the cool price of $1,909 a night!) A lot of the blog functions as Airbnb-but-for-camping (and high-end), but you'll also find plenty of fun features, guides, lists, essays, and more. If nothing else, a camper has needs to dream!
4) Good Sam Camping
Good Sam is a camping blog with a little bit of everything: park and destination recommendations, reviews and tips for camping gear and accessories, road trip do's and dont's, and much more. Still, the focus is on the RV camper lifestyle, and if you're an RV'er, this is the best camping blog on the internet. Besides the top-notch recipes, video and photo archive, and camping miscellany, Good Sam has a trove of excellent DIY safety posts: Driving Your RV in The Fog, Winterizing Your RV, and Monitoring Your RV Tire Pressure, among them. Don't overlook this blog.
5) Stansport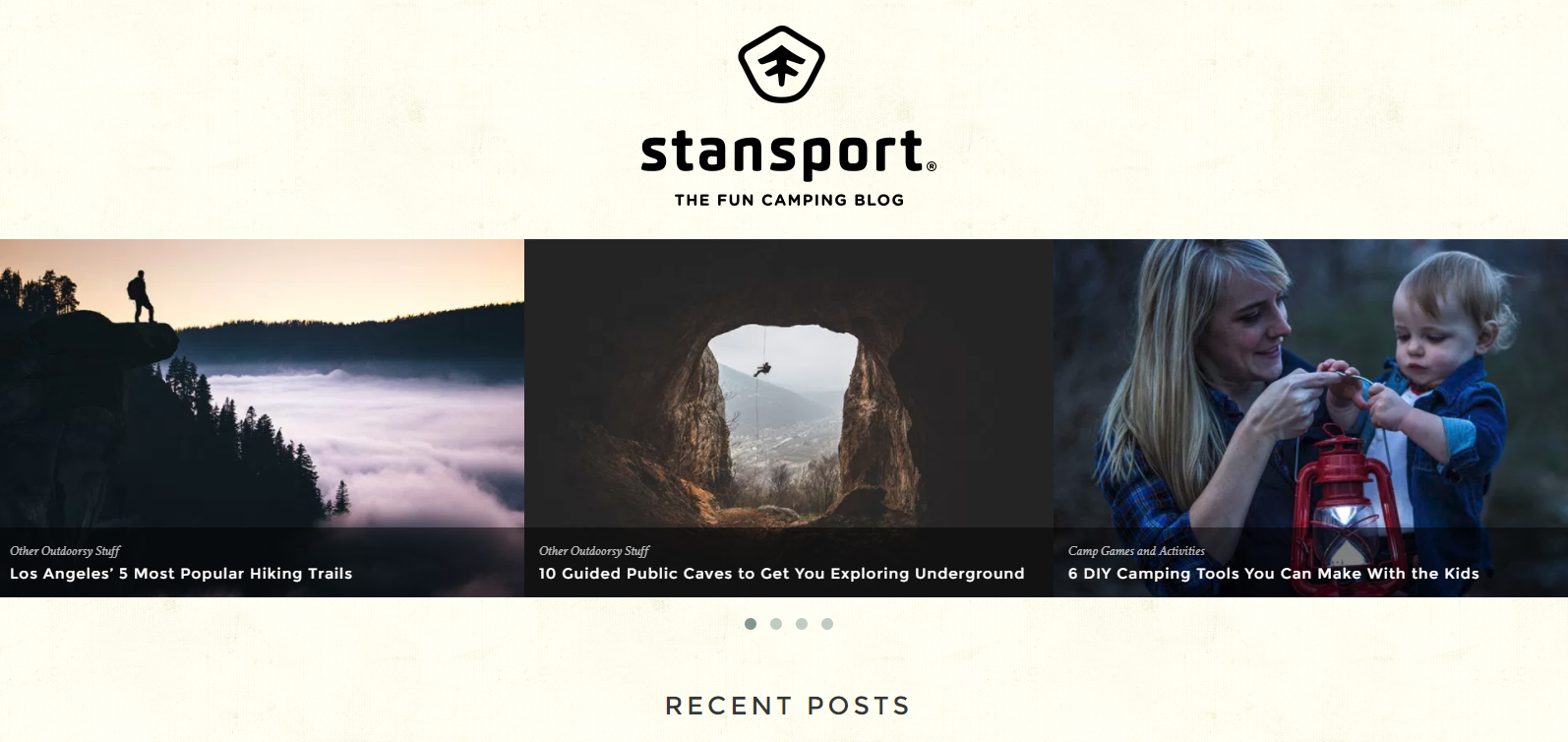 Billed as "The Fun Camping Blog," Stansport is another branded camping blog worth a read, with an emphasis on actionable content. Avid camper with less-than-avid kids? Review 5 Tips to "Gamify" and Make Camping Fun for Your Kids. An aspiring (or experienced) angler suffering a dry spell? Check your knowledge on nine common fishing myths. Stansport's "Camp Tricks" series is especially enlightening, whether you're a newbie or a well-traveled outdoorsman: camping is for lifelong learners. Finally, for what it's worth, the blog is simply attractive: neat, organized, uniform, ad-free, and featuring beautiful photography.
6) 50 Campfires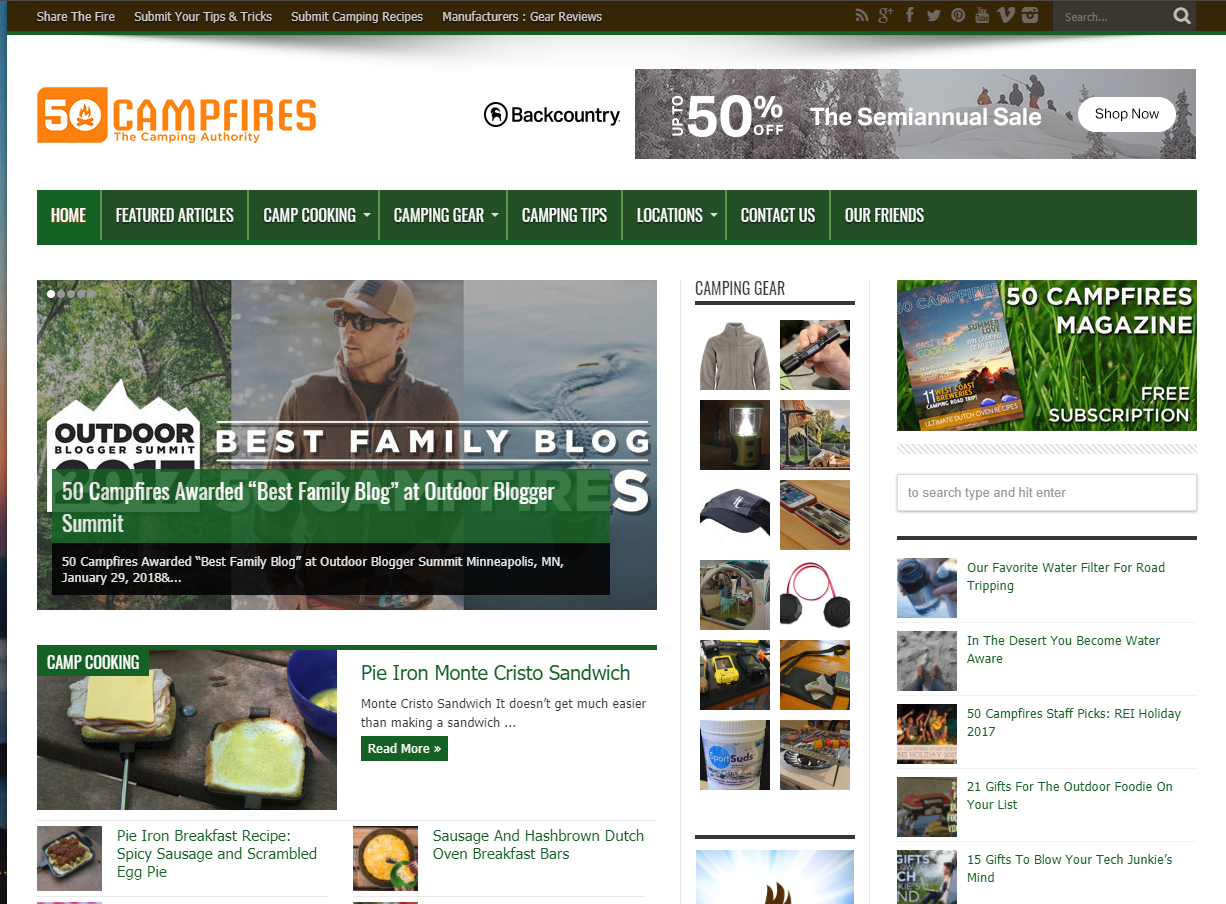 50 Campfires, the self-appointed camping authority, is indeed an excellent camping blog (and print magazine, for that matter). "Built specifically for America's car and family campers," the blog most recently won the best family blog at the Outdoor Blogger Summit, the leading conference for outdoor communicators focusing on outdoor recreation. While it can be a bit busy and burdened with ads – for a site of its caliber, anyway – there'a lot to like. The feature articles are top-of-the-line, the tips are easy to follow, and the site's destination guide breaks down camping site in all fifty sites, making it one of the most in-depth online. Last but not least: any good camping blog needs good camping recipes. How do Prickly Pear Cactus Salad, Gluten-Free Mesquite Pancakes, and, yes, Red Wine Hot Chocolate sound?
7) The Ultimate Hang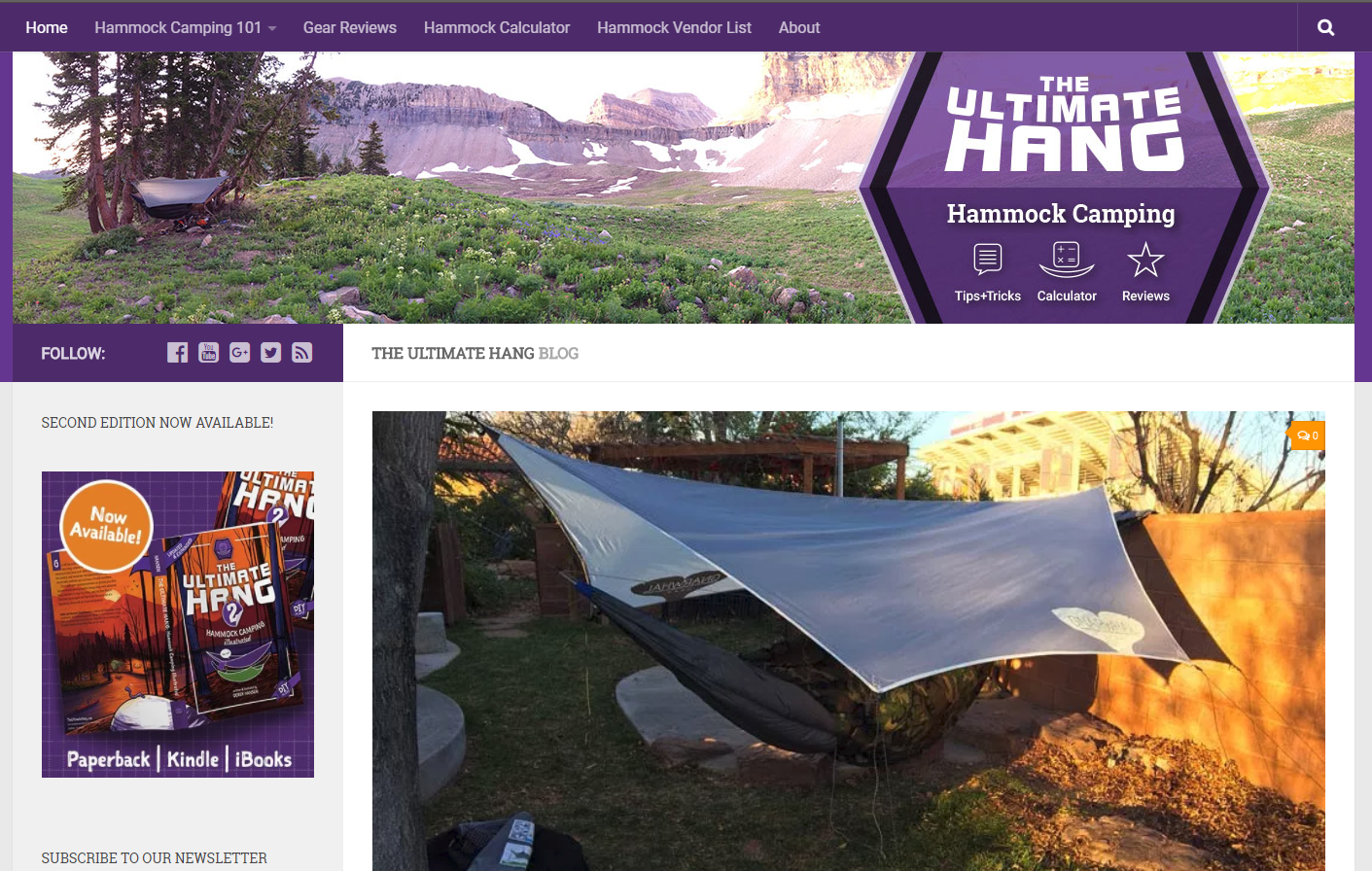 The Ultimate Hang is a hammock camping blog. Get it? Clever. Puns aside, The Ultimate Hang is run by Derek Hansen, a lightweight backpacker and former Scoutmaster with years of camping experience. Camping gear reviews make up a significant portion of the blog – not exclusively hammocks, mind you – but one of the more interesting features is Hansen's Hammock Hang Calculator, which lets users "estimate how high to install anchor points for hanging your hammock indoors (or outdoors) and also estimates the horizontal and gravitational forces applied to your hammock system." Pretty cool. Finally, the blog's 100+ vendor list catalogues hammock manufacturers, vendors, and retailers from around the world.
8) Camping Ireland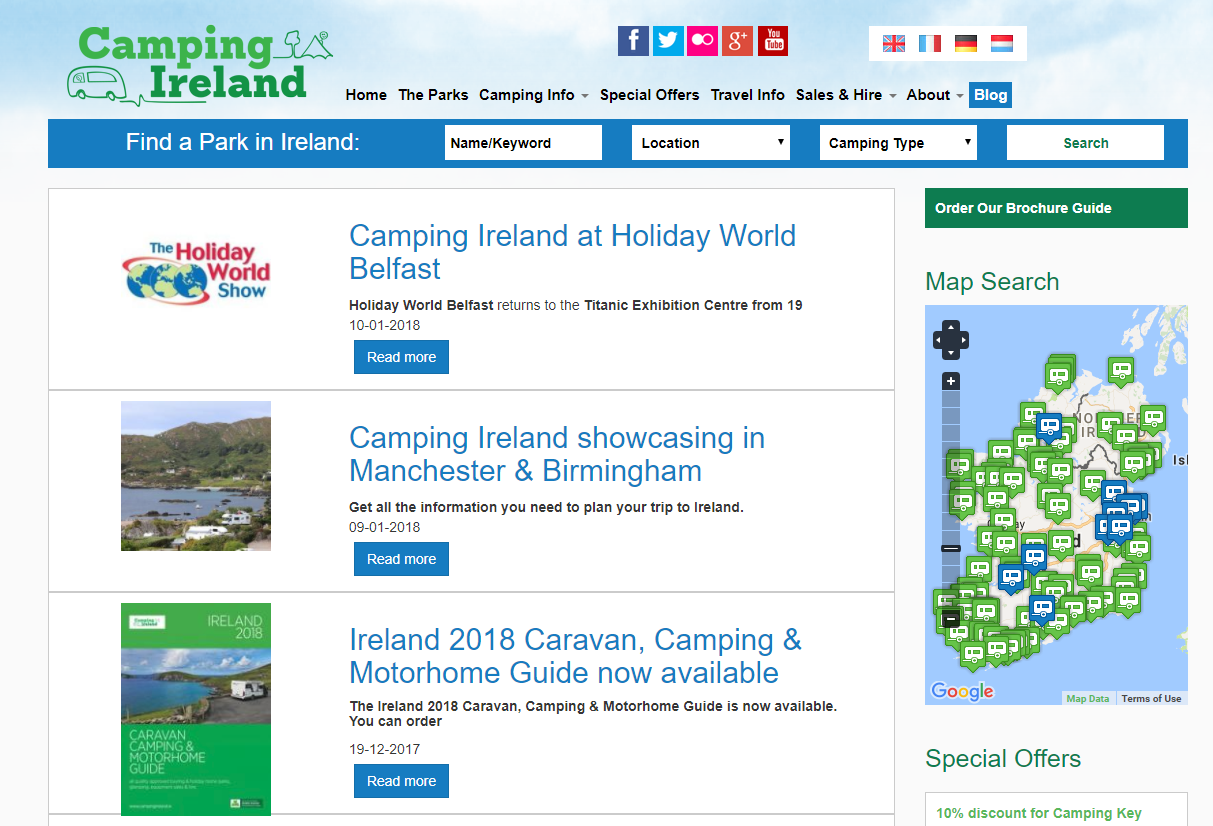 Camping Ireland…is a camping blog…about camping…in Ireland! So if you're camping anywhere other than Ireland, Camping Ireland won't do you much good. But if you are camping in Ireland, Camping Ireland is the perfect camping blog for your needs! The most helpful feature is the find-a-park tool: just enter in a name or keyword, select a location, and choose: glamping, mobile homes, touring, or camping. From there, the blog also has up-to-date news, camping advice and ideas, special offers, a sales & hire classifieds, and useful links. The blog certainly isn't the most technologically advanced on the internet, but, if you're camping in Ireland, Camping Ireland works just as well.
9) Snowys Blog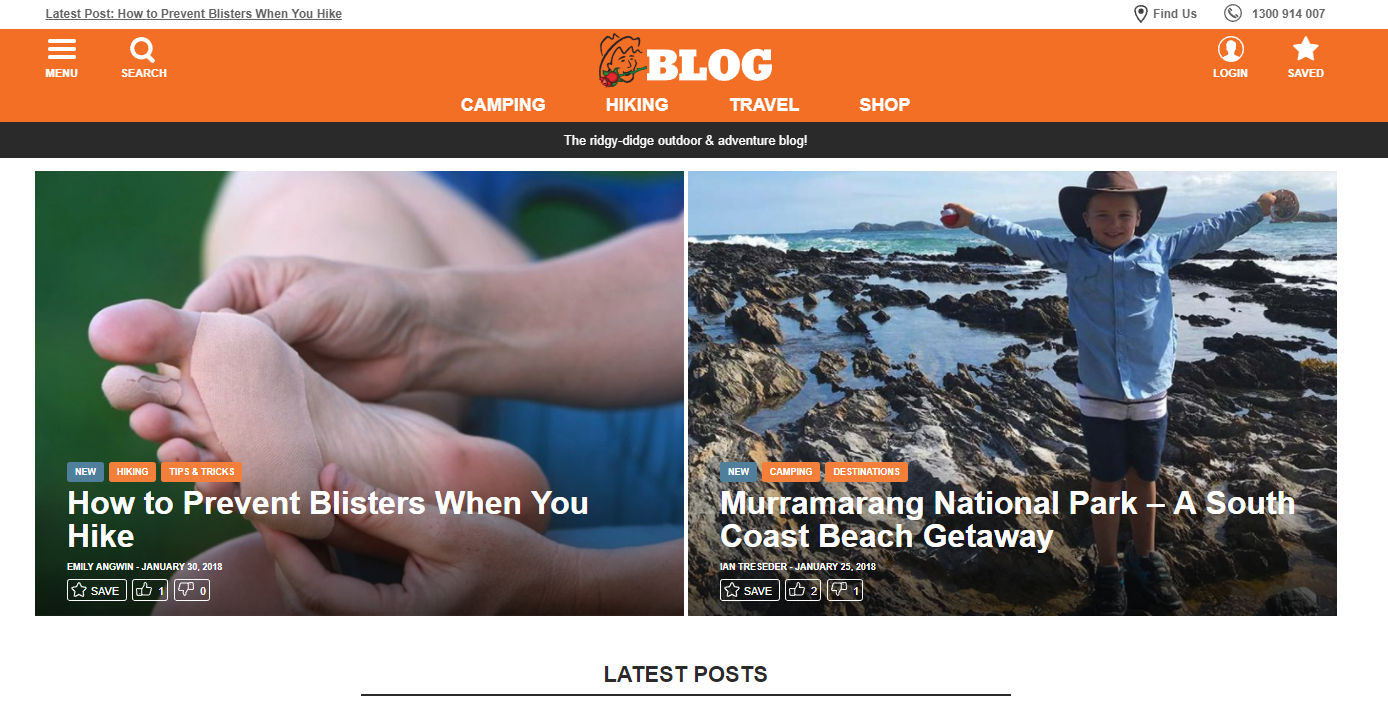 Snowys Blog is an Australian "ridgy-didge outdoor & adventure blog." (For those outside Aussie-land, ridgy-didge simply means "the real thing." In short, this is an authentic camping blog for campers by campers.) Specifically, Snowys covers camping, hiking, and travel, with a retail shop that includes partnerships with brands like North Face, Coleman, Marmot, Camelbak, Oztent, Victorinox, Dometic, Engel, GSI Outdoors, Ledslener, and more. The most popular posts fall under tips and tricks – 8 Tips for Keeping Ice Longer in Your Icebox – gear reviews – Best Family Camping Tents – and destination recs – The Gili Islands – There's More to Indonesia than Bali.
10) Trucker Camper Magazine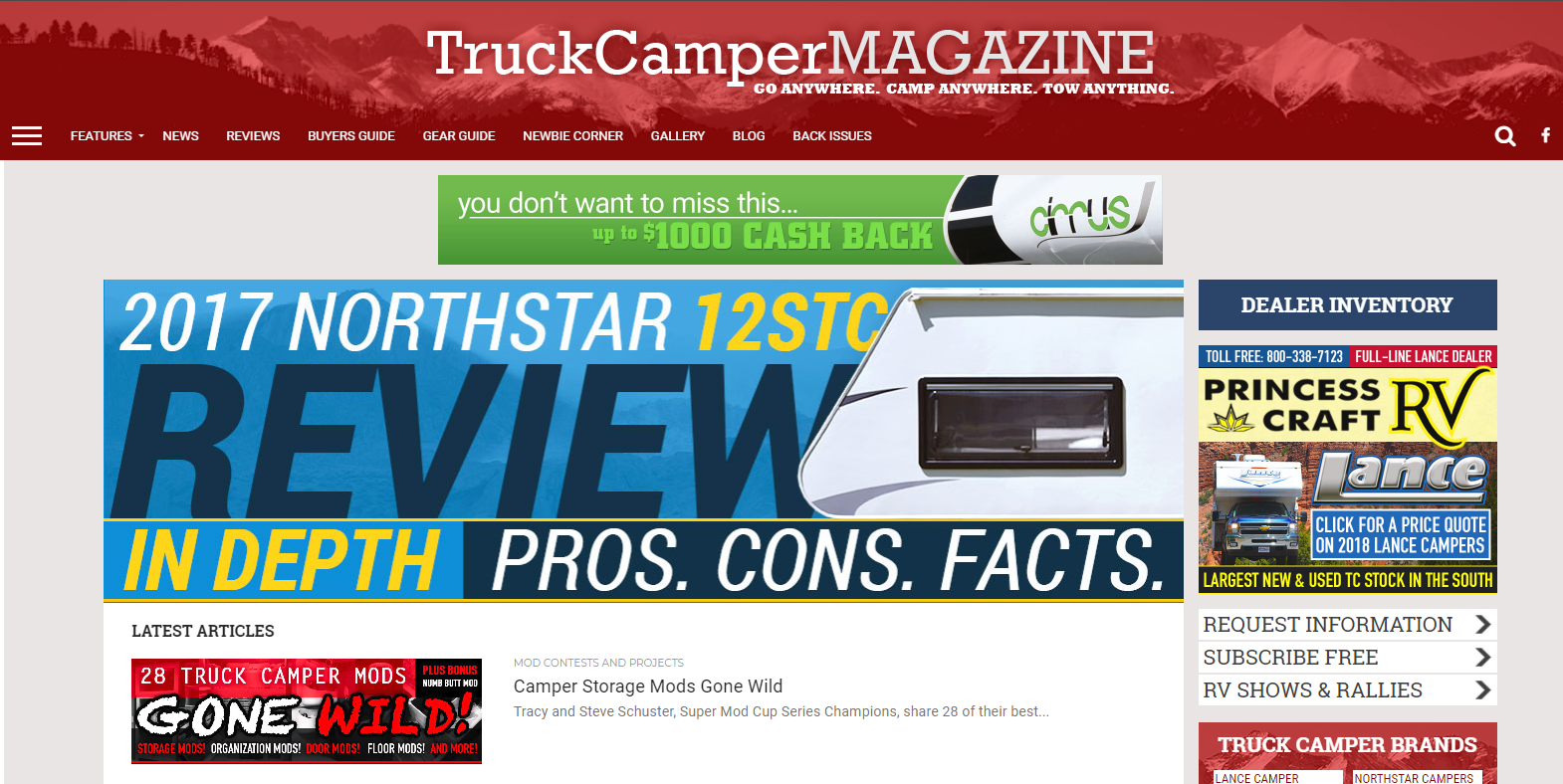 Another aptly titled camping blog! Trucker Camper is "a free online magazine dedicated to the exciting go anywhere, camp anywhere, tow anything lifestyle of truck camping." For such a specific niche, TCM offers excellent breadth and coverage. Feature stories range from a Question of the Week series to maintenance tips, beach camping, and videos. From there, you'll find news, reviews, a buyer's guide, gear guide, and newbie corner for the uninitiated. Easily navigable, well-written, and organized, Trucker Camper is an excellent camping blog for the road warrior.
11) Homecamp
Another Australia-based outfit, Homecamp is an outdoor apparel brand that hosts a wonderful camping blog, focusing on helpful tips and stories: Basic Wilderness Survival Tips, Everything You Need to Know to Grow Your Own Edible Garden, and A Beginner's Guide to Night Photography, to highlight a few. The site is easily navigable, clean, and well-written; the layout is organized; the photographs are beautiful. It's relatively young, so the archives are smaller compared to some of the other featured camping blogs, but nonetheless: a great spot for campers to shop, find inspiration, and brush up on their knowledge.
12) Cool of the Wild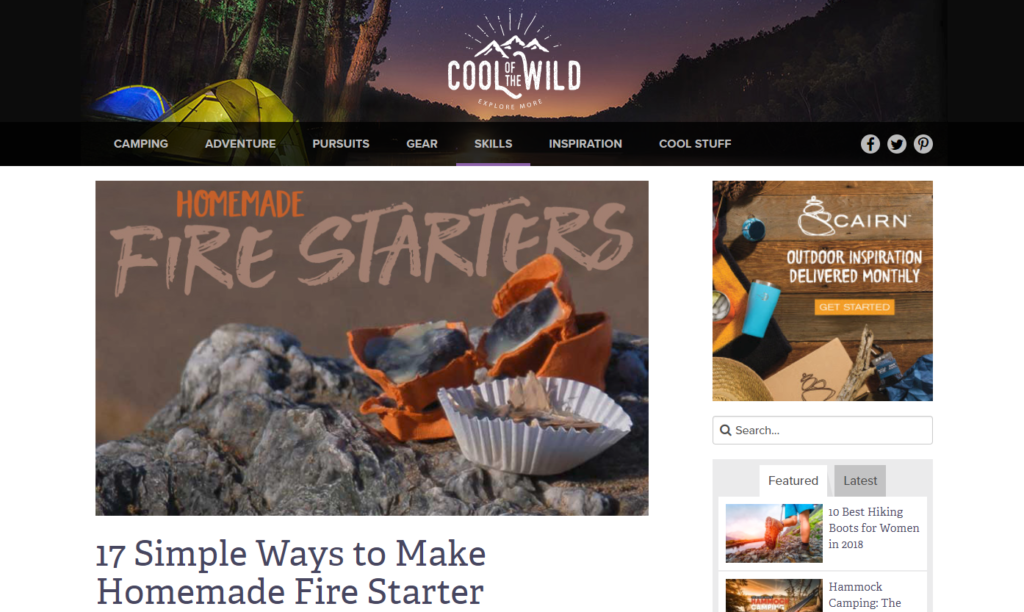 Cool of the Wild's blog is a septet: camping, adventure, pursuits, gear, skills, inspiration, and cool stuff (the blog's retail section). Reviews constitute a large portion of the blog – camping stoves, hiking boots, climbing shoes, backpacks, tents, etc. There's also fun top-10 lists, useful beginner's guides, how to's – 17 Simple Ways to Make Homemade Fire Starter – and more. If you're looking for camping destination ideas, Cool of the Wild has them, and the "Pursuits" page encourages you to try something new: from slacklining to paddle boarding, bikepacking, and rock climbing. Attractive and helpful, a great camping blog.
13) Go Camping Australia Blog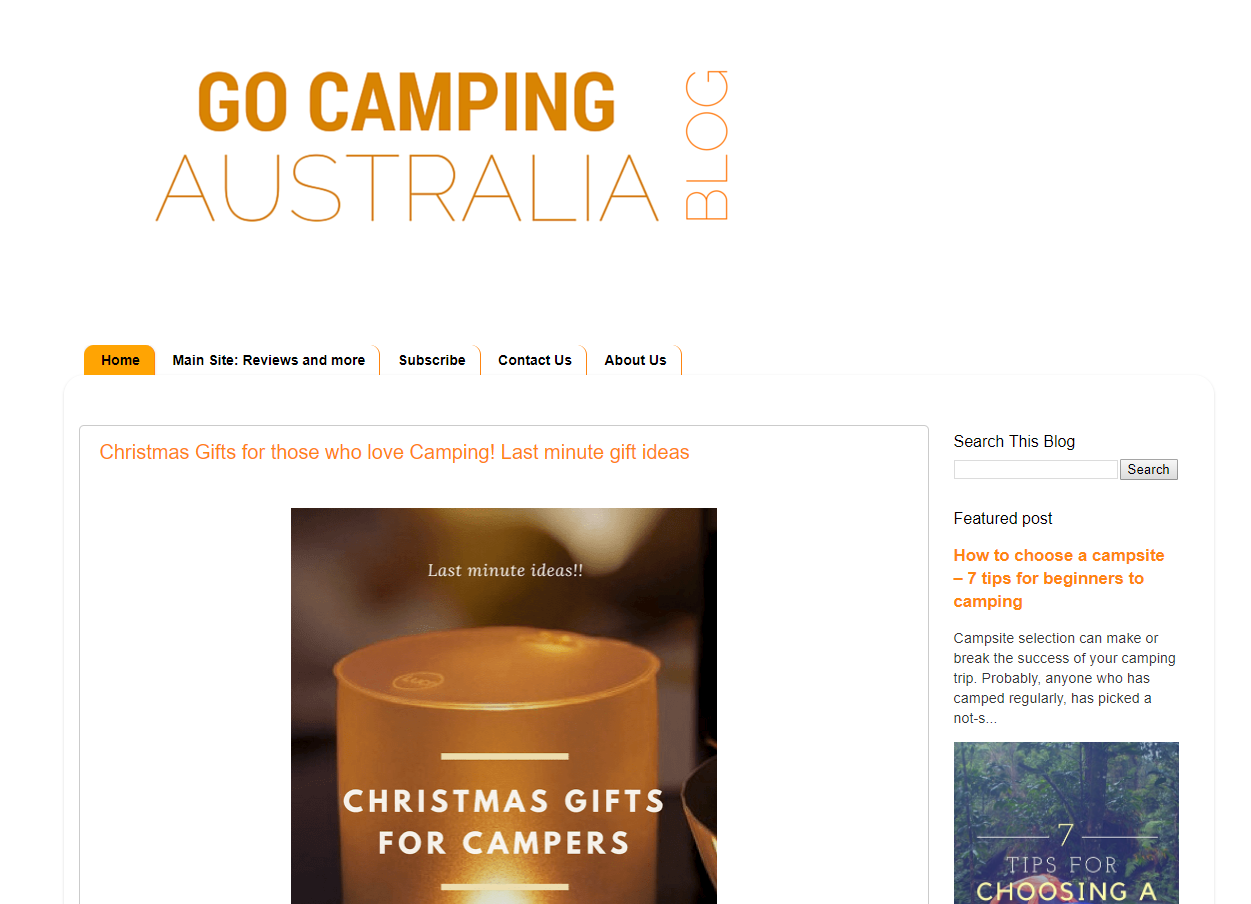 Australia loves its camping blogs. Run by an Aussie family, Go Camping Australia began after an unsuccessful camping trip, surprisingly enough. After attempting to research local camping grounds with little luck, the family of four showed up at a camp site wildly unprepared and wholly underwhelmed. Surely others had had the same experience! The Go Camping blog features a range of outdoor topics, camping food and recipes, outdoors information, camping tips, and equipment reviews. The campsite reviews section is particularly helpful, with over a dozen locations and campgrounds. If you're a beginner, check out the camping 101 articles, and, being a family camping blog, don't miss 10 Tips For Taking Your Children Camping.
14) Rainy Camping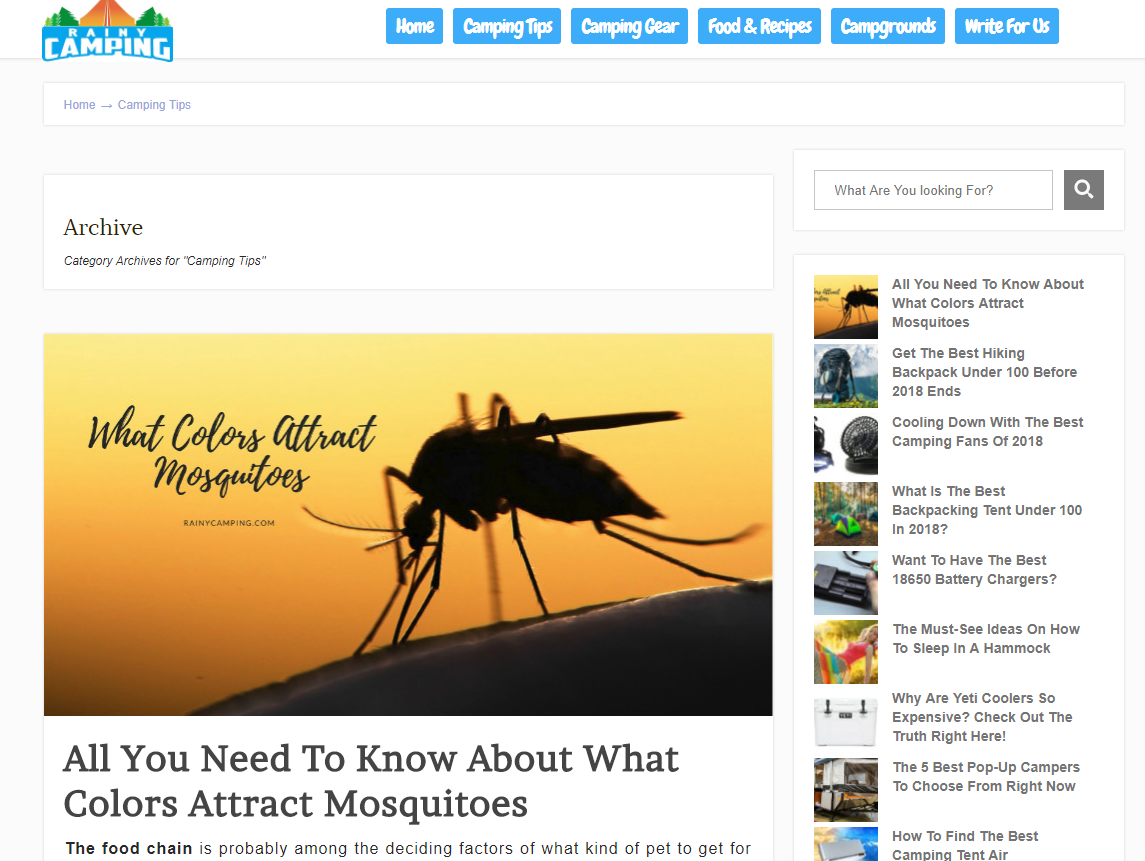 Rainy Camping specializes in camping tips, gear, camping food & recipes, and campgrounds profiles. The site itself can be a bit wonky, but the best pieces make up for it: All You Need To Know About What Colors Attract Mosquitoes, How To Get Up To Speed On Bivy Sack Vs. Tent Immediately, How To Start A Fire With Wet Wood Easily, and 3 Tricks On How To Get Campfire Smell Out Of Clothes are just a few recent standouts. Plenty of reviews, as well.
15) Bike Overnights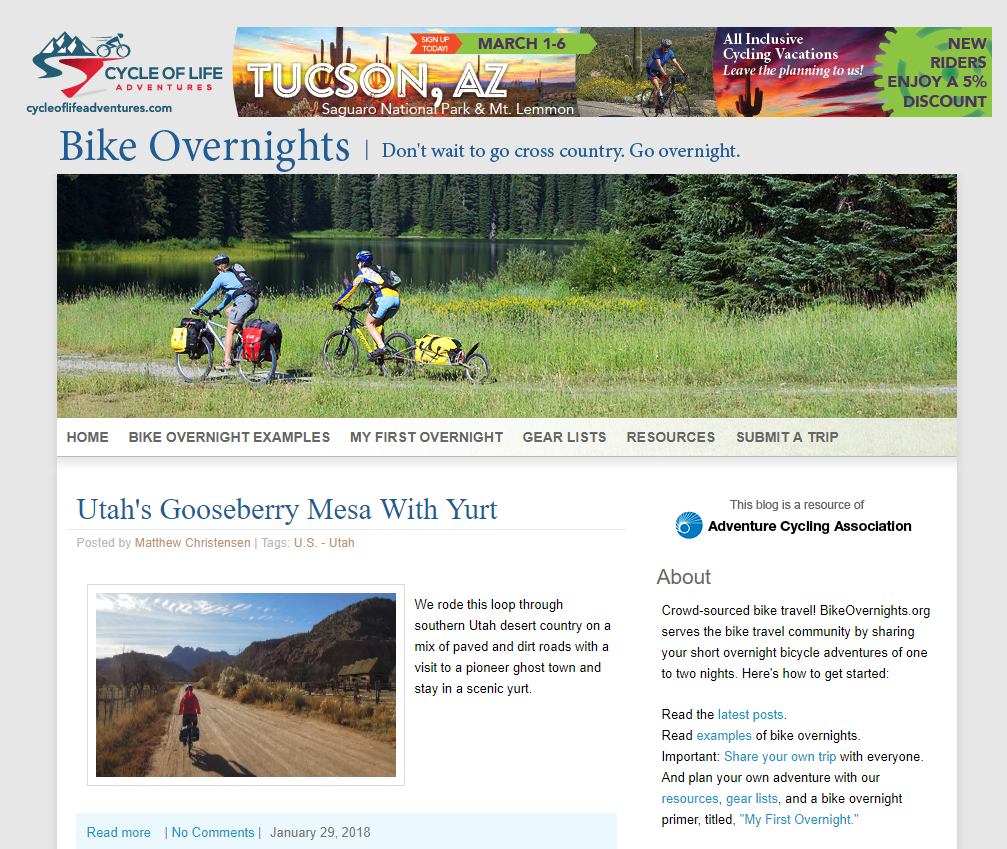 Bike Overnights, an official resource of the American Cycling Association, is every cyclist's dream: crowd-sourced bike travel blog that features original stories about your short cycling trips. Interested in contributing? Once you're familiar with the length, style, and content of posts, submit a trip to the editors and have it published on the site. Just a reader? Check out contributors' stories, gear articles, and selected resources. Bike Overnights also offers first-time overnight cyclists a wealth of insights, advice, and guidance, including camping essentials.
16) The Adventure Land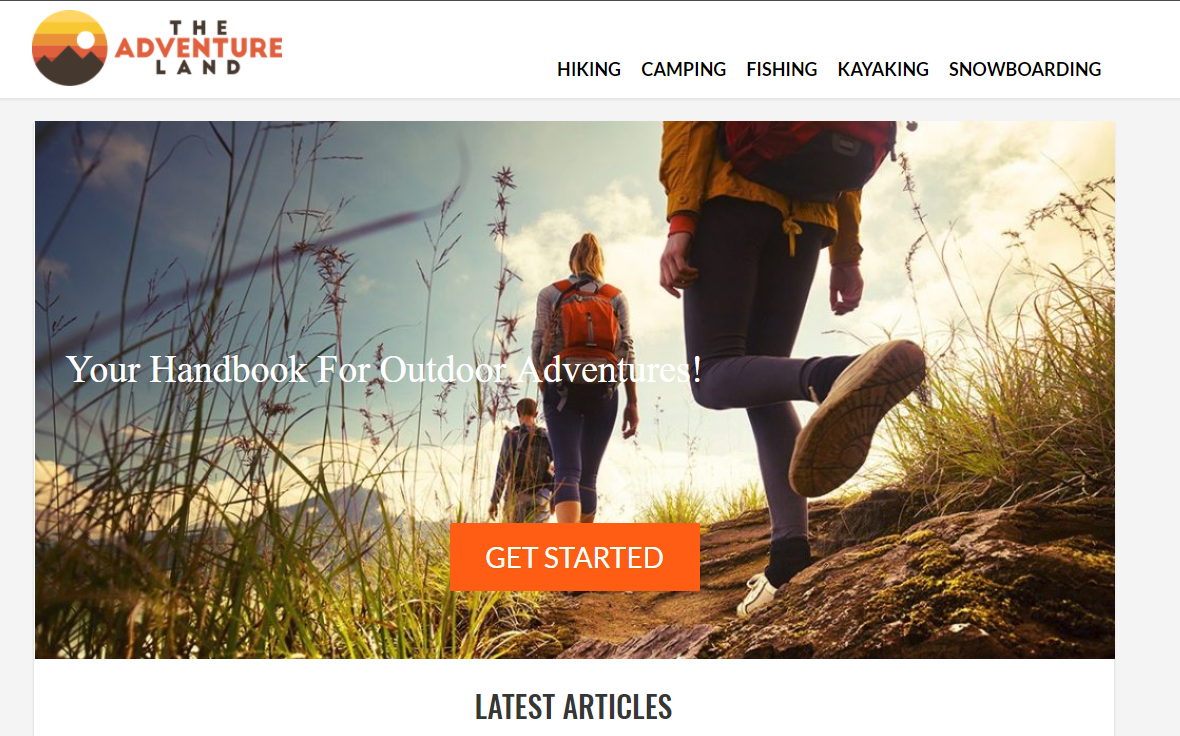 The Adventure Land is an all-around camping blog, with special outdoor sports sections on hiking, fishing, kayaking, and snowboarding. In addition to reviews and a buyer's guide, Adventure Land's biggest asset is its camping how-to's: How to Clean a Nalgene Bottle, How to Pack Pots and Pans, How To Clean Grill Pan – you know, the kind of skills every camper needs to have. The blog publishes great campground profiles, as well, along with a popular series, "Best Hiking Trails," which spotlights trails in every state.
17) Beyond The Tent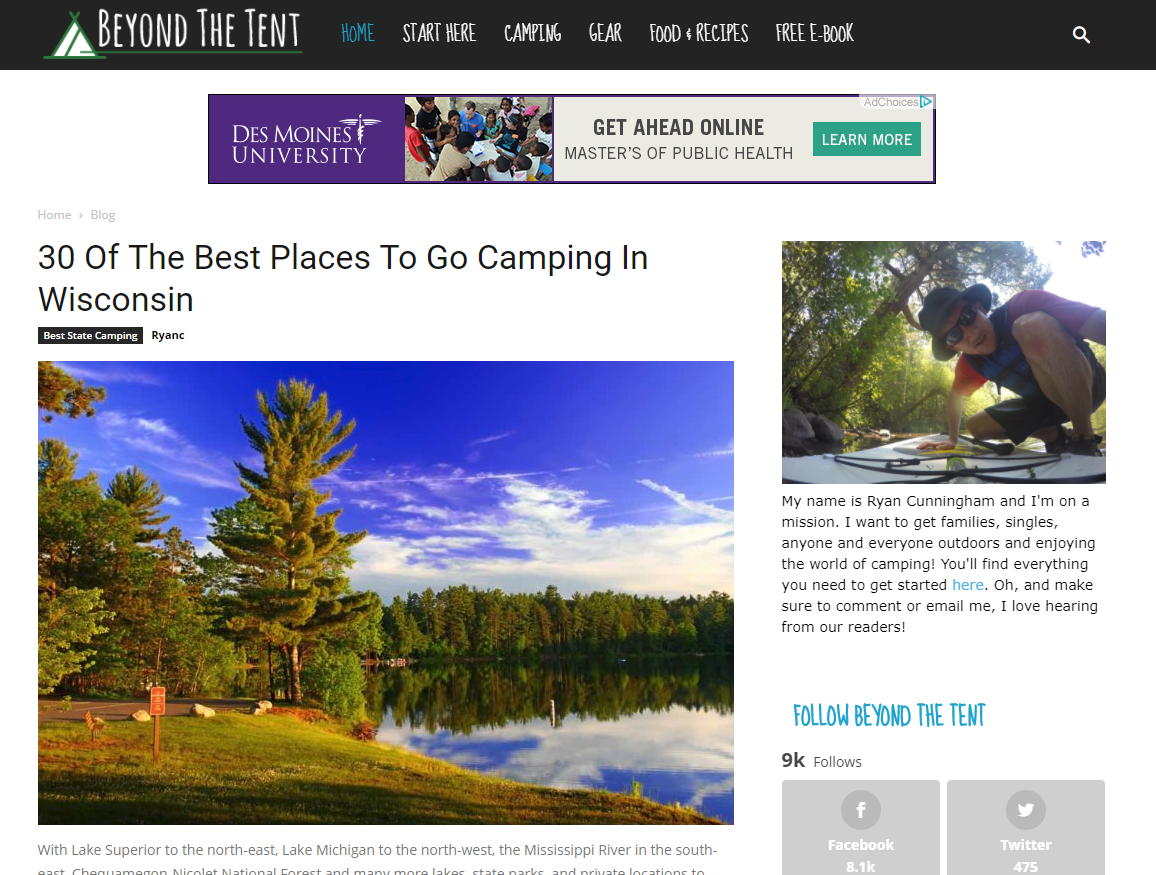 Established in 2013, Beyond The Tent is the brainchild of Ryan Cunningham, an avid camper on a mission: "to get families, singles, anyone and everyone outdoors and enjoying the world of camping." Since then, the blog has expanded into a complete resource for campers of every stripe, from the weekender to experienced backpackers, solo campers, and more. The guides to Yellowstone and Olympic National Parks are among the most thorough available, but Ryan's free camping e-book is the kicker: planning your first trip, how to set up your campsite, family safety, leave no trace, and more.
18) GearHose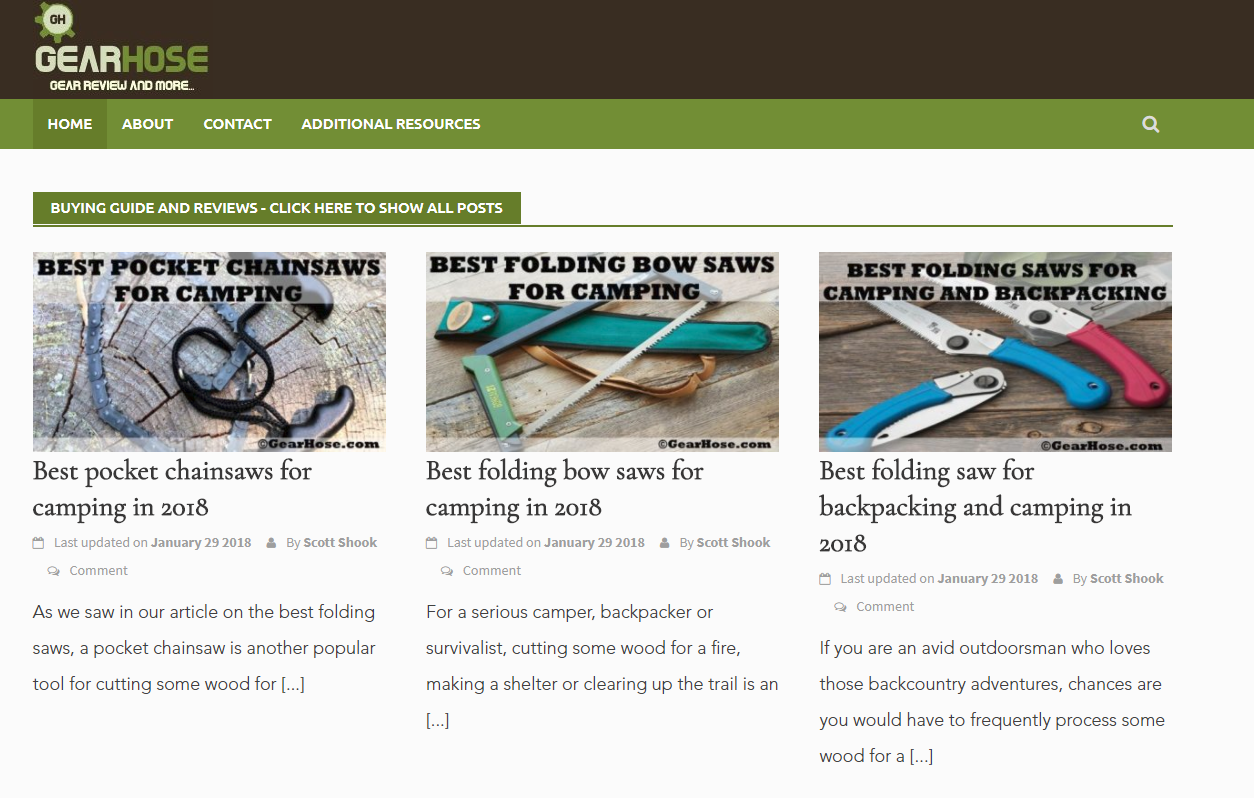 Founded by Scott Shook and Trisk Patrick, GearHose provides campers with the latest reviews in camping gear, tips, and gift ideas. All gear is thoroughly vetted and researched prior to review to give readers the best independent perspective possible on a range of camping products, from the everyday essentials to the niche tools: bow saws, pre-made bug out bags, tactical pens, and camping pillows. All advice posts are easy to follow, and the blog features a list of other preferred camping blogs, as well.
19) Pitch Luxury Camping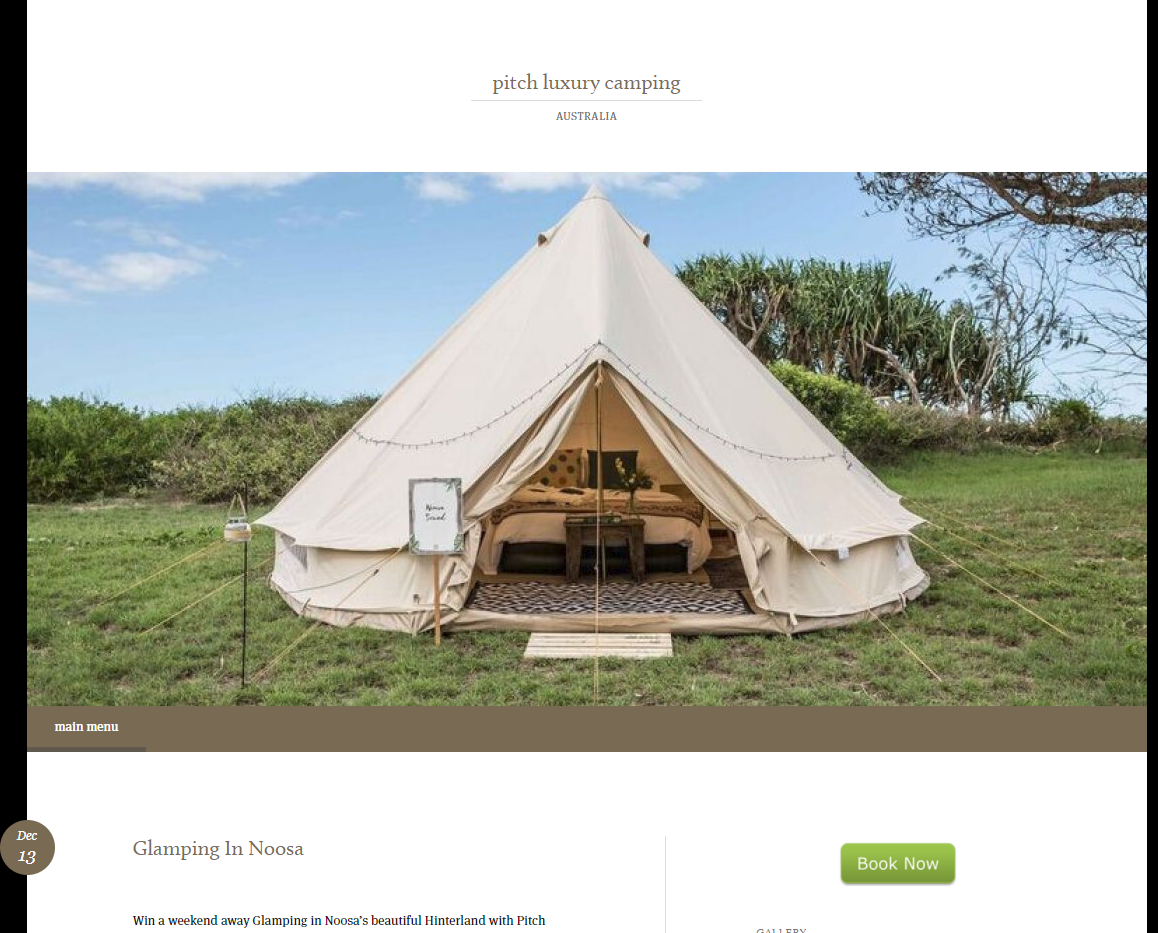 Pitch Luxury Camping, by Tim and Lisa Mitchell, is one of Australia's best glamping blogs. Simple and straightforward, here you'll find a rundown of popular glamping destinations (and hidden gems), with in-depth reviews, promotions, advice, and photography. Given its leanness, Pitch Luxury is best suited for experienced glampers, or at least those who have researched the basics. Book a trip through the site, or peruse the blog's highly active Instagram.
20) Campfire Magazine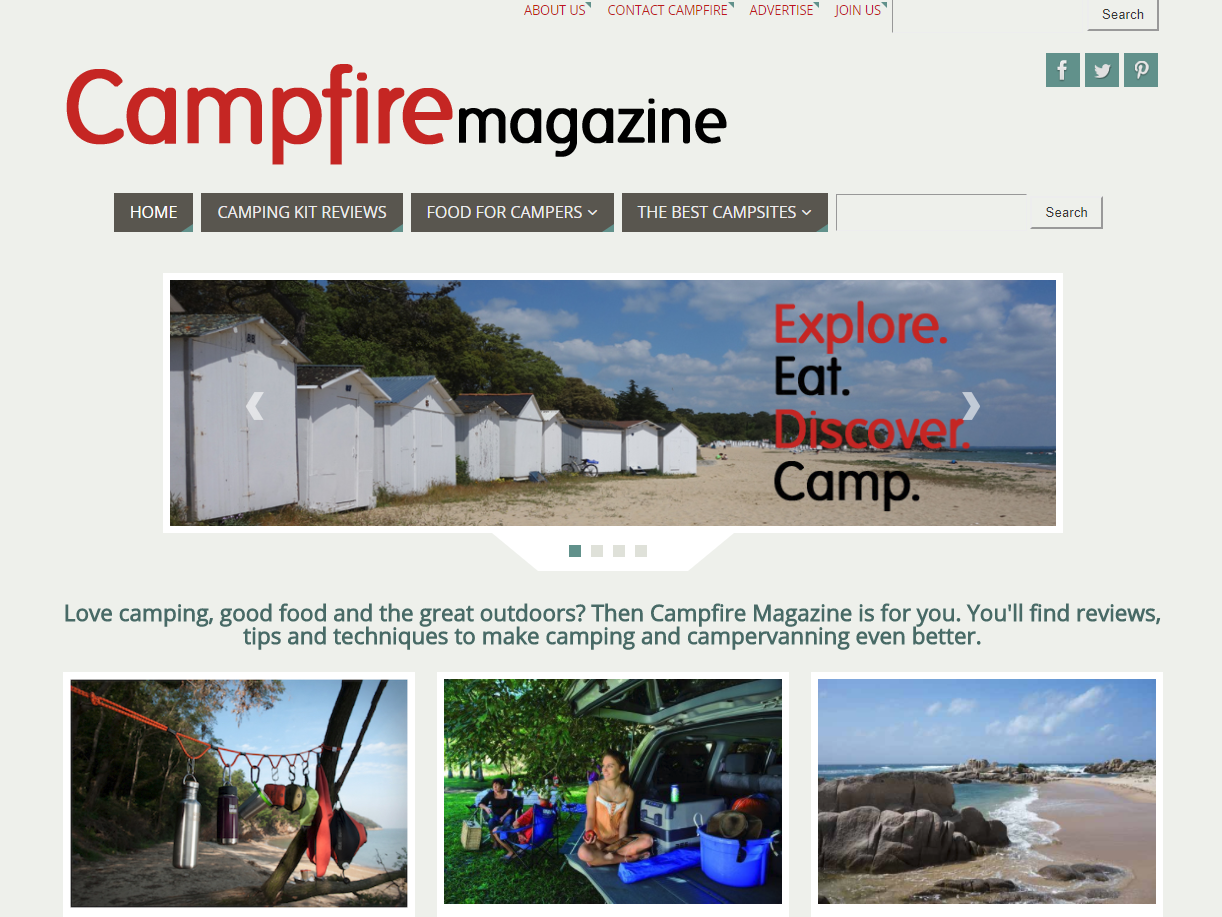 Campfire Magazine publishes reviews, tips and techniques for campers all around the UK. The blog's campsite guide includes UK and European destinations, like Corsica, The Lake District, and Bornholm, an exotic, mysterious island off the coast Denmark in the Baltic. From there, check out Campfire's recipe library and some very insightful gear reviews: for instance, Sssshh! Please don't buy these…, a highly useful taxonomy of camping gear that you simply don't need.